June 5, 2023
Get to Know Rian MacLeod
Tell us a little bit about yourself. What's your professional experience? What are you passionate about?
I have always been in design one way or another my whole life. Starting out my career at a design firm in Corona Del Mar, CA. I mostly worked on model homes for large builders in northern and southern California. Moved back to Seattle and spent many years working at Nordstrom as a fashion coordinator, producing fashion shows and trend forecasting for in the northwest and southwest region. Returning to my roots, I started an interior design business which I focused on private residential design in 2019. I am a service-oriented person with a passion for making people and surrounds feel welcoming and beautiful. It's important to me that I'm resourcing from the best reps in the industry to provide quality products to our architects and designers at AM.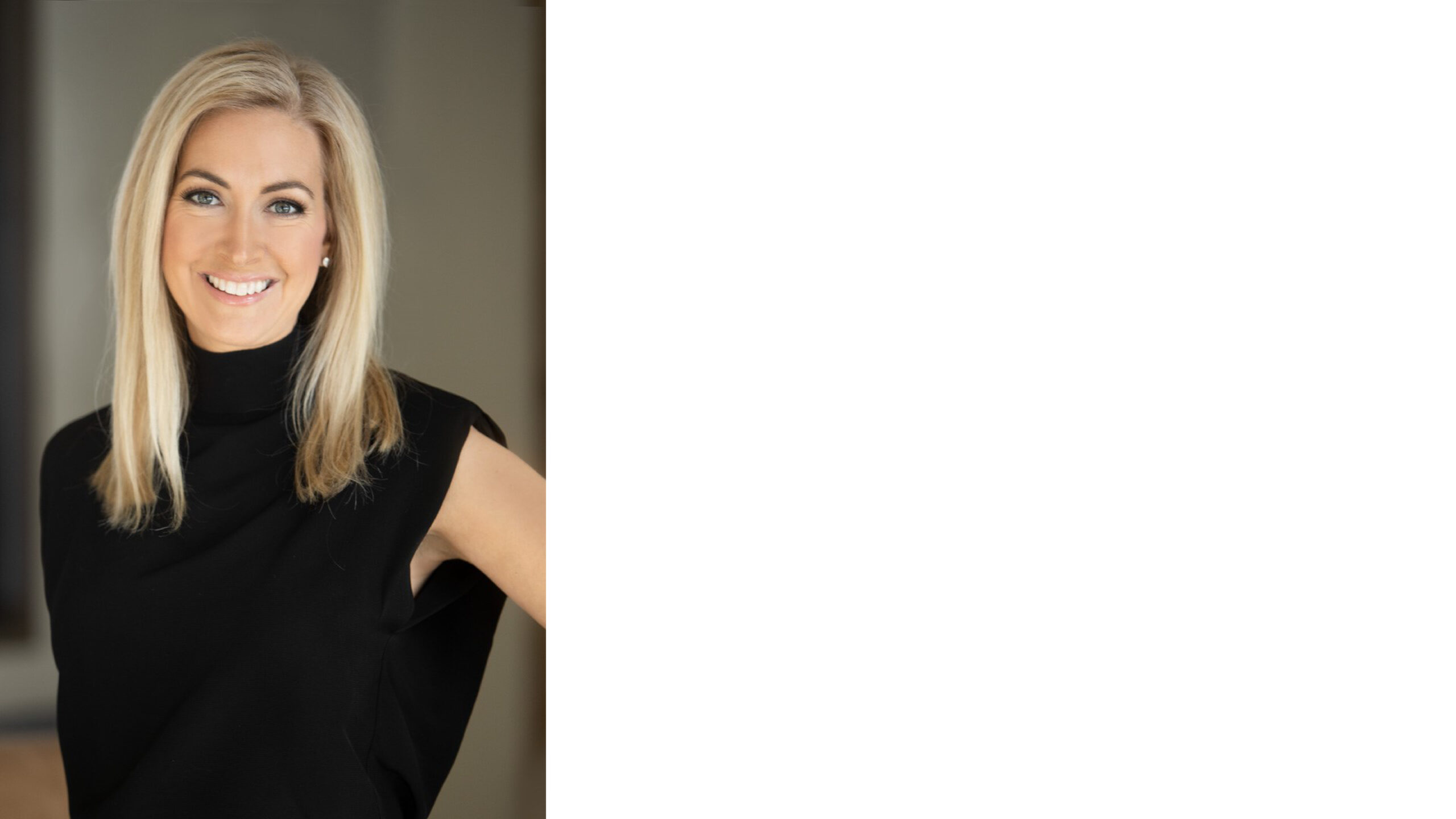 What's most exciting about your new role? What impact do you hope to have?
I've been working from home over the last few years and really missing the energy of being around creative people. It's invigorating for me to be a part of a prestigious group of designers and architects at Ankrom Moisan. I hope I can have a positive impact on the Seattle materials library by becoming a trusted resource among all the groups here at Ankrom Moisan.
What are some materials you consider particularly relevant right now?
Mindful materials. Thoughtfulness in how and where products are manufactured, the life cycle of the material and how it effects not only the environment in production but also the end user's environment.
Product innovations post-pandemic. Touchless technology in kitchens, stylish wallpaper with anti-bacterial and anti-viral properties, switchable privacy film for windows or glass partitions for interior spaces instead of blinds or curtains. There are too many innovations to list!
How do you curate a materials library that can support the variety of project types AM does (from urban living to healthcare)?
It's a dynamic balance. The most critical element is open communication with the design team and knowledge of the resources available, both digitally and locally. It helps to know which product types the designers want at their fingertips in the library and which ones they can order online or through a rep and can be delivered quickly. It's important to be responsive, flexible, and open to changing it up as needs evolve.
How do the materials needs differ between project types?
There are several factors that play into this, and it touches on everything from codes and standards to end user needs to project material goals. The requirements for flooring in a healthcare setting are going to be different from those in a hotel or a workplace lobby. The furniture and finishes we select for a senior living project need to be safe and comfortable for seniors and that often looks different from what we select for a student living project.
Any products or design trends that you're currently into?
Quiet Luxury. Approachable luxury design with a focus on a mixture of contrast textiles like leather, boucle, wool, mohair, linen, and silks in hushed warm tones and ambient light. This creates an environment not only visually pleasing and alive but also tactile.
Curves. Juxtapose the squareness of a building or room, curved furniture is making a strong presence in design. A throwback to the 70's but in updated fabrication and colors, the soft rounded and comfortable edges are a new way to add drama and ergonomics to a space.
Rian MacLeod, Materials Library Coordinator
FILTER
SEARCH
This search form (with id 2) does not exist!
Employee Spotlight: May Au
May 1, 2023
Illustrating Inspiration
It seems that May Au was destined to be an artist. Her sketches appear in the firm's "AM is Sketchy" Teams channel to the delight of many, inspiring her coworkers to embrace their creative side and see things from a new perspective.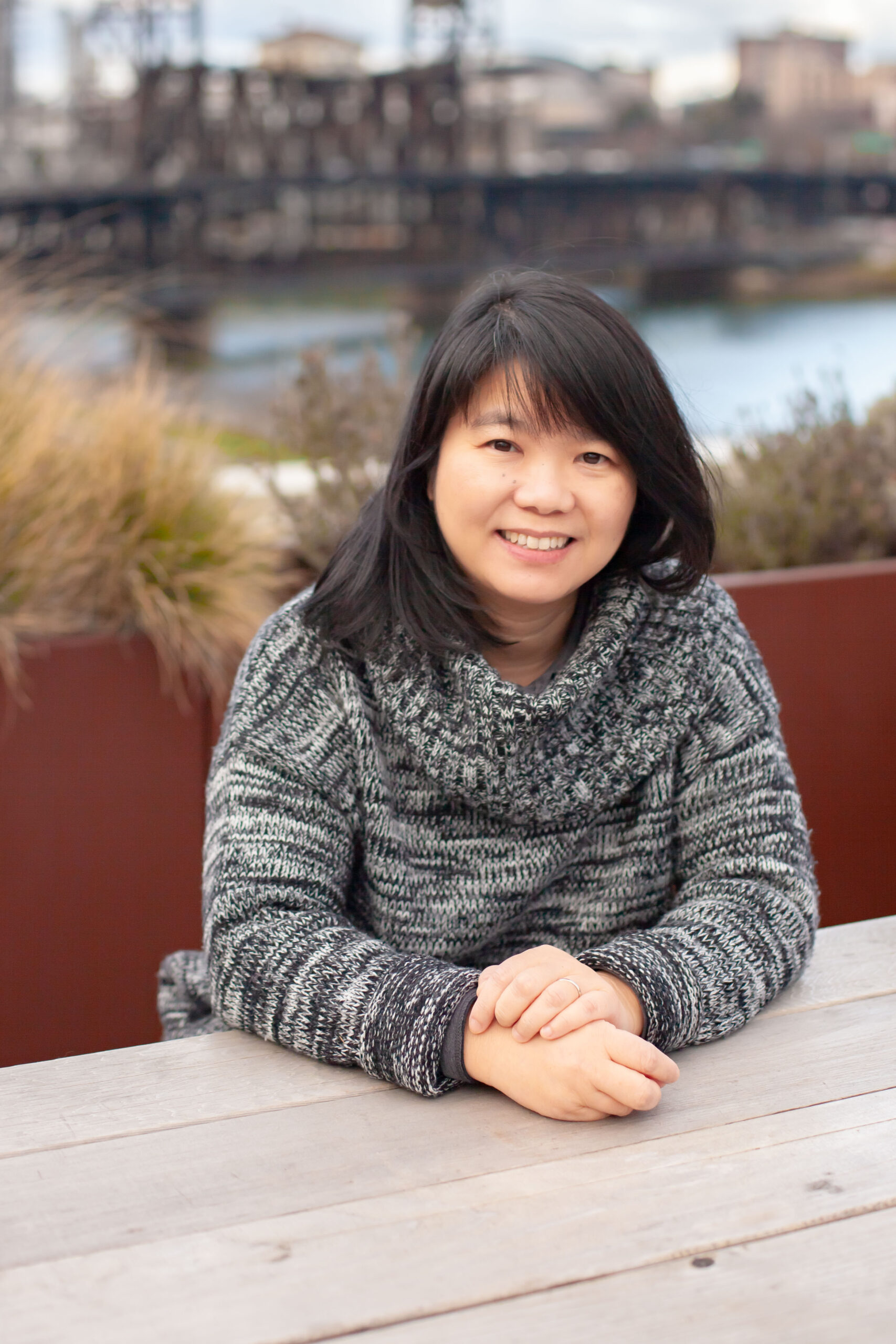 Architect and artist May Au poses atop Ankrom Moisan's Portland office.
This began as a result of the recurring Thursday drawing classes, the products of which are shared on the AM is Sketchy channel. May received enthusiastic feedback from her colleagues, who wanted to know more about her process. "A couple of people were interested in learning how I draw," May said. Roberta Pennington asked May if she would share her process with the firm, and although May was hesitant at first, she eventually agreed, but not before deciding to spruce up her presentation. "I thought it would be kind of boring if I just drew on live," May explained. "I thought that during this precious lunch hour, people would probably want to draw more than watching me, so I thought 'I should speed that up in Procreate and record the process.'" Even her management team took notice of May's art; Ryan Miyahira asked May to share her sketching process at a team meeting. Luckily, she already had recordings of her sketching process from a trip she took to Nice, France. May paired her time lapse videos with narration and music recorded by her husband and Emily Bear, respectively. The videos were shared on the company's Teams channels, catching the attention of many, and causing May to be nominated for an employee spotlight feature. 
May was drawn (pardon the pun) to painting in kindergarten, when she took note of artwork hanging on the walls of her classroom and aspired to learn how to draw and paint when she grew up. Her older sister encouraged this newfound passion, singing May original songs such as "I'm a Little Painter," which she particularly loved. 
In college and at the beginning of her career as an architect, May attended live drawing sessions to draw models, and would often check out books on the sketches of her favorite artists – Michaelangelo, Da Vinci, and Rembrandt – from the school library when she was supposed to be studying. These habits strengthened her eye for detail, a trait which she would rely on in her work as an architect. She explained the connection between her sketches and architectural work, saying "in general, architects must detail projects out quite a bit. We need to be efficient, and we don't want to do the work incorrectly, so you always have to check yourself and ask, 'am I doing it in the right way?'." 
May's sketches of various buildings in France, Japan, and Hong Kong.
This work ethic overlaps with May's artistic process in the sense that her sketches begin with 'bigger picture' concepts, like lines and shapes, and gradually moves towards finer details, though she often takes a step back to ensure that both the bigger picture and smaller intricacies are balanced and in harmony. She applies this process to all projects she undertakes, explaining, "If somebody gives you a task or big issue, it's helpful to break them down into steps to tackle them one by one, rather than being overwhelmed by it. After you finish, always stand back and question the work, then you'll find your own mistakes without other people telling you."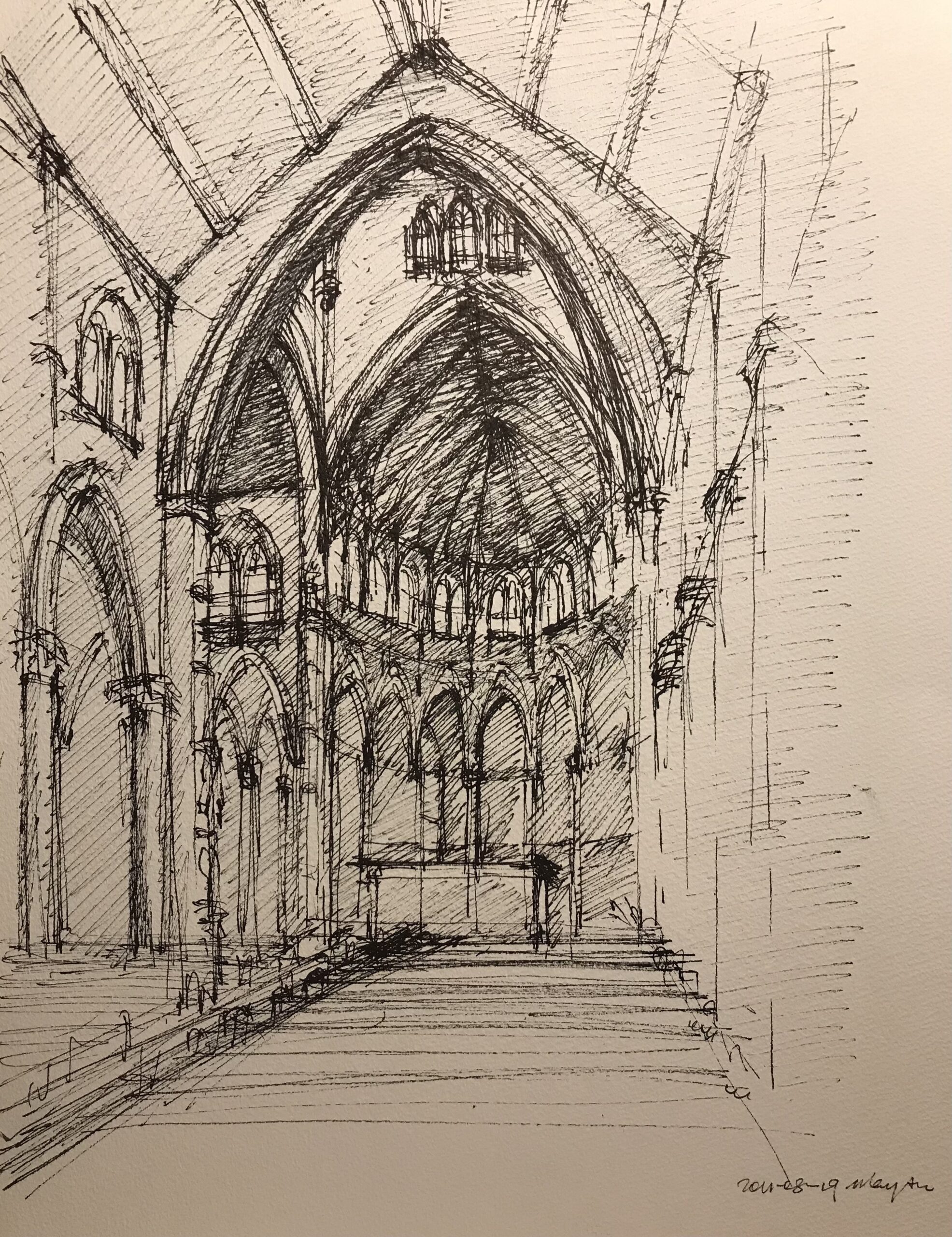 May's sketch of Immaculate Conception Cathedral in Hong Kong.
Illustration is not the only artistic talent that May holds. Before becoming an architect, she made and sold pottery. May disclosed, "I couldn't make a living out of pottery, so my sister suggested that I look into architecture. I thought 'ohh, that's so different because clay is so soft and so flexible, and architecture is not." Though she no longer makes pottery, her love for the craft remains. May views herself as more of a potter than an architect. "I don't [do pottery] anymore, I get addicted to it," she jokes. "I cannot stop. A few days ago, I found a pottery studio in my neighborhood. I was too excited; I couldn't fall asleep." In addition to her past as a potter, May has taken classes on Chinese calligraphy and oil pastel painting throughout her architecture career, and illustrates cartoons for her church's newsletter. 
One of her dreams was to become a rendering artist, however, since rendering is no longer done by hand, May pivoted to learn more about detailing, a decision which brought her – at the suggestion of a friend – here, to Ankrom Moisan. May saw this opportunity as a way to build a solid foundation in the field of architecture, as well as a chance to be exposed to a more diverse range of projects than previous positions she had held. 
May says that she has learned to be more efficient, as well as the art of detailing, since starting at Ankrom. "I'm very thankful to mentors like Sean Scott, James Lucking, and David Dahl that really helped with my detailing," May said. "Without them, I wouldn't be able to do much, or wouldn't be able to [detail] correctly." She believes that her attitude has changed too. "I've learned to be more patient. Patient of my own growth," she reflected.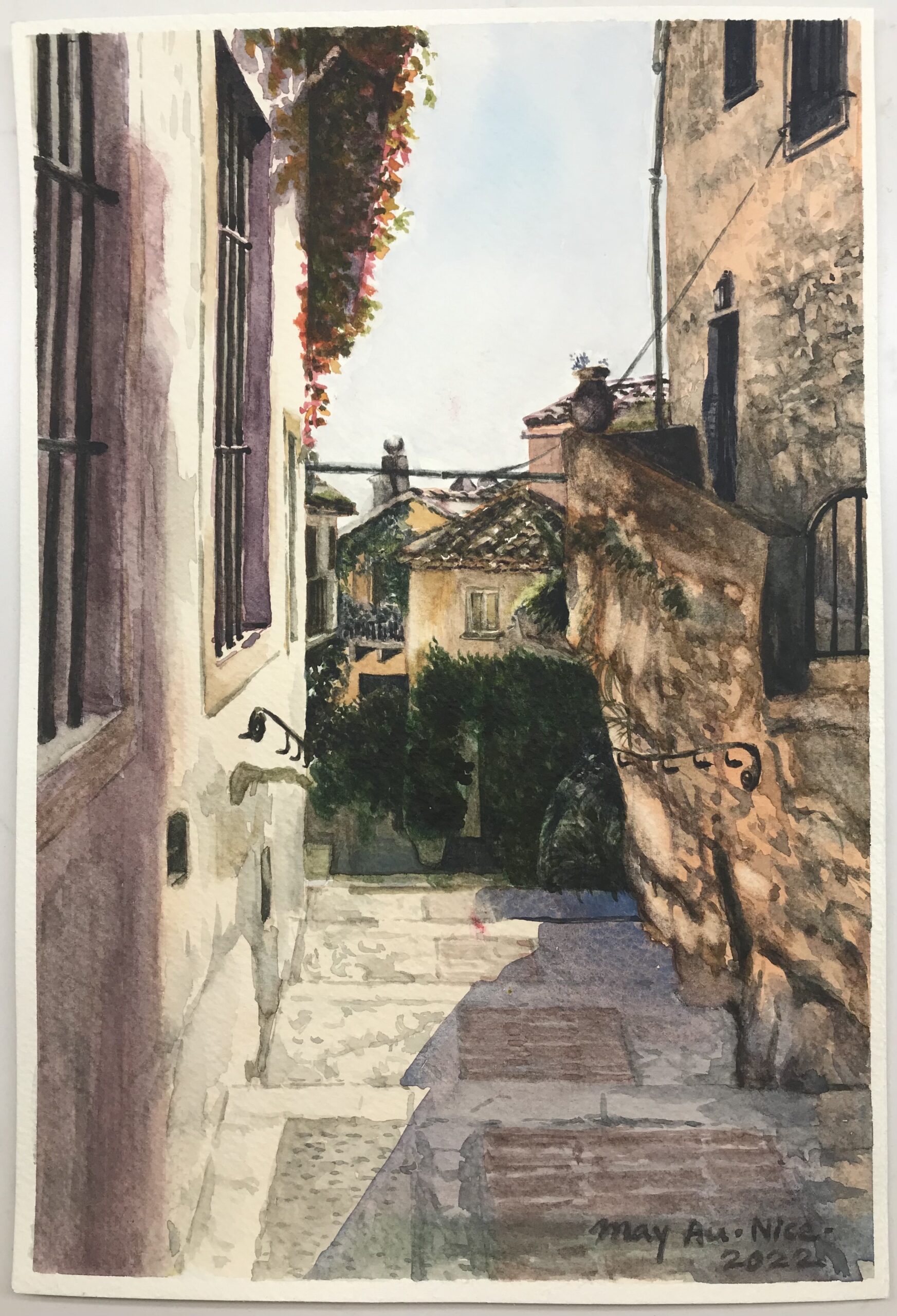 A watercolor painting of an alleyway in Nice, France, completed by May in 2022.
Though she primarily works on residential projects, May's favorite type of work are cultural buildings "that are for public use," she says. "Residential buildings are what we do, and they're my second favorite type of architecture since we eat and live in those buildings every day." 
As an architect, May is inspired by the ability to "explore the possibilities in a space and to be creative and not necessarily stuck with what we see, but to come up with many different ideas." As for her art, she finds that her creative impulse is sparked by the mood and the lighting in the composition of an image. While there is not a single subject May does not enjoy drawing, she wants to improve her portraits, since they can be so challenging. "It takes a lot of work. If I can draw people's emotions, and capture that [essence] where it's like 'that person looks like that person,' I'd be happy," she explains.  
May has plenty of sage advice for young professionals who are just starting out in the field of architecture and interior design. She stresses patience with oneself and self-confidence. "People blossom at different stages, so don't be too impatient with yourself," she says. "Learn to be humble, but at the same time, learn to be a leader. Know your own strengths. Know what kind of path you want to go down, and fight for it. Don't let other people decide what you can do." May also acknowledges the virtue of tenacity, stating "we have to fail before we succeed." As a final piece of wisdom, May offers, "be able to learn to embrace the details, not just ideas," a philosophy that she clearly lives by, evidenced by her beautifully detailed illustrations.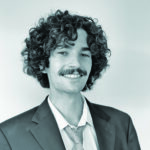 By Jack Cochran, Marketing Coordinator
FILTER
SEARCH
This search form (with id 2) does not exist!