August 25, 2021
Studio Building Bike Room Amenity
In early 2020, TMT Development contacted Ankrom Moisan Interiors to design several small tenant improvement projects in the Studio Building and the Fox Tower in downtown Portland. The Studio Building at 919 SW Taylor is one of the oldest buildings in the downtown center, built in the 1920s as a musical conservatory. Now housing modern office space, TMT desired to add a bike room amenity to the existing basement, to provide tenants with ample bike storage, two shower rooms, and a bike repair area.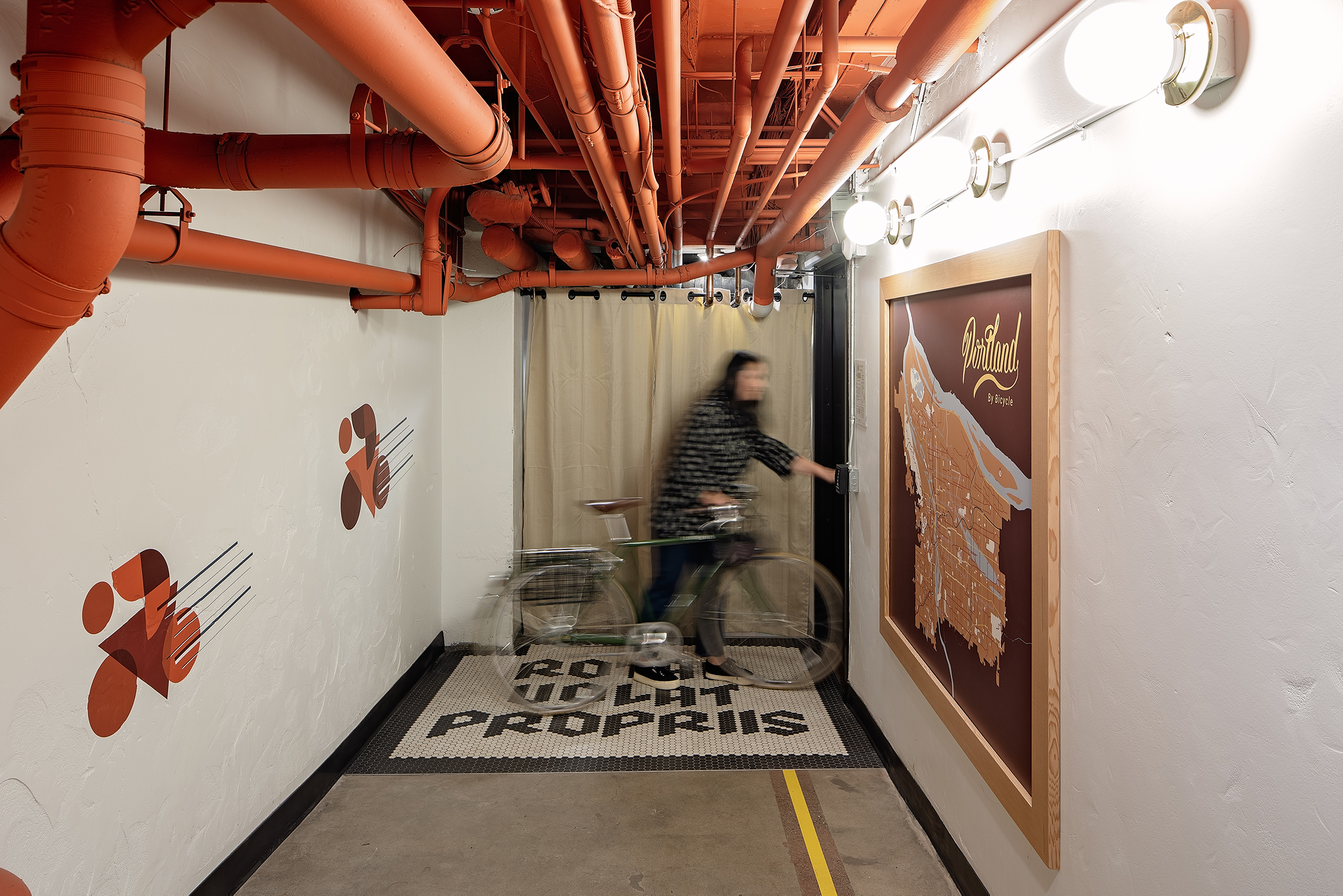 Roberta Pennington, the project manager, looped me (Maddy) into this project as the designer, and we went far beyond TMT's expectations. Inspired by the historical music background of the building, we presented two musically inspired design options: Jazzy & Classical. Ultimately, TMT decided to move forward with the vibrant and energetic Jazzy scheme to bring more life into the existing spooky basement. "Jazzy" pulls inspiration from vintage jazz posters, historic palettes, and art motifs of the 1920s and 1960s jazz eras. 
Working within the existing dark, concrete basement, we strove to brighten and enliven the space while creatively guiding employees from the elevators to the bike room down a long hallway. Being a budget-conscious project, we used simple and inexpensive design moves to add major impact and character to the space and keep up with the fast-paced timeline.
First, old, unused pipes and conduit were removed from the existing ceilings of the hallways and storage room (which would eventually become the bike storage space). The remaining pipes and structure were then painted with vibrant colors to not only create a beautiful, cohesive aesthetic, but help group what would otherwise be chaotic and overwhelming utilities into a visual whole – the Gestalt effect. Dozens of exposed pipes became a sculptural, colorful ceiling. 
The existing concrete floor remained, but was cleaned and repaired as necessary. Keeping an existing painted red stripe on the floor (which led to fire suppression equipment down the hall), we incorporated this into the design as a wayfinding feature by adding a simple yellow stripe on top to connect the spaces (confirming that altering the stripe wasn't against code). We also added a special custom tile inset signifying the entry to the bike room. Working with the AM Brand team, the design is a play on Oregon's motto "She Flies with her Own Wings," becoming Rotae Volat Propriis, or "She Flies with her own Wheels." While Daltile can manufacture custom mosaic tile layouts onto their mesh backings, this added significant time and cost to the project, which we did not have. Instead, we simplified the tile design and reduced it down to two colors, and ordered whole sheets of black tiles and whole sheets of white tiles. The tile installers only had to swap individual tiles to create the lettering. By having the majority of the layout already adhered to the mesh backing; this saved time and cost in the end for the custom design & install. In the shower rooms, we used a waterproof uncoupling membrane underneath the new tile floor, allowing the tiles to move separately from the building structure and help prevent cracking and damage. The irregular cement tile floor design was inspired by the night sky often seen in jazz posters.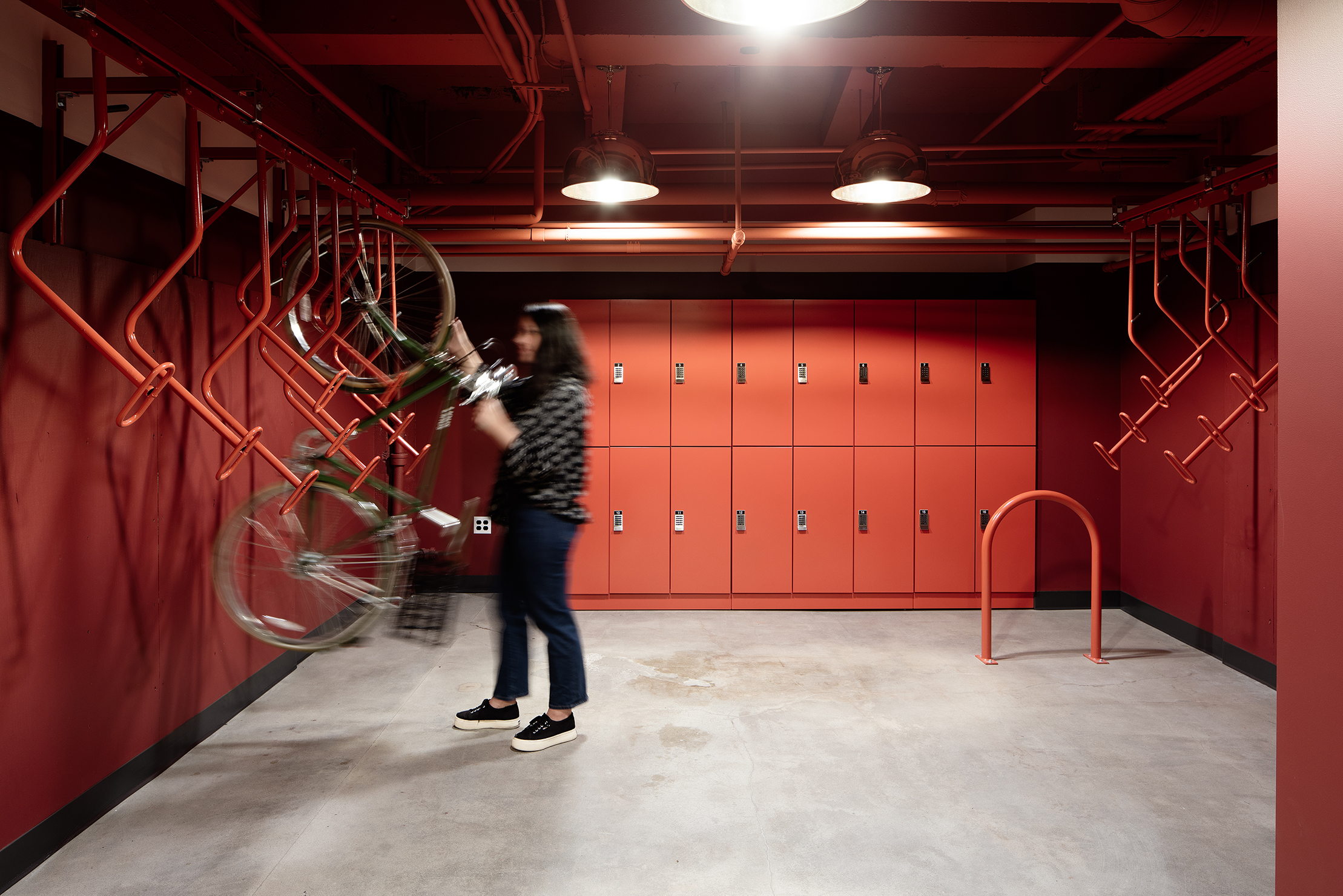 The walls in the elevator lobby, hallway and bike room were treated simply and inexpensively with fresh paint. Near the elevators, we created a bike repair wall, featuring decorative wallpaper inspired by simplified Art Deco shapes. We tested the durability of multiple wallpaper materials by scratching samples with our house keys, to ensure the wallpaper would hold up to expected bumps and scratches in the future. We added simple linear light fixtures following a curved arch shape on the wallpaper, visually suggesting sound and expression of excitement. In the hallway, our Brand team riffed off the wallpaper shapes to design custom wall decals to abstractly resemble racing bicyclists. These also act as a wayfinding feature to the bike room. At the bike room entry, a custom-designed Portland biking map is framed and mounted to the wall. The walls and plywood are painted a vibrant red-orange, electrifying the experience. The bike racks and lockers are painted a different shade of red-orange in contrast, resulting in an unexpected explosion of color. Inside the shower rooms, the walls are lined with recycled clay tile from Fireclay Tile, making each of the tiny shower rooms fully waterproof and beautiful. Custom half-moon mirrors add another Art Deco element to the scheme.
Overall, the design and finish decisions resulted in a project that was within budget, on time, and made a huge impact on the user experience.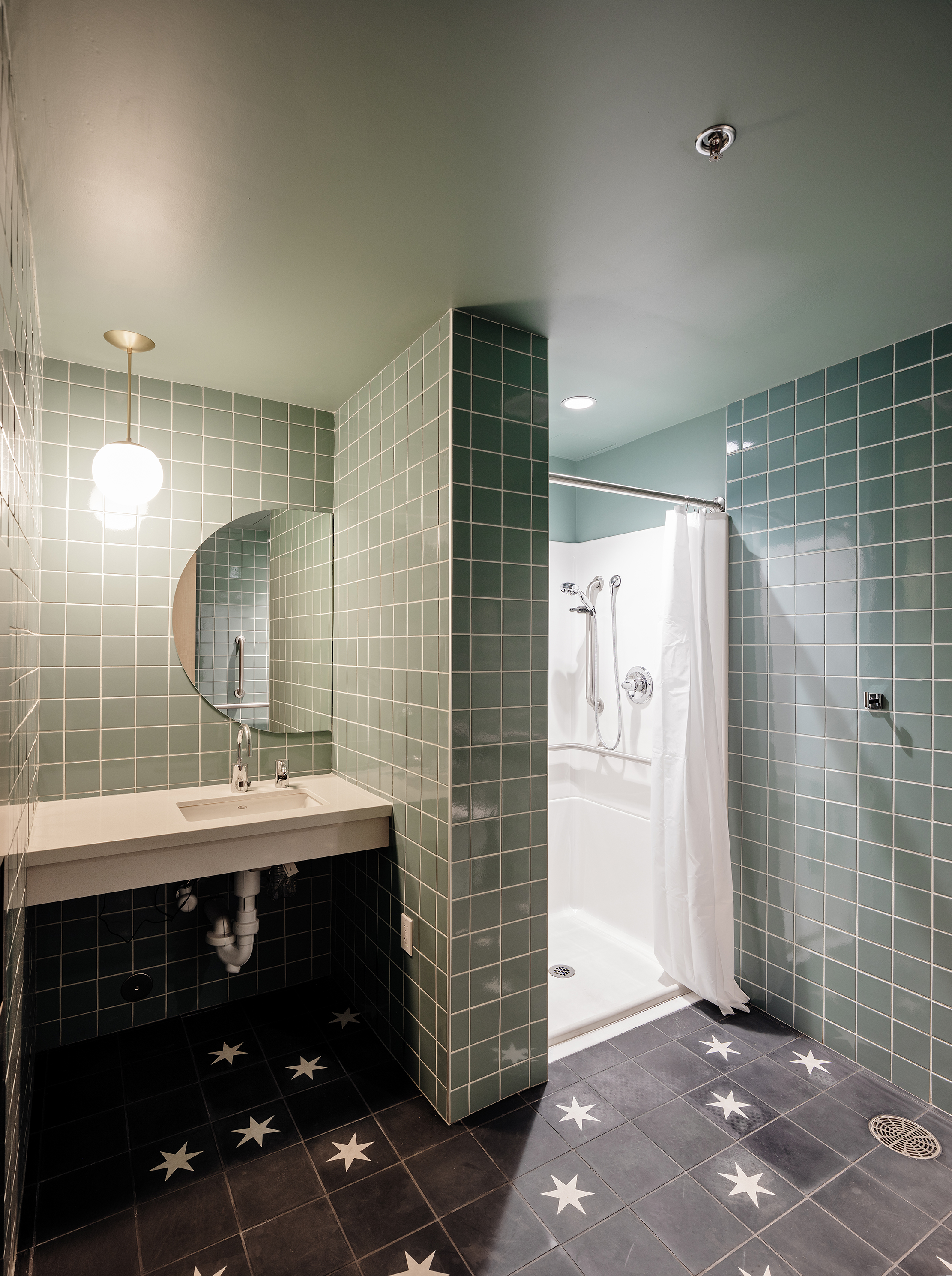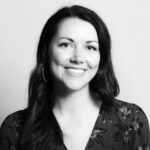 Maddy Gorman is a certified Interior Designer specializing in Workplace design, based in our Portland office since 2015. In her free time, she enjoys elements of discovery whether that is in nature, finding new delicious food combinations, uncovering patterns and stories through Tarot, exploring inward while lying still in a float tank, or traveling the world.
FILTER
SEARCH
This search form (with id 2) does not exist!
Simplifying the Specification Process
August 11, 2021
Discovering Proper Uses of Commercial Finishes and Materials
Within my design passion comes a desire to learn about how spaces and their materiality affect people mentally, psychologically, physiologically, and emotionally. One of the initiatives toward my career goals is researching and distilling technical material knowledge so it is easily accessible to all designers.
I enjoy dissecting the details about products and learning how to properly use materials in my work. I believe having a thorough understanding and awareness of the technical side of specifying finishes and materials is incredibly important to being a great designer. In the spring of 2020, I completed a course called the Healthy Materials Lab through the Parsons School of Design, which opened my eyes to the importance of the specification process as a designer. We have the huge responsibility to design spaces that are healthy for both the occupants and the environment, while also balancing efficiency, budget, and beauty.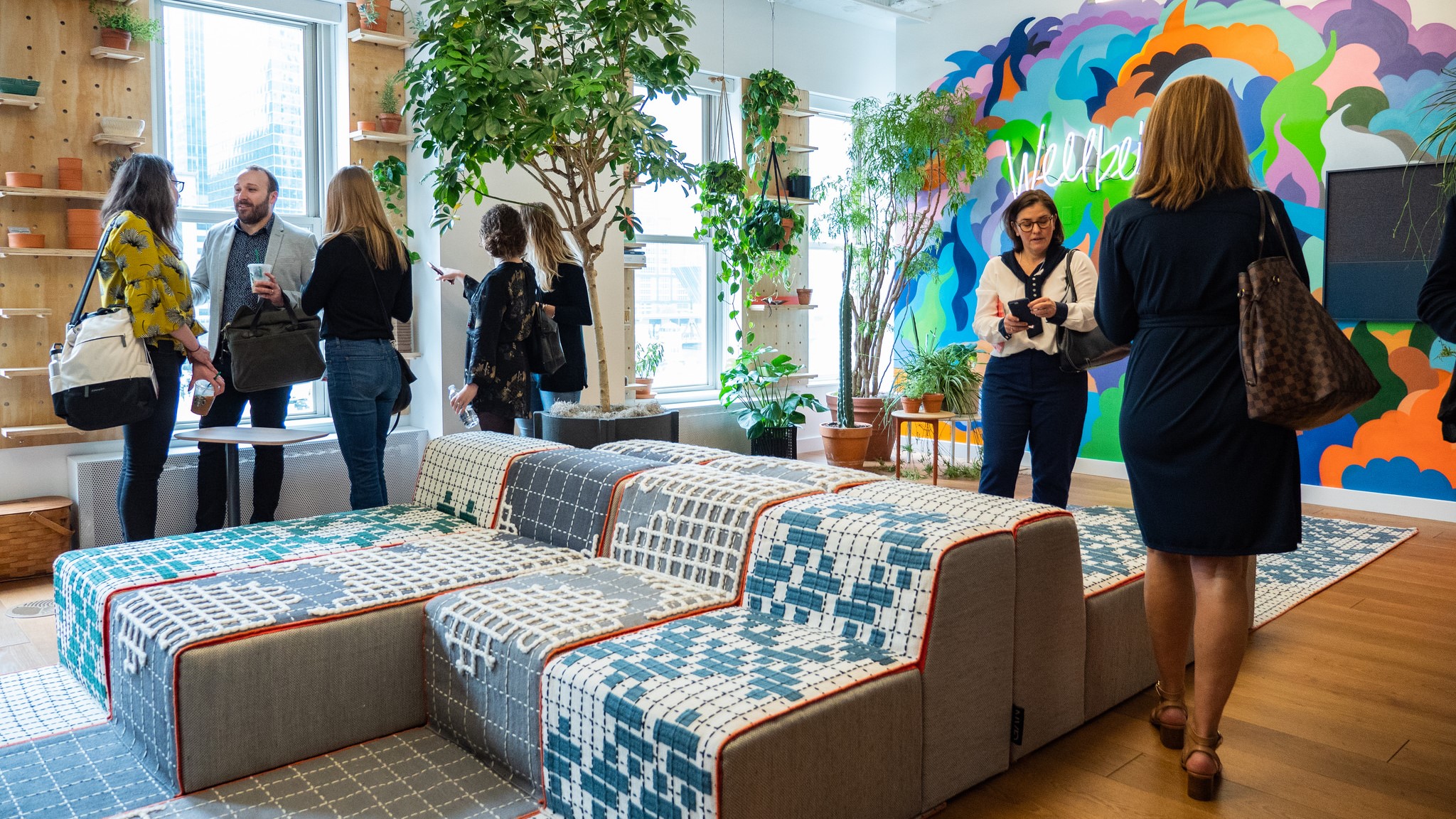 When I first started in the interior design industry in 2015, I felt overwhelmed by the amount of information interior designers are expected to learn and acquire over time, and I didn't want to wait for that to come through my experience on the job. I desired a central resource for information, a "go-to" for all the questions I had about various finishes, to design my projects right the first time. After all, interior designers are jacks-of-all-materials, and with new and innovative products being introduced all the time, it can be difficult to keep up with the knowledge, even with the help of our wonderful product reps.
I attempted my version of data collection through lunch-and-learns and personal research, scribbled across multiple notebooks, and documented in digital files, but never succeeded in one place. The peer culture of my design studios in architecture school was extremely positive and supportive, which unfortunately isn't always the case, never leaving a fellow studio-mate behind to get ahead yourself. I wanted to carry that same outlook into my career by sharing knowledge to help us all improve.
In entering the industry, the structure of learning about commercial products consisted of lunch-and-learns, NeoCon, on-the-job experience, and research on your own time. In a time where crowdsourcing information is the norm, the processes of ordering material samples and learning about products were challenging and out of date. I often asked myself: "Hasn't this question been asked before?" and "Why isn't this information easier to find?"
When Ankrom Moisan moved into our new Portland office in Old Town, our designers had access to a new, state-of-the-art material library run by our dedicated librarian and researcher, Erica Buss. While this was an immense improvement from our situation in the previous office, there was still the missing piece of how to use these materials successfully. When should I use resilient flooring over carpet? What is the difference between these three textile options? How will this countertop perform over this other material? There was crowdsourcing between designers through our office messaging apps, but sometimes you just need a thorough overview of all the important factors in specifying.
In January 2021, I was approached by Nicole Schmidt, the CEO of Source, to write blog articles detailing the important aspects to successfully specify various commercial finishes and materials. It felt like this gig was made for me. What I appreciate about the vision of this resource is the articles are meant to be informative, succinct, and easy to read for any level of design experience. I incorporate multiple perspectives by interviewing different manufacturer representatives for each product type, so there is a holistic and comprehensive overview. I ask reps to clarify common misconceptions and mistakes made by designers and recommended solutions, for any sustainable alternatives or aspects to consider, regarding the longevity of a product (and thus keeping it out of the landfill for longer).  I include any lesser-known "tricks of the trade," such as the Coffee Spill Test coined by fellow AM interior designer Roberta Pennington to test coffee spill visibility on carpet samples. Source has other resources available to designers, such as material cost estimates to assist designers with their project budget constraints, and a central material library with dedicated researchers.
Keep your eye out for my next post, where I dive into a few recent projects and the stories behind the finish palettes.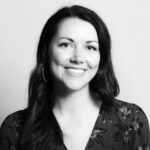 Maddy Gorman is a certified Interior Designer specializing in Workplace design, based in our Portland office since 2015. In her free time, she enjoys elements of discovery whether that is in nature, finding new delicious food combinations, uncovering patterns and stories through Tarot, exploring inward while lying still in a float tank, or traveling the world.
FILTER
SEARCH
This search form (with id 2) does not exist!
Designing for Comfort
August 10, 2021
Rest and Relaxation
Our homes should be comfortable, should rejuvenate us, and they can make or break our capacity for resiliency. Designing for comfort goes far beyond material or FF&E decisions to include communal space, biophilic design, sensitivity to place and culture and history, even flexible spaces that adapt to fit each residents' individual conceptions of home and relaxation.
Download Comfort now.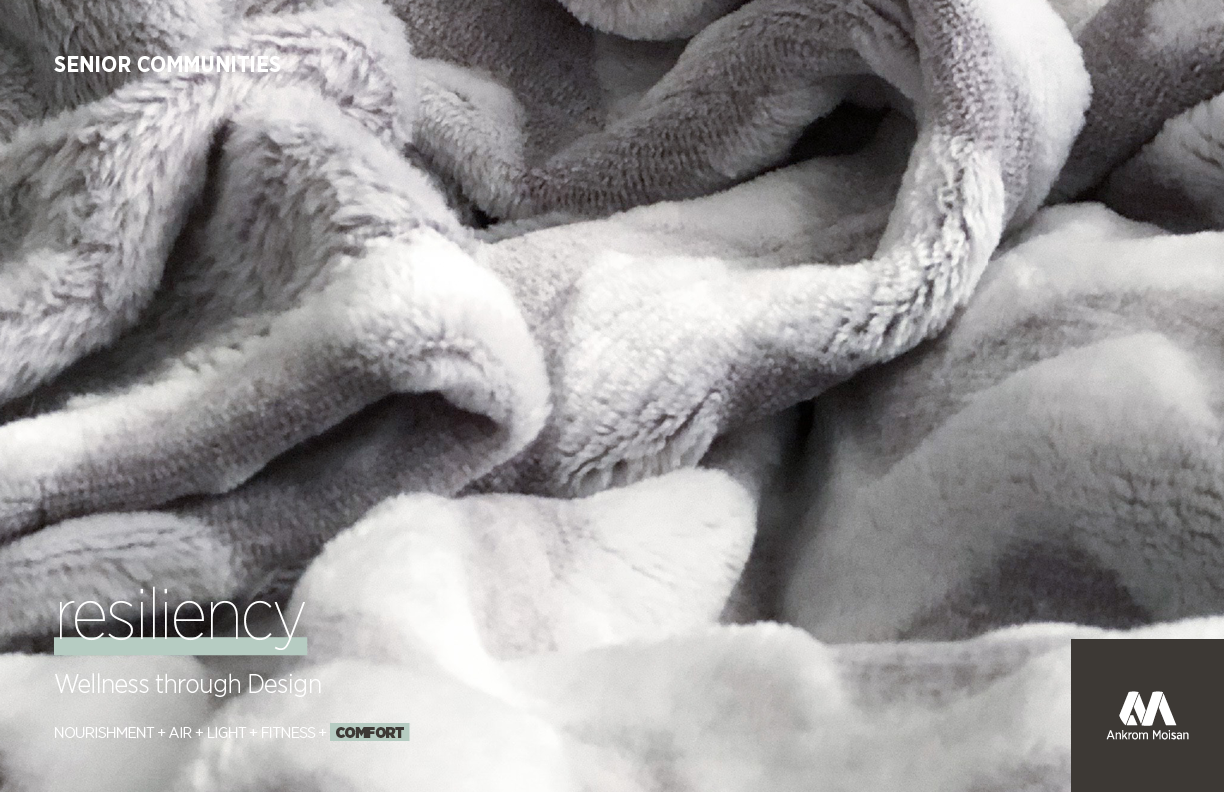 FILTER
SEARCH
This search form (with id 2) does not exist!
Discovering a Love for Design
August 5, 2021
An Intersection for Life
This is a familiar story for many interior designers. I wanted to be an interior designer since I was in grade school; the signs were there from the beginning. I remember sitting at my dining table, butcher paper sprawled hastily across and sketching cross-sections of the earth. I drew mom and dad above rabbits and groundhogs below. Or, of course, all of my dream homes: the one that sat up in the tree canopies where the light casts shadows of wavering leaves on my bare walls, the one on a lake built around a central outdoor firepit where we laugh and play games together, and the one without permanent external walls, open to the fresh air at all hours of the day.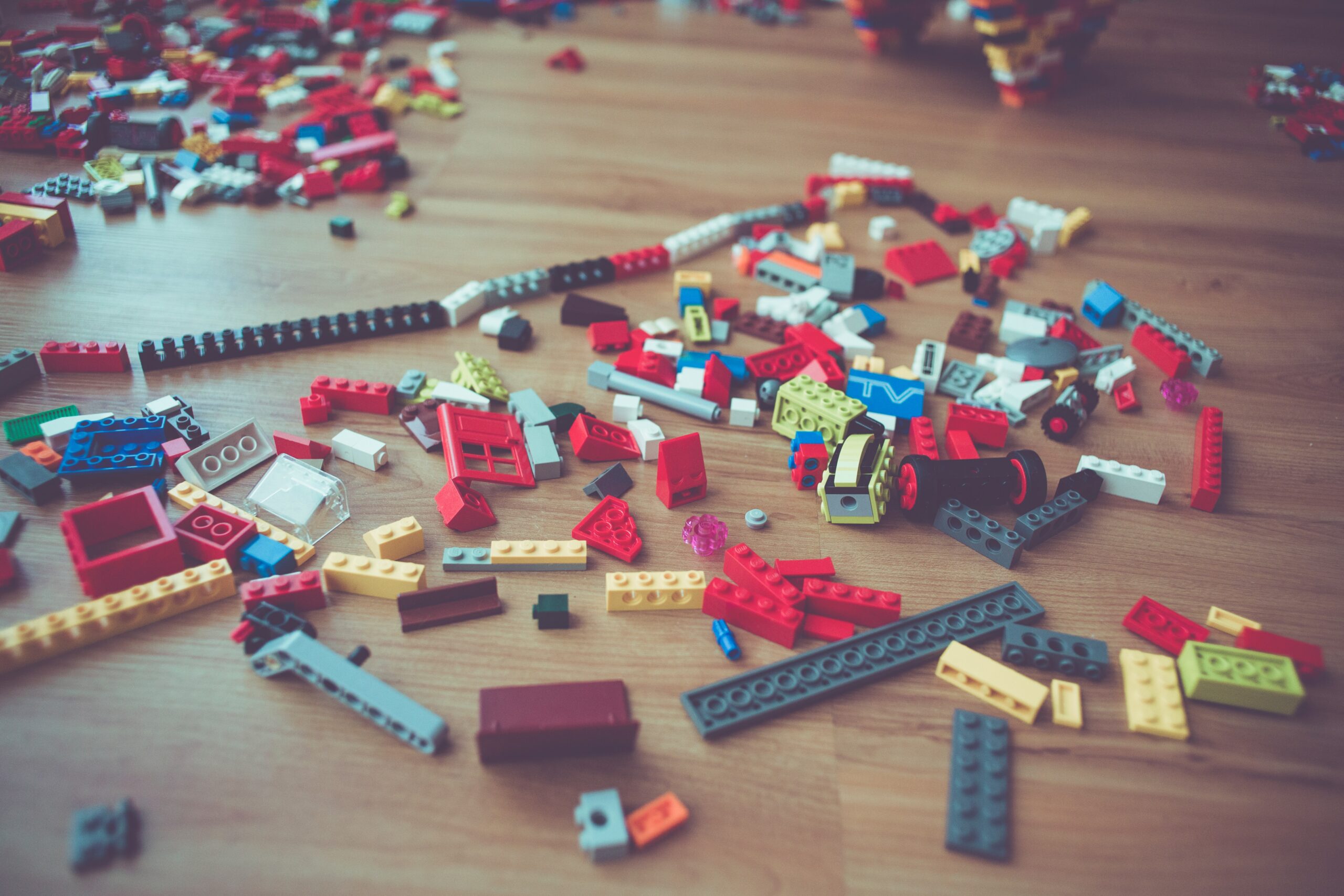 Playing with Legos and woodblocks alongside my brothers, I always took a different approach from their spaceships and tanks meant to destroy, and built homes instead, developing thorough storylines of the families that lived there. And, like many other peers from my generation, playing The Sims for hours on end had a large influence on me. Interior Design is an intersection of things I love: people, emotion, art, science, storytelling, psychology, behavior, and the senses.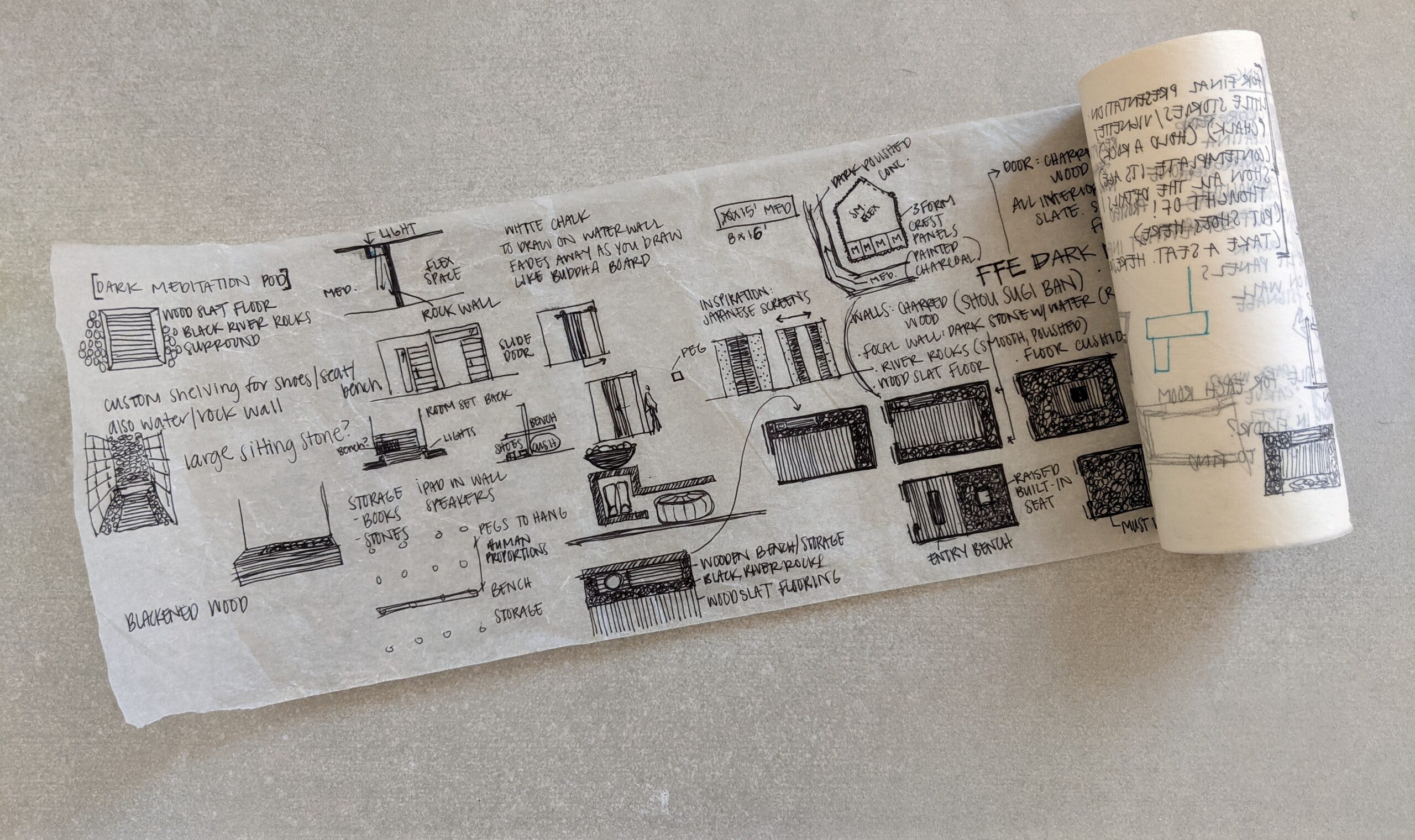 I discovered the career of commercial interior design through my high school art teacher, who encouraged me to apply for the accredited Interior Architecture program at the University of Oregon. Through the program, I fell in love with the idea of creating and designing spaces that many people can enjoy in their everyday interactions with the world.
I continue to follow the breadcrumbs of my personal design passion: design for healing. I read Healing Spaces by Dr. Esther Sternberg and was hooked on the idea that well-designed environments can heal. This does not mean healthcare, but in every space we inhabit daily. Our workplace, our homes, the experience of grocery shopping, or the classrooms we have to sit in every day as children have an immense subconscious effect on our wellbeing. I want to promote a sense of safety and positivity for as many people as I can.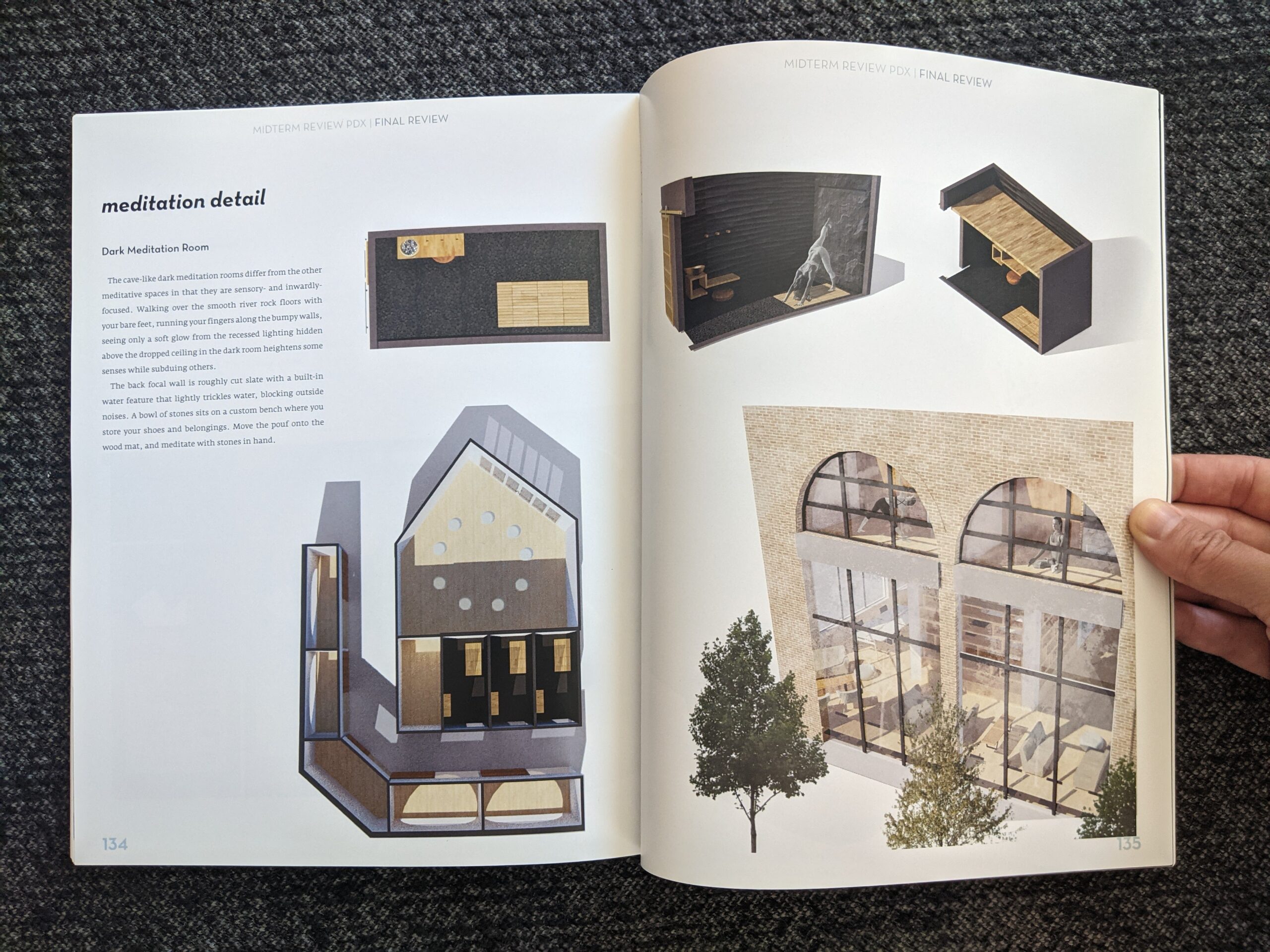 For my final comprehensive project in college, I designed a community space called the Ethical Culture Center of Oregon (or ECCO), a non-theistic sacred space and educational center based on ethics and humanist values, where everyone is welcome to explore what sacredness in their life means to them, while also learning what it means to others. I created a large contrasted communal room for listening and learning, with individual darkrooms for meditation and reflection. This marked the beginning of my journey in the search for knowledge to heal & connect.
In the next blog post, I'll share how I am assimilating information to build a foundation for my knowledge and present that information to the industry.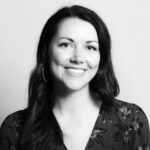 Maddy Gorman is a certified Interior Designer specializing in Workplace design, based in our Portland office since 2015. In her free time, she enjoys elements of discovery whether that is in nature, finding new delicious food combinations, uncovering patterns and stories through Tarot, exploring inward while lying still in a float tank, or traveling the world.

FILTER
SEARCH
This search form (with id 2) does not exist!