September 20, 2022
A Firm-Wide Celebration of Design
Every year, around this time, we gather as a firm and celebrate design. It's like an Ankrom Moisan holiday. A week-long tradition we've all come to know and love—AM Design Week.
This year's theme was aptly labeled "Better Together." And the mission was simple: share, have fun, be yourself, and embrace change.
Opportunities to join in workshops, collaborative exercises and group discussions were sprinkled throughout the week so that AM staff could connect, share ideas, and improve each other's work.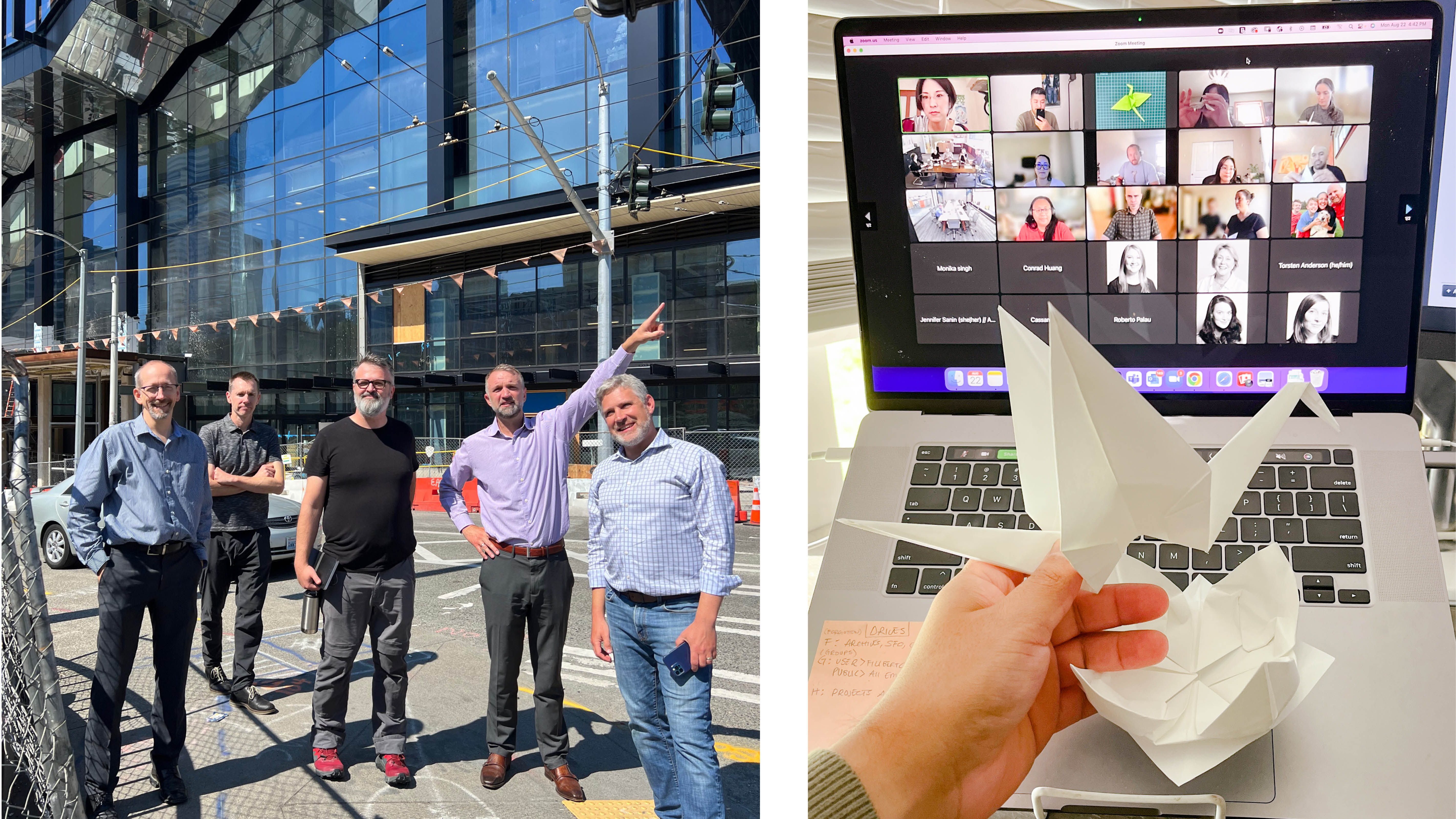 Some of us gathered over Zoom for an origami workshop hosted by an instructor in Japan, others participated in a guided collaboration exercise, or joined in one of the many happy hours—on a rooftop in Portland, in a Seattle speakeasy, or at a San Francisco tapas bar. There were neighborhood walkabouts, design critiques, interactive collages, and so much more. In fact, there were more than 15 activities organized across our three offices.
After the week was over, Kerstyn—AM Content Coordinator—told us that "as a fully remote employee, the opportunity to connect playfully with others at AM was welcome and offered many moments of creativity to look forward to."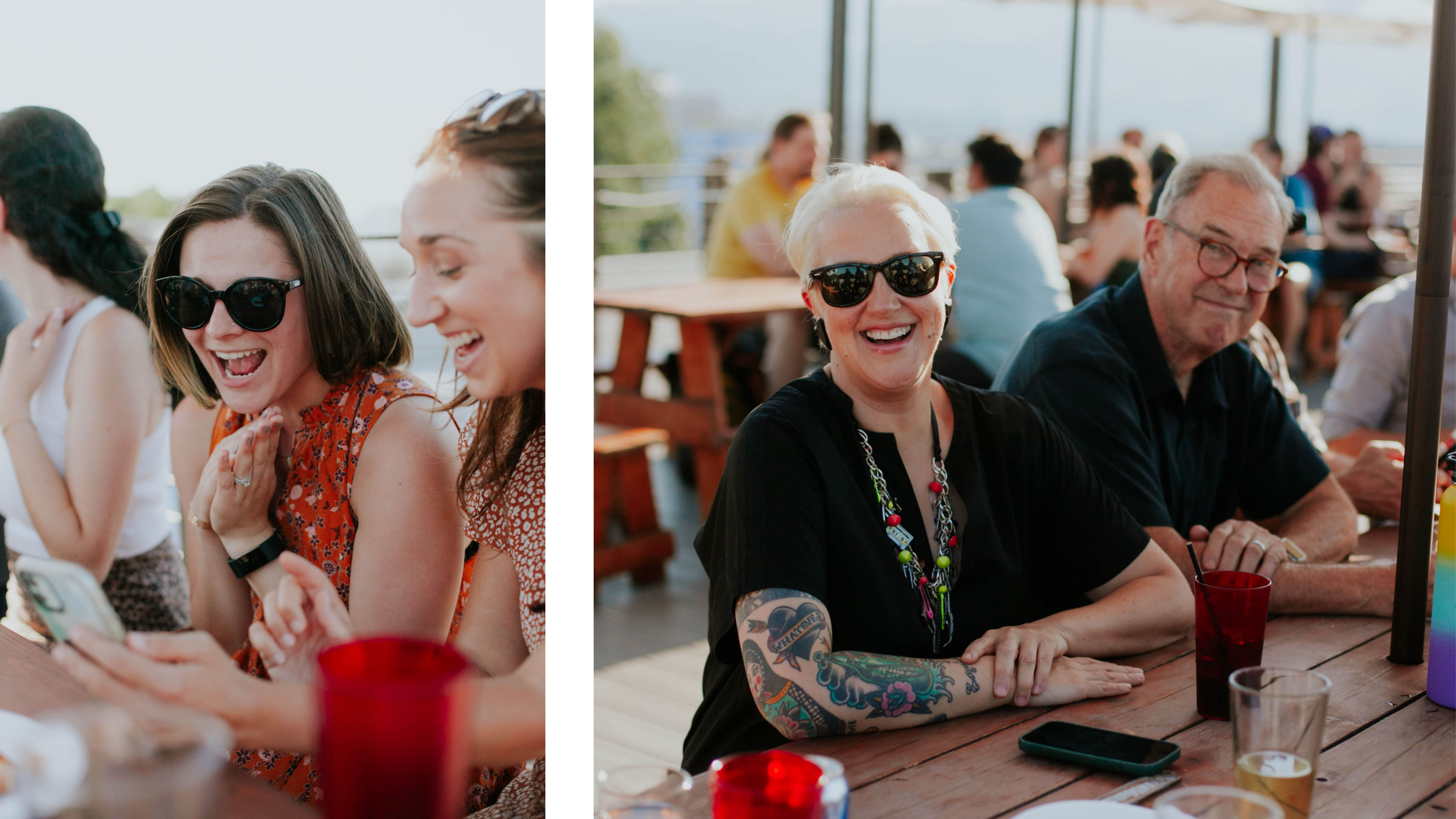 And it really was FUN! Perhaps the best way to illustrate just how much we laughed during Design Week (besides showing you the pictures) is to share a few of the fan favorite "proverbs" we collaboratively generated during our AArdvark Design Labs workshops:
"Sometimes people have ideas from the brain that transcend time and wavelengths."
"Don't forget to remember how a dog sees the bathroom before eating."
"The AArdvark workshop was entertaining and illuminating, with back-and-forth between small groups, focusing together on rapid-fire improvisation" Kerstyn added. "Design Week was a treasure-trove of connection, conversation, and collaboration."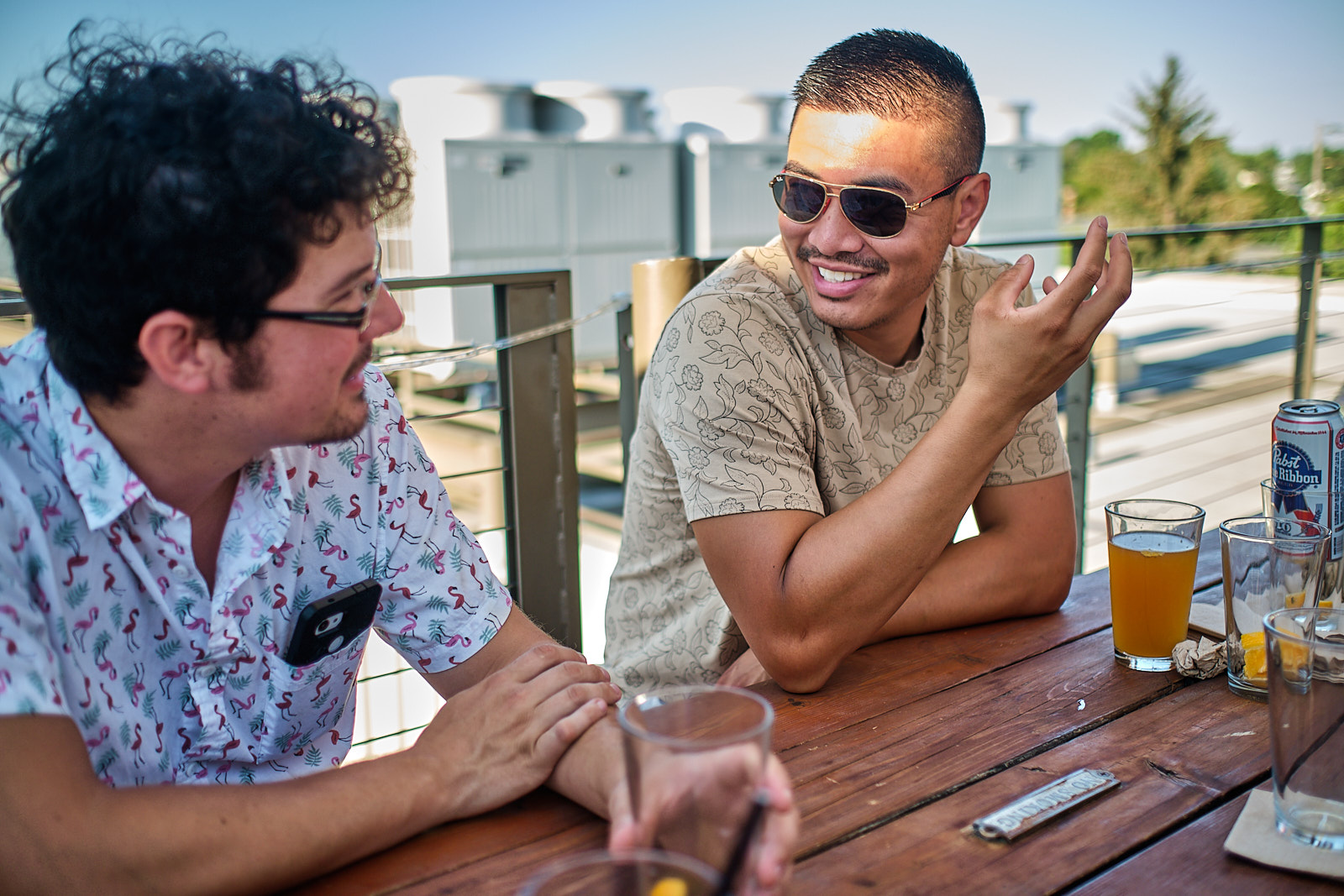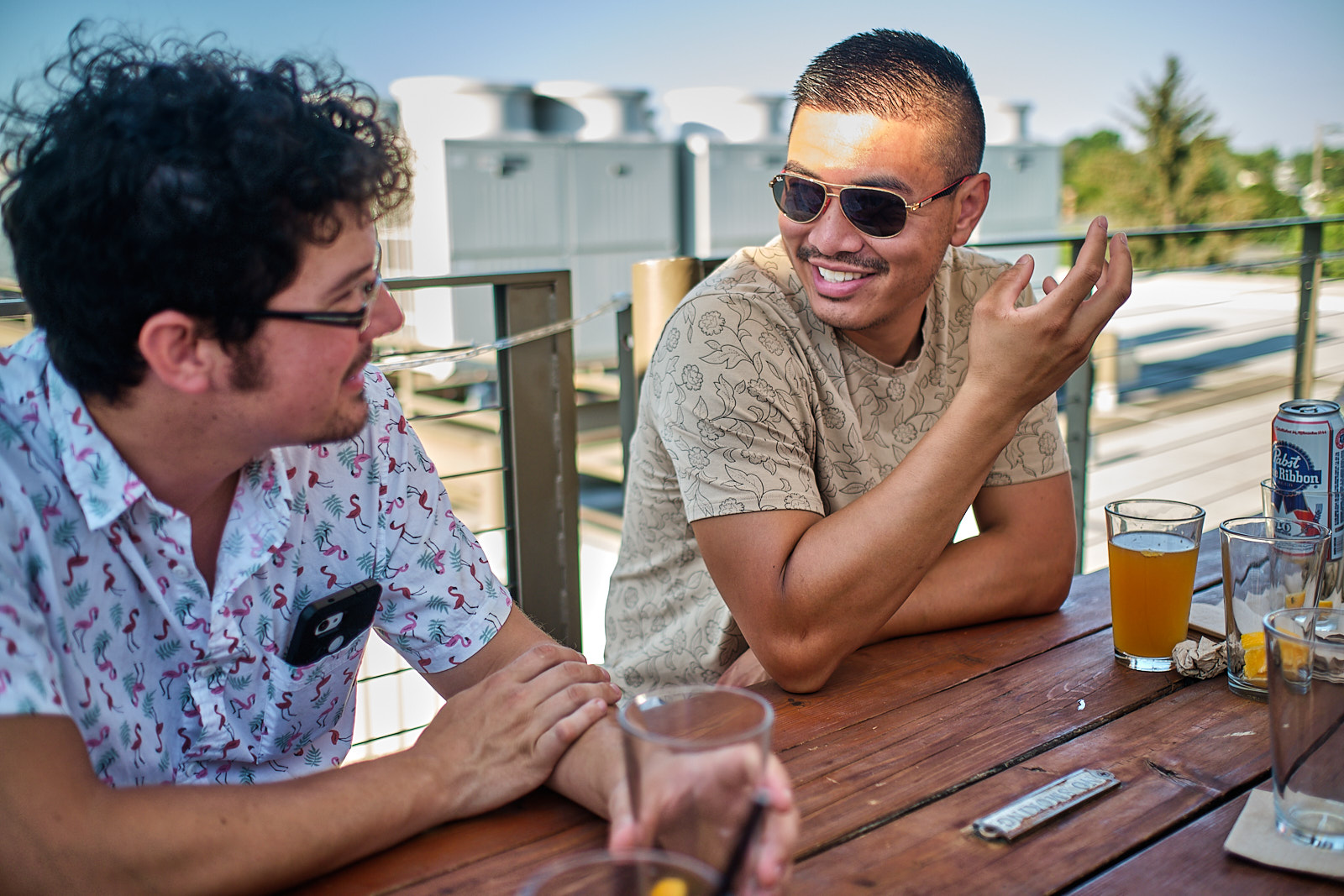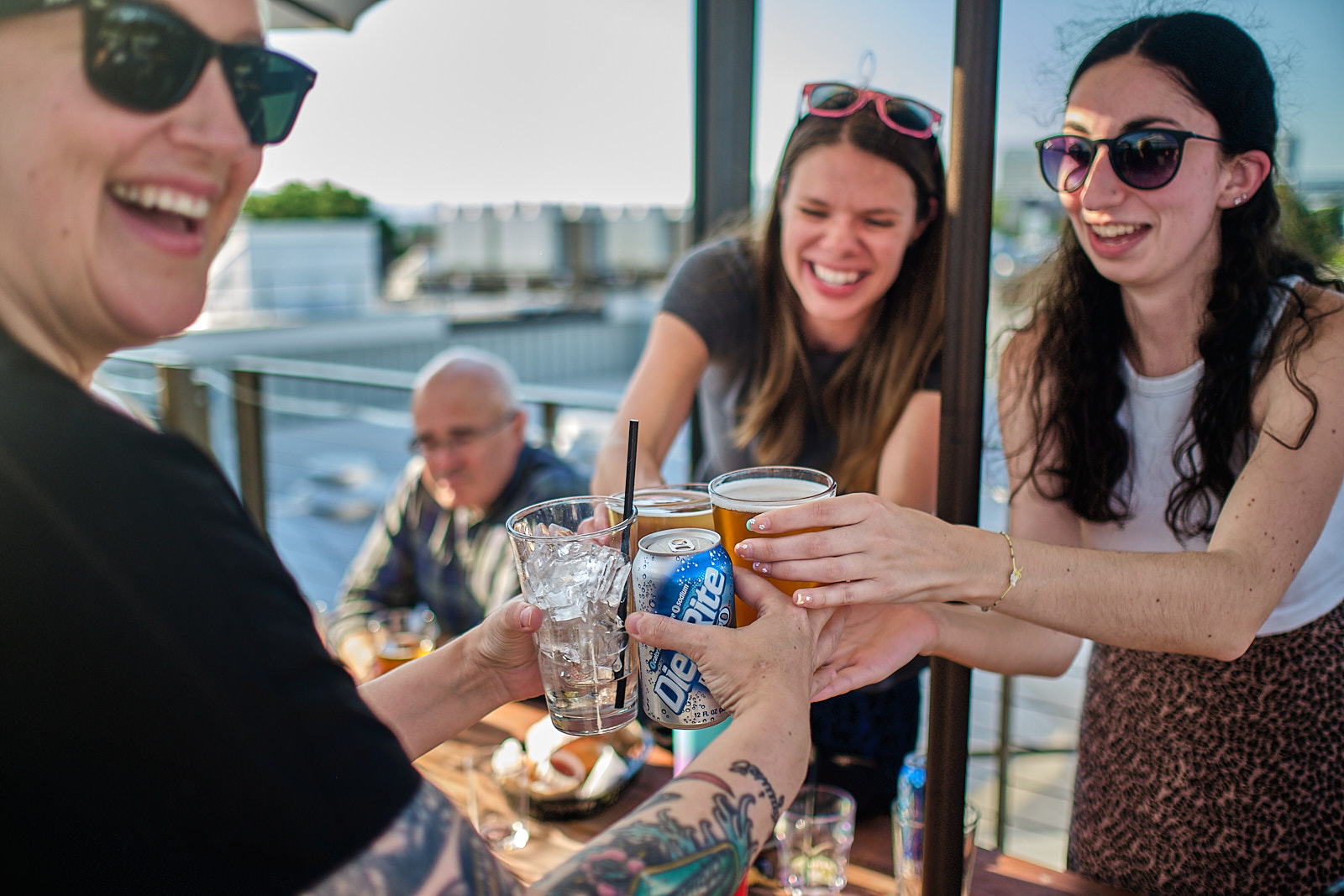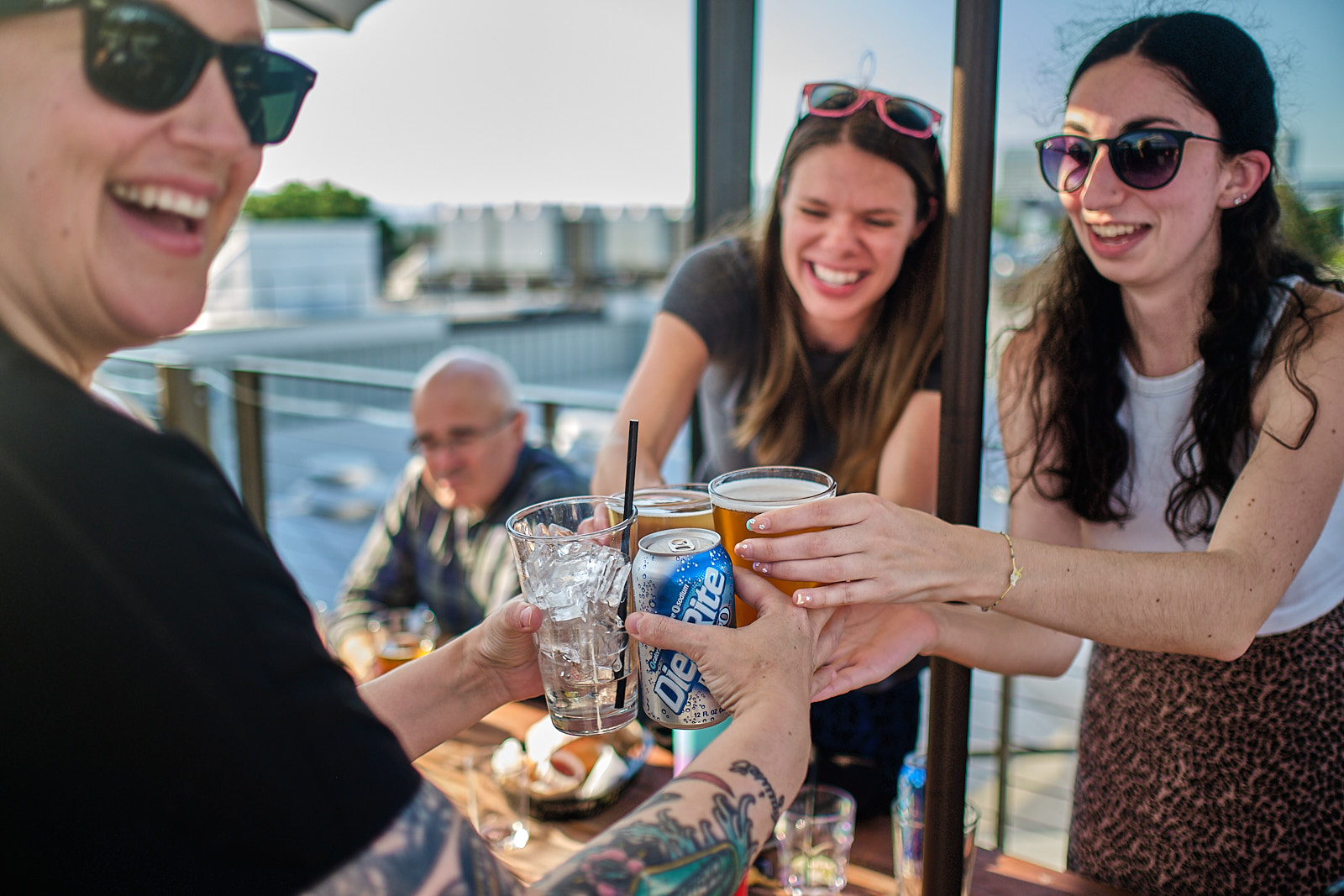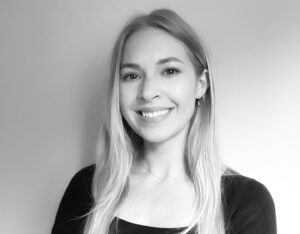 by Mackenzie Gilstrap, Sr. Marketing Coordinator
FILTER
SEARCH
This search form (with id 2) does not exist!
Bringing Bigger Buildings to Smaller Jurisdictions
September 13, 2022
Our Experience and Expertise Lead to Successes
Over the last several years, more demand in smaller markets has resulted in increased proposals for larger scale developments. These jurisdictions have not previously had to review projects that utilize code criteria that are unique to larger building types. 
From the construction permitting point of view, bigger buildings have different codes, and those codes have different interpretations from city to city, and sometimes reviewer to reviewer. 
Jurisdictions are experts at the familiar but can often be resistant to the new. Given the role that building officials play in safeguarding the health, safety, and welfare of their community, a conservative approach to new code criteria is a reasonably common practice.  
Our experience in jurisdictions with more complex code usage can help clients understand the way others have successfully worked with designers to implement unfamiliar strategies in code compliance. 
Our expertise in larger buildings in bigger markets can be valuable with code analysis and interpretation in smaller markets, both from the designer and reviewers' points of view.  
We have consistently seen that building official/fire marshal engagement prior to submittal is key. Meeting early and often minimizes unforeseen issues arising during plan check review. Our history of discussions/solutions from multiple jurisdictions allows for specific issues to be flagged and addressed with real-world applications that have been proven to be successful. 
We have found that when discussing podium construction there are several key elements to consider within the wood-framed components that differ from applications that do not include a concrete podium. Here are a few key items to consider:  
Type III: A wood construction with two-hour rated exterior walls, from the inside and out.


When building height exceeds 70 ft., this construction type allows for building heights up to 85 ft., and requires non-combustible exterior wall construction, commonly achieved through the use of fire-retardant treated lumber. Cladding and its support elements must also be non-combustible above 40 ft. Critical considerations include close study of the highest occupiable floor level based on fire access set-up point. If the lowest point of fire access results in a dimension to the highest occupiable floor level that exceeds 75 ft., then high-rise criteria become applicable. Cost typically limits high-rise construction to projects which far exceed 75 ft. height. Designers must consider this cost impact, especially when contemplating occupied roof decks, which some jurisdictions will allow to exceed the 75 ft. height, while others will not.

 
Project Example – Hudson on Farmer (Farmer Arts), Tempe, AZ (Framing construction, completed building)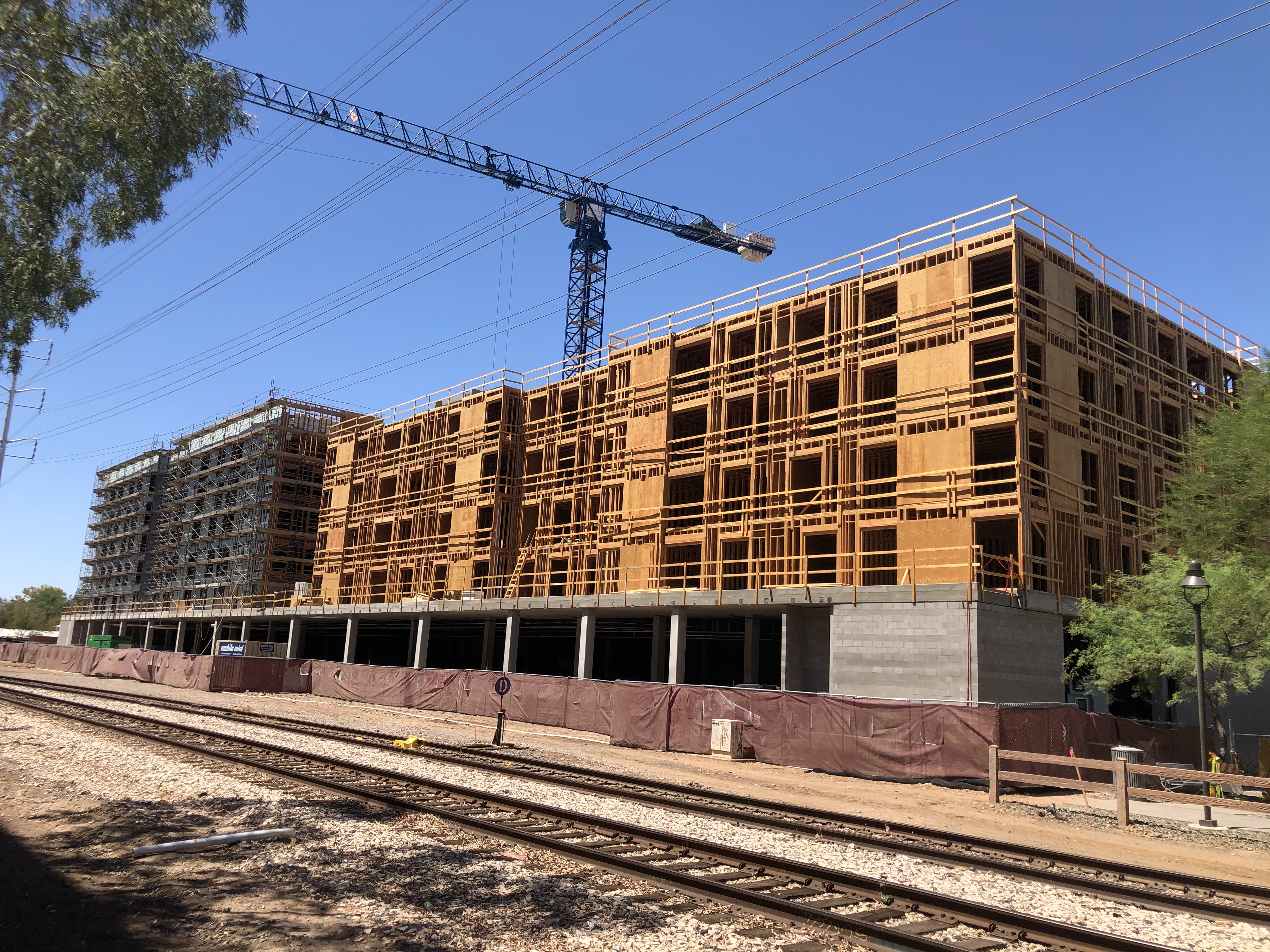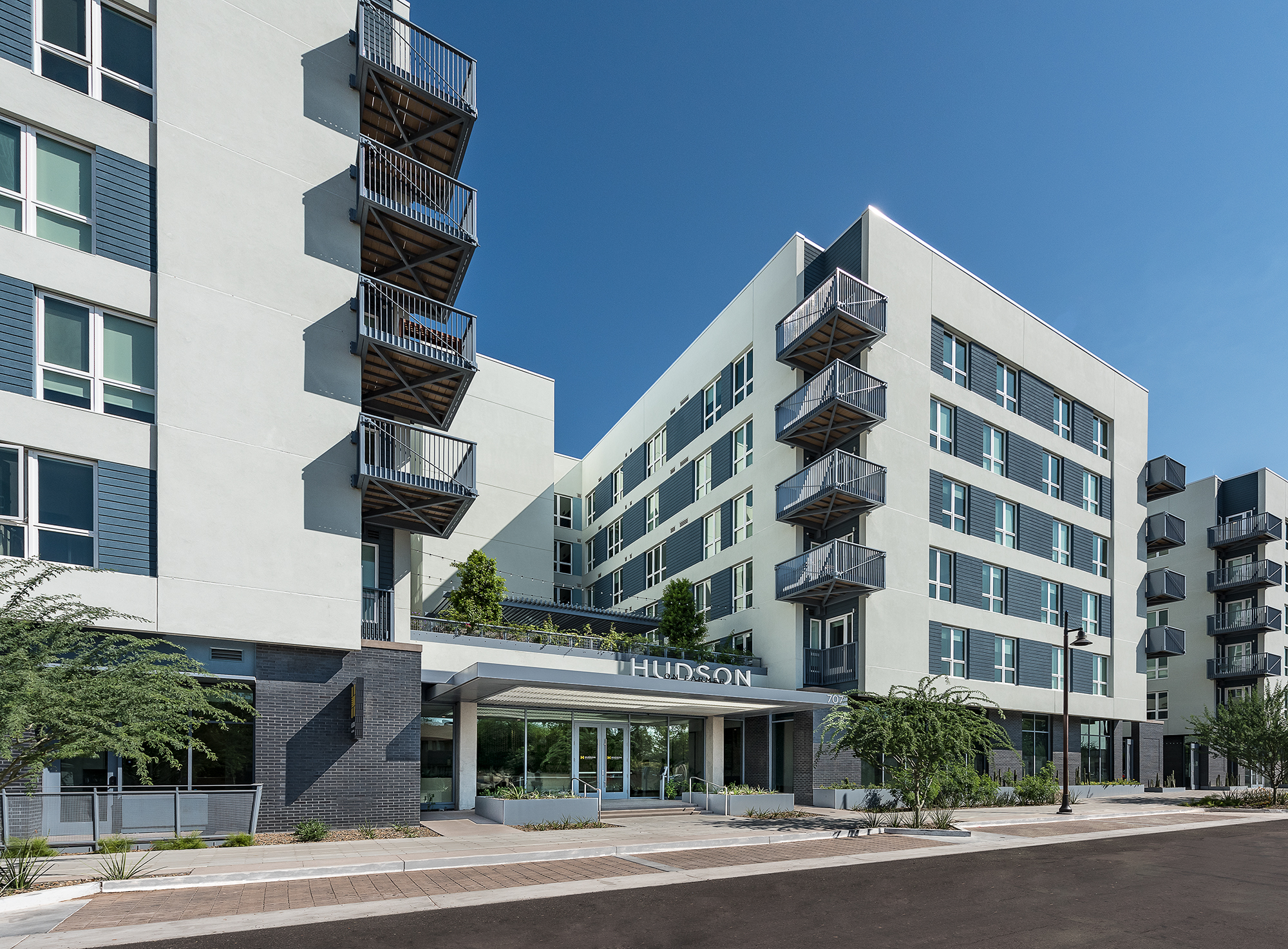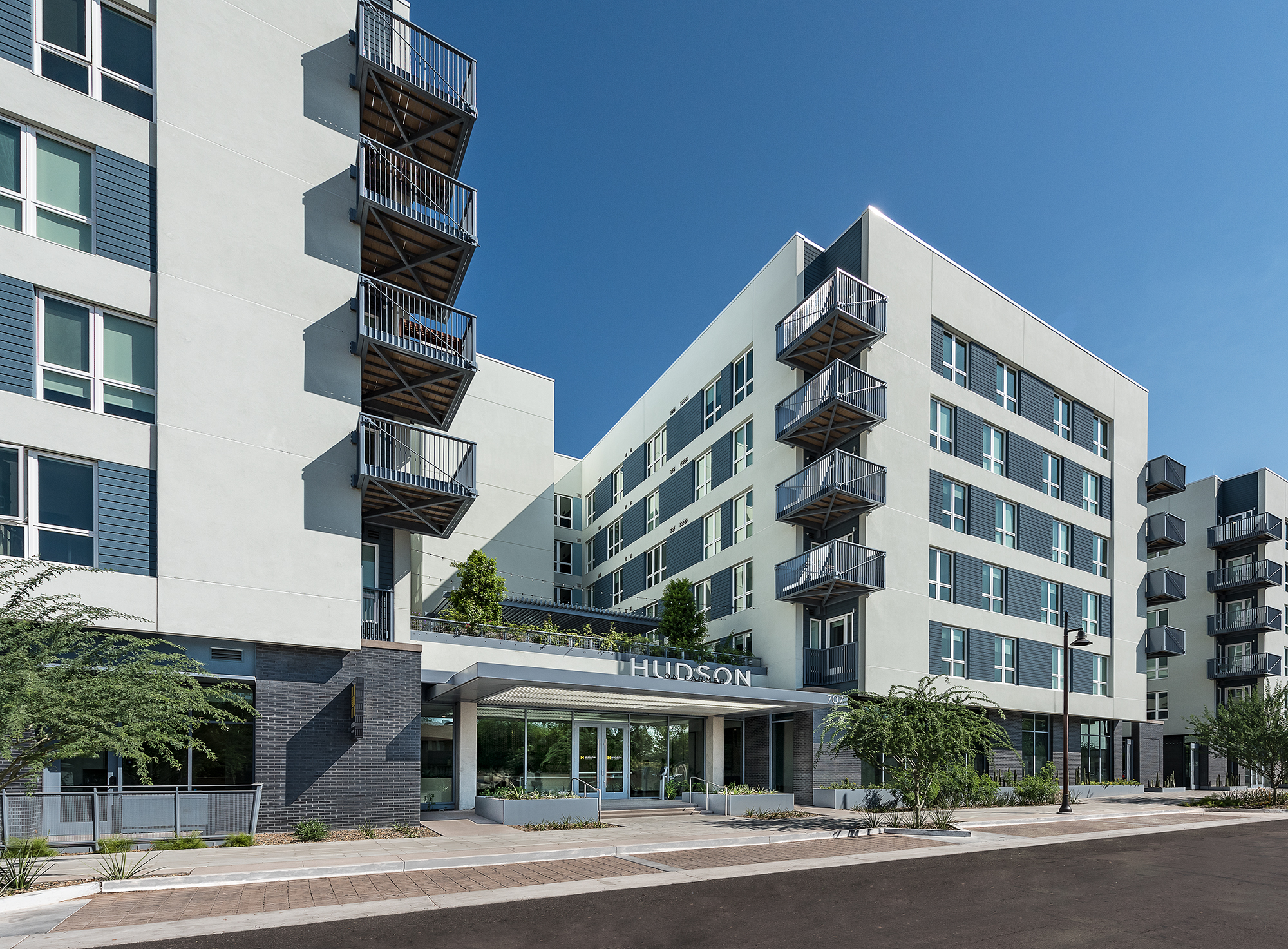 Type V: A wood construction with one-hour rated exterior walls from the outside.


When construction does not exceed 70 ft. this construction type allows for reduced costs and more easily managed fire resistivity criteria. Building area is limited, and in many cases fire walls within the building are required to compartmentalize the structure. For multifamily buildings, corridors penetrate these walls requiring rated opening protection. Although these walls add cost, they provide an opportunity to reduce the number of stairwells when used as horizontal exits between building compartments. Designers must consider how, and when, to use the horizontal exit tool, ensuring that no more than half of the required exits from a floor level are provided by horizontal exits. Additionally, these opening assemblies can be provided via several options, including manufactured assemblies, and custom specified components. Designers must consider the comparative costs of the different approaches and the capacity of the project's general contractor to manage the installation of the selected approach.

 
Project Example – Modera Northgate, Seattle, WA. (Final rendering, floor plan compartment diagram)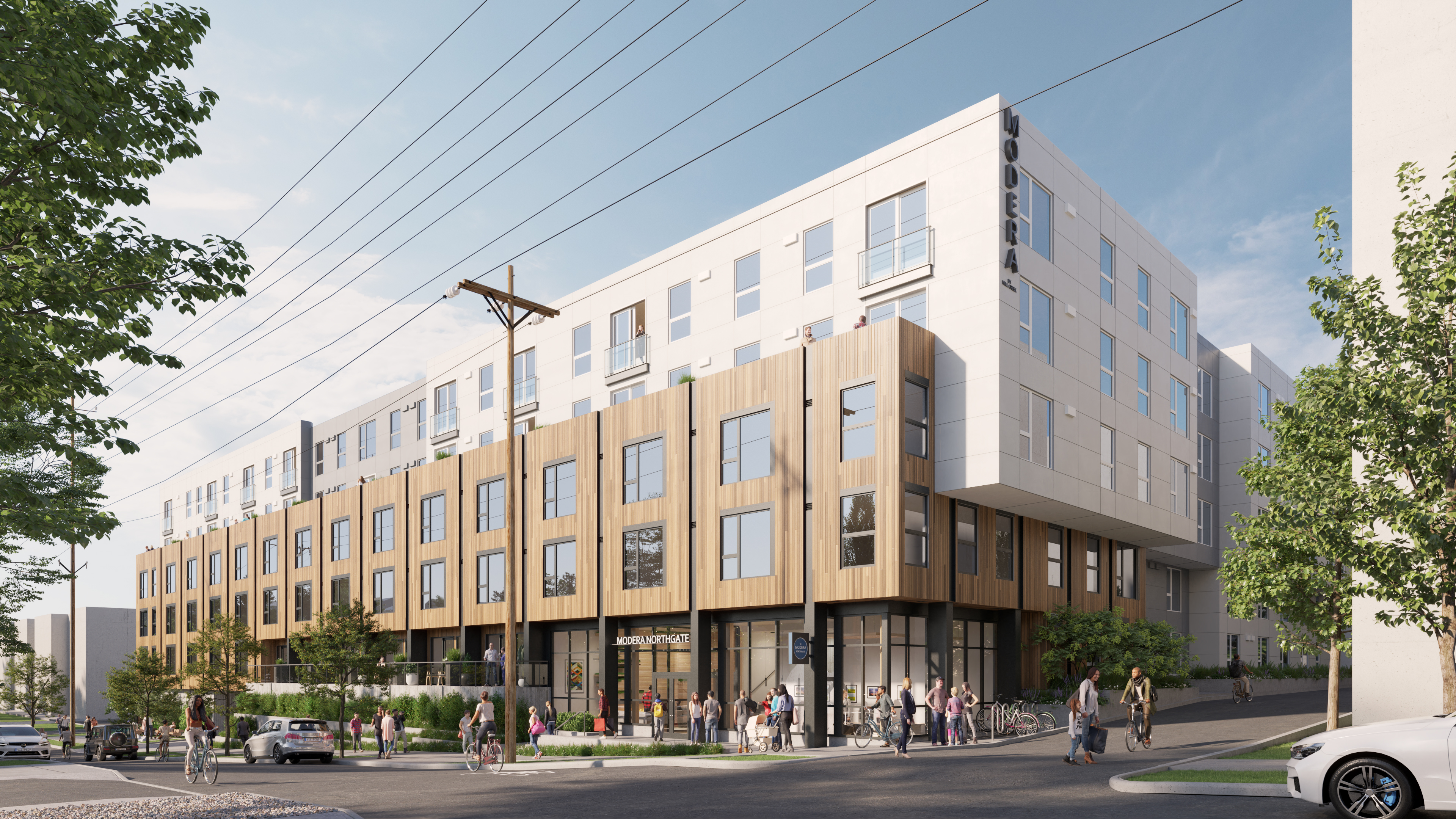 Type I: Podium/basement non-combustible construction of one, two, or three levels can be provided as a podium for multiple stories of wood construction above.


The ability to allow for the wood frame construction type of the building above to penetrate the podium reduces costs when stairs are able to be built of wood. Exterior wall framing must be built of non-combustible framing, however, when using metal studs, exterior insulation is often required to meet energy code insulation values. Using fire-retardant treated lumber can be an effective tool in allowing for exterior sheathing and cladding planes to align across the podium level.

 
Project Example – Canopy (Shea Aurora) Phase II, Shoreline, WA (podium construction photo, final rendering)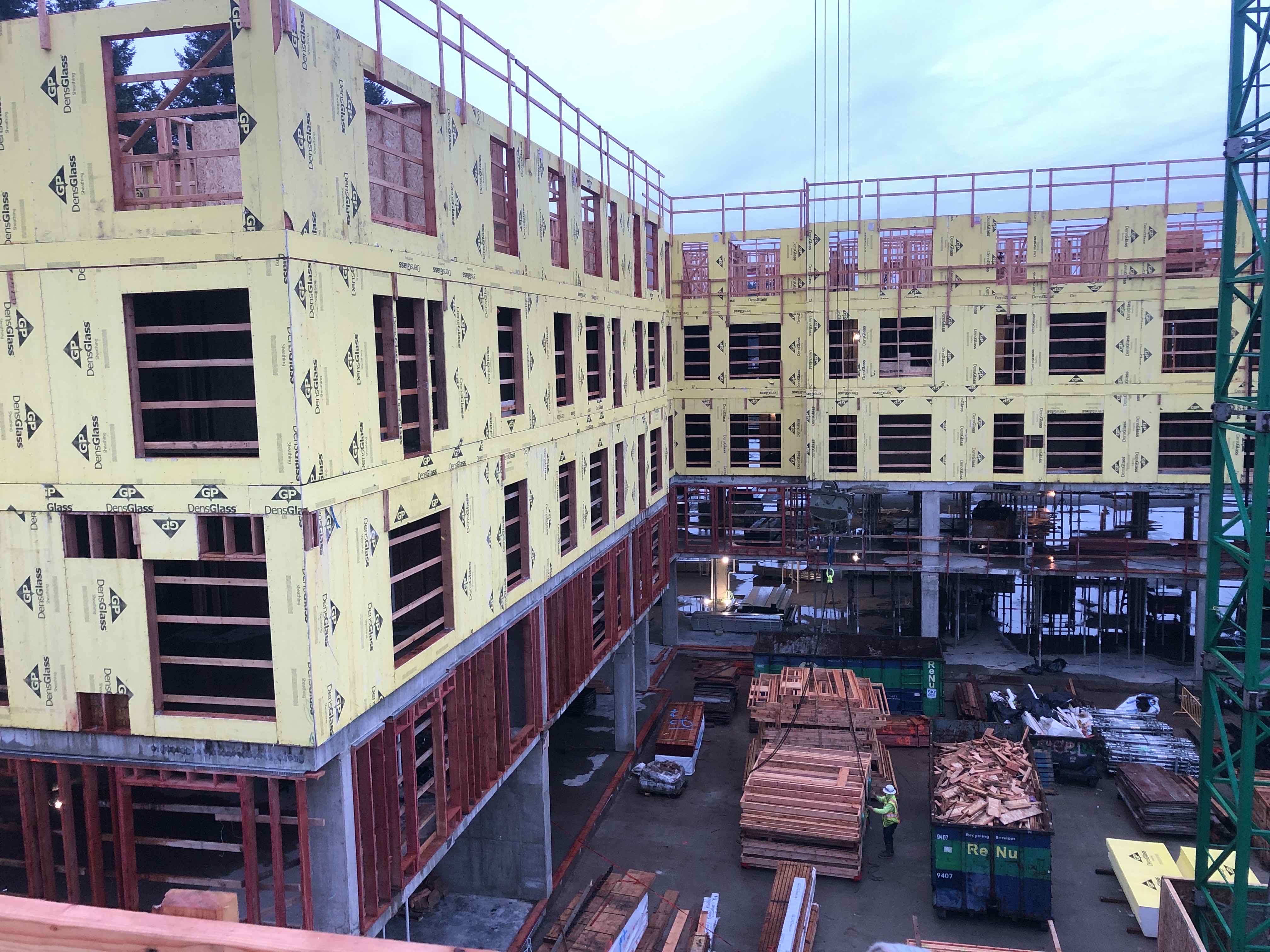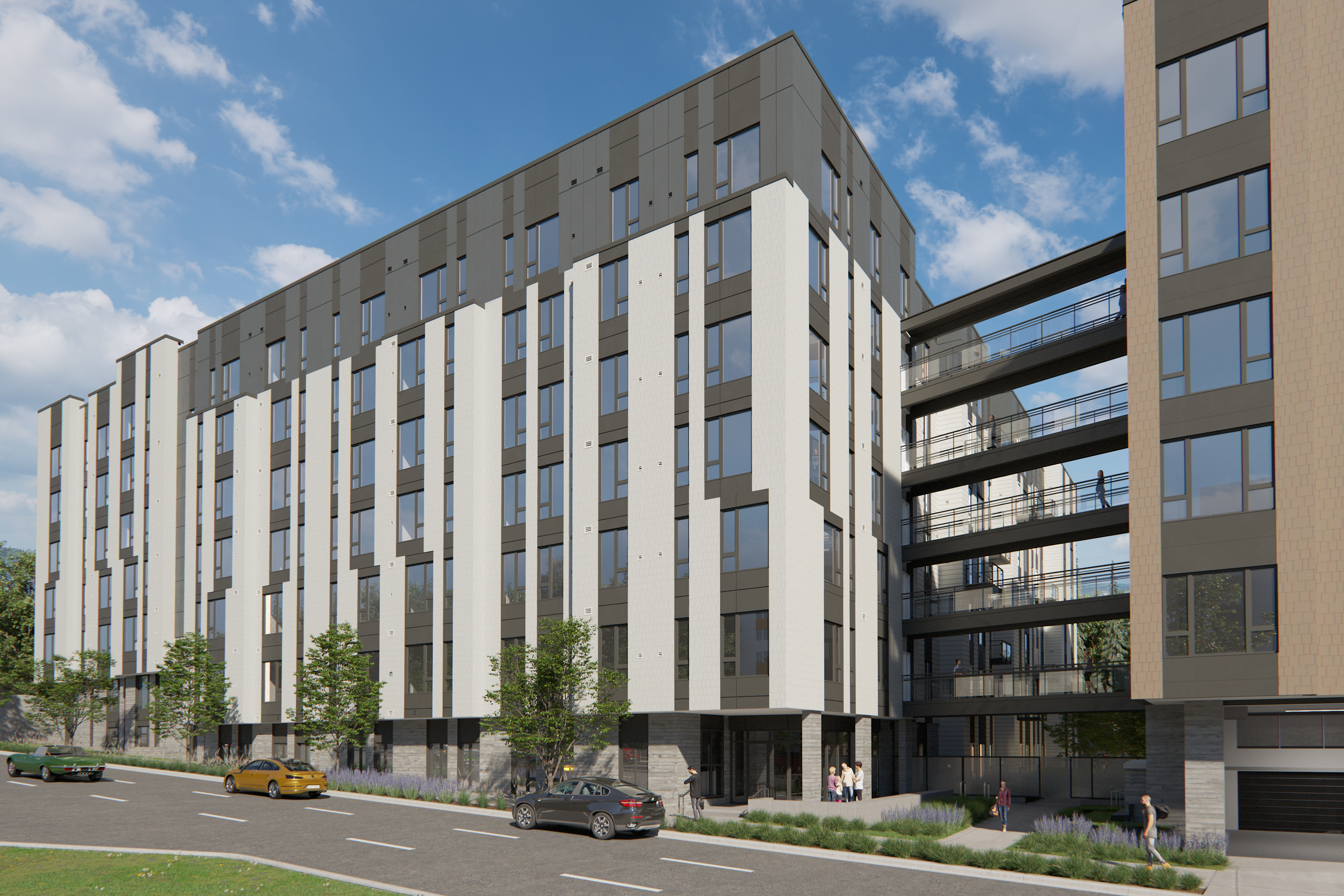 There is no one-size-fits-all solution. However, being able to work from multiple points of view allows for specific concerns to be addressed, while looking to past successes for location-specific solutions.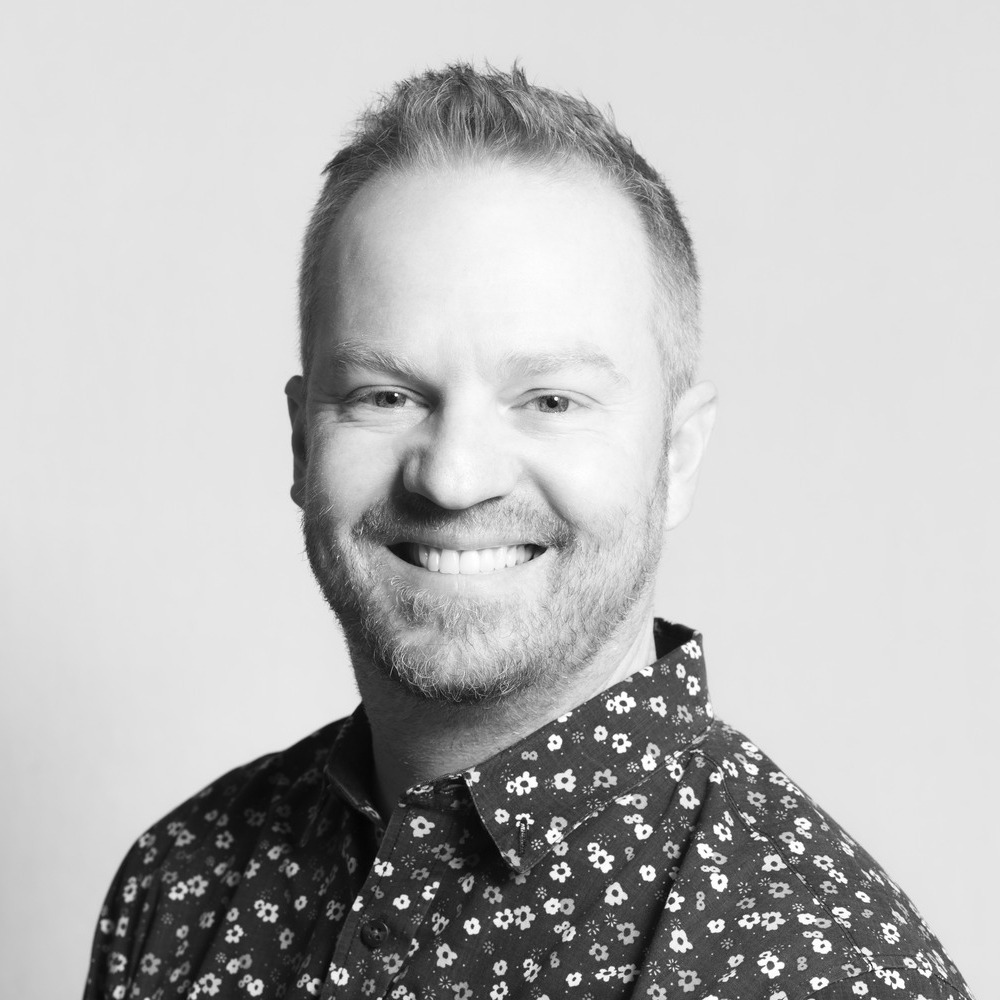 by Don Sowieja, Principal AIA, NCARB
FILTER
SEARCH
This search form (with id 2) does not exist!
An Integrated Approach to Revolutionary Healthcare Design
September 12, 2022
Providence Reed's Crossing Wellness Center
Population health relies on more than simply treating sickness. Leading a healthcare shift to a value-based model whose viability depends on people maintaining their health, from a fee-for-service financial model, our client's strategy embodies this pivot with a new healthcare center that integrates traditional clinical services with wellness facilities. The Providence Reed's Crossing Wellness Center is a dynamic new healthcare facility that communicates warmth, healing, approachability — holistic architecture that sees people as more than patients. Community-oriented general fitness and wellness spaces act as bridges to more specialized functions like integrative health, dermatology, retail, physical therapy, imaging, women's care, pediatrics, and more. Our design connects services with open, blended thoughtful architecture and interior design in an active urban environment.
Our hope: To help people get and stay healthy.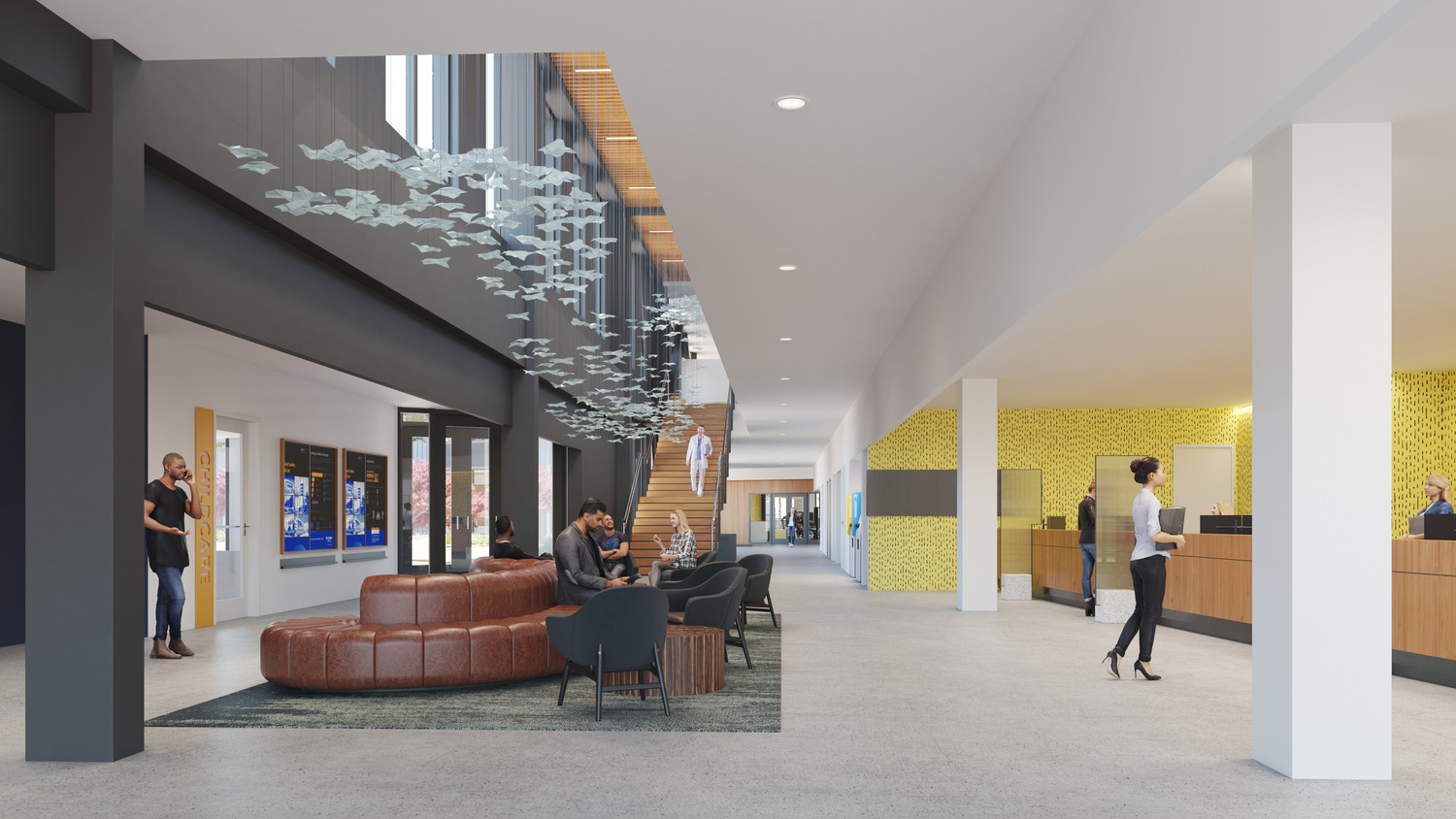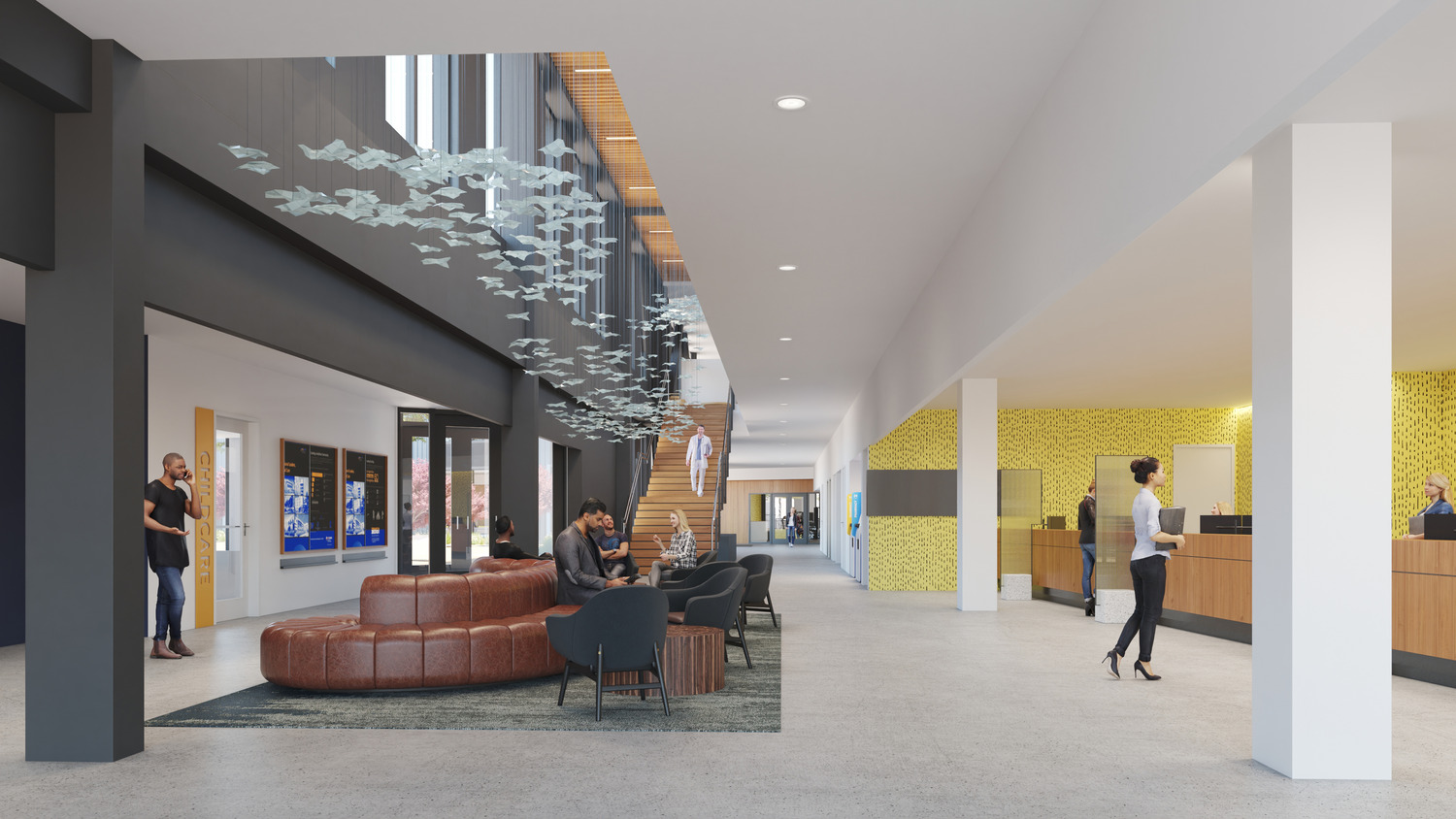 This radical new facility feels like it's part of Main Street while feeling unlike anything else out there. To successfully integrate wellness with clinical services, we start by focusing on how to maximize operational benefits. Our design must communicate warmth and professionalism, relaxation with dynamic activity, aspiration, and inclusion. It's not enough to simply combine traditional healthcare design with wellness. Our design concept must holistically communicate both. Because our client's vision treats patients as complete people whose individual health is affected by diet, behavior, mental and emotional states, as well as physical abilities, our core interior design concept likewise promotes overall healthy living and wellbeing. Biophilic elements like natural light and exposed wood elements soothe visitors and decreases stress while they're working out, learning about nutrition, or waiting to see their physician. Beautiful, integrated color palettes that fit each program will guide and orient people within the facility. Indoor/outdoor spaces further connect our design to its community and bioregion.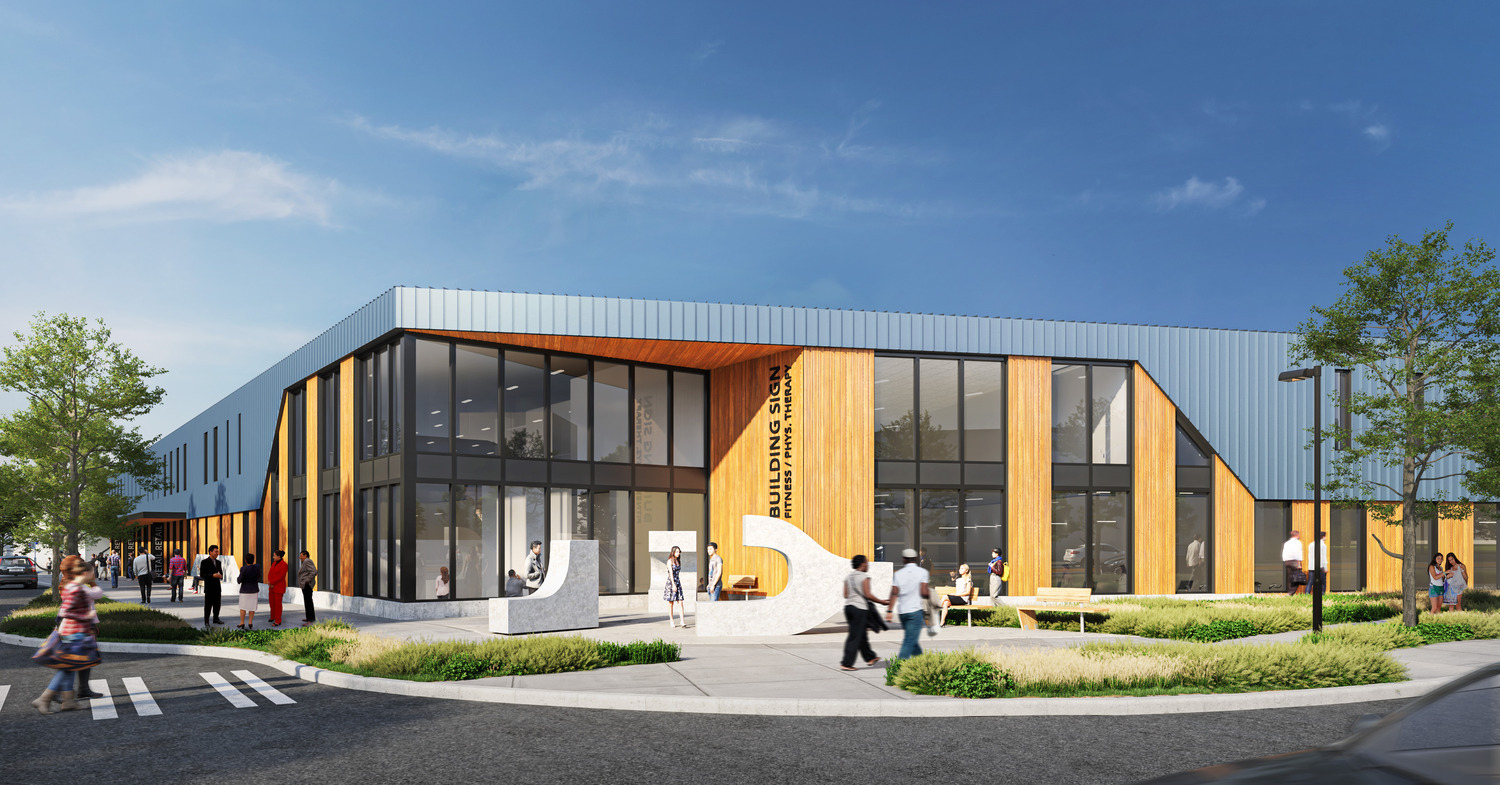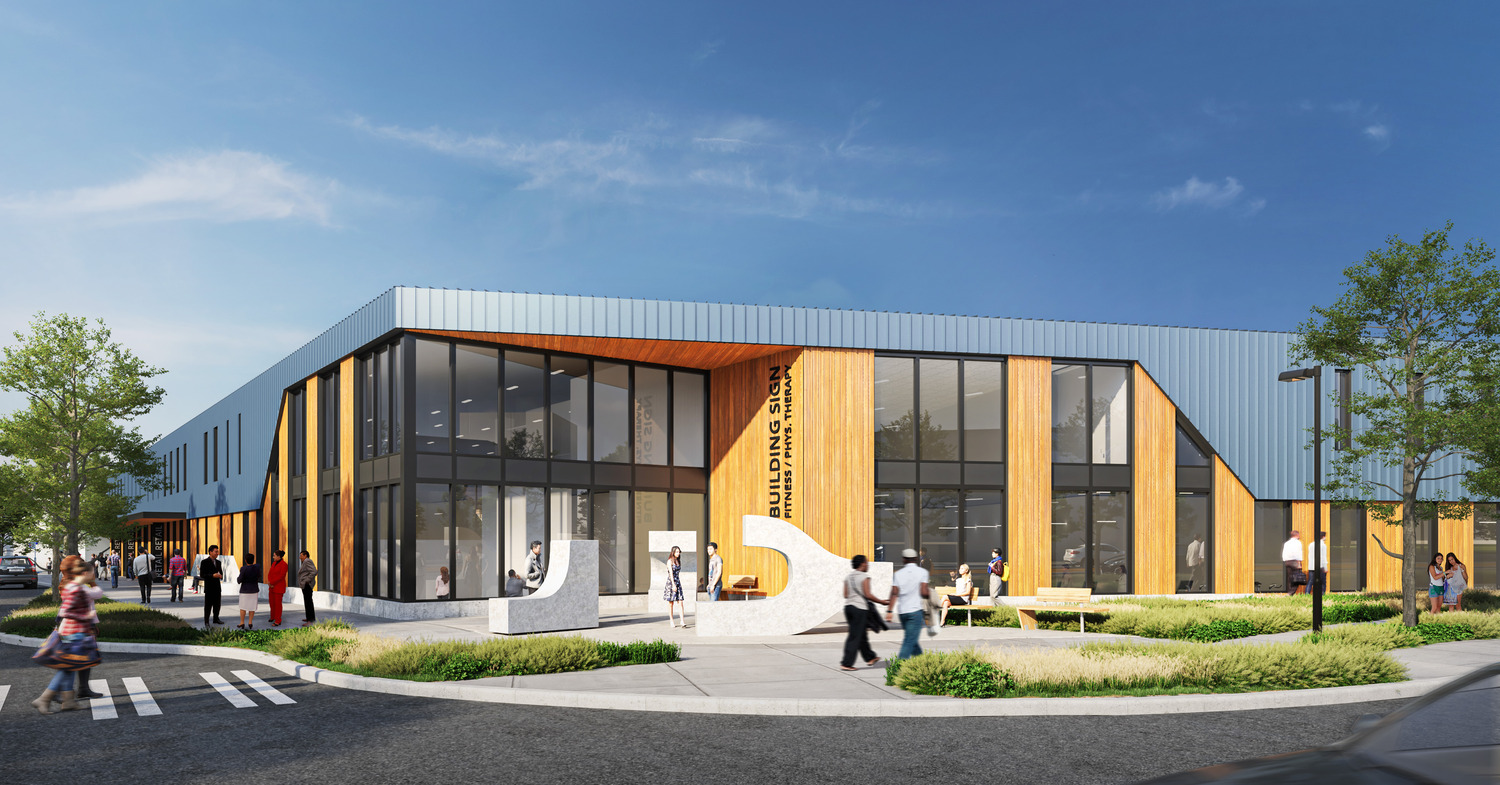 Our hope: A design that feels kinetic yet relaxing, empowering and healing, and completely revolutionary.
Go to the Providence Reed's Crossing Wellness Center Project Page >>
FILTER
SEARCH
This search form (with id 2) does not exist!
Mass Timber: Harder Mechanical
September 1, 2022
Timelessly Modern
A fifth-generation Portland family business, Harder Mechanical needed a new, modern headquarters to last them for another 80 years. Because reinvention tends to be part of their business—they gain expertise in the newest processes, be it mill work or high-tech manufacturing, and periodically transform themselves along the way—they were looking explicitly for an innovative showcase office.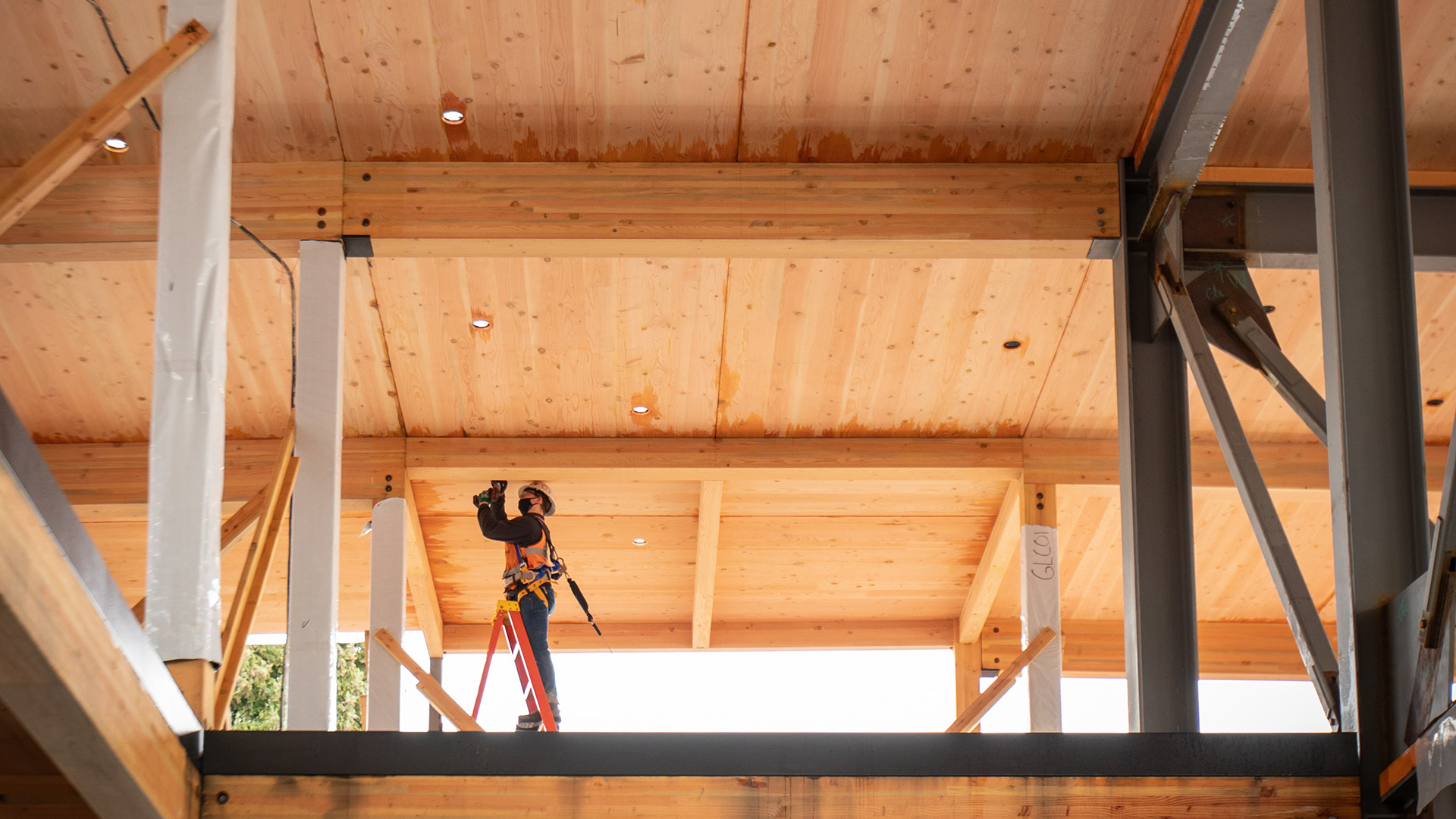 Harder Mechanical building needed to stay rooted in the past while being built for the future. Because the owner is a mechanical and plumbing subcontractor and will self-perform their own scope, the Harder team became an integral part of the design process.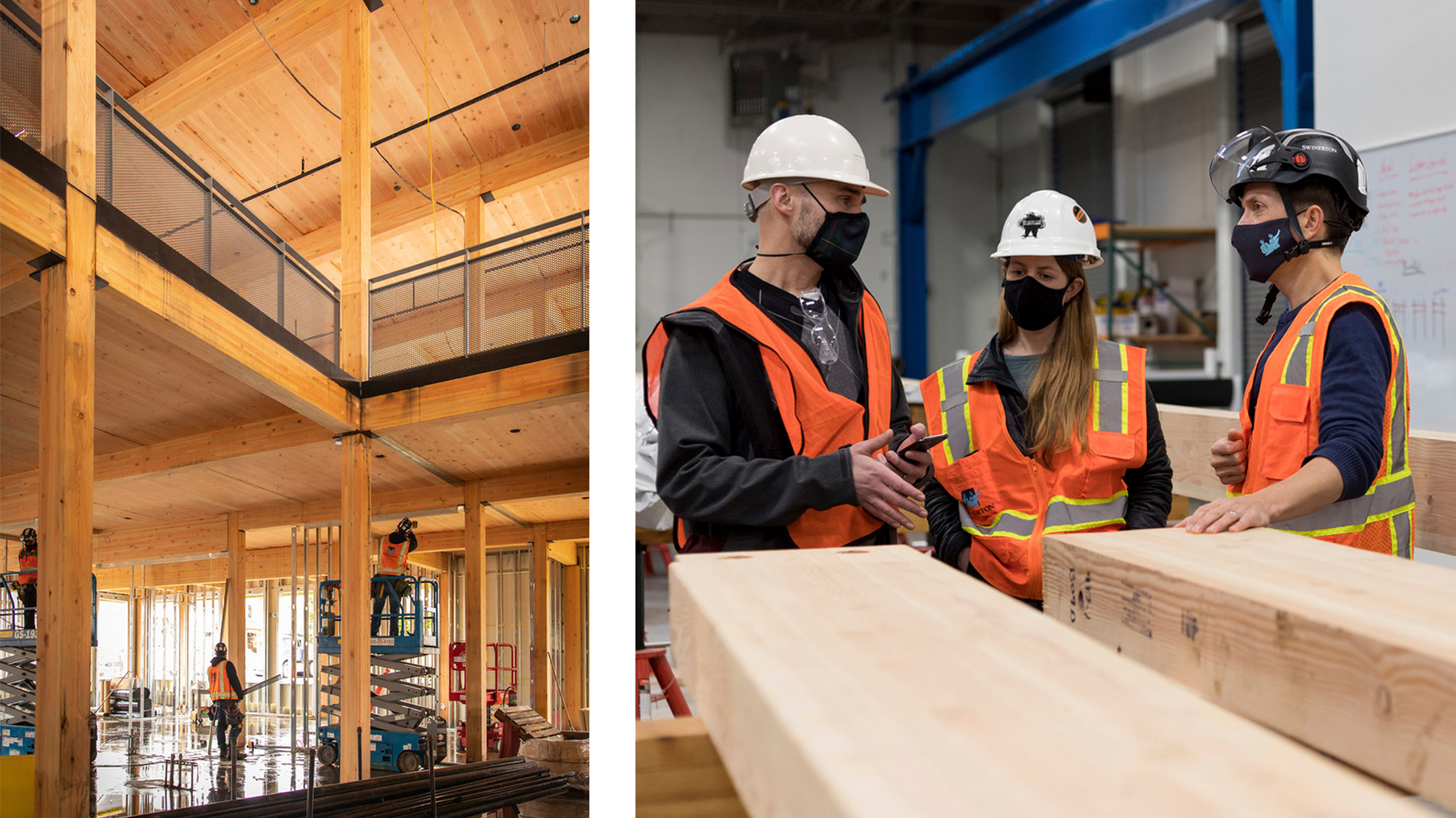 After learning who they are, how they view their work, and what they needed in a collaborative working session, our design encompasses a beautiful, durable brick building using renewable cross-laminated timber (CLT).
Their desire for an innovative approach—to not only the design but also the design process—led to an adapted integrated project delivery method. This allowed for close collaboration with Harder, the General Contractor, Swinerton, and their trade partners to achieve efficiencies and innovative construction methods that meet both design and construction goals.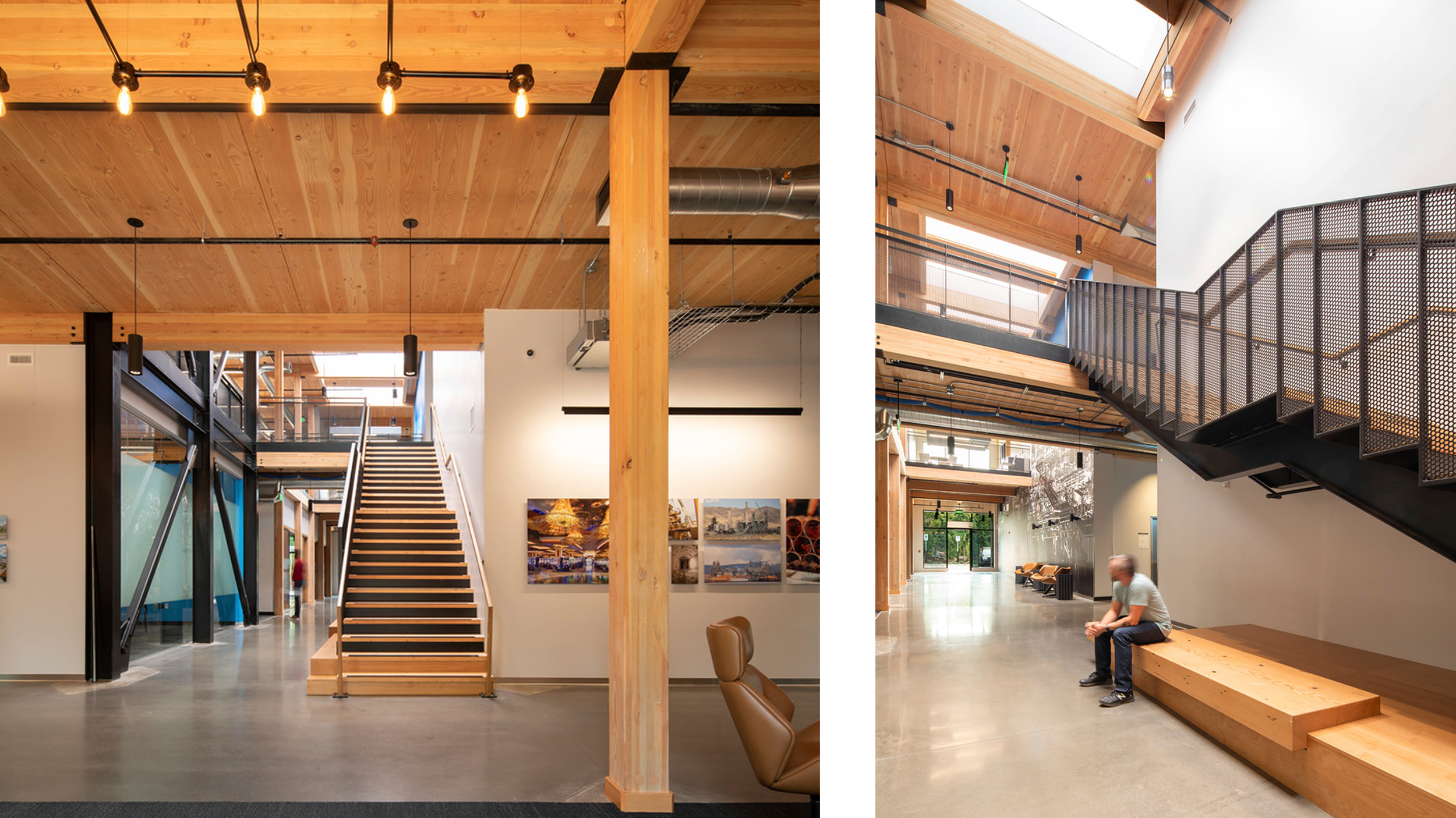 The wish to showcase Harder's own work and innovation led to exposed ceilings and exposed structure and mechanical systems. It is here where the Cross-Laminated Timber (CLT) structural system became a central design element. Utilizing Swinerton's expertise in this area, the CLT simultaneously provides environmental benefits both to the occupants and in broader terms, along with time and cost saving installation.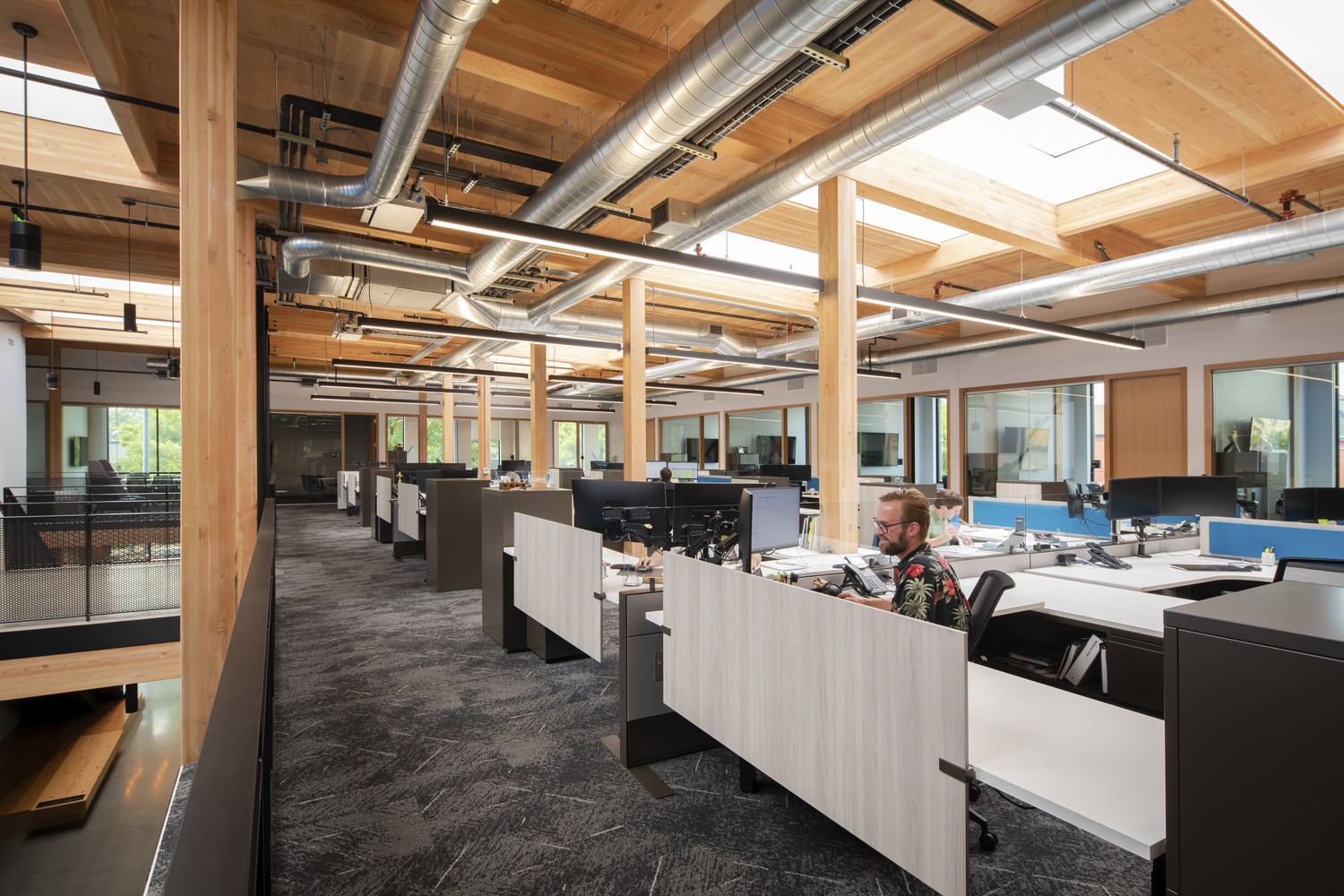 Externally, the company's rich history combined with the historic neighborhood led to the selection of both a durable and beautiful dark brick facade reminiscent of the surrounding context. This traditional material paired with a contemporary aesthetic allows the building to become part of MLK's future whilst respecting its past. The building will last for decades, aligning with and improving the Elliott neighborhood in a way that's both timeless and exceedingly modern.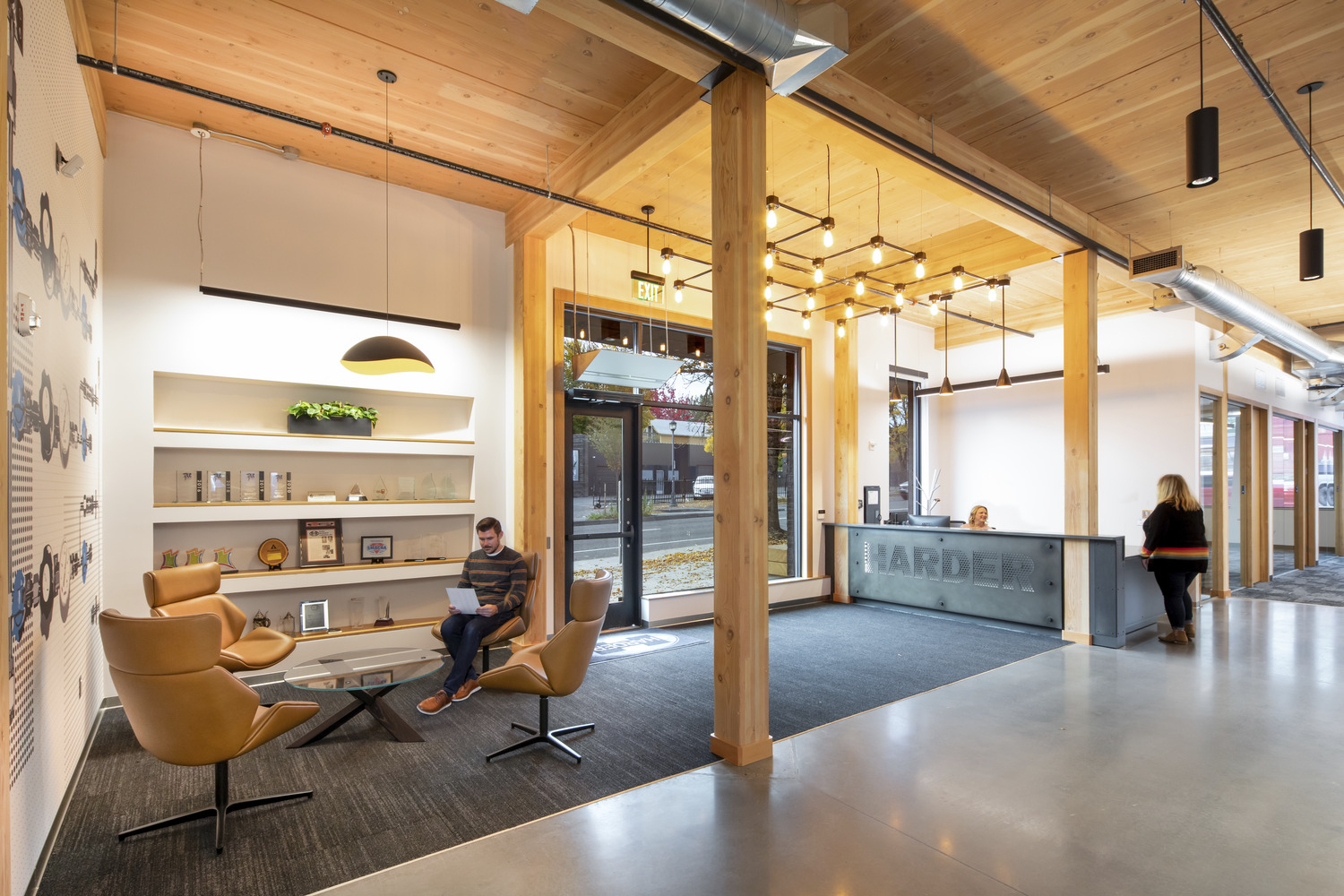 FILTER
SEARCH
This search form (with id 2) does not exist!