September 29, 2021
Workplaces Moving Forward
Natural light. Fresh air. Lush greenery. Hospitality-inspired amenities. Companies want to give employees a lifestyle package that makes people excited to come to work. To support their client's heightened expectations, building owners and property managers must change their overall strategies and transition from seeing occupants as tenants to supporting them as customers.
Our designers collaborate with landlords to ensure their properties offer shared amenities—or, rather, services and experiences—that enhance the missions, lifestyles, and brands of their target clients. Human centered design, practiced with inclusivity and equity, is essential for creating common spaces, ensuring that they support diverse lifestyles and professional needs. We have developed three key guidelines for landlords to consider when creating a lifestyle-oriented workplace amenities strategy:
1. Identify the demographic and psychographics of the tenants they want to attract. Building amenities do not add value if they are not in touch with the professionals using the space.
2. Prioritize common spaces or amenities that the tenants share. Especially as many businesses are downsizing their physical office footprints, it is the combination of services and experiences available to all occupants outside of their suites that gives a building competitive edge.
3. Create spaces that address different lifestyle needs. Each business is unique. The landlord's mission is to help enable both the individual and collective lifestyle goals of their tenants.
The challenge is that lifestyle expectations are ever evolving. We have seen repeatedly how office amenities transform from rare, exclusive offerings to eventually becoming table stakes. The current popularity of bicycle parking is a prime example. Curating unique, targeted amenity programs that make an impact immediately and long-term are key. Simple, underutilized spaces can be transformed to specialized lifestyle experiences that make a property stand out from competitors, by implementing unexpected, innovative amenities that are future forward.
Some strategies and tactics that we have recently designed for our landlord clients include:
– Repurposing underutilized or challenging-to-lease spaces;
– Creating Indoor/Outdoor connections – maximizing views, increasing connection points with the exterior, and, highlighting year-round meeting space on decks and patios;
– Relocating amenities to more visible locations;
– Reinventing bicycle parking and locker rooms to increase capacity and provide an elevated experience;
– Transition security stations transition to concierge desks;
– Expand Fitness and Wellness Centers to foster a holistic, healthy lifestyle message;
– Integrate innovative biophilia installations.
In a fluctuating, competitive market heightened by the pandemic, interior designers bring expert knowledge of places, people, and tactical concerns within commercial real estate. We support our clients in strategically elevating communal amenities, responding to tenant lifestyle needs now—and anticipate what is next.
FILTER
SEARCH
This search form (with id 2) does not exist!
Technology-Rich Workplaces
September 22, 2021
Workplaces Moving Forward
Before the pandemic, relaxing with coworkers in the office breakroom or preparing meals in the communal kitchen were typical, stress-free, even enjoyable aspects of the workday. Now, as employees are returning to offices after months of remote work and social distancing, sentiments around common spaces are more cautious and varying from person to person.
Practicing human centered design going forward means recognizing and respecting employees who have different levels of health concerns. Workplaces should give options for experiencing a space so even some of the most cautious individuals will feel safe.
While technology enabled businesses' transition to remote work in 2020, now technology is helping us make the office feel more comfortable, clean, and caring. become more important components in our projects moving forward. Recently, we implemented several enhanced features into a client's new corporate headquarters to reduce touchpoints and improve hygiene long-term.
Automatic doors reduce practically everyone's points of contact from the moment they enter the building to their exit, along with increasing accessibility. Installing advanced HVAC systems improves fresh air flow. Our interiors and architecture worked with the client to ensure the special equipment was seamlessly integrated into their open, airy office design—high functionality without feeling intrusive or disruptive.
Touchless technology improves comfort and cleanliness in shared bathrooms. We used Bradley's WashBar, an all-in-one automatic faucet/soap dispenser/hand dryer. It eliminates three potential touchpoints, reduces waste, and adds a sleek aesthetic element. We also installed traditional motion-sensor paper towels dispensers. Offering both methods maintains touchlessness while honoring employees preference for either option. After hours, a UV light will disinfect the bathroom as an added precaution for both employees and facilities staff. Touchless fixtures extend to their breakrooms, locker rooms, and wellness/mother's room, creating a consistently cleaner, contact free user experience in communal areas.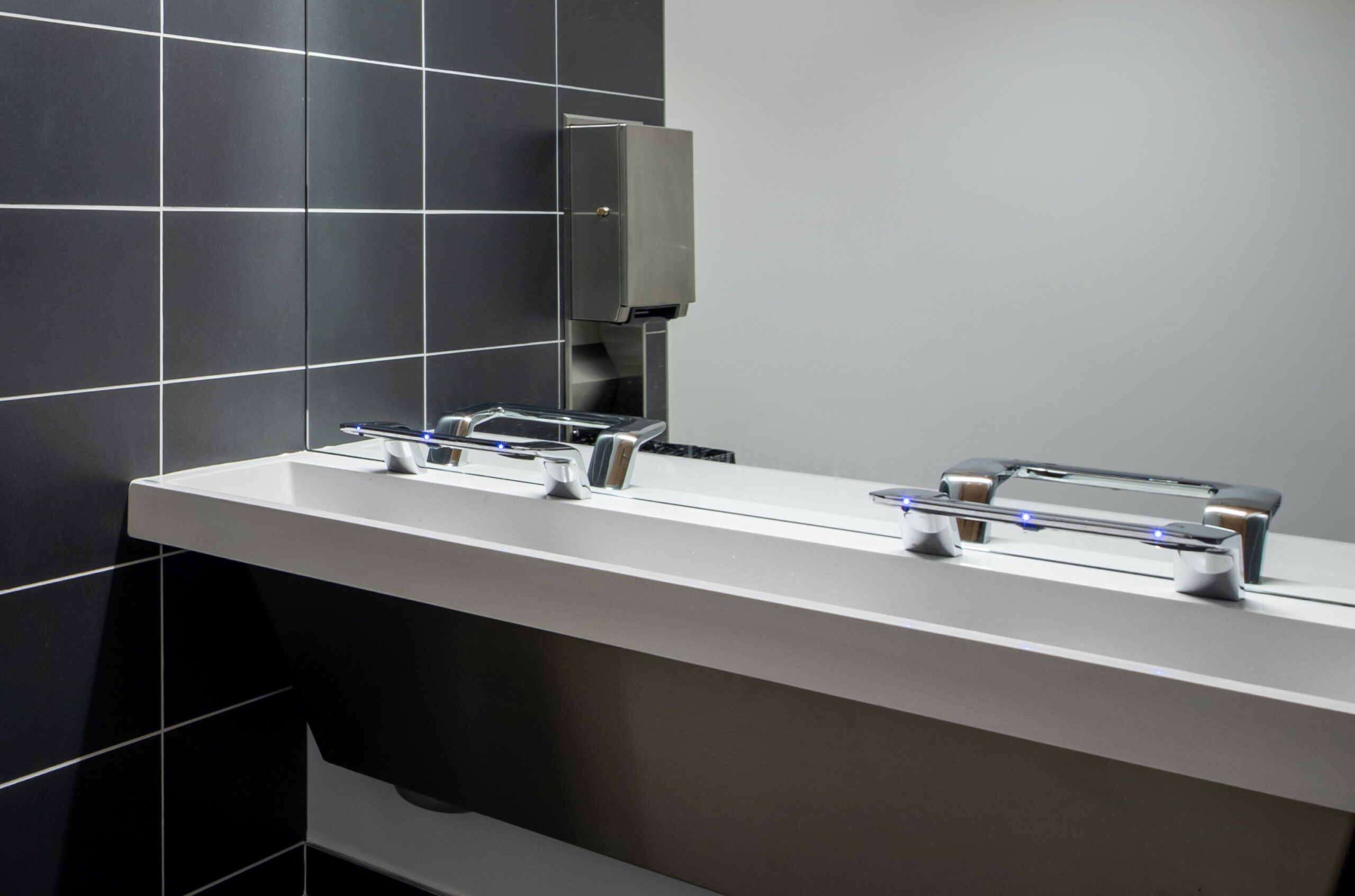 Solutions do not have to be high-end or technology-reliant—it can be as simple as how trash and recycling bins are stored. Instead of cabinets or drawers opened by hand, a touchless solution is hiding the receptacles under counters with holes that waste is simply dropped into. Of course, this method is far from new, but it is more applicable than ever for our minimal contact approach.
Touch means something different now to everyone. Through contact-free technology and thoughtful design details, we can find a solution that works for any workplace.
FILTER
SEARCH
This search form (with id 2) does not exist!