June 30, 2023
Featured Articles about the Future of Workplace
Our very own Michael Stueve, Workplace Principal and UI/UX Strategist, is always thinking innovatively about the future of workplace and is also eager to share his values that shape his experienced perspective behind workplace design. Not only has he recently developed "The Office as an Ecosystem" strategies, but he has been featured in these articles: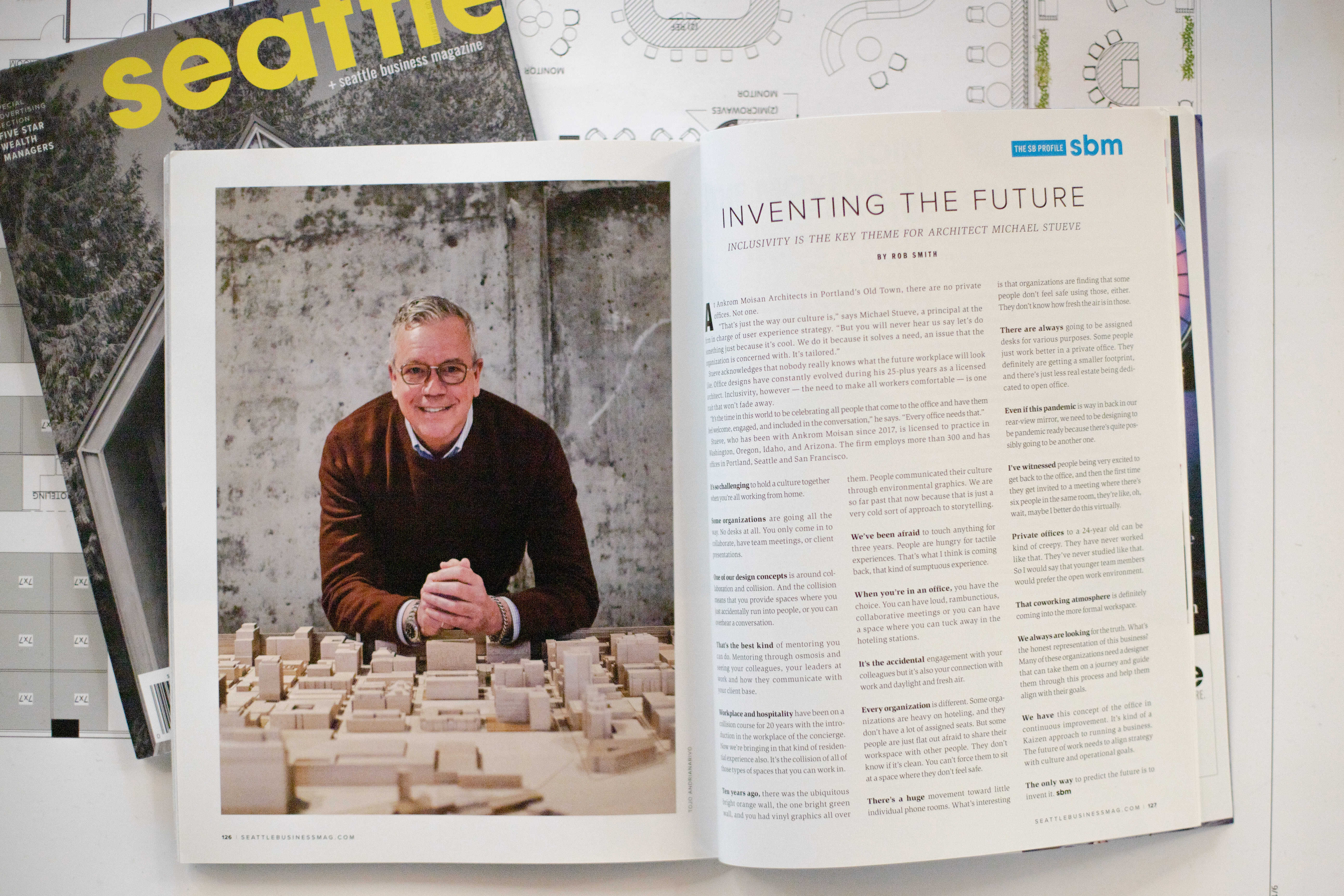 Seattle Magazine: Inventing the Future (available in print only)
FILTER
SEARCH
This search form (with id 2) does not exist!
Ankrom Moisan's Healthcare SPAKL Team – Big Focus on Small Projects
June 6, 2023
A Conversation with Kimberleigh Grimm, Associate Principal
The SPAKL team is Ankrom Moisan's thorough and decisive resource for solving complex and challenging Healthcare project designs. Looking beyond initial or obvious facility concerns and truly partnering with clients for a better understanding of the maintenance and equipment upgrade projects are salient to their success.  
Kimberleigh Grimm, Associate Principal, discusses the scope of projects that the SPAKL team undertakes and the challenges that these types of Healthcare projects often present. Kimberleigh's excitement about and enjoyment of this topic is palpable. She is representative of the strengths and enthusiasm that the SPAKL team brings to the table.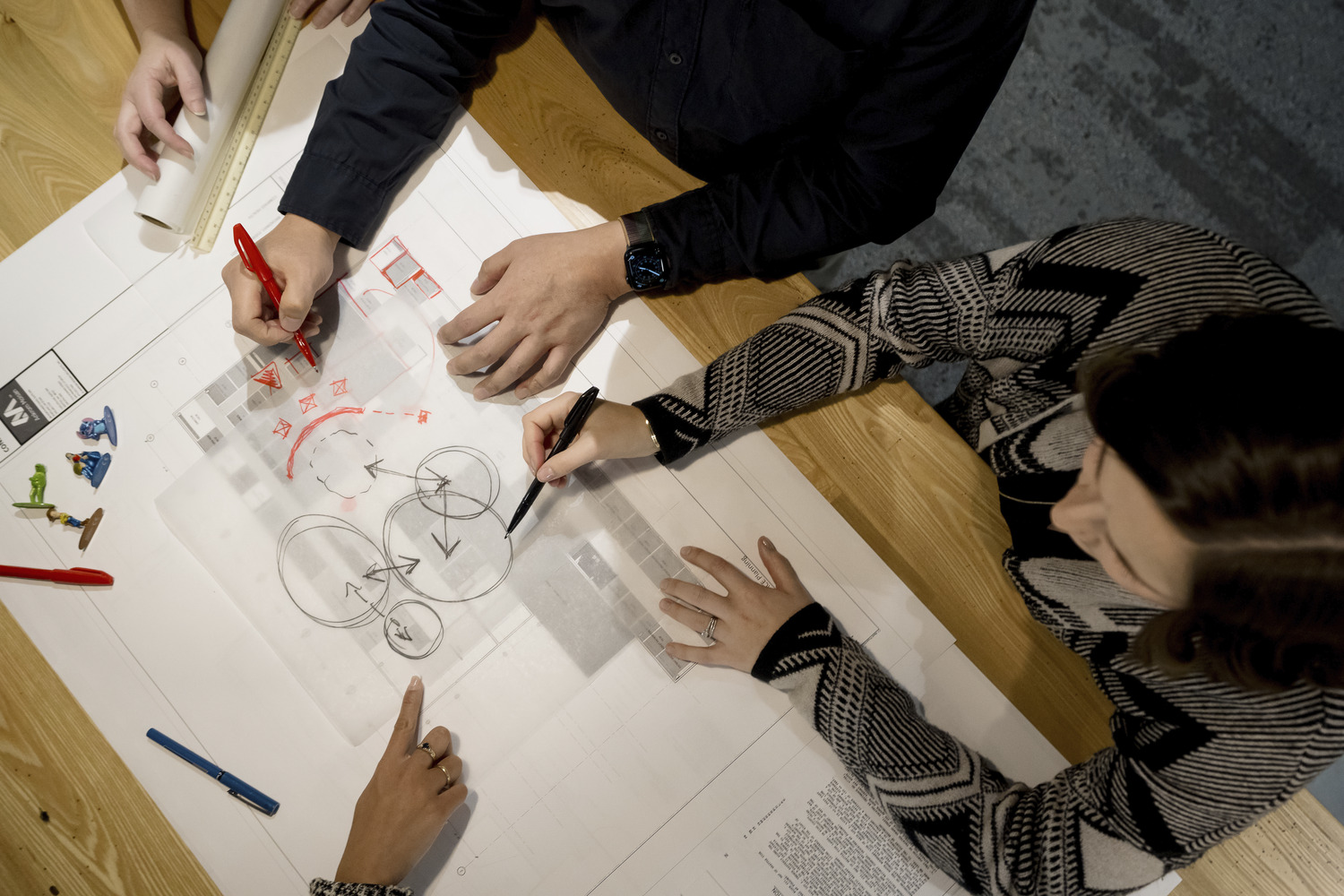 Ankrom Moisan's Healthcare SPAKL team designing together
Q: What is SPAKL? 
A: SPAKL is a subset of the Ankrom Moisan Healthcare team that focuses on specialized, problem-focused healthcare projects. It stands for Special Project Alterations Knowledge League, and it is a team that is experienced in (and committed to) maintenance projects in healthcare systems. We don't wear capes or fly faster than a speeding bullet – our super-power is the knowledge, enthusiasm, and fun that we bring to this type of project work. 
Q: How long has SPAKL been an AM Healthcare team feature? 
A: Maintenance projects have always been the core of our healthcare team's work. SPAKL emerged from internal conversations about creating a focused team with a depth of knowledge in acute healthcare renovation work that is dedicated to increased efficiency, both for us, and our clients. Each project builds on knowledge gained in previous work to enable the next to be even more successful. 
Q: How and why does AM Healthcare SPAKL approach differ from other firms' approach to similar projects? 
A: Most firms aren't truly interested in maintenance or equipment replacement projects. They accept this work to leverage the client relationship for bigger, "better" projects. Because these projects aren't really valued by most firms, they typically assign less-experienced staff that don't understand the intricacies of the projects. 
This is not AM's approach. We like what we call the "dirty jobs". We like them because we understand that they are just as important to a healthcare facility as a new build or a full clinic remodel. We developed the SPAKL team around these types of maintenance projects, and our team is highly experienced in healthcare renovations. We understand the sophistication of these projects in terms of improved patient and staff experiences, reducing construction disruptions and maintaining continuous operations, and understanding existing conditions. We also understand that these projects usually have tight fees (and tighter schedules) and leverage our knowledge and experience with each facility and jurisdiction to maximize efficiency.  
Another way we differ from other firms is that we genuinely enjoy this type of work – we love the complexity and the fact that each project is a unique experience.  
Q: What makes a SPAKL project unique to other Healthcare projects? 
A: We like to say that SPAKL projects are problem-focused, not project-focused. There is a wide variety of projects ranging from equipment replacement projects to maintenance projects to make-ready projects, but the one thing they have in common is that they are intended to address a specific facility concern.  
Unlike a typical project that is tasked with helping a facility re-imagine an aspect of their operations, we are problem solvers. Aging equipment? DOH citations? Safety or infection prevention concerns? We evaluate the existing conditions and work with the facility to come up with efficient solutions. 

Washer/disinfector installation; Sterilizer replacement
Q: What is the biggest challenge when organizing around the client's operations? 
A: Every project is unique and has its own challenges. Sometimes the challenge revolves around how to minimize disruption during construction. This can range from minimizing infrastructure shutdowns to reducing construction impacts in terms of activity and noise. For example, one project might be concerned about noise impacts to adjacent NICU patient care, while another project's main issue is minimizing the number of electrical shutdowns required over the project. The key to navigating this is to listen and ask essential questions to fully understand the facility concerns.  
Q: What does it mean to "treat them with care"? How do you do that? 
A: At AM, SPAKL projects are as significant to us as bigger, fancier projects. SPAKL projects may never generate pretty pictures or win design awards, but they are critical to the functioning of a facility. Replacing outdated equipment increases throughput, improves patient outcomes, and improves both the patient and staff experience. That is critical. 
We treat each project with the same care that we bring to the larger projects that we work on. We believe user engagement is crucial, and we work from the beginning to bring the users into the design process so that we can understand both immediate and long-term objectives and concerns. Our style differs from other firms in that we don't do presentations before the user groups, we host discussions – and we consider the Facility to be the experts in that discussion. It is an open dialog intended to lead us to the best solution. The Facility knows their patient populations, they know their current concerns and what things are working and what is not working. They know what they like and what they do not like. We listen and have an open dialogue, and that is how we get to the best solution for each project. What is right for one facility is not necessarily right for any other facility. 

Meeting discussion documentation 
Q: What are the methodologies that you've found most useful? 
A: SPAKL projects often have tight budgets, and we use a lot of tools out of the LEAN toolkit. We feel that actively involving users in the design process leads to better engagement and better outcomes. For example, rather than providing design options and asking users to pick one, we like to have tabletop exercises where the user group can propose design options of their own and then discuss them.  Which means, rather than us telling the users what we think the design solution is, the users are engaged in the design process to test their own ideas. In the end, the user group becomes the best advocate for the final design because they feel ownership of the project and feel heard throughout the process.  
We also feel that an early and deep dive into existing conditions is key to a successful project. Existing drawing documentation is great, but it is only part of the story. We want to really understand the totality of existing conditions so that we can anticipate potential problems and address them early in design. You will never hear the words, "we can figure that out in CA" from a member of the SPAKL team. Never. 

Full scale cardboard mockup; Tabletop exercise
Q: What are some memorable experiences you've had during a SPAKL project? 
A: Some of our most memorable projects are also the ones the facility might prefer that we not discuss. And client confidentiality is vital. However, the best thing about SPAKL projects is the variety of work. Every project is unique and has its own set of challenges. It's one of the things we like best about the work…every week is a new adventure.  
One week you may be working on an infant security project and a PET/CT replacement project, the next week you might be working on a central sterile renovation and a sink replacement project. Every project we work on builds a bigger picture of the facility and helps the next project be more efficient.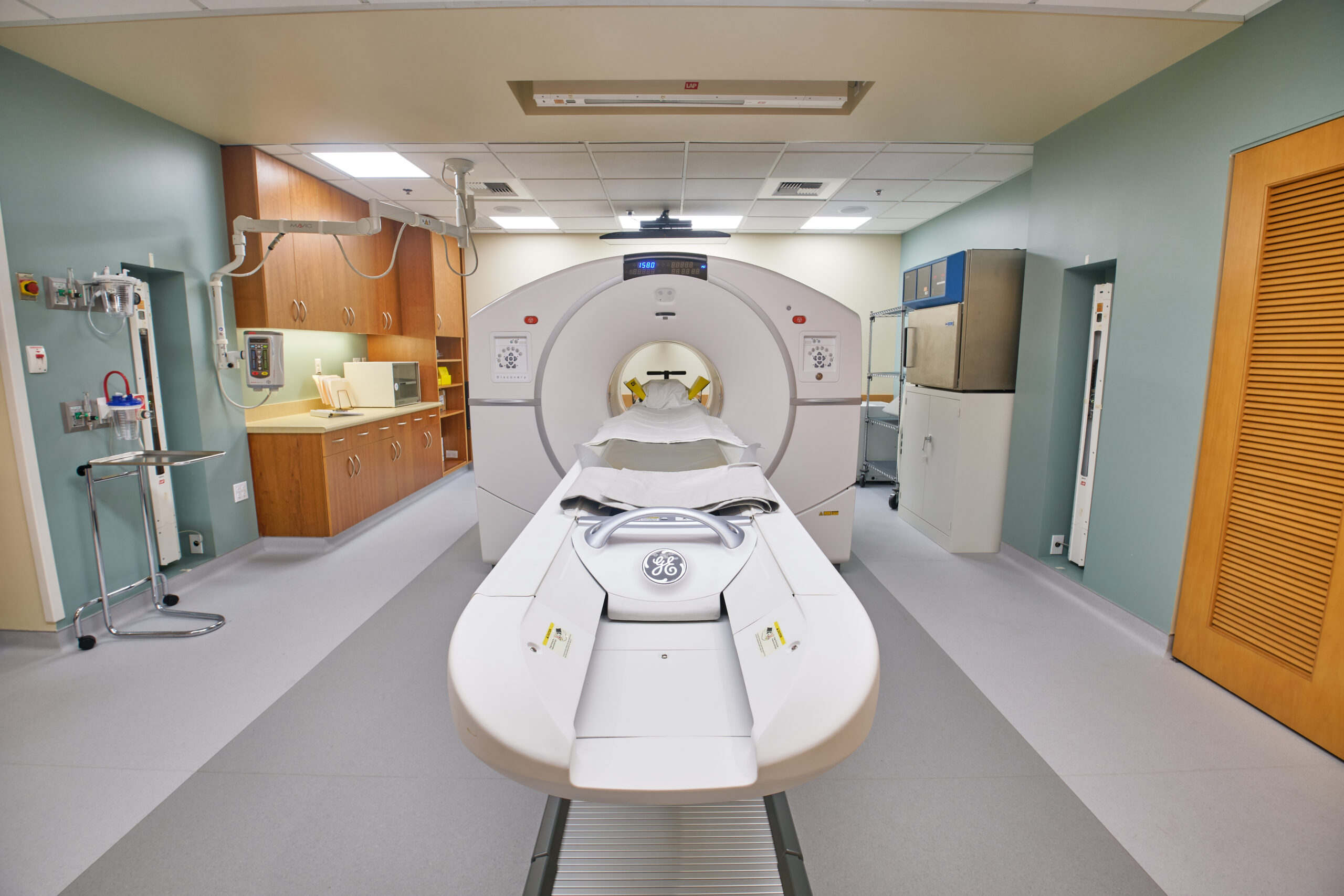 PET/CT room
The collaboration that the SPAKL team has with clients is unique and illustrative of the solution-focused approach they are becoming known for. Listening, cultivating deep understanding, and involving the client with the hands-on problem-solving all inform this team's success, not only on these specialized projects, but with the growing number of clients that return to work with AM for further Healthcare facility updates. Observably, Kimberleigh brings energy and inspiration to the SPAKL team, and has forged a path of thorough discernment of what makes a Healthcare facility project complex and important for the community it serves.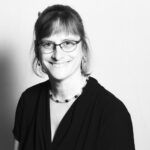 Kimberleigh Grimm, Associate Principal 
FILTER
SEARCH
This search form (with id 2) does not exist!
Meet Our New Materials Library Coordinator
June 5, 2023
Get to Know Rian MacLeod
Tell us a little bit about yourself. What's your professional experience? What are you passionate about?
I have always been in design one way or another my whole life. Starting out my career at a design firm in Corona Del Mar, CA. I mostly worked on model homes for large builders in northern and southern California. Moved back to Seattle and spent many years working at Nordstrom as a fashion coordinator, producing fashion shows and trend forecasting for in the northwest and southwest region. Returning to my roots, I started an interior design business which I focused on private residential design in 2019. I am a service-oriented person with a passion for making people and surrounds feel welcoming and beautiful. It's important to me that I'm resourcing from the best reps in the industry to provide quality products to our architects and designers at AM.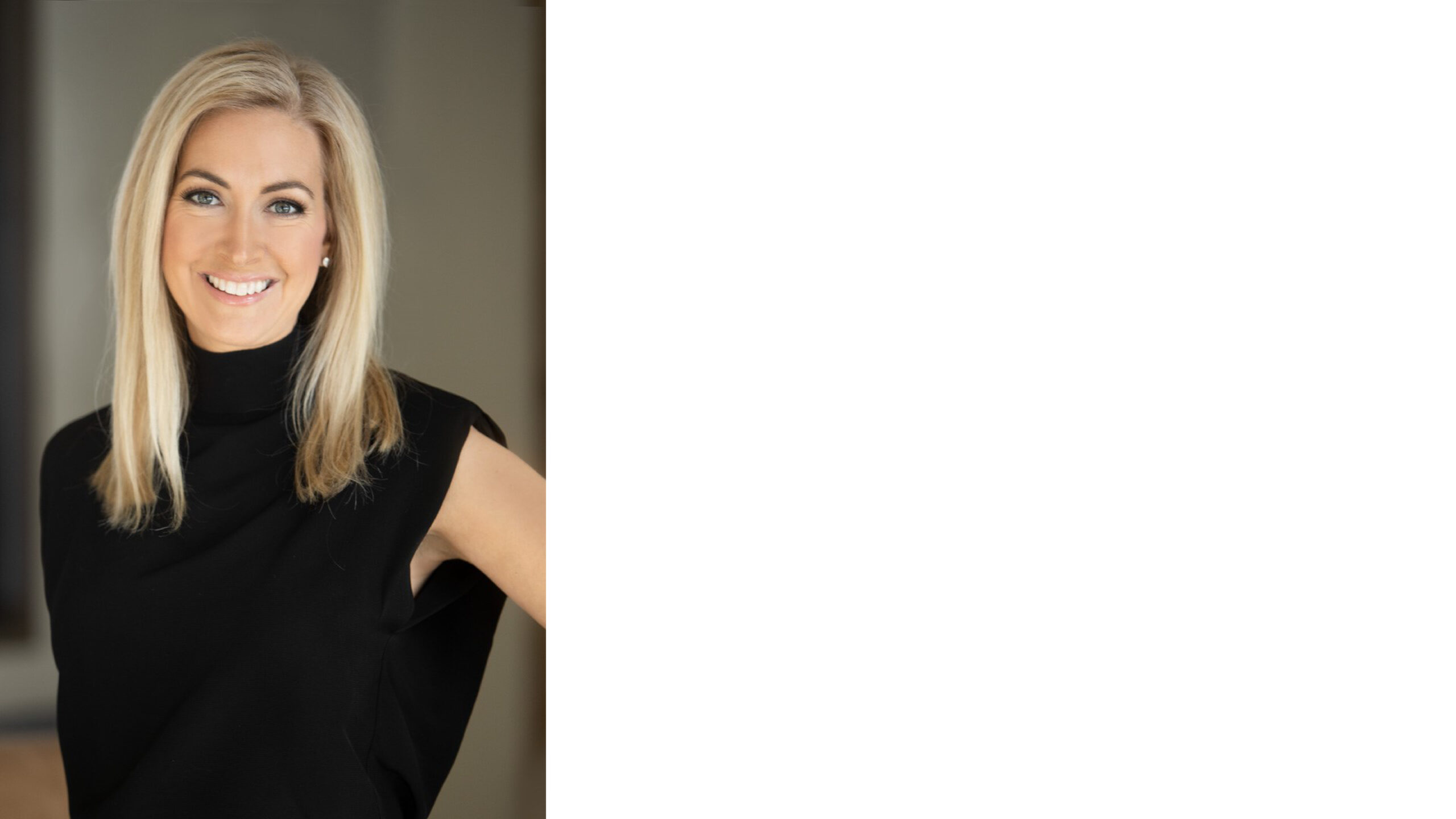 What's most exciting about your new role? What impact do you hope to have?
I've been working from home over the last few years and really missing the energy of being around creative people. It's invigorating for me to be a part of a prestigious group of designers and architects at Ankrom Moisan. I hope I can have a positive impact on the Seattle materials library by becoming a trusted resource among all the groups here at Ankrom Moisan.
What are some materials you consider particularly relevant right now?
Mindful materials. Thoughtfulness in how and where products are manufactured, the life cycle of the material and how it effects not only the environment in production but also the end user's environment.
Product innovations post-pandemic. Touchless technology in kitchens, stylish wallpaper with anti-bacterial and anti-viral properties, switchable privacy film for windows or glass partitions for interior spaces instead of blinds or curtains. There are too many innovations to list!
How do you curate a materials library that can support the variety of project types AM does (from urban living to healthcare)?
It's a dynamic balance. The most critical element is open communication with the design team and knowledge of the resources available, both digitally and locally. It helps to know which product types the designers want at their fingertips in the library and which ones they can order online or through a rep and can be delivered quickly. It's important to be responsive, flexible, and open to changing it up as needs evolve.
How do the materials needs differ between project types?
There are several factors that play into this, and it touches on everything from codes and standards to end user needs to project material goals. The requirements for flooring in a healthcare setting are going to be different from those in a hotel or a workplace lobby. The furniture and finishes we select for a senior living project need to be safe and comfortable for seniors and that often looks different from what we select for a student living project.
Any products or design trends that you're currently into?
Quiet Luxury. Approachable luxury design with a focus on a mixture of contrast textiles like leather, boucle, wool, mohair, linen, and silks in hushed warm tones and ambient light. This creates an environment not only visually pleasing and alive but also tactile.
Curves. Juxtapose the squareness of a building or room, curved furniture is making a strong presence in design. A throwback to the 70's but in updated fabrication and colors, the soft rounded and comfortable edges are a new way to add drama and ergonomics to a space.
Rian MacLeod, Materials Library Coordinator
FILTER
SEARCH
This search form (with id 2) does not exist!