August 26, 2022
High-Tech Accessibility for the Win
It is undeniable that housing insecurity affects millions across the United States. Rents are up and homelessness is on the rise. There are many factors that lead to these crises, including high housing costs relative to income, poor housing quality, unstable neighborhoods, or even health concerns and peripheral medical challenges and costs. Add to that the encompassing environmental impacts of climate change and a driving need to design and build more sustainably; we are faced with the need to take a more holistic approach to housing and accessibility to address our growing concern for the wellbeing of our communities.
We partnered with Albertina Kerr, an organization dedicated to supporting people experiencing intellectual and developmental disabilities (I/DD), mental health challenges, and other social barriers, to design the largest affordable and accessible housing project in the PNW. This joint project became one of the largest Zero Energy affordable housing projects in the U.S.
This four-story, 150-unit complex features 30 accessible units designed to provide adults with intellectual and/or developmental disabilities, earning 30% or less than the average median income, a place to live independently. Three units are available to families needing temporary housing and the remaining units are reserved for low wage direct service providers. This project showcases innovative technologies and design features readily available today to achieve better health outcomes for residents, minimal overall carbon emissions, and significant savings on energy bills. Energy-efficient features include a 660 KWh PV Array that will produce 727 MW-hours of electricity annually, enough renewable energy to fully operate the building with no utility cost to residents.
Albertina Kerr's in-house staff were consulted to help inform the direction of features that are most useful to the residents. Smart-home integrations enhance safety and useability, and pull-out cook tops and mechanized upper cabinets help residents manage daily tasks. Thoughtfully integrated accessibility features include room darkening shades, RGB controllable lighting for chromatherapy mood management, and acoustically enhanced wall, floor, and ceiling construction that gives residents control of their space to prevent overstimulation.
Wynne Watts Commons is a huge step forward for sustainable and inclusive quality housing for some of the most vulnerable in our community.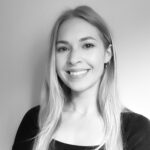 by Mackenzie Gilstrap, Sr. Marketing Coordinator
FILTER
SEARCH
This search form (with id 2) does not exist!
Employee Spotlight: Jennifer Sobieraj Sanin
August 24, 2022
Empowering Others
Empathetic, balanced, and calm—three words you'll hear from Jennifer Sobieraj Sanin's team if you ask them to describe her leadership style.
This month we're excited to be spotlighting Jen, an architect and Managing Design Principal in our Seattle office. In her eleven years with AM, Jen has come to stand out as a female role model in architecture due to her unwavering advocacy for her teams, and for women in particular.
Jen approaches her leadership position with the intention to empower others. She creates an environment conducive to growth by "letting others get creative and do their best work," as one of her colleagues has noted, "while at the same time staying engaged and providing feedback that guides the project in the right direction and helps you grow as a designer."
We asked Jen to share her advice for emerging professionals in the industry. Here's what she told us:
1. Be an advocate for yourself. Don't be afraid to voice your opinions and ask for opportunities.
2. Find your mentor—someone who will offer guidance and stand up for you when you need it. Check in with them regularly.
3. Don't change yourself to fit into a higher-level role. There is room for you to become a leader while doing what you love and are good at. A great leadership role will be flexible enough to match your skills and passions.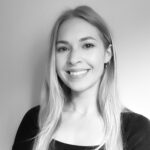 by Mackenzie Gilstrap, Sr. Marketing Coordinator
FILTER
SEARCH
This search form (with id 2) does not exist!
Mass Timber: Moda Tower Lobby
August 19, 2022
Activating Public Art and Springtime Through Renovation
For our first mass-timber curtain wall in Portland's Moda Tower, our goal was to design a canvas that activates the new public art at its heart. Effectively renovating a lobby for public art means more than just designing a white gallery box. The renovated lobby space requires a design that both elevates the artwork and functions for practicalities like circulation, lighting and climate, and code.
Before, Moda Tower's lobby was like many others: small, dark, and relatively constricted. After decommissioning the long-standing previous artwork, we enlarged the lobby and its windows, and replaced the dark, dated floor with bright, crisp materials. The new 30 ft mass timber curtain wall is punctuated by wood-accented and fresh white walls. Warmth and light now invite visitors entering the lobby.
More than just a neutral background, the renovated Moda Tower lobby and our mass timber curtain wall are integral parts of the featured artwork, "Canopy" by Portland-based artist Joe Thurston. Coordinating with our client Unico Properties and Thurston, our team created a lobby redesign that captures the artist's idea of a springlike forest canopy – the feeling of trees reaching toward each other against the sky.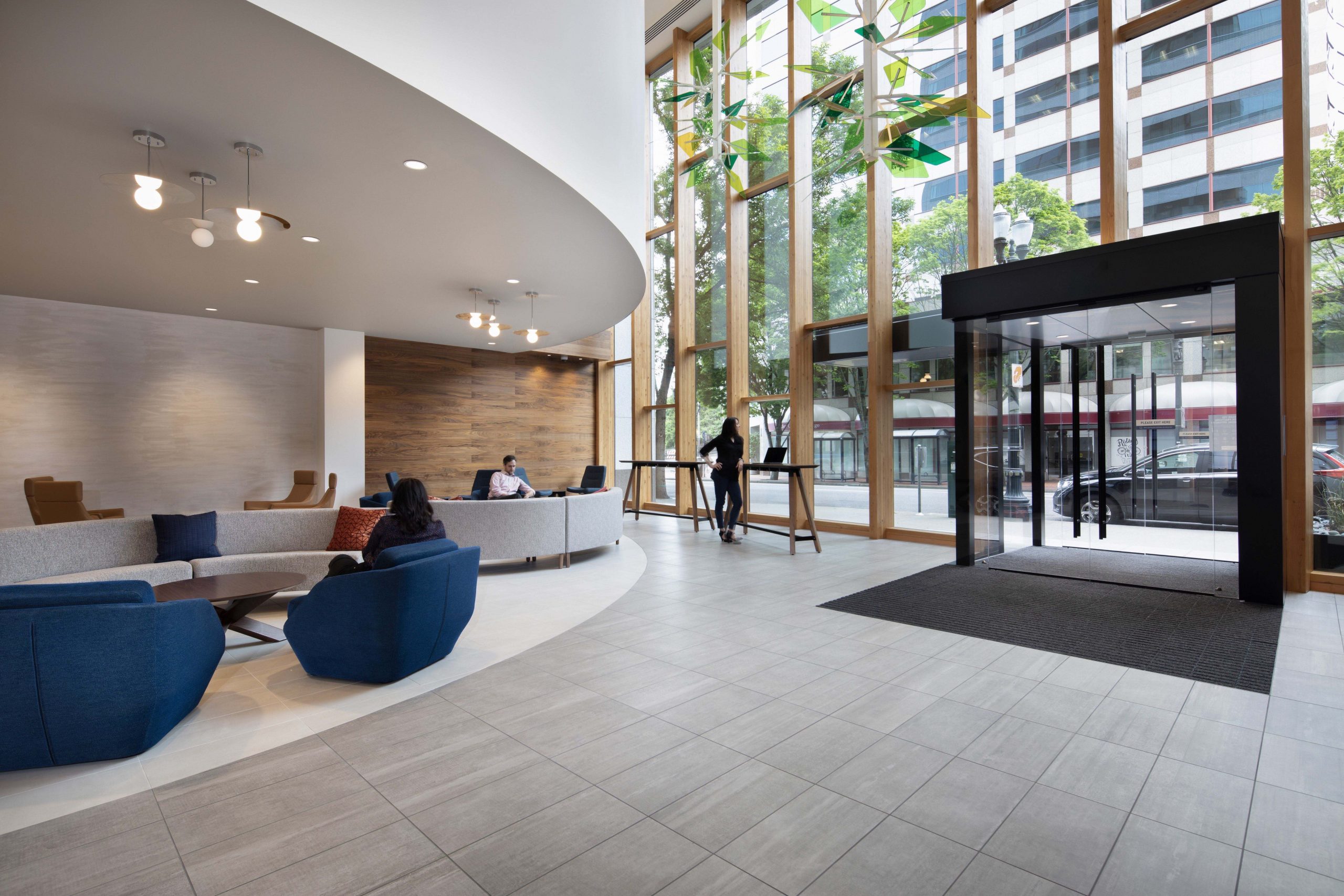 We want visitors to look up as they enter. The glass leaves of Thurston's tree-inspired artwork hang from the lobby's ceiling 30 feet up, spotlighted by our expansive, not-quite-neutral gallery space. Outside, passersby are treated to a bright, vibrant extension of Portland's forests. Using mass timber and other wood accents brings a unique natural beauty and warmth that flows through the space. Within the lobby, people should pause, even momentarily, to look up and find something unexpected.
FILTER
SEARCH
This search form (with id 2) does not exist!
Spotlight: Intern Jules Stafford
August 9, 2022
An interview with Jules Stafford, Summer Intern at Ankrom Moisan
Q: Tell us what you learned through your summer internship at Ankrom Moisan.
A: This summer, I've gotten the chance to work on so many different projects, participate in client meetings, go on site visits, and get to know some wonderful people. I've learned so much this summer, but one of the biggest things I've learned is how to be the best designer I can be. I've learned to step out of my comfort zone and be open to new experiences and lessons. I hope that as I step into my career I will continue to learn; pulling from all of the lessons and experiences I've had here at Ankrom Moisan!
Q: What was the biggest surprise you experienced?
A: How welcoming and kind everyone I met has been! I was definitely intimidated to walk into a large Architecture and Interior Design firm as a summer intern, but all of the designers and architects have been so kind. I remember walking in on my first day and it was as if everyone had known me for years. Everyone is ready to jump whenever I have any questions, ask me for my opinion, and trust me with decisions. They have become great mentors and have treated me so extremely well. It's been such an amazing surprise.
Q: What story do you think you will tell all of your classmates?
A: At George Fox University, we have a tight knit group of Interior Design majors. My cohort is small, but we're growing, so I want to give reassurance to my peers.  As students, it can be overwhelming to walk into a firm and need to learn so many new things, so fast. Suddenly you're aware of just how much you don't know. So, a story I would tell my peers is how I've learned, despite my fears, that I am capable of so much. We are learning exactly what we need to learn. All the projects and homework is so helpful and valuable. I'm excited to go into my last year with everything I've learned and work on new projects.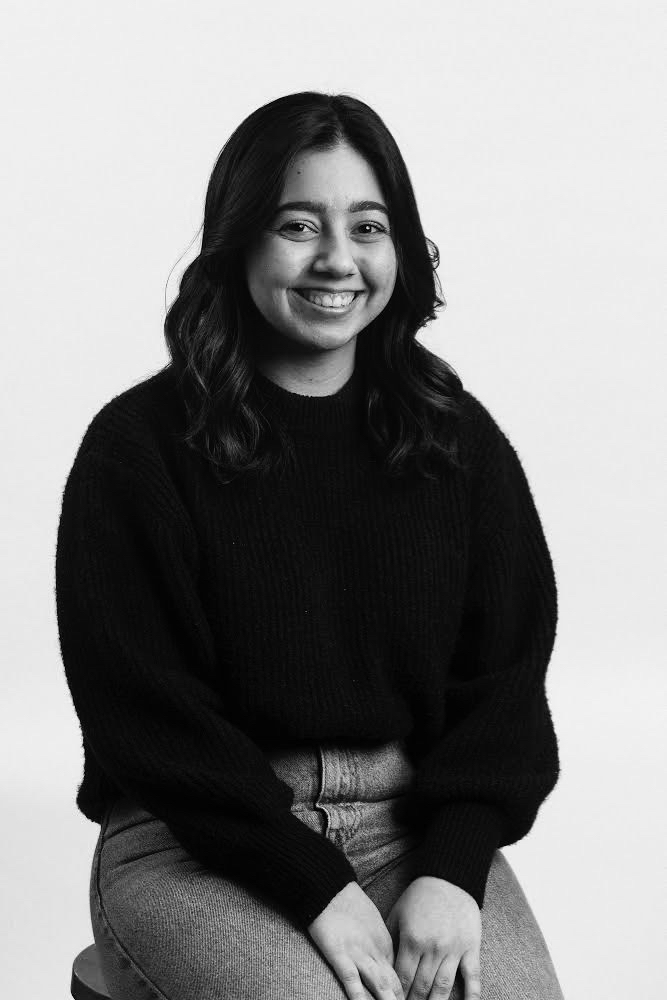 FILTER
SEARCH
This search form (with id 2) does not exist!