April 21, 2023
An Earth Day Conversation with Liza Meek, Materials Library Coordinator
Q: What environmental innovations are you seeing trending in new products for 2023?
A: Including recycled content has been a trend for a while, but now I'm hearing more about products that are degradable or contain biodegradable elements. These are products that you wouldn't traditionally think of such as textiles and carpets.
Example from Maharam: "Rapidly degradable polyester has a biopolymer catalyst added to the molecular makeup of the yarn that accelerates degradation.  A biopolymer is a polymer product by or derived from living organisms. Textiles using rapidly degradable polyester are engineered for performance environments and carry the same warranty as standard Maharam textiles. The textile's degradation will only initiate when placed in an anaerobic environment. Rapidly degradable polyester is no more susceptible to sunlight, chemical cleaners, staining, or dyes than a standard recycled polyester."
Other examples of biodegradable products are from Patcraft. Patcraft has an innovative product called ReWorx that is designed for circularity. It's made of recycled plastic bottles and can also be recycled at the end of its life.
Q: Are there any sustainable practices that designers aren't talking enough about or forgetting to check?
A: There are almost too many resources available as far as material transparency goes.  Find one or two reliable resources like the mindful MATERIALS portal or utilize our firm's customized sustainability filters on the Material Bank website.
Designing for a circular economy is a great consideration, particularly around materials. Consider how the product was extracted and processed. Does it contain recycled materials or biodegradable materials?  Can the material be reused or repurposed and broken down to create new products?
If budget or scope doesn't allow for that type of undertaking, focus on avoiding elements that affect human health, such as the Six Classes of Harmful Chemicals put out by the Green Science Policy Institute.
If there is a certain sustainability goal for the project, reach out to the manufacturer reps for the companies you love and use them as a resource. Ask them which products they have that meet your project's sustainability goals.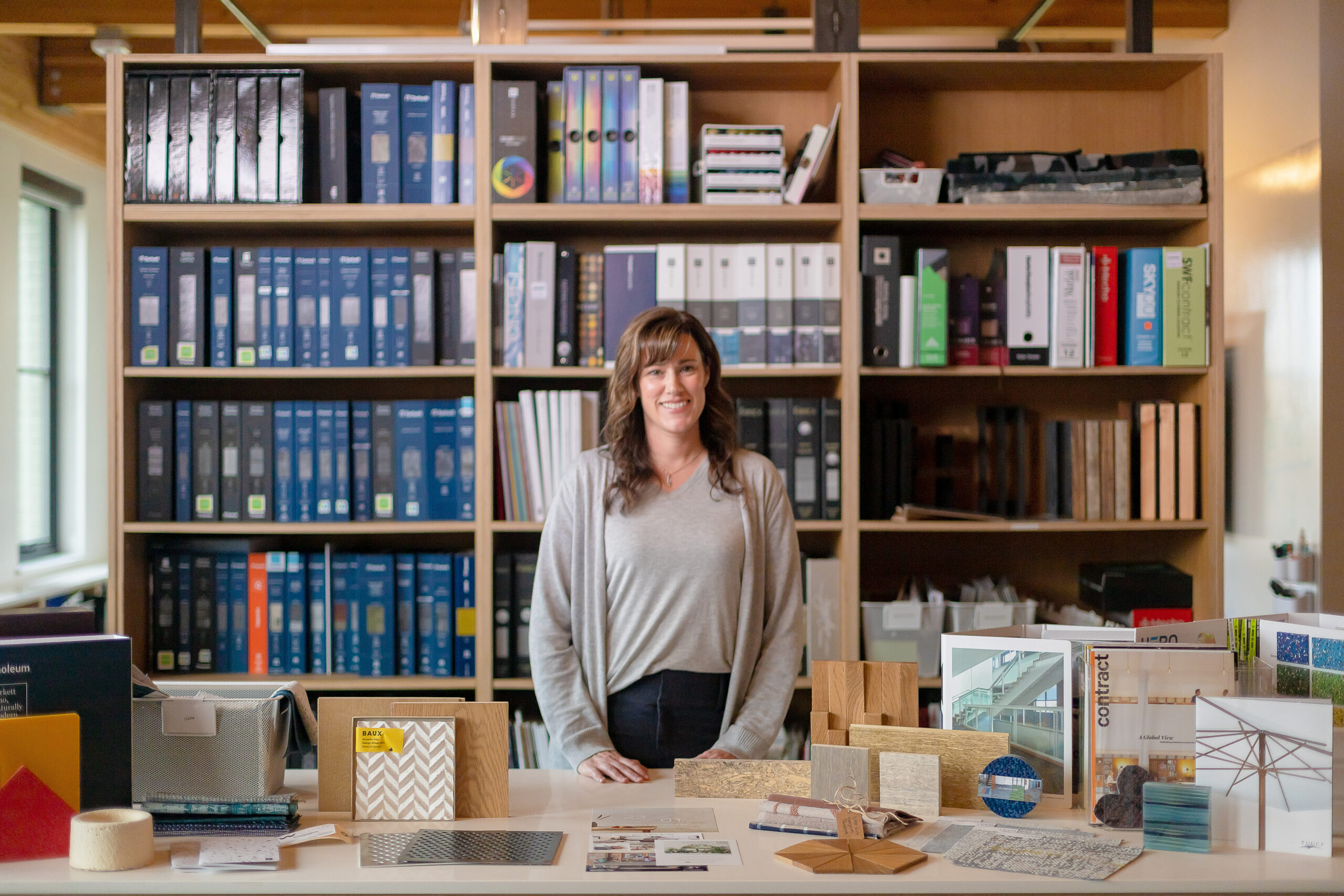 Q: With new products coming out for Spring, what would you consider to be the top 3 products or brands that are embracing environmental innovation/sustainability? What are the innovations these products/companies are focusing on?
A: The flooring companies, textile companies and acoustic manufacturers are where I see the most push towards sustainable product innovation. Many of them are developing products that are degradable, use recycled materials (up-cycled clothing, recycled PET or polyester), PVC-free, or using ECONYL (yarn that is 100% regenerated from fishing lines). Some recent examples are:
Kirei/ Air Baffle: uses Nike grind (recycled PET)
Brands using ECONYL: Interface/FLOR, Delos, Mannington, Milliken, Masland, and Forbo
LUUM is a textile brand that is using up-cycled clothing in some of their products:
Q: Have you noticed any steps/long-term policies or goals announced by these companies to help promote environmental well-being for the future?
A: I'm hearing from several textile reps that their companies are making the move to go PFA free. PFAS are forever chemicals that build up in your body over time and have been linked to many health issues.
Maharam: "As of Jan 2023, Maharam was 78% PFAS free, including all new intros from July 2022- forward. We're in the midst of transitioning all of our textiles and will be 95% PFAS free by the end of this year."
I'm also hearing more manufacturers are pushing beyond carbon neutral and into carbon negative. Interface is a great example.
Q: Why should workplace designers and clients care about sustainability even when under quick deadlines and tight budgets?
A: With the amount of information available to consumers, they are becoming savvier about what's in their environments and the expectations are rising.  Consumer demand is driving that, and more and more manufacturers are making products that align with those values.
Gen Z'ers are also pushing the sustainability movement. According to Trend Hunter, 75% of Gen Z is willing to pay more for sustainable products and they are influencing the older generations.
"Two years ago, only 30 of Gen X parents were willing to spend 10% more on sustainable products.  90% are more willing today."
Workplace designers should care about sustainability because their clients do. Healthy buildings are higher quality buildings, and they offer a better return on their investment. Many large and small companies have ESG goals and initiatives. Buildings designed with healthy and sustainable materials and systems can go a long way toward helping businesses meet their ESG commitments.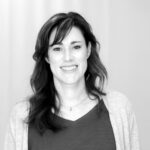 Liza Meek, Materials Library Coordinator
FILTER
SEARCH
This search form (with id 2) does not exist!
The Office as Ecosystem: Strategy 5
April 11, 2023
Culture-First Design for an Engaged Employee Ecosystem
We're all feeling the effects of the boom-bust economic cycle, and it makes it hard to know where to focus the attention when it comes to building a thriving workplace. How much can and should we invest in an office environment when the people who inhabit it are more transient than ever?
Here at Ankrom Moisan, we've been inspired by clients and corporate leaders that are doubling down on their workplaces during these unprecedented times. They've sought to build spaces that not only reflect their values, but also allow their employees to experience them and live them out in their daily work. This kind of long-term, culture-centric approach to the workplace can be more powerful than any training tool or company retreat, with longer-lasting returns, as the message gets reinforced every day.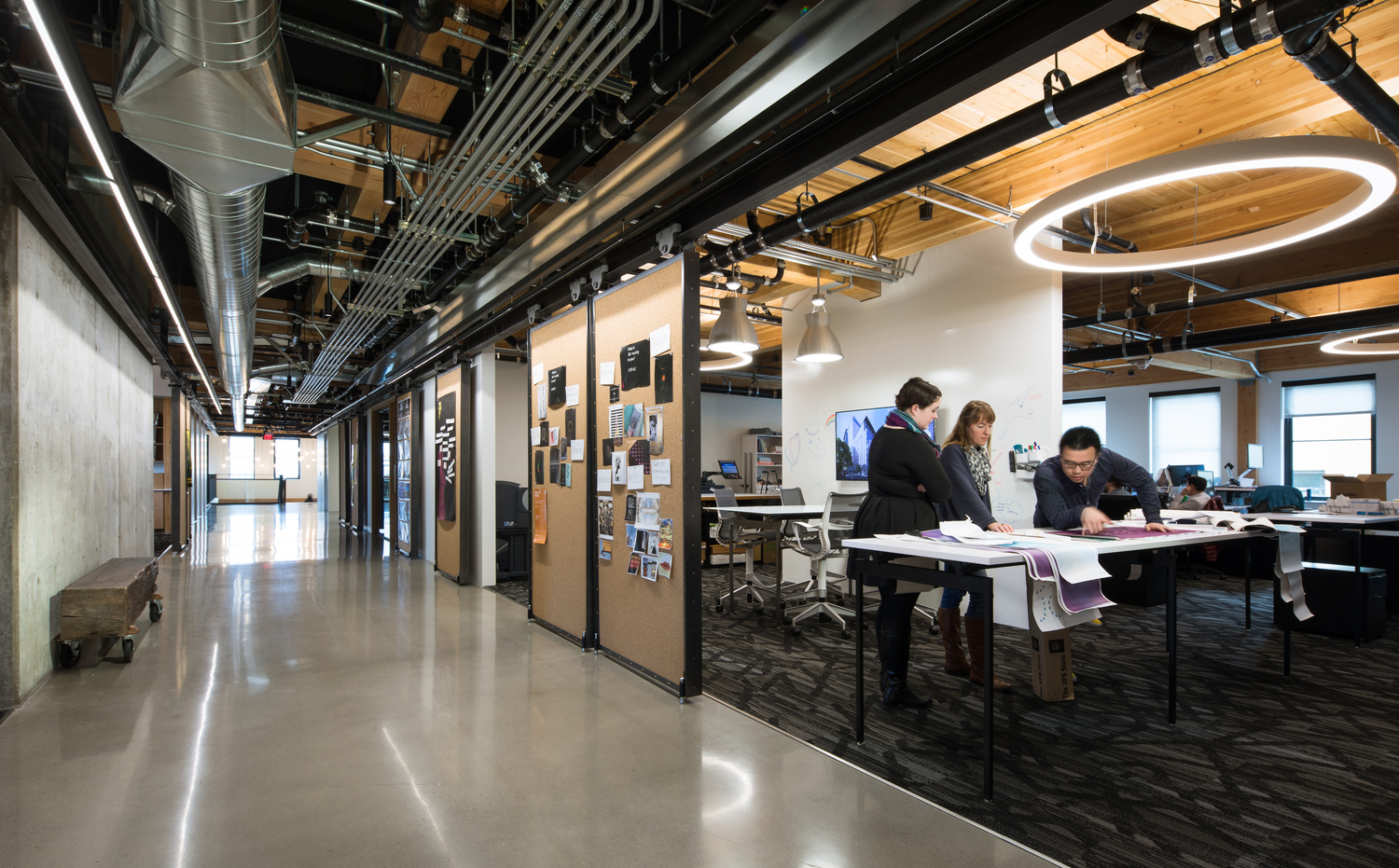 Ankrom Moisan, Portland, Oregon
What do we mean by culture-first design? It's a translation of company values and brand personality into design imperatives. For instance, a company that prioritizes continual learning might integrate an auditorium-style space for seminars, speakers, and certification classes. Display walls might be added near each department to allow groups to highlight key aspects of their work, accomplishments, or projects-in-progress, so others can better understand what they do. A casual meeting area might do double-duty as a mini library, curated with the help and suggestions of employees. The possibilities are endless, but when focused on what your company uniquely values, they also become an exciting, impactful reinforcement of what really matters.
Feeling inspired and want to apply ecosystem thinking to your workplace? Read our full strategic roadmap here, or reach out to our team anytime. We are here to help you and your employees thrive.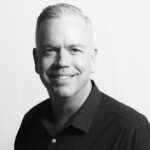 Michael Stueve, Principal, UX Strategy 
Banner photo: Community Transit of Snohomish County, Everett, Washington
📸: Aaren Locke
FILTER
SEARCH
This search form (with id 2) does not exist!
Repositioning | Renovating Communities
April 5, 2023
Living Your Potential
Re-imagine your community expanding services and amenities for the current and next generation.  For the active adult, those needing personal care services, and those that need specialized care, we design to Empower, Enrich, and Care.
Read about Repositioning | Renovating Communities.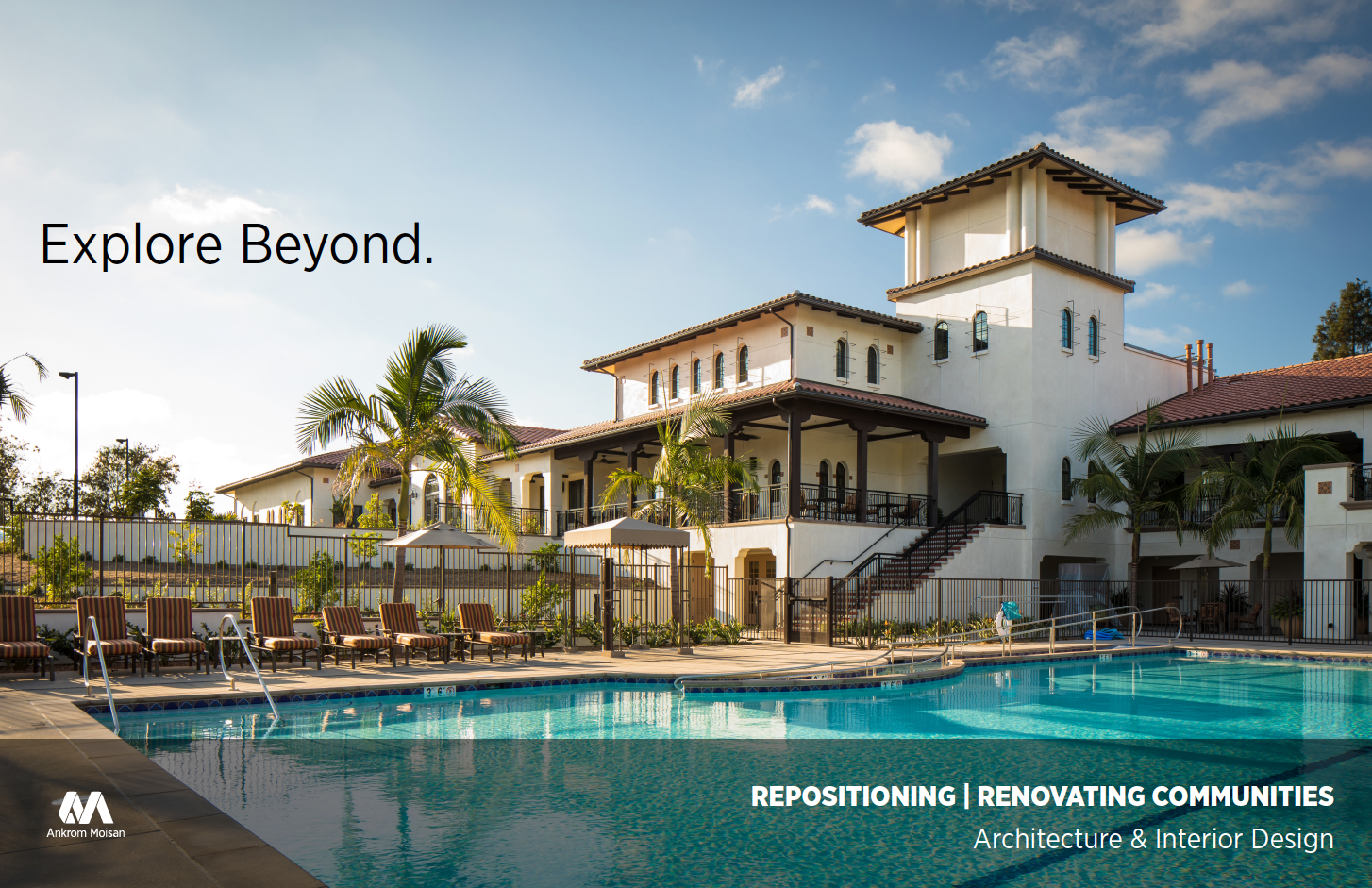 FILTER
SEARCH
This search form (with id 2) does not exist!
The Office as Ecosystem: Strategy 4
April 4, 2023
New Ways to Meet
Running a productive meeting today is a virtual minefield. With remote participants, on-site attendees, a variety of videoconferencing resources, and let's face it, more meetings than anyone really has time for, it's both more essential, and more difficult, to get meetings right.
We've leaned hard on technology over the past 3 years, but it's time to give design its rightful role in the conversation. While what's happening on screen matters, the places and spaces we meet can contribute significantly to a better overall experience.
The challenge at hand is to make the experience more equitable for all attendees, whether in-person or remote. We've heard stories of in-person meetings with 50 people all in one room and logged in to Zoom, so that the 5 people who were joining remotely would not be left out. While a noble effort toward creating an equitable experience, there has to be a better way.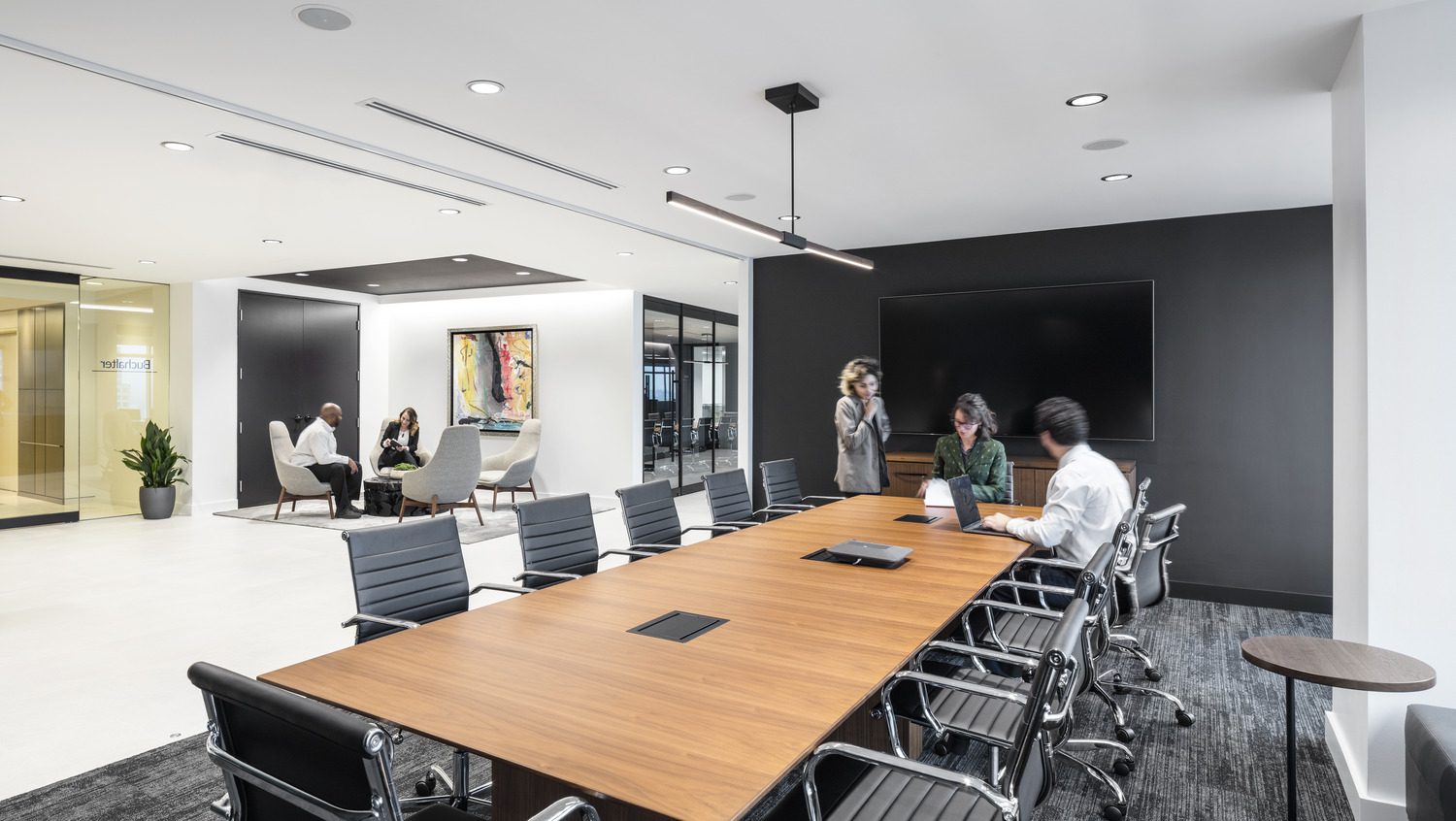 Buchalter, Portland, Oregon
📸: Magda Biernat
The truth is that the implementation of a few design strategies can make a significant difference. For instance, lighting, materials, and color palettes that read well on-camera and feel good in-person can equalize the experience. Room orientation, table layouts, and careful screen placement can bring remote attendees tableside and minimize the tendency to leave people out of the conversation. Thoughtful sound design with an eye (and ear) toward an optimal acoustical experience for those in-person and joining remotely ensures everyone has a chance to be heard.
Eager to solve the problem of mediocre meetings? We explore more meaningful meeting and workplace design strategies in our strategic roadmap, The Office as Ecosystem. Check it out here.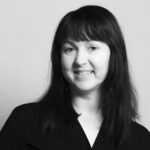 Bethanne Mikkelsen, Managing Principal, Interior Designer
Banner photo: 2201 Westlake, Portland, Oregon
📸: Moris Moreno
FILTER
SEARCH
This search form (with id 2) does not exist!