September 1, 2022
Timelessly Modern
A fifth-generation Portland family business, Harder Mechanical needed a new, modern headquarters to last them for another 80 years. Because reinvention tends to be part of their business—they gain expertise in the newest processes, be it mill work or high-tech manufacturing, and periodically transform themselves along the way—they were looking explicitly for an innovative showcase office.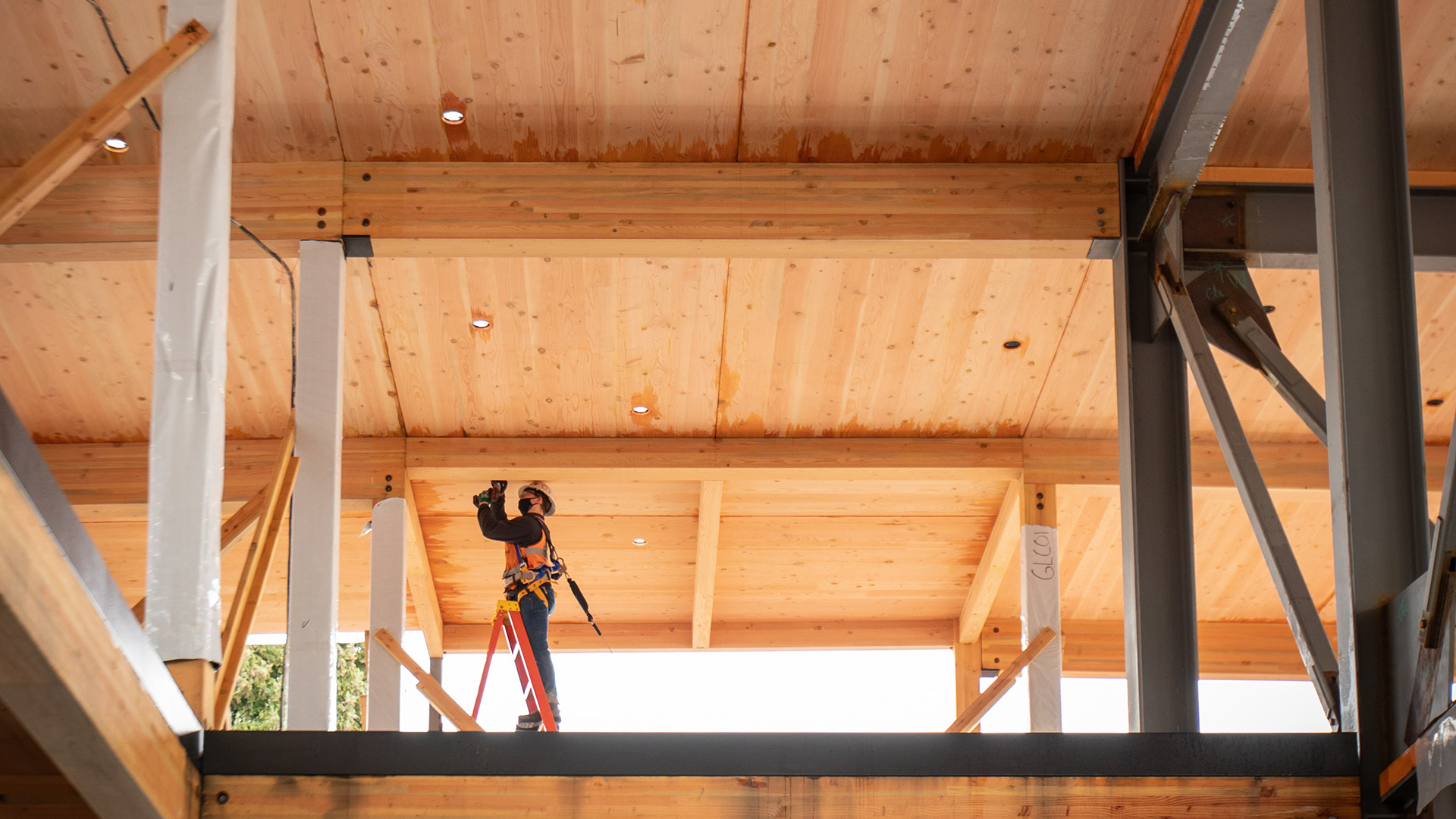 Harder Mechanical building needed to stay rooted in the past while being built for the future. Because the owner is a mechanical and plumbing subcontractor and will self-perform their own scope, the Harder team became an integral part of the design process.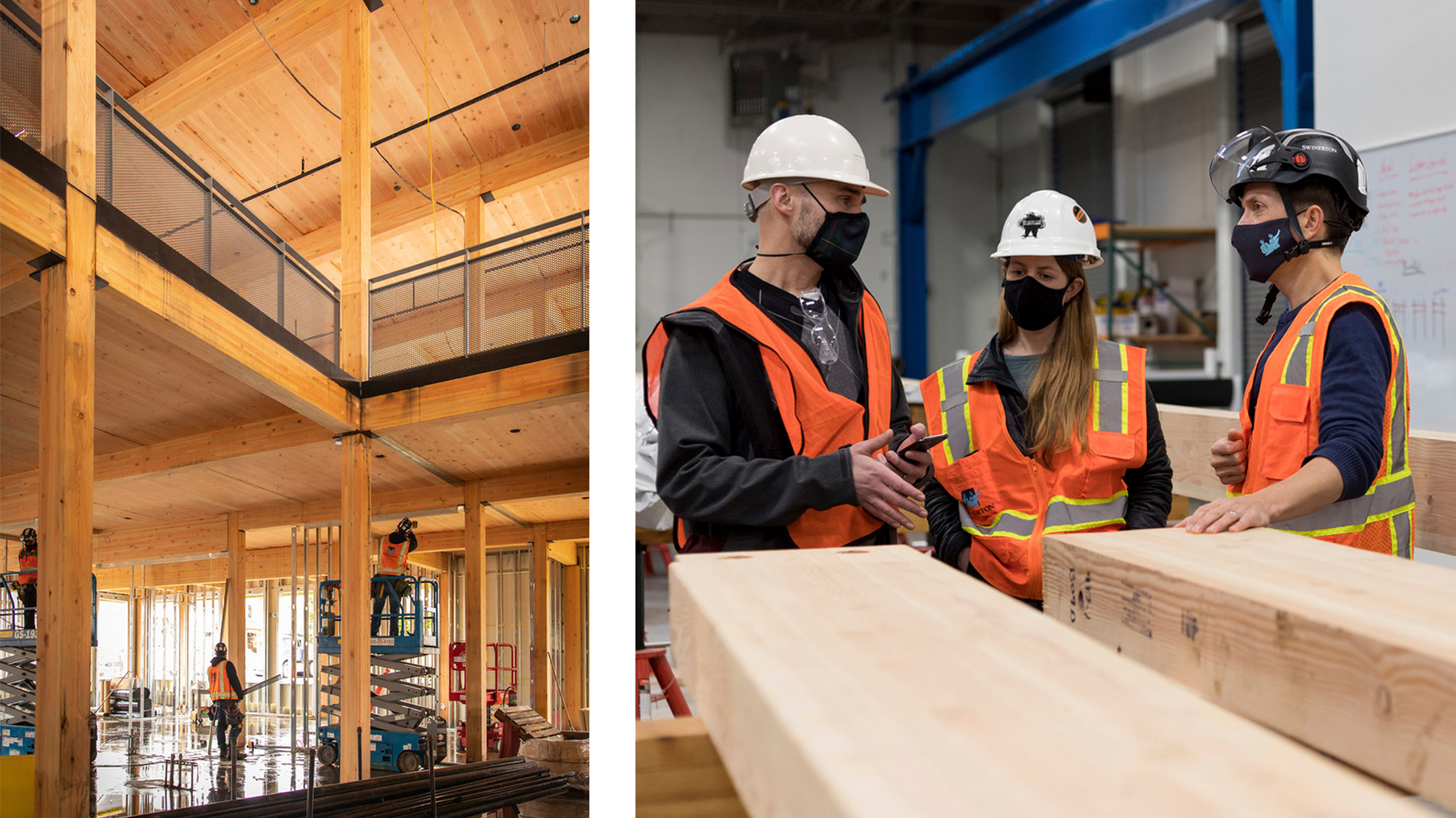 After learning who they are, how they view their work, and what they needed in a collaborative working session, our design encompasses a beautiful, durable brick building using renewable cross-laminated timber (CLT).
Their desire for an innovative approach—to not only the design but also the design process—led to an adapted integrated project delivery method. This allowed for close collaboration with Harder, the General Contractor, Swinerton, and their trade partners to achieve efficiencies and innovative construction methods that meet both design and construction goals.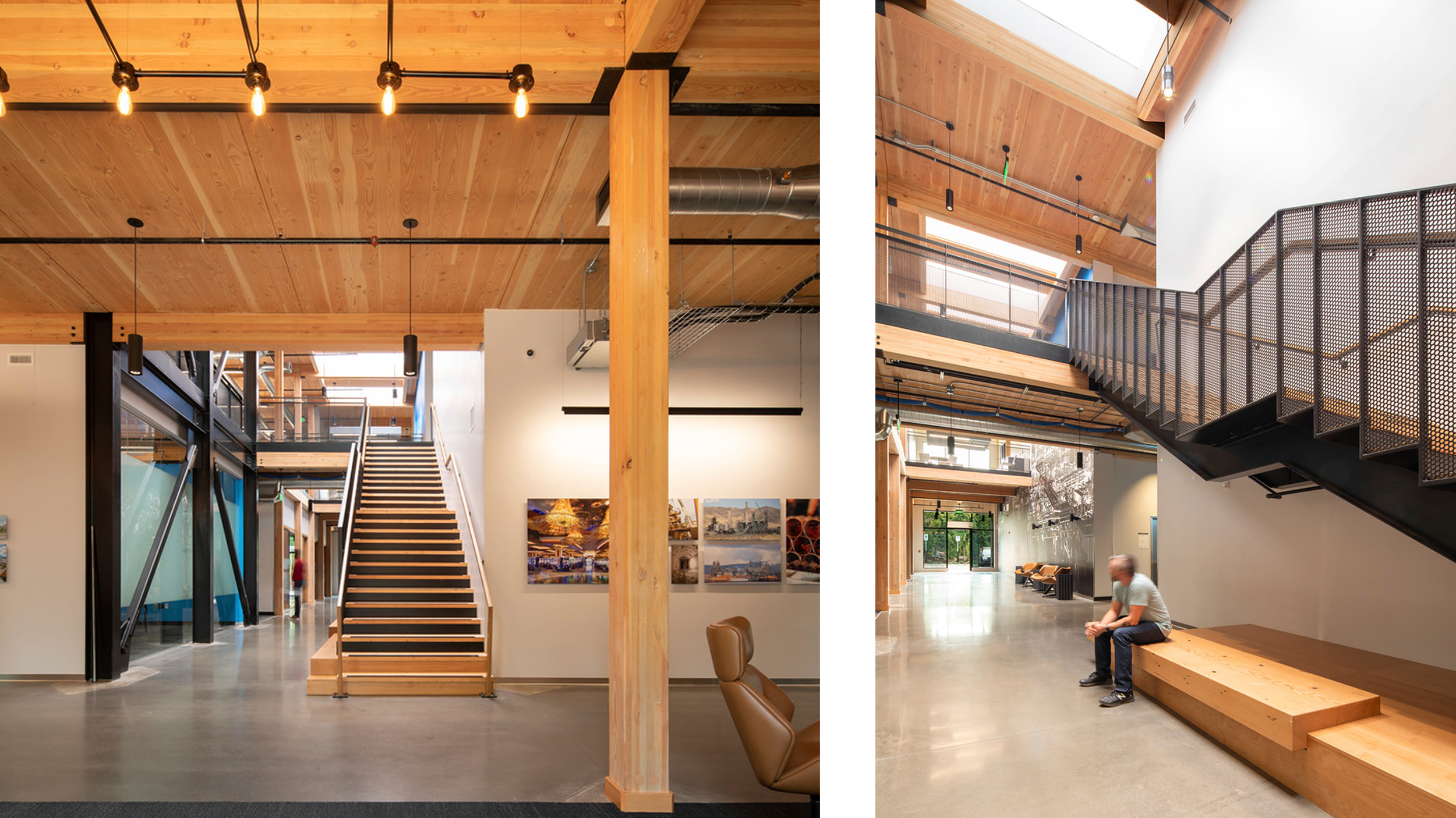 The wish to showcase Harder's own work and innovation led to exposed ceilings and exposed structure and mechanical systems. It is here where the Cross-Laminated Timber (CLT) structural system became a central design element. Utilizing Swinerton's expertise in this area, the CLT simultaneously provides environmental benefits both to the occupants and in broader terms, along with time and cost saving installation.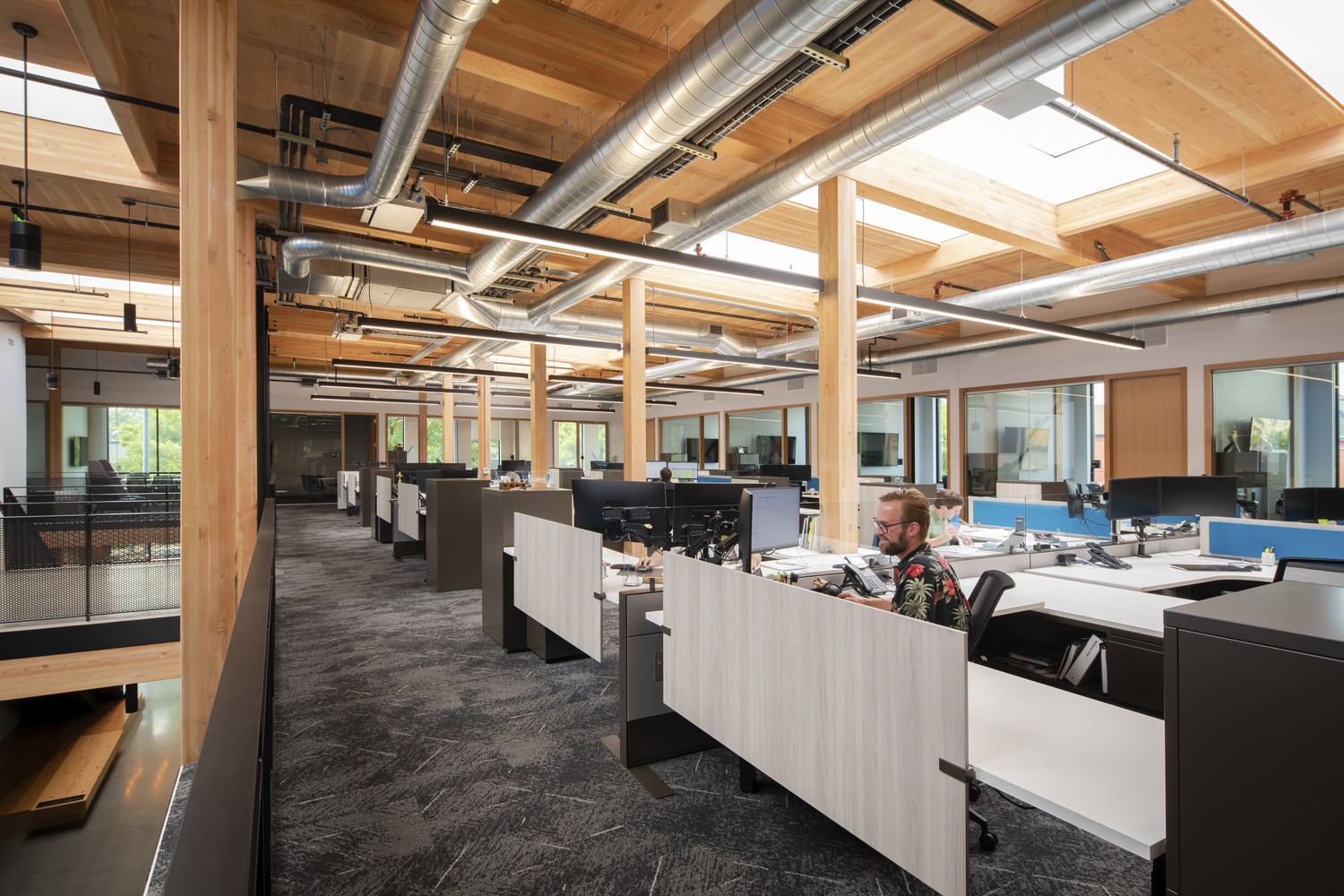 Externally, the company's rich history combined with the historic neighborhood led to the selection of both a durable and beautiful dark brick facade reminiscent of the surrounding context. This traditional material paired with a contemporary aesthetic allows the building to become part of MLK's future whilst respecting its past. The building will last for decades, aligning with and improving the Elliott neighborhood in a way that's both timeless and exceedingly modern.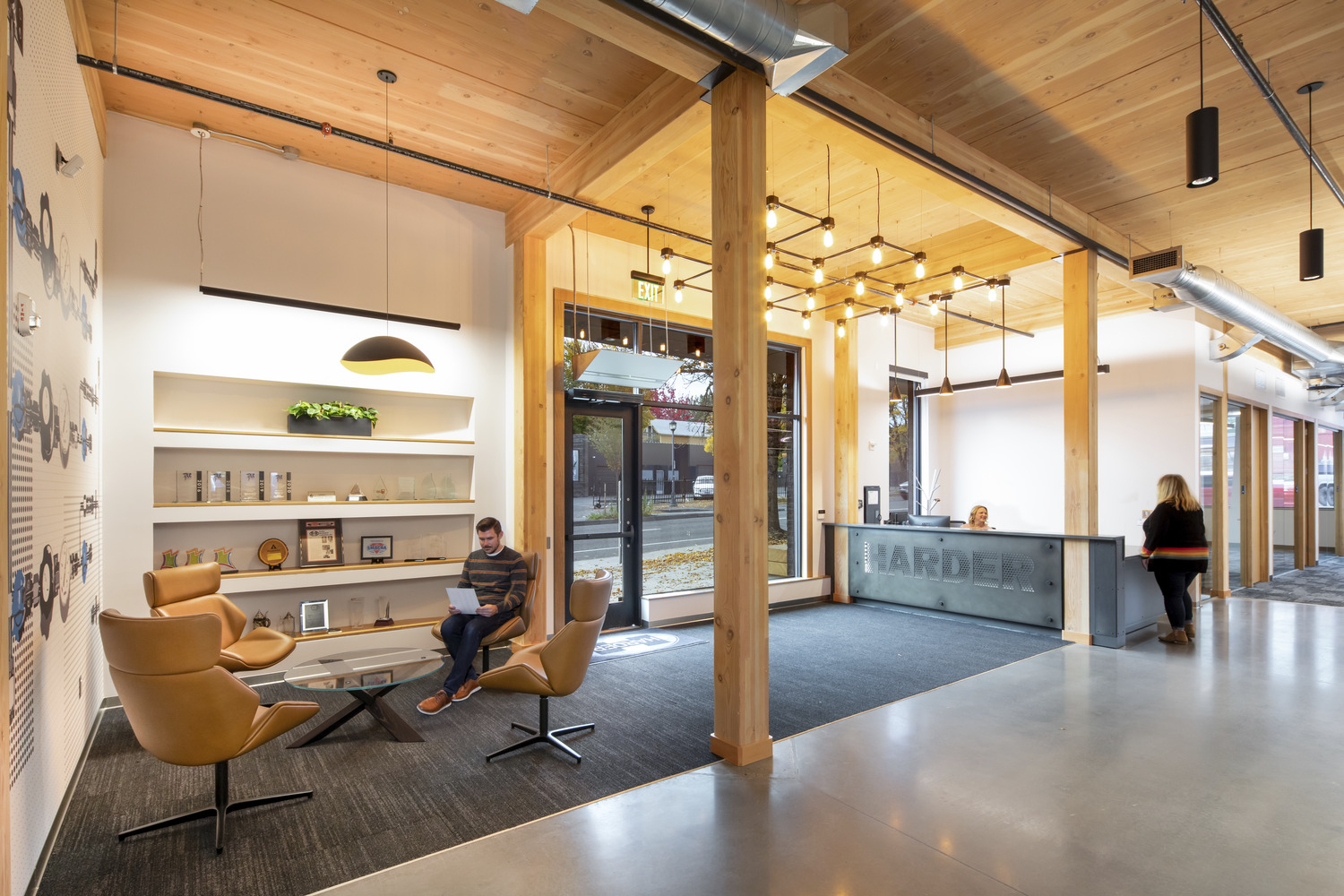 FILTER
SEARCH
This search form (with id 2) does not exist!
Mass Timber: Moda Tower Lobby
August 19, 2022
Activating Public Art and Springtime Through Renovation
For our first mass-timber curtain wall in Portland's Moda Tower, our goal was to design a canvas that activates the new public art at its heart. Effectively renovating a lobby for public art means more than just designing a white gallery box. The renovated lobby space requires a design that both elevates the artwork and functions for practicalities like circulation, lighting and climate, and code.
Before, Moda Tower's lobby was like many others: small, dark, and relatively constricted. After decommissioning the long-standing previous artwork, we enlarged the lobby and its windows, and replaced the dark, dated floor with bright, crisp materials. The new 30 ft mass timber curtain wall is punctuated by wood-accented and fresh white walls. Warmth and light now invite visitors entering the lobby.
More than just a neutral background, the renovated Moda Tower lobby and our mass timber curtain wall are integral parts of the featured artwork, "Canopy" by Portland-based artist Joe Thurston. Coordinating with our client Unico Properties and Thurston, our team created a lobby redesign that captures the artist's idea of a springlike forest canopy – the feeling of trees reaching toward each other against the sky.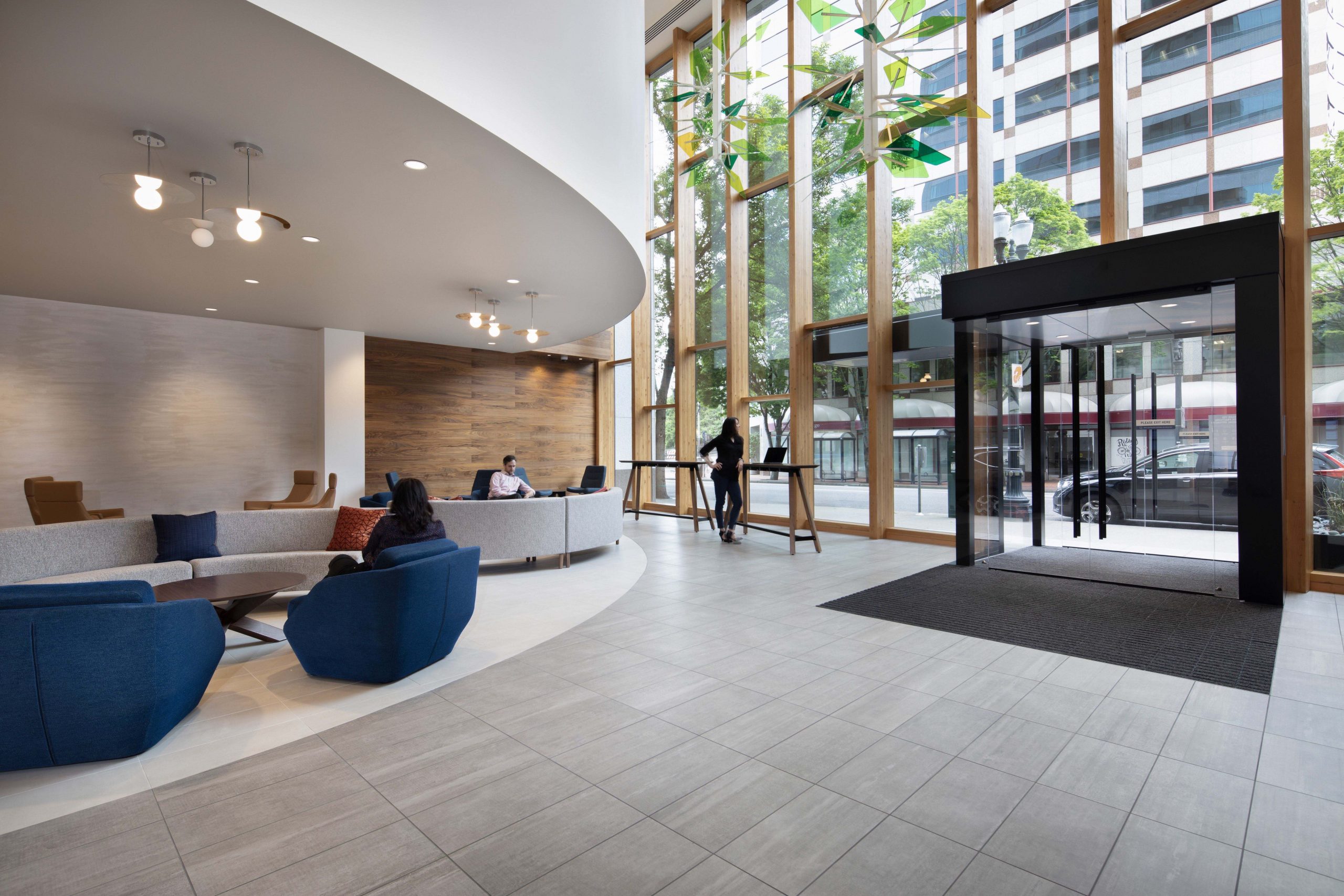 We want visitors to look up as they enter. The glass leaves of Thurston's tree-inspired artwork hang from the lobby's ceiling 30 feet up, spotlighted by our expansive, not-quite-neutral gallery space. Outside, passersby are treated to a bright, vibrant extension of Portland's forests. Using mass timber and other wood accents brings a unique natural beauty and warmth that flows through the space. Within the lobby, people should pause, even momentarily, to look up and find something unexpected.
FILTER
SEARCH
This search form (with id 2) does not exist!
Mass Timber: Skylight
June 19, 2022
Serving Both Pragmatic and Highly Creative Needs­, Equally
Portland's Central Eastside Industrial District is poised to transform its character and vibrancy. Designed to capture and elevate the essence of this historic industrial area, the 115,000 sq. ft. Skylight is our refined rendition of the modern office for creative technology and design professions. The structure is a mix of concrete, hybrid wood trusses, and steel, but the Nail-Laminated Timber (NLT) floor panels are the material binding the whole building together – offering both style and function.
We designed Skylight as two offices bridged by core and amenity spaces, like the wings and body of a butterfly. Our team used structural materials that unite the separate spaces with a raw, edgy, but down-to-earth aesthetic that appeals to creative office users. Exposed mass timber and hybrid wood trusses support a bright, open, and warm office environment. These natural elements contrast with cool concrete, steel framing, and visible architectural joints, adding visual activity and energy to the interior. An array of skylights at the heart of the building brings natural light to otherwise unaccessible spaces.
Use of NLT at Skylight also serves functional goals of our creative office design. The texture of this material has acoustic benefits for the space and exposing the natural finishes removed the added cost of applied interior finishes. We also coordinated with the MEP engineers and subcontractors to hide unattractive parts of typical office systems neatly beneath a raised floor, maximizing exposure to the beautiful natural wood and open space. Supporting mass timber with innovative, long-spanning hybrid trusses also allowed us to create a more flexible and unobstructed layout for existing and future tenants of the office building. Skylight used this method to reduce layout obstructions while maximizing versatility through 35'-40′ spans and only a single row of columns breaking up a 70'-80′ floor plates. To achieve this literal stretch from traditional 20'-25′ mass timber grids, our team designed an innovative, double glulam truss.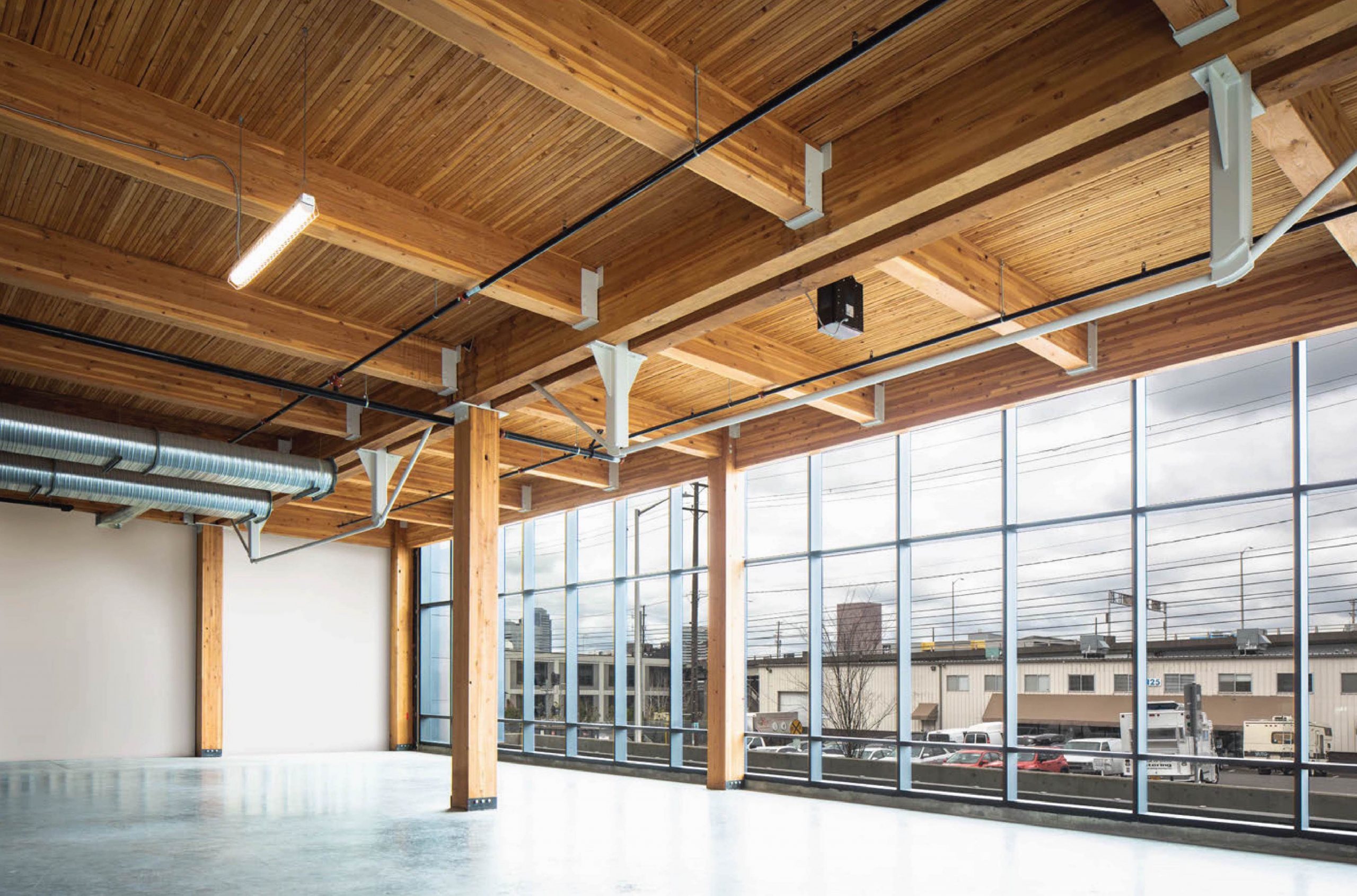 This project fired us up about new mass timber applications. While NLT is not as cutting edge as Cross-Laminated Timber (CLT) panels – a mass timber technology exciting the industry today – Skylight helped us explore and apply the full potential of NLT to establish a new standard for this evolving neighborhood. Its success relied on strong collaboration between the design, development, construction, and engineering team members, who include Turner Construction, DCI Engineers, Glumac, Shapiro Didway, Mackenzie, and Potestio Studio.
FILTER
SEARCH
This search form (with id 2) does not exist!
Mass Timber: The Standard at Seattle
May 1, 2022
Achieving greater heights with efficiency and durability
With study spaces for every occasion, social areas, luxurious amenities, and ground floor retail just blocks from campus, The Standard at Seattle's two high-rise and one mid-rise buildings will welcome students and locals. We took guidance from our client, Landmark Properties, one of the nation's largest student housing developers, and inspiration from the neighborhood's eclectic character to design student housing that fosters a community away from home.
In the mid-rise, Cross-Laminated Timber (CLT) construction will allow us to achieve higher ceilings than would otherwise be possible, with greater efficiency, durability, and beauty – three key reasons why we champion mass timber. Using mass timber from the Pacific Northwest also reduces the building's carbon footprint. Wood on the exterior around the entry draws on the beautiful CLT inside and serves as a beacon for people arriving from the nearby train station. Since exposed mass timber is uncommon in Seattle student housing, we were excited to have the perfect opportunity to use this functional and stylish material at The Standard.
Standing at 26 stories, the two high-rise buildings will be amongst the tallest in the University District upon completion in 2023. Our design team used colors and materials to create a conversation between The Standard's trio of buildings and its eclectic neighborhood. They conceptualized the high-rises as one form, pulled apart to reveal dark blue interior panels that shift in color as the sun hits the surfaces at different angles. The throughway with ground floor retail and afternoon sunlight will be a relaxing destination for the community. With gold details, the throughway is like a yellow brick road to the mid-rise building.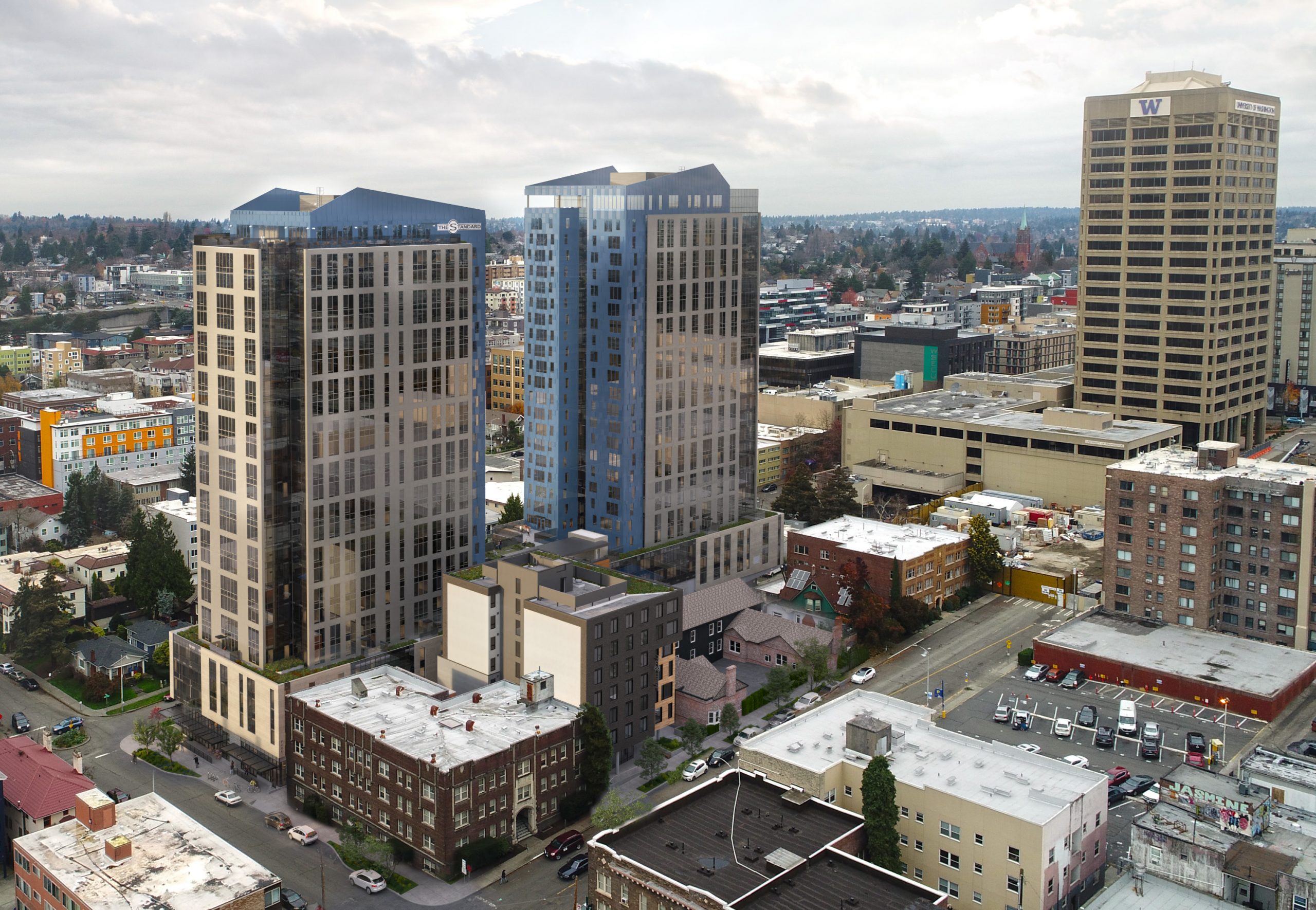 Amenities housed in the high-rise, but accessible to all residents, include a swimming pool, sauna/steam room, and rock climbing wall. All of these options will be easily accessible via a skybridge between the high-rises. The offerings caters towards providing residents as much choice as possible without having to travel far, a feature that our student housing experts know today's young people desire. The interior design mixes natural elements with refined playfulness and warmth to keep the design appropriate for the city's urban, tech-forward, and multi-cultural university students.
FILTER
SEARCH
This search form (with id 2) does not exist!
Mass Timber: 38 Davis
December 19, 2021
Integrating Work and Home Through Mass Timber.
At 38 Davis, work and home is integrated through mass timber. Located in the heart of Portland's Old Town Chinatown District, this building was the first ground-up construction to occur in the district in over a decade. One of the world's first Leadership in Energy and Environmental Design (LEED) v4 certified developments, the building was designed with software guided fans and operable windows rather then relying solely on an HVAC supported air conditioning and heat recovery system. A testament to our commitment to sustainability, the 124,000 sq. ft. headquarters also features a greywater reclamation system and green roof that treats water and removes contaminants on site.
The six-story, mixed-use timber-framed building, which is home to our Portland headquarters, combines office, residential, and retail spaces. Expressing raw craft with care, the mass timber used in 38 Davis is more than warm and honest-it's structurally sound and sustainable, lowering the building's overall carbon footprint.
Utilizing a historic method of a traditional 3×4 tongue-in-groove floor panel system, the building features locally sourced Douglas fir timber beams and exposed columns, which can be seen from the inside as the beams come together in an energetic display of raw materials and craftsmanship that mirrors the work we do. This post-and-beam system allowed our team to create larger interior spaces, high ceilings, and large window openings, achieving our vision of a background "warehouse" space overlaid with a tech-forward workplace that is all parts beautiful and utilitarian, yet historic and comfortable.
As you enter the building, you flow through the ground floor communal thru lobby connecting entries along SW Davis and the semi-private mid-block courtyard with a custom backlit metal art was designed to represent the flow of the Willamette River as it moves through downtown Portland. In the lobby, reclaimed wood wraps the threshold to shared elevators guiding visitors from retail on the ground floor to office space on the second through fourth floors, and workforce housing on floors five and six.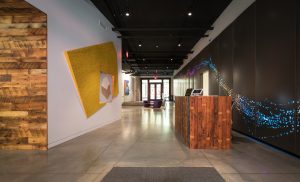 We believe that diversity and sustainability are of paramount importance to the vitality of our lives, neighborhoods, and cities. Designing from an owner's position, we seized the opportunity to create a vibrant, mixed-use development where we can live, work, and learn alongside local community members. The communal lobby, elevator, rooftop, bike storage, locker room and gym area create dynamic interactions between our staff, building residents, and University of Oregon students. A unique, inter-use greywater reclamation system filters runoff shower water from the upper residential floors and uses it to flush the toilet's of the offices below, saving an estimated 202,800 gallons of water annually.
FILTER
SEARCH
This search form (with id 2) does not exist!