June 19, 2022
Serving Both Pragmatic and Highly Creative Needs­, Equally
Portland's Central Eastside Industrial District is poised to transform its character and vibrancy. Designed to capture and elevate the essence of this historic industrial area, the 115,000 sq. ft. Skylight is our refined rendition of the modern office for creative technology and design professions. The structure is a mix of concrete, hybrid wood trusses, and steel, but the Nail-Laminated Timber (NLT) floor panels are the material binding the whole building together – offering both style and function.
We designed Skylight as two offices bridged by core and amenity spaces, like the wings and body of a butterfly. Our team used structural materials that unite the separate spaces with a raw, edgy, but down-to-earth aesthetic that appeals to creative office users. Exposed mass timber and hybrid wood trusses support a bright, open, and warm office environment. These natural elements contrast with cool concrete, steel framing, and visible architectural joints, adding visual activity and energy to the interior. An array of skylights at the heart of the building brings natural light to otherwise unaccessible spaces.
Use of NLT at Skylight also serves functional goals of our creative office design. The texture of this material has acoustic benefits for the space and exposing the natural finishes removed the added cost of applied interior finishes. We also coordinated with the MEP engineers and subcontractors to hide unattractive parts of typical office systems neatly beneath a raised floor, maximizing exposure to the beautiful natural wood and open space. Supporting mass timber with innovative, long-spanning hybrid trusses also allowed us to create a more flexible and unobstructed layout for existing and future tenants of the office building. Skylight used this method to reduce layout obstructions while maximizing versatility through 35'-40′ spans and only a single row of columns breaking up a 70'-80′ floor plates. To achieve this literal stretch from traditional 20'-25′ mass timber grids, our team designed an innovative, double glulam truss.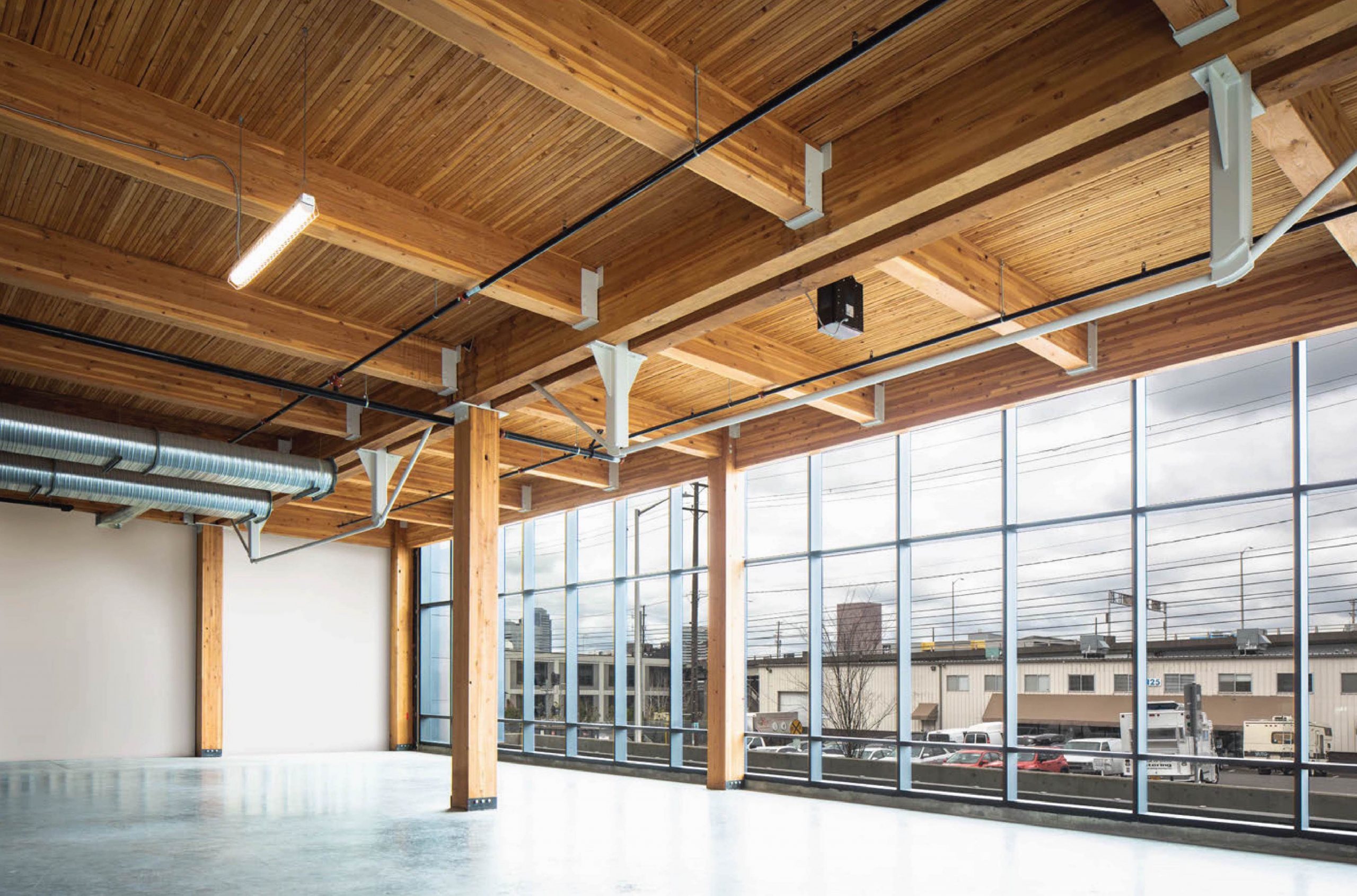 This project fired us up about new mass timber applications. While NLT is not as cutting edge as Cross-Laminated Timber (CLT) panels – a mass timber technology exciting the industry today – Skylight helped us explore and apply the full potential of NLT to establish a new standard for this evolving neighborhood. Its success relied on strong collaboration between the design, development, construction, and engineering team members, who include Turner Construction, DCI Engineers, Glumac, Shapiro Didway, Mackenzie, and Potestio Studio.