May 1, 2022
Achieving greater heights with efficiency and durability
With study spaces for every occasion, social areas, luxurious amenities, and ground floor retail just blocks from campus, The Standard at Seattle's two high-rise and one mid-rise buildings will welcome students and locals. We took guidance from our client, Landmark Properties, one of the nation's largest student housing developers, and inspiration from the neighborhood's eclectic character to design student housing that fosters a community away from home.
In the mid-rise, Cross-Laminated Timber (CLT) construction will allow us to achieve higher ceilings than would otherwise be possible, with greater efficiency, durability, and beauty – three key reasons why we champion mass timber. Using mass timber from the Pacific Northwest also reduces the building's carbon footprint. Wood on the exterior around the entry draws on the beautiful CLT inside and serves as a beacon for people arriving from the nearby train station. Since exposed mass timber is uncommon in Seattle student housing, we were excited to have the perfect opportunity to use this functional and stylish material at The Standard.
Standing at 26 stories, the two high-rise buildings will be amongst the tallest in the University District upon completion in 2023. Our design team used colors and materials to create a conversation between The Standard's trio of buildings and its eclectic neighborhood. They conceptualized the high-rises as one form, pulled apart to reveal dark blue interior panels that shift in color as the sun hits the surfaces at different angles. The throughway with ground floor retail and afternoon sunlight will be a relaxing destination for the community. With gold details, the throughway is like a yellow brick road to the mid-rise building.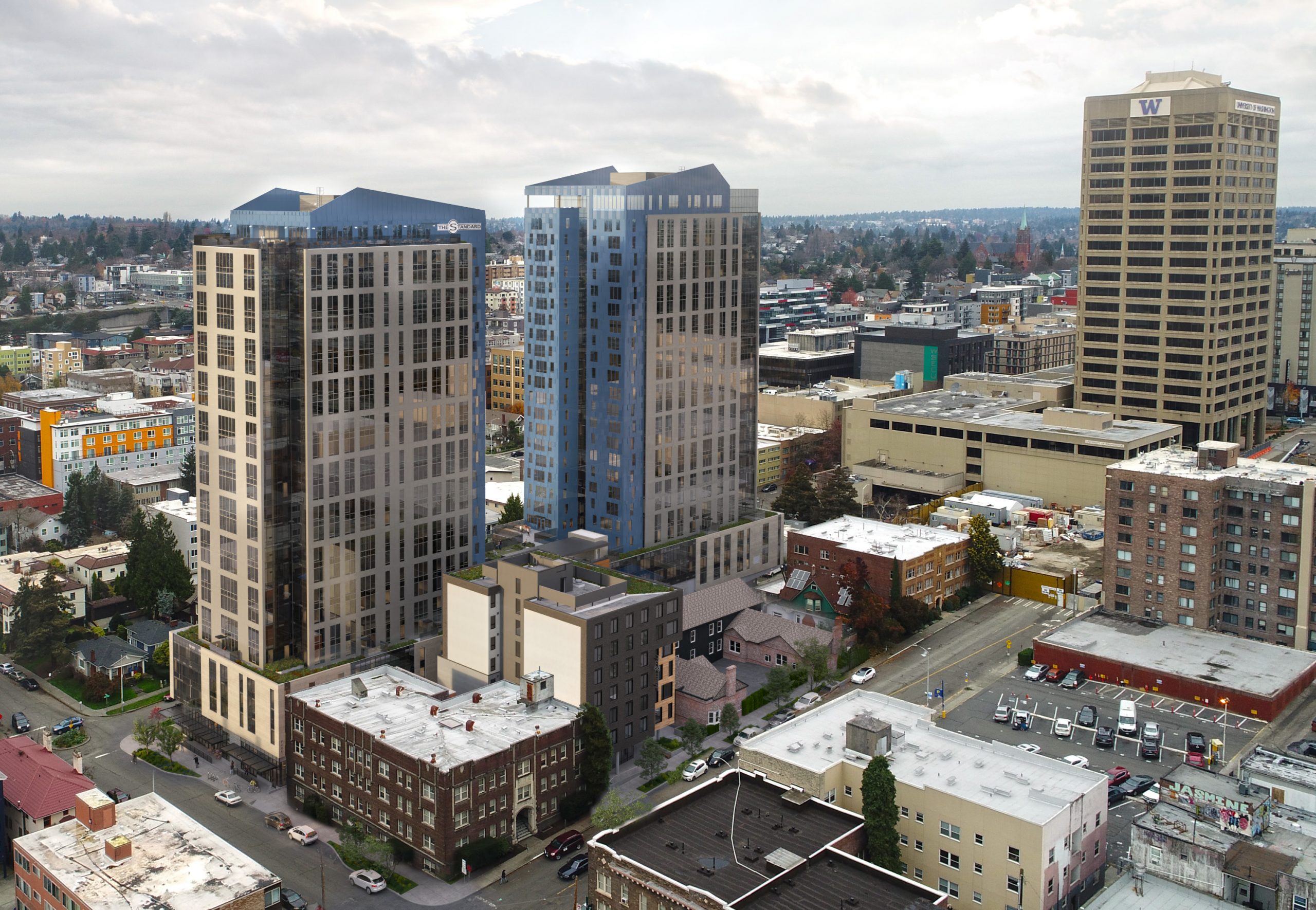 Amenities housed in the high-rise, but accessible to all residents, include a swimming pool, sauna/steam room, and rock climbing wall. All of these options will be easily accessible via a skybridge between the high-rises. The offerings caters towards providing residents as much choice as possible without having to travel far, a feature that our student housing experts know today's young people desire. The interior design mixes natural elements with refined playfulness and warmth to keep the design appropriate for the city's urban, tech-forward, and multi-cultural university students.