November 20, 2023
A Q&A with the Workplace and Healthcare Teams
The summer has wrapped, and wintery weather has found us once again. Our Workplace team had some interesting travels this summer, and they've recalled some of their favorite summer travel design inspiration.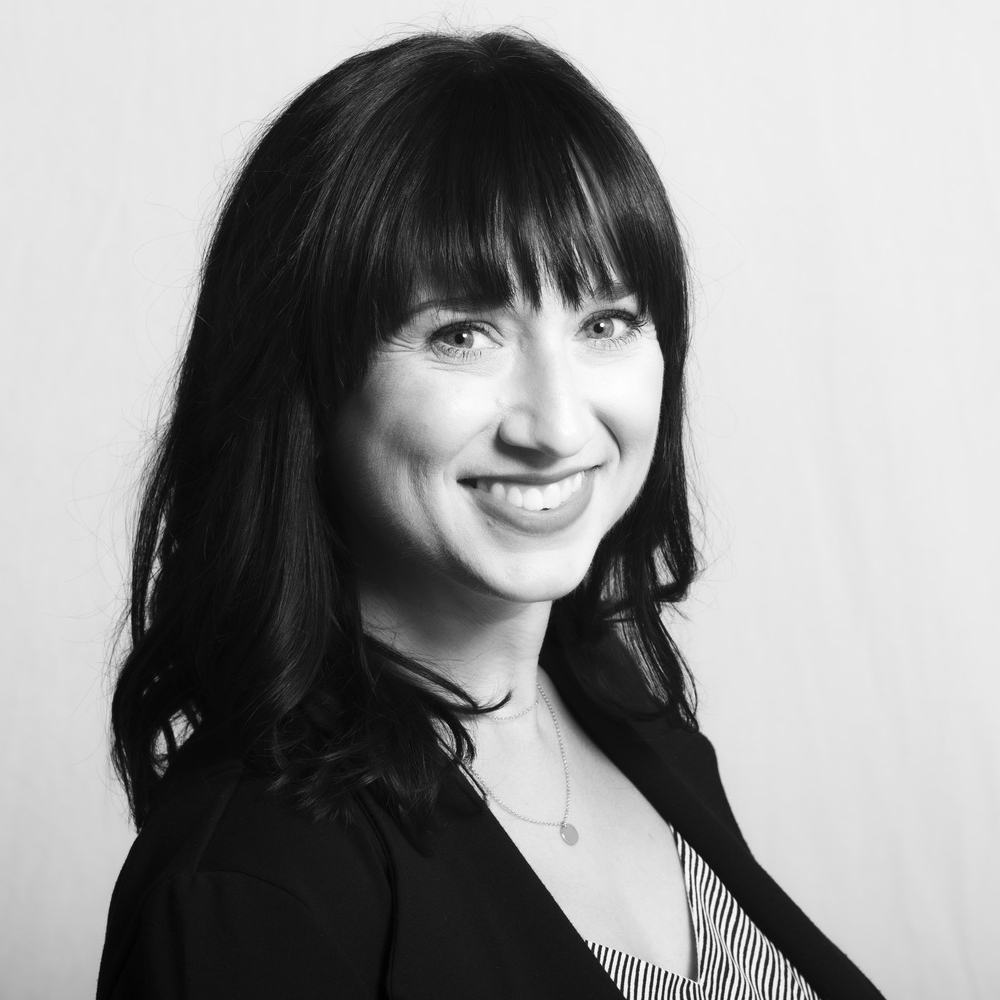 Clare Goddard, Senior Associate
Q: What was the most compelling design you saw?
A: The beauty of what nature has designed. From Gifford Pinchot to Sisters, OR to Rocky Mountain National Park, from lakes to mountains to tundra and trees, our natural world is so filled with beauty. Beauty that is not perfect or repetitive, that takes you out of the mundane of the day-to-day to appreciate the here and now.

Q: How did elements from these new locations translate into your design work?
A: That not everything has to be perfect and that those elements of surprise are what set a design apart from the boring.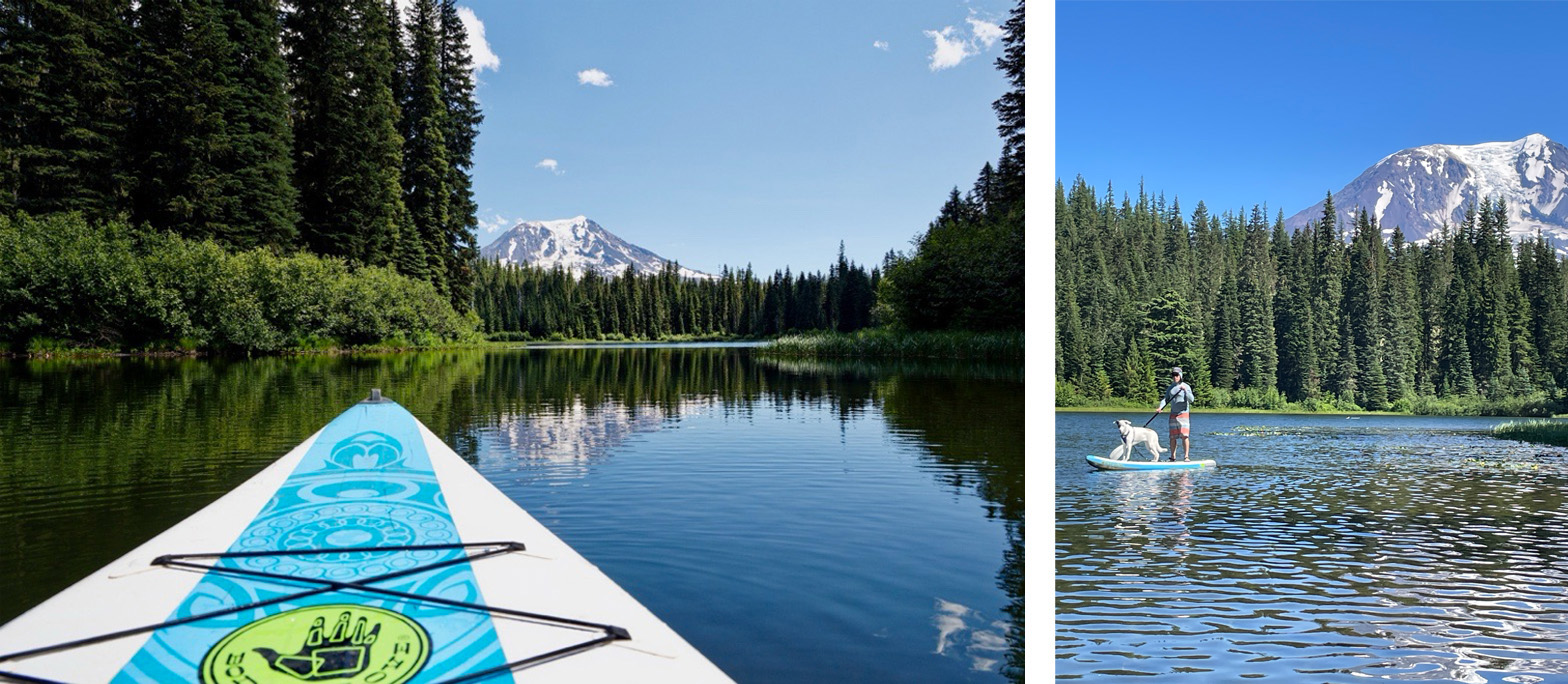 Q: If you worked remotely while on your trip how & where did you work (desk, cafe, balcony with an ocean view, etc.)? 
A: I worked from the kitchen table in Sisters, OR and from my in-laws home office in Colorado. No views, but really nice to be able to wrap up work for the day and go on a hike or to take Millie on a different evening walk 😊.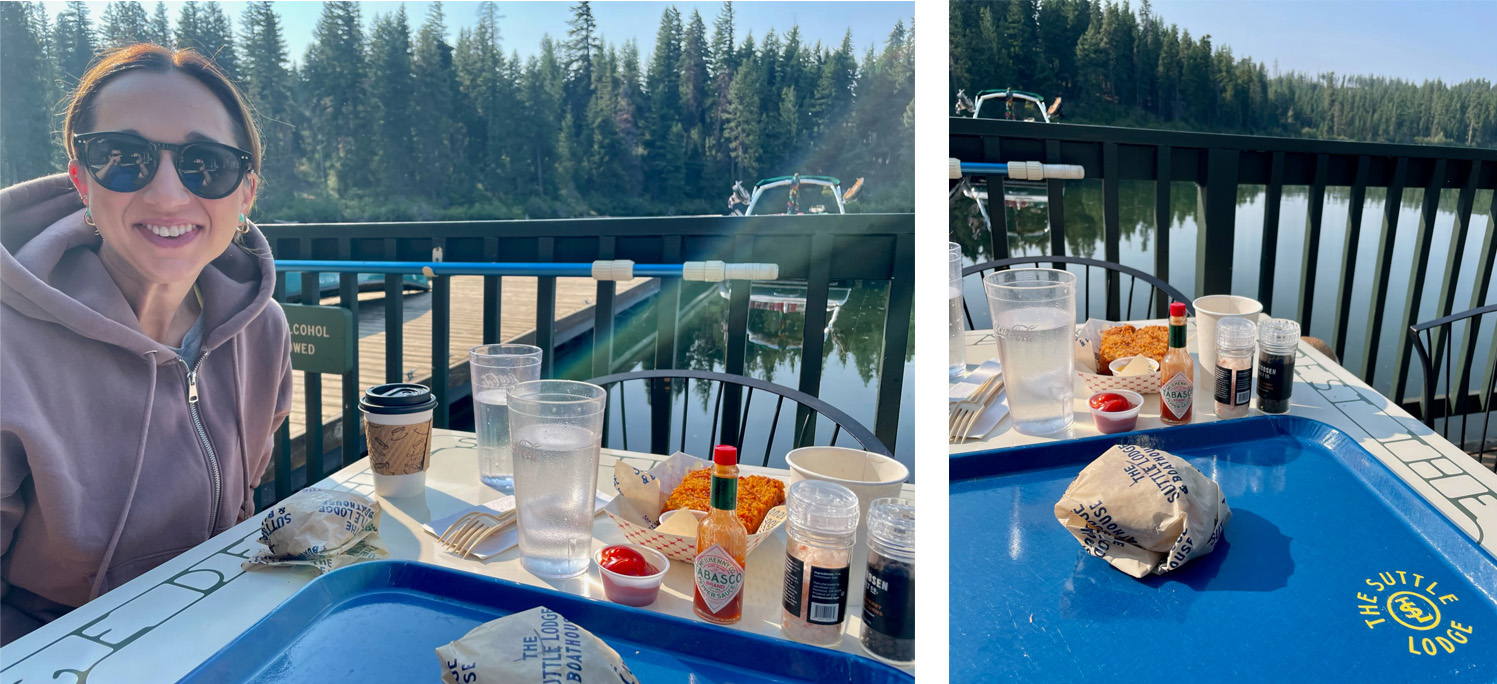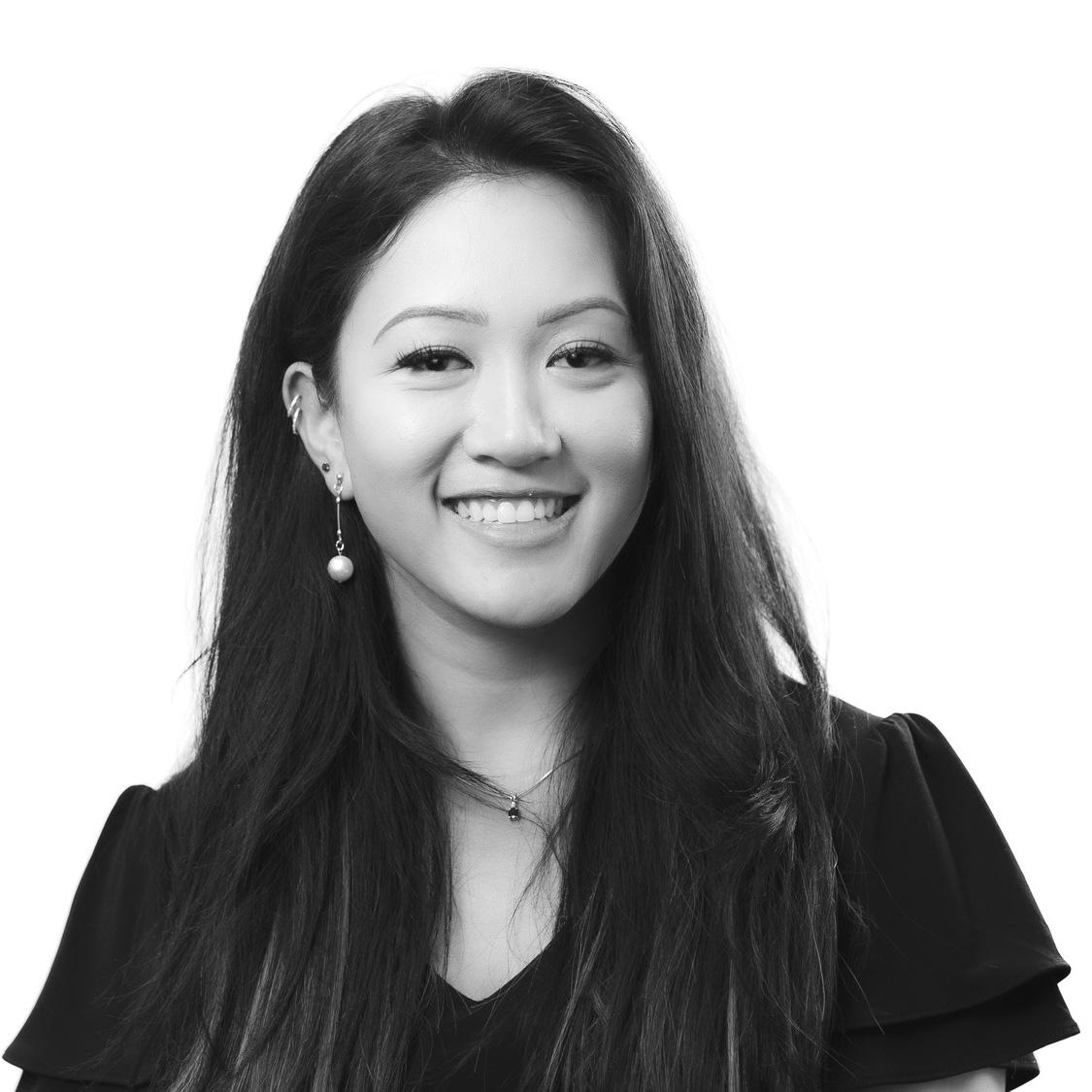 Kay Bates, Interior Designer
Q: What was the most compelling design you saw?
A: I went to Charlotte, NC for a friend's wedding. One of the days, my friends and I visited Camp North End. This space has deep history. In 1924, its first intention was for a Ford Motor Company factory. During World War II, the site added 5 massive warehouses to store supplies for soldiers at basic training camps throughout all the southeast. When the Cold War hit, the site's primary production moved to missile development. Once national threats neutralized, the complex was then sold to a pharmaceutical company. Then in 2017, the 76-acre lot was purchased and opened to the public where 500+ artists, startups, chefs, retail, and cultural festivities now home in this community to express their creativity and collaboration.

Q: How did elements from these new locations translate into your design work?
A: One of the main reasons why I love this industry is because you can truly bring a community together through design. It was a huge inspiration to me to see such a wide range of demographics in one space. There was something for everyone to enjoy. There was a sense of community. Elements from here I can translate into design work would be creating a safe space where communities help each other out instead of a "every-man-for-themselves" mentality. I also admire how they kept many features of the original history while modernizing it for today's audience.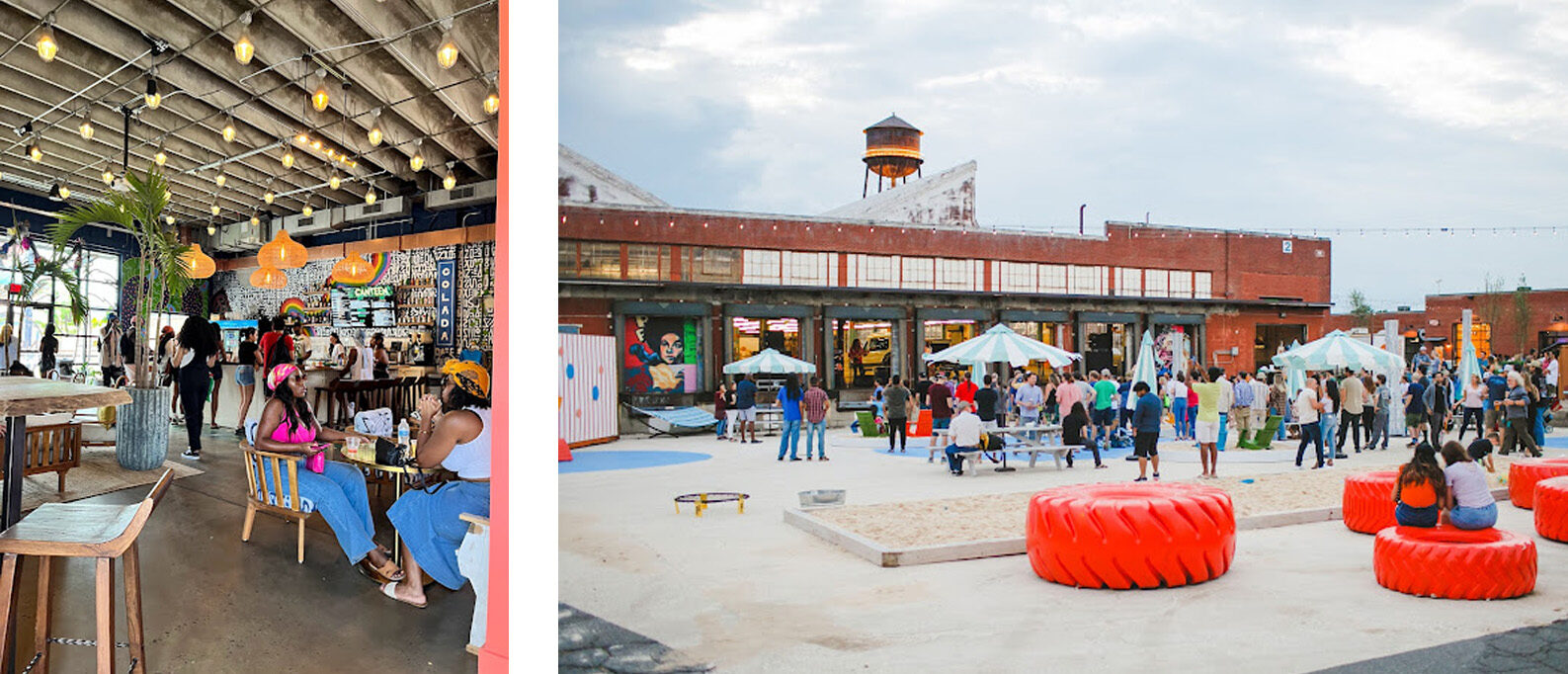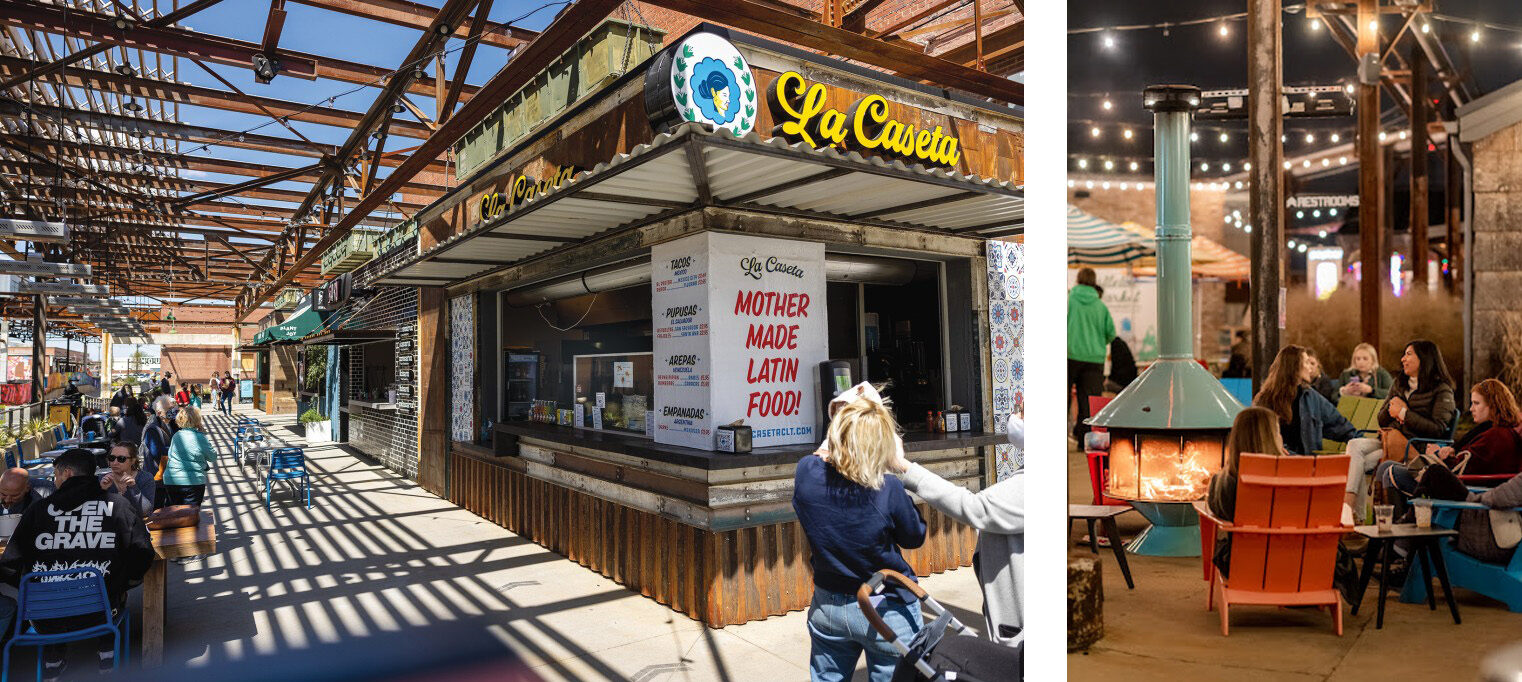 Q: If you worked remotely while on your trip how & where did you work (desk, cafe, balcony with an ocean view, etc.)?
A: I stopped in Atlanta before going to Charlotte and did work from home. I stayed at my parents' place, and they set me up in my childhood bedroom, which was strange to be back in. We did not have a second monitor, so my mom brought a huge 50" TV I then connected my laptop to. It was super sweet and throughout my workday she would pop her head in and bring me food. Nothing beats a mother's love. 😊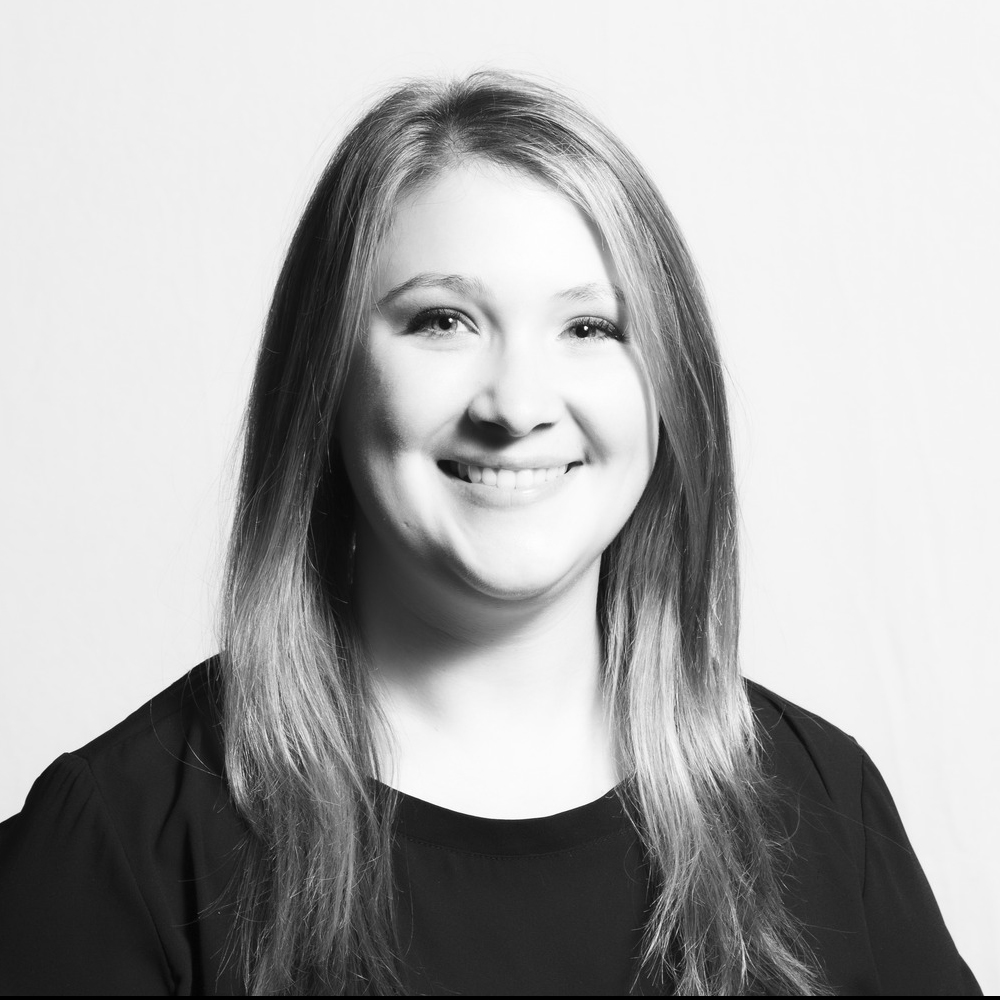 Aaren DeHaas, Associate Interior Designer
Q: What was the most compelling design you saw?
A: The most captivating design elements I saw while in Italy were the seamless balance of new and old elements and the intricate details that were used to create such giant marvels. With such a long and rich history there are so many layers to every aspect of the country, everything from its architecture to the customs are influenced by generation after generation of change and growth.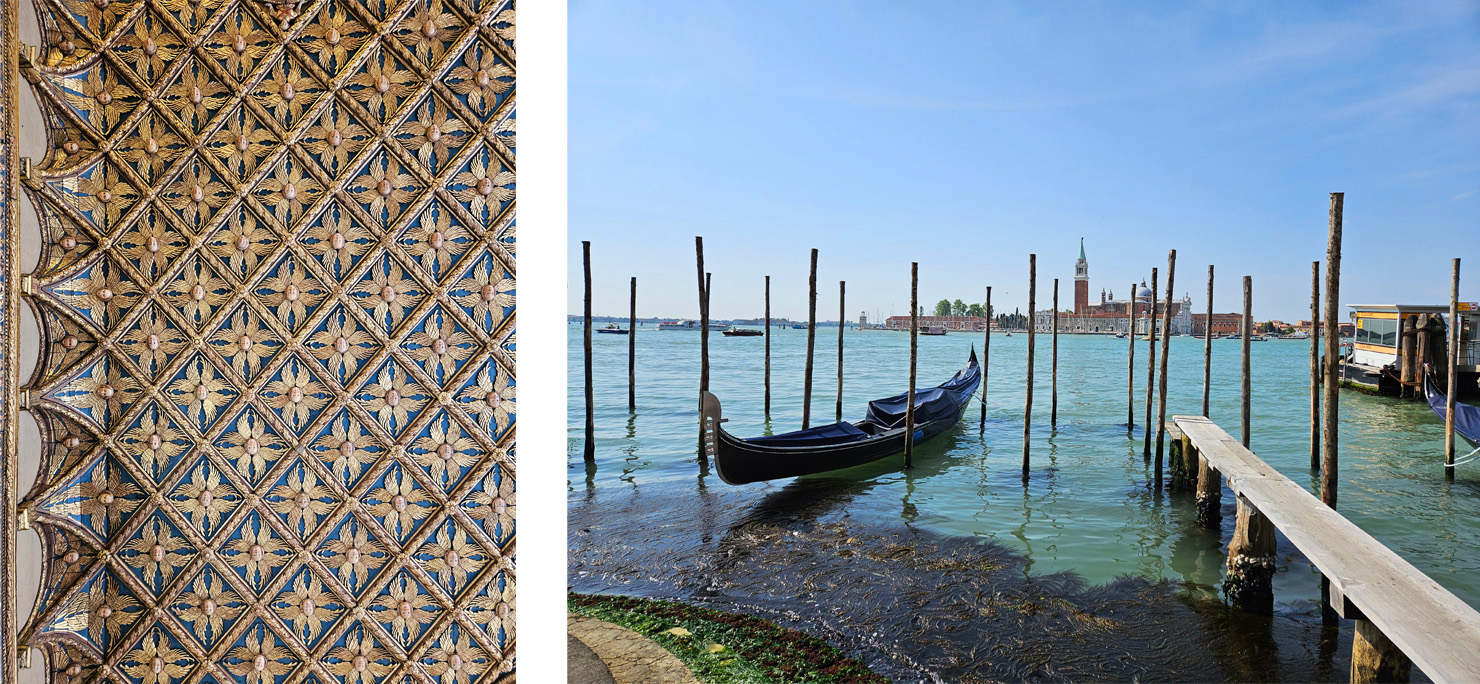 Q: How did elements from these new locations translate into your design work?
A: One thing this trip reminded me of is how important the details truly are in design. The design as a whole will catch people's eyes and cause intrigue, but it's the details that are created up close that hold the attention and make things much more exciting and unique. It's also important to remember to work with what you have. New, cutting-edge design can be exciting but there are so many stunning creations and forms that have been around for centuries, you don't always have to reinvent the wheel. A place's history is something to be cherished and celebrated, bringing in elements that speak to the history of your project will only make it that much more special in the end.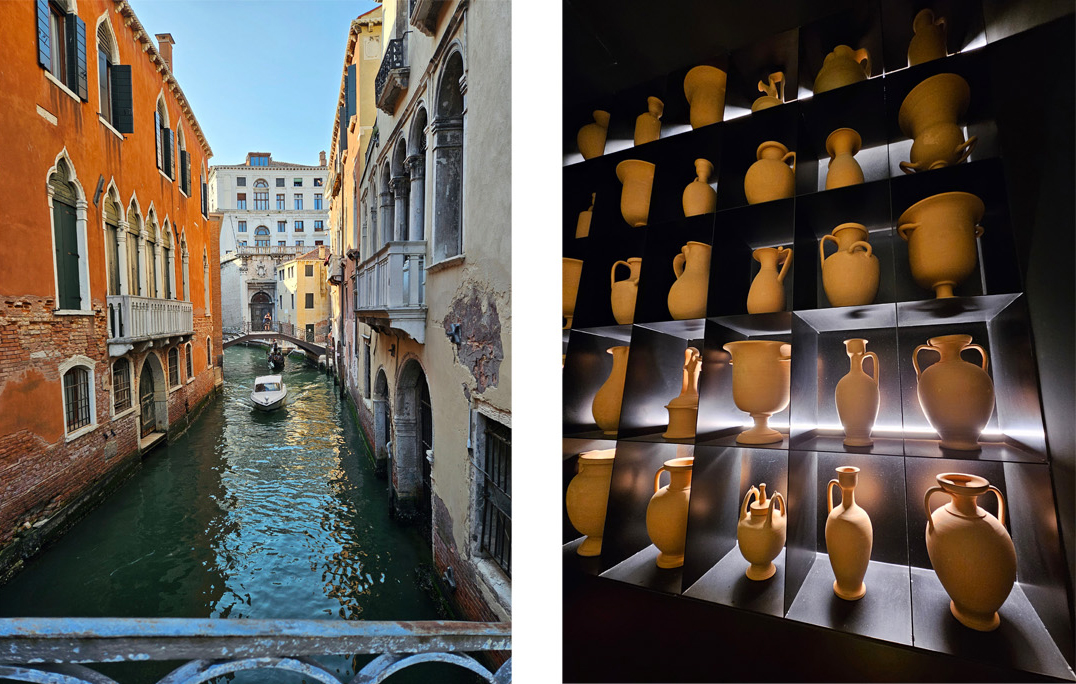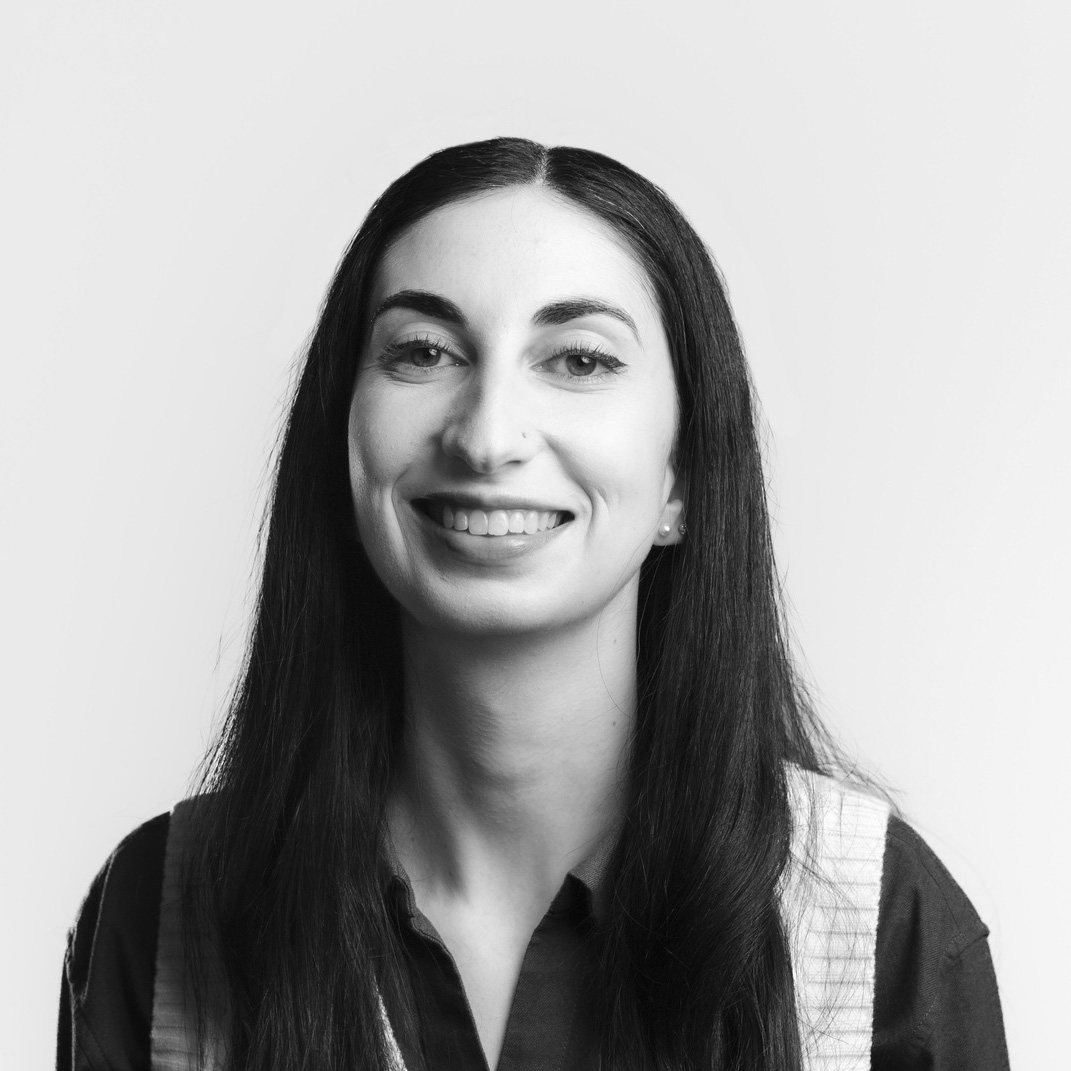 Jessica Kirshner, Associate Interior Designer
Q: What was the most compelling design you saw?
A: Chicago is such a fun city to live in, especially as an interior designer. I always stop myself or my friends from admiring the greystones, retro style, gothic revival, etc. To be able to surround yourself with design inspiration every day is a game changer.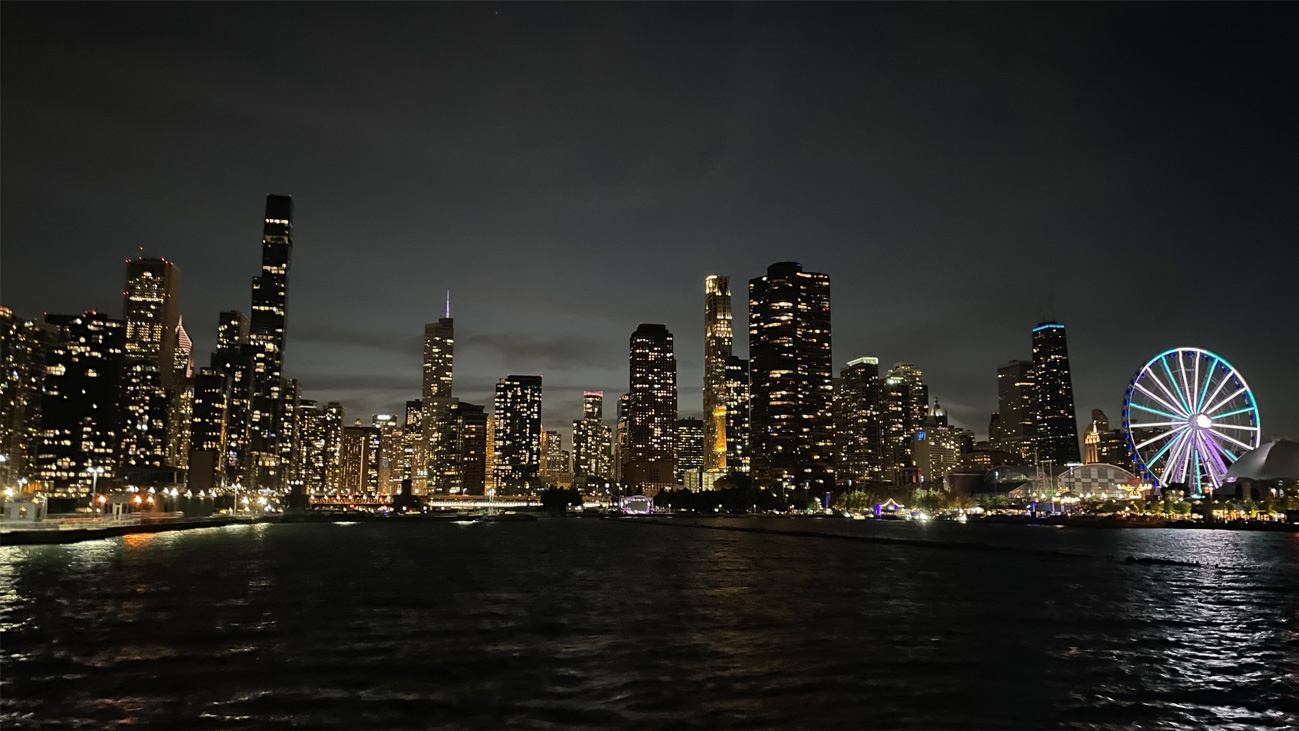 Q: How did elements from these new locations translate into your design work?
A: Overall, the architecture in Chicago sets a very different tone than what I'm previously used to in Portland. On any given day you can explore multiple different neighborhoods and see completely different styles. This wide range of architectural styles has begun to heavily influence my personal design style. I can appreciate the historical aspects of building and want to pull those elements into a project while creating a more modern and suitable design that will fit our client's needs.
Q: If you worked remotely while on your trip how & where did you work (desk, cafe, balcony with an ocean view, etc.)?
A: I am now fully remote working out of my apartment, with AM allowing us to explore a more hybrid approach to our working style this created an easy transition. It doesn't hurt that I have a gorgeous view of the city from my apartment as well!!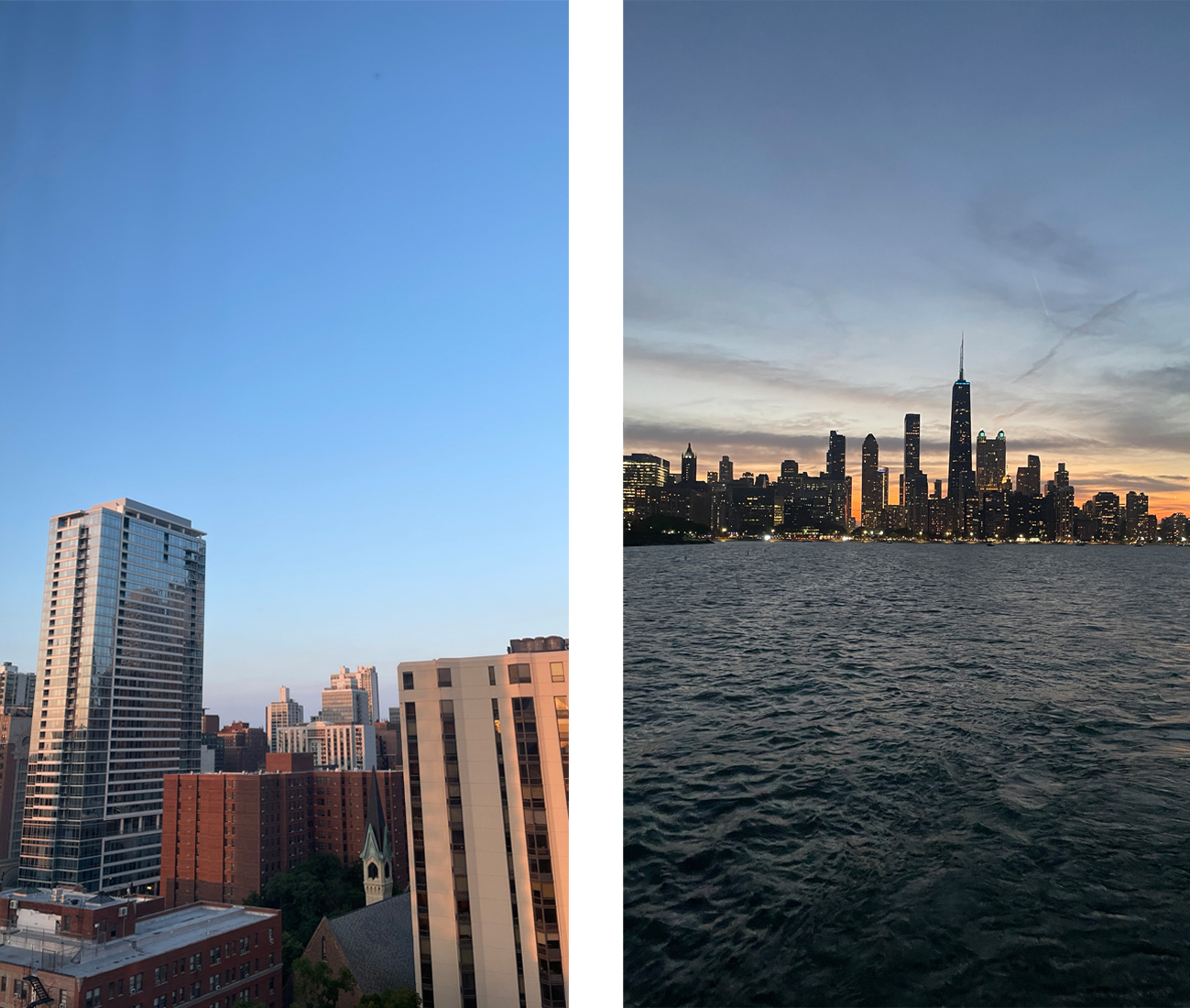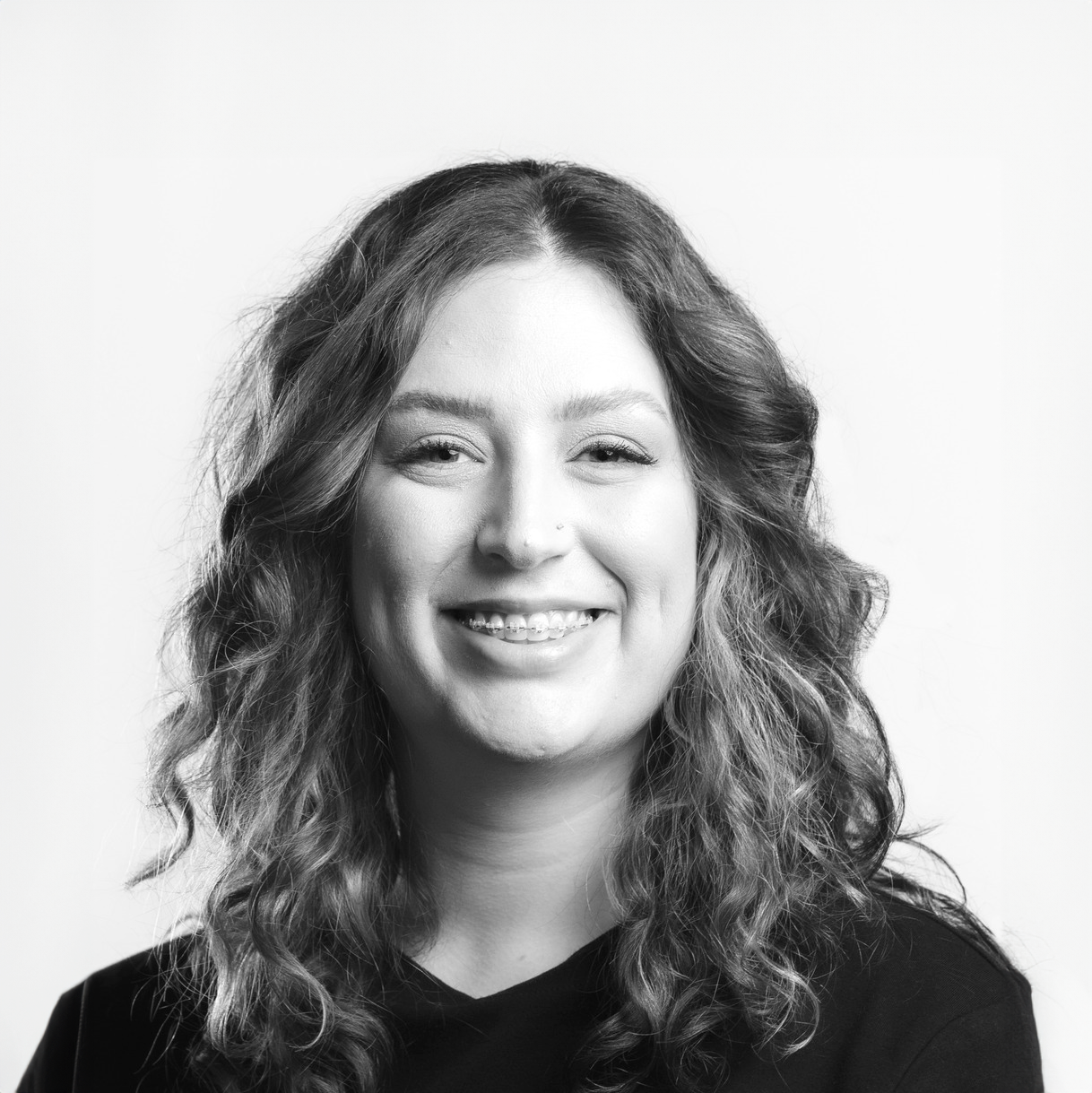 Emily Feicht, Interior Designer
Q: What was the most compelling design you saw?
A: I was really intrigued by the varieties of scale that I saw in Nashville, the lighting design and signage on the main road was incredibly unique, and how the city integrates the new and the old so seamlessly. Also, there is a "stage" everywhere, even at the airport and the botanical gardens, the vignettes of performance space were remarkably interesting.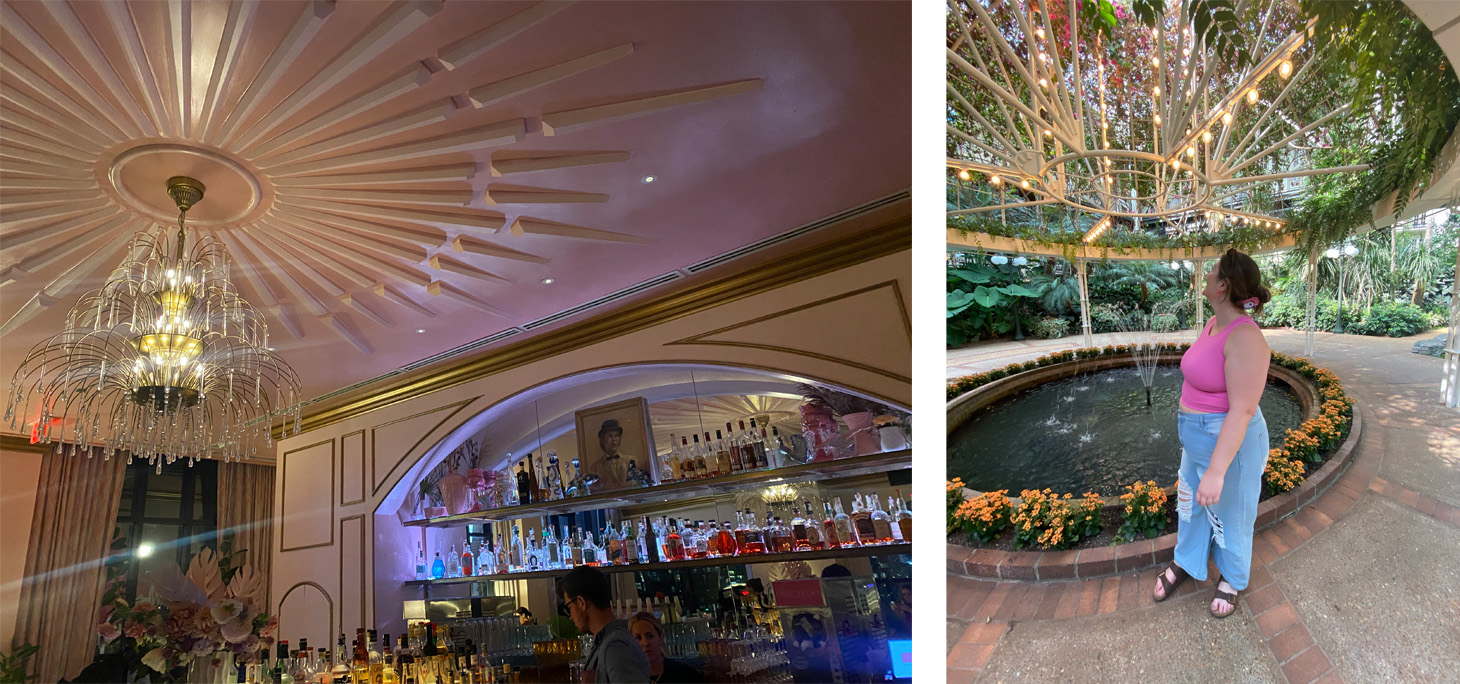 Q: How did elements from these new locations translate into your design work?
A: Nashville is such a fun and lively place, it is encouraging to see designs that could be considered too kitschy, but this city reminds you if it is bright and entertaining, even over-the-top it has personality. I would like to nickname this the "Dolly Parton approach." Especially because I went twice to the Dolly Parton-themed bar, and that had personality down to the drink garnishes and the beer taps.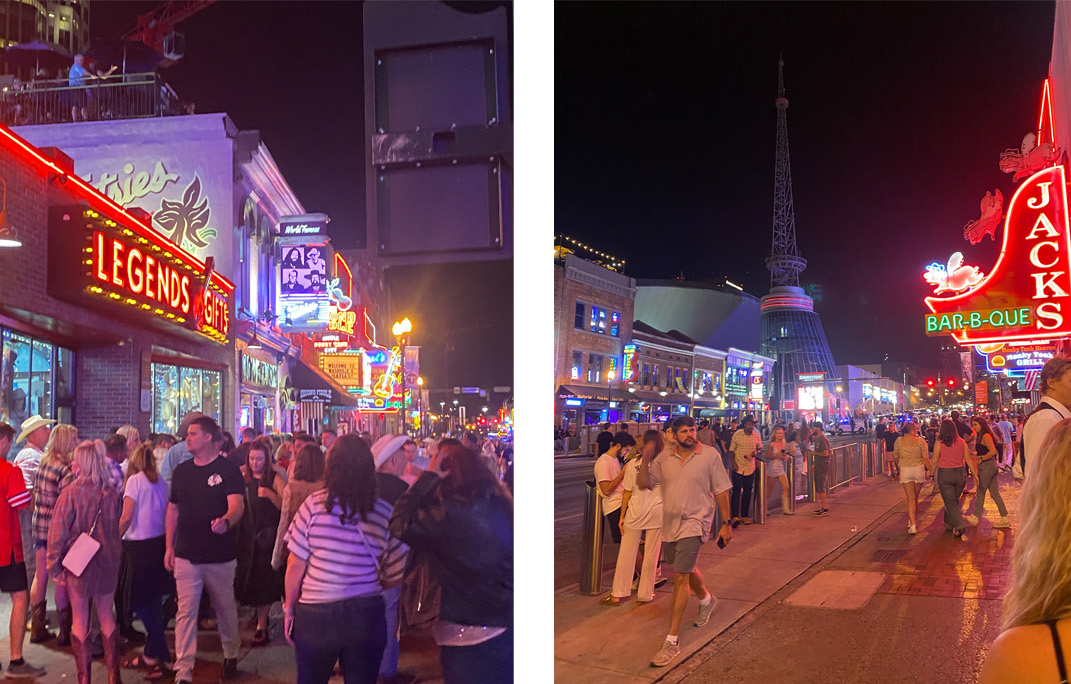 Q: If you worked remotely while on your trip how & where did you work (desk, cafe, balcony with an ocean view, etc.)?
A: Many people outside of the interior design industry are unfamiliar with the opportunity that we get to go on factory tours to tile, furniture, flooring, lighting, etc. manufacturers to learn more about their products. The second part of my trip was focused on Crossville Tile, in Crossville, TN where we learned about their tile manufacturing process and sustainability initiatives. So, while I was not on my laptop, I was out in the field spending time with other designers for continuing education and in an educational environment. These trips are a great way to make connections with designers both in Portland and around the US.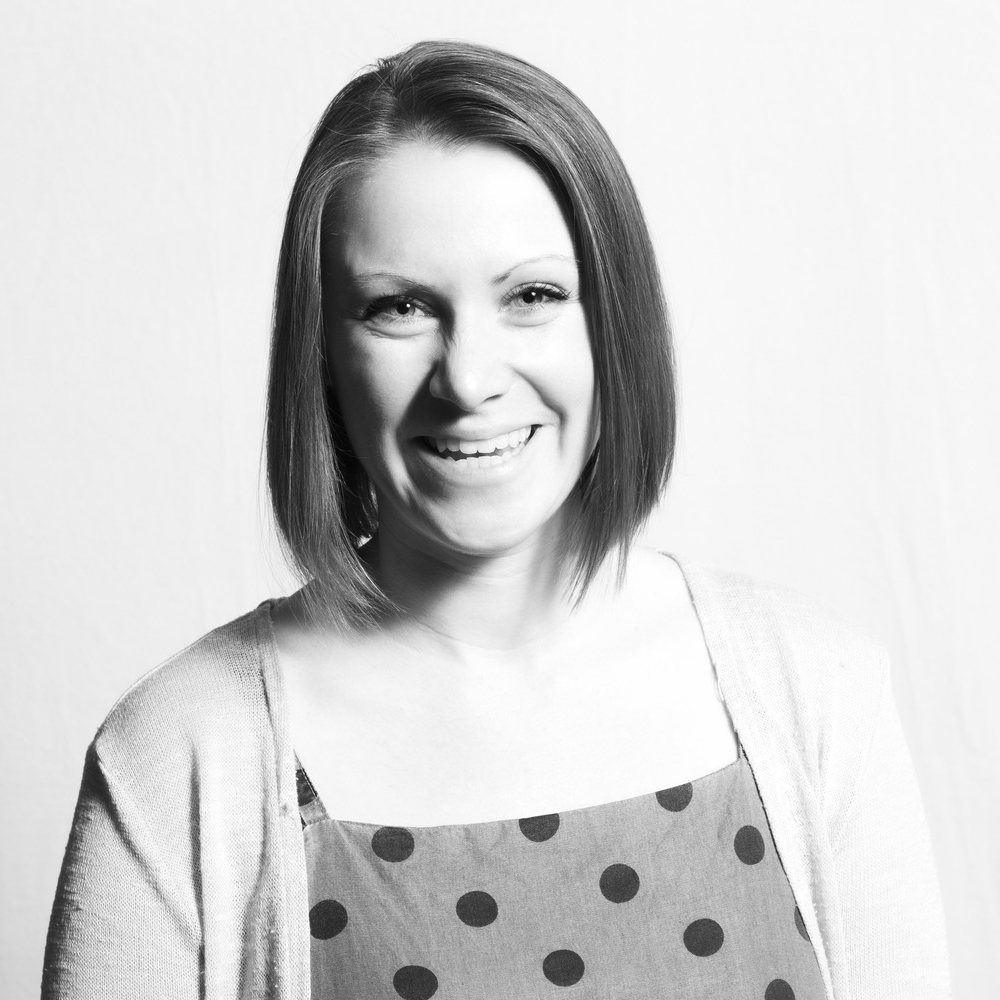 Beth Mahan, Interior Designer
Q: What was the most compelling design you saw?
A: Design?! It was all about the food!! We were staying in Geneva, Switzerland, for the summer, and did a day trip with friends to the north end of the lake where we visited Le Corbusier's Villa "Le Lac." It was the summer home he built for his parents, right at the water's edge; narrow and streamlined with an open floor plan, one of the first examples of ribbon windows, and beautifully framed views. It was extremely innovative and has stood the test of time.
Additionally, we visited the EPFL University campus, a prestigious university in Switzerland, with a campus full of famous architecture. My favorite was the Rolex Learning Center with its cascading design, sweeping over and around the user, through its organic forms and sloped interiors.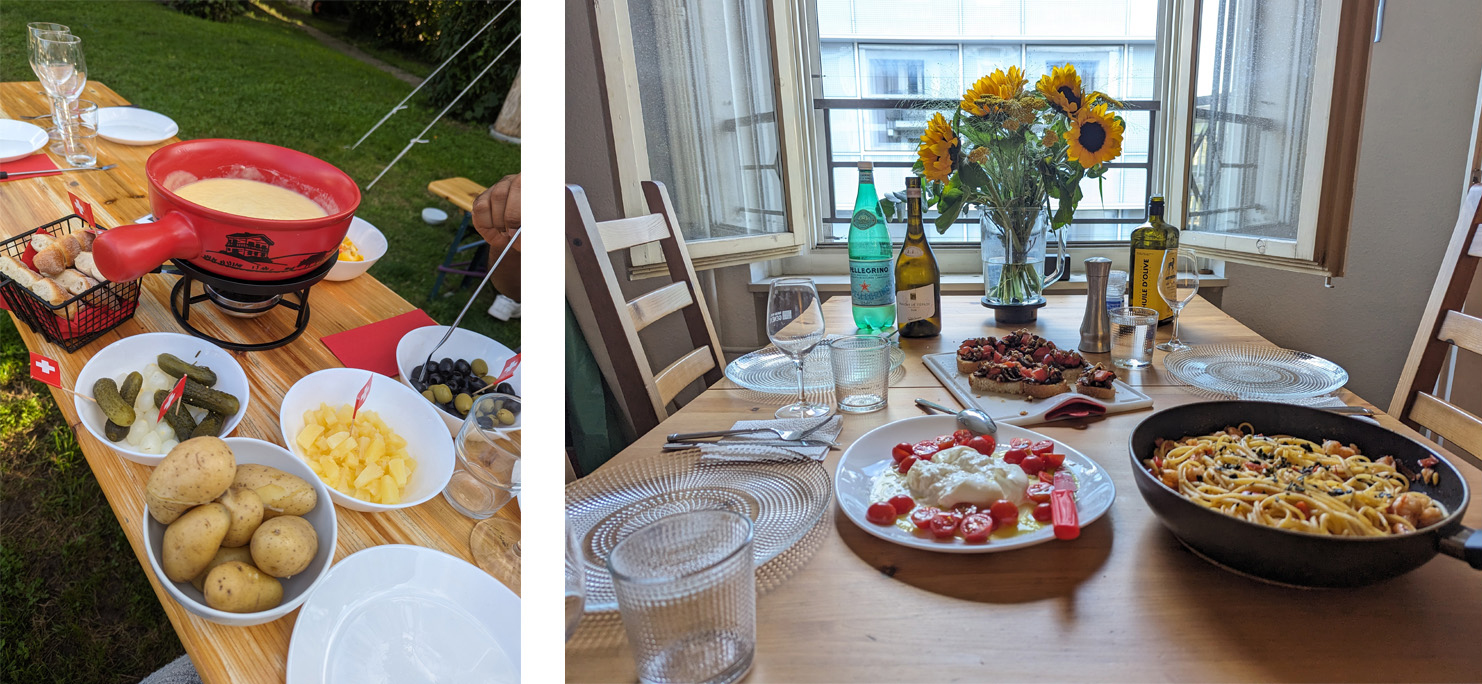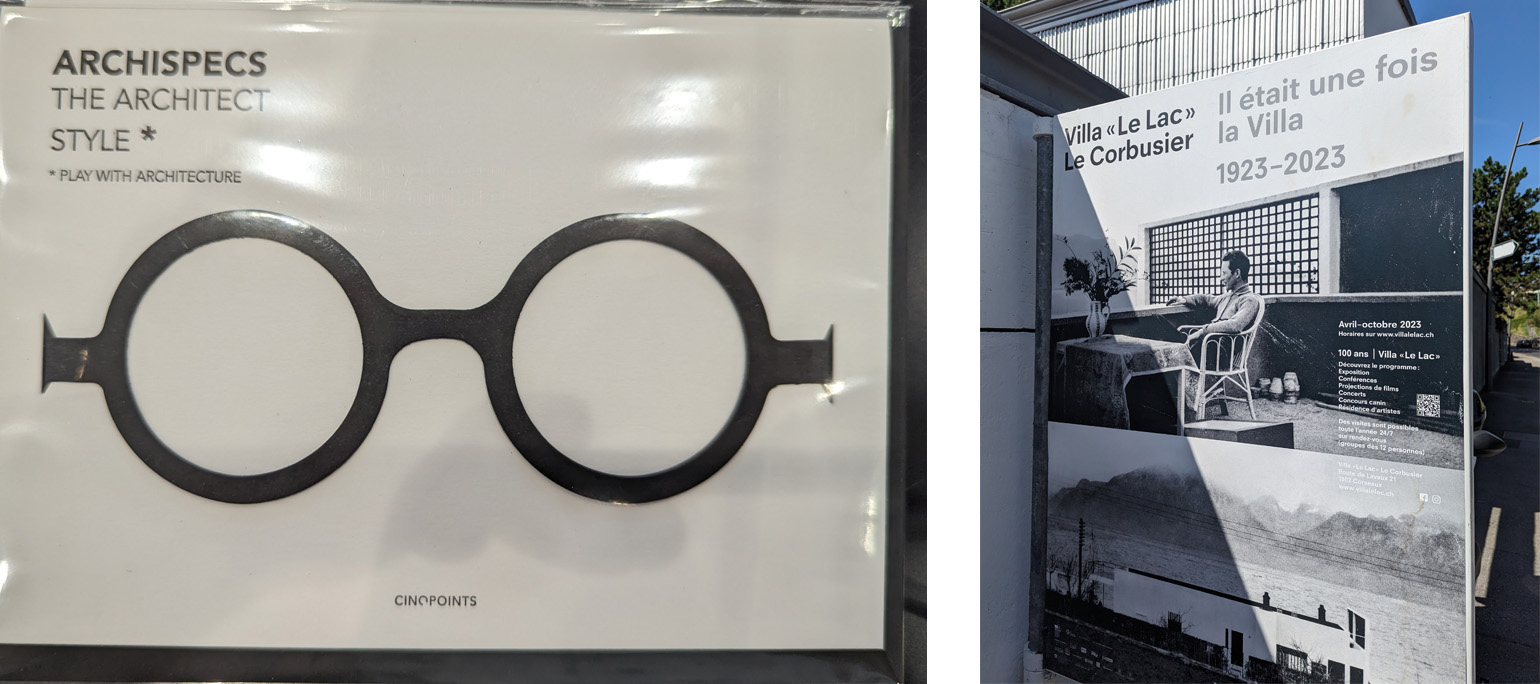 Q: How did elements from these new locations translate into your design work?
A: Working in healthcare we don't have a lot of opportunities to take creative risks, however it's always important to remember that we can include moments of intrigue and interest. While there isn't a direct correlation between what we visited and my current design work, the inspiration is always welcome.



Q: If you worked remotely while on your trip how & where did you work (desk, cafe, balcony with an ocean view, etc.)?
A: I worked remotely while we were abroad, based out of my husband's apartment in Geneva. Luckily, it meant I could set up my workstation and leave it intact, whereas when we travel and work out of hotels it can be laborious to get yourself set up each day and find a good workspace that is not going to leave you with shoulder pain. My recommendation is finding the pillows you need to get yourself at the correct seated height, and I always travel with an external monitor so I can have two screens. Two screens are a must! And there are lots of options for lightweight travel monitors. Otherwise, of course a nice view and a pleasant breeze are a bonus! The other tricky part when you are working and traveling is getting food for the day, so if you can find a hotel with a mini fridge that helps. And then of course identify your favorite croissant and espresso spot.
FILTER
SEARCH
This search form (with id 2) does not exist!
Interior Design Trend Report
September 11, 2023
Findings from NeoCon and Milan Design Week 2023
Commercial design trade shows and exhibitions, NeoCon and Milan Design Week, both took place recently, showcasing the latest interior design trends. Ankrom Moisan interior designers Jenna Mogstad and Clare Goddard were able to make an in-person appearance at NeoCon while our material librarians Rian Macleod and Liza Meek kept a close eye on what was happening at Milan Design Week. Our team took plenty of notes and have reported back to share the top design trends and takeaways from both events that we expect to see more of in the coming year —from color palettes to furniture trends.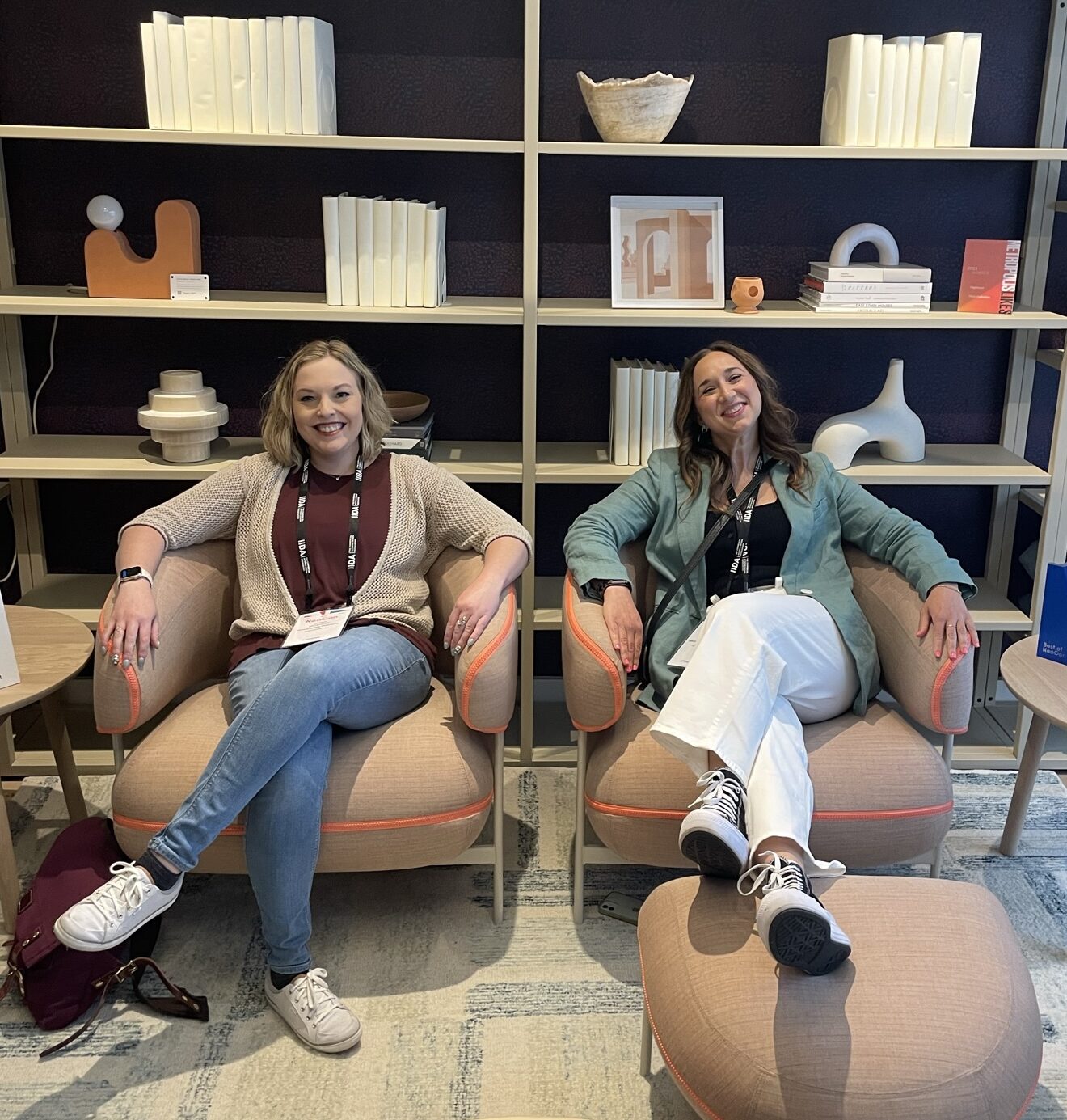 Clare and Jenna at NeoCon 2023.

Reporting back with the top design trends from NeoCon, Clare and Jenna observed new developments in designing for purpose. The two designers noticed shifts in everything from flexibility and connection to collaboration and sustainability.
Flexibility and Playfulness
NeoCon demonstrated new ways of thinking about flexibility and playfulness. Traveling furniture designed to be revised and reshaped to suit today's hybrid schemes, where different teams occupy an office on rotating days, highlighted the significance of fluidity and multi-purpose design in today's post-pandemic world.

Connection and Disconnection
Another design innovation stemming from the fallout of the pandemic – as well as breakthroughs in automation – centers on connection and disconnection. While we move towards an increased pace of technological advancement, the desire for a human touch is growing. Equity in connection while optimizing all views and participants is extremely important in this regard.

Collaboration Fatigue 
Another concern is collaboration fatigue, which is the idea that people may tire themselves out through too much collaboration without an impactful increase in productivity. To combat this, there is a push for more private refuge spots and for more privacy in general in workspaces, the benefits of which are an increased ability to accommodate heads-down focus work and a boost in productivity.


Sustainability
Sustainability was another hot topic at this year's NeoCon. One trend we noticed within the realm of sustainability was circularity and "behind the scenes partnerships." Items that are typically discarded, such as milk cartons and fashion textiles, are increasingly being reused and utilized in new products – whether they are by the same parent company or a different partner company that can make use of those materials. Products intended to be somewhat disposable are employing biodegradable materials to shorten their decomposition lifespan and reduce waste.
We also saw that brands are increasingly bringing their sustainability points to the foreground of their marketing. Selling points such as recyclability, repurposed materials, and carbon footprint were leveraged to increase brand and product affinity. Some of the product designs that were advertised in this manor were 3D-printed on demand, meaning that there is no excess product waste waiting to be purchased. Other products were created from biodegradable plant waste and other natural materials. In all cases, we saw a shift towards conscientious, sustainable designs that put the planet and the environment ahead of maximizing profits.


The insights discovered at Milan Design Week were equally exciting. Breaking down the top trends from the exhibition, Rian and Liza took note of new directions in materials, color trends, designs, as well as creative process innovations.
Material Transparency and Circularity
For use of materials, it is expected that claims of sustainability are credible. Transparency around the source of materials is essential. We noticed a celebration of timeless sustainability in circular supply chains and processes, meaning that materials are recovered and re-used in new products. Additionally, the focus on sustainability at the end of a product's life has led to an increase in the use of single-material structures, making it easier to repair and recycle them.

Juxtaposition: Earthy and Digital
Many of the surfaces we saw in the coverage of trends at Milan Design Week were digitally amplified with illuminated, glossy, cyber-inspired finishes. Juxtaposed textures in woven and braided natural materials, as well as basketing, highlighted earthly delights. Soft, cozy fabrics were very popular as well, mostly made from sheepskin, boucle, and other shaggy textures.


Vintage-Inspired Palettes
Color was another big trend this year. The biggest movement we saw in this field was a resurgence of vintage-inspired palettes and patterns. Retro geometry straight out of the 80s was seen through a surge of digital effects and dynamic finishes that feels new and captivating. The shapes, which are both futurist and graphic, are lively and loud. 70s-inspired tones such as warm, earthy neutrals and terra cotta were often combined with colors like red, yellow, orange, and blue.



Comfort and Curves
As for furniture design, there were three key trends that we noticed. Curves and voluptuous, evolving shapes were leaned on to promote comfort across product launches. Soft surfaces and quiet spaces enveloped chairs with generous proportions. Seating was also ergonomic. Wide arms were often draped over light frames to create airy silhouettes. Lastly, we saw the return of the uber-comfortable 70s-inspired conversation pit and other pit-style seating options that promote communal lounging.



Surreal Lighting
Lighting was another area of novelty, seen in stunning installations. Flexible adaptability for creating playful, somewhat surreal atmospheres made for an imaginative experience. Water-filled basins were used to create surface patterns with light and sound, similar to the liquid light shows popular during the psychedelic 60s.

Biophilia
Biophilic design was prevalent as an approach that emphasizes the connection between people and nature. The philosophy is that by bringing the outside in, design can promote wellbeing and creativity for end-users of a space.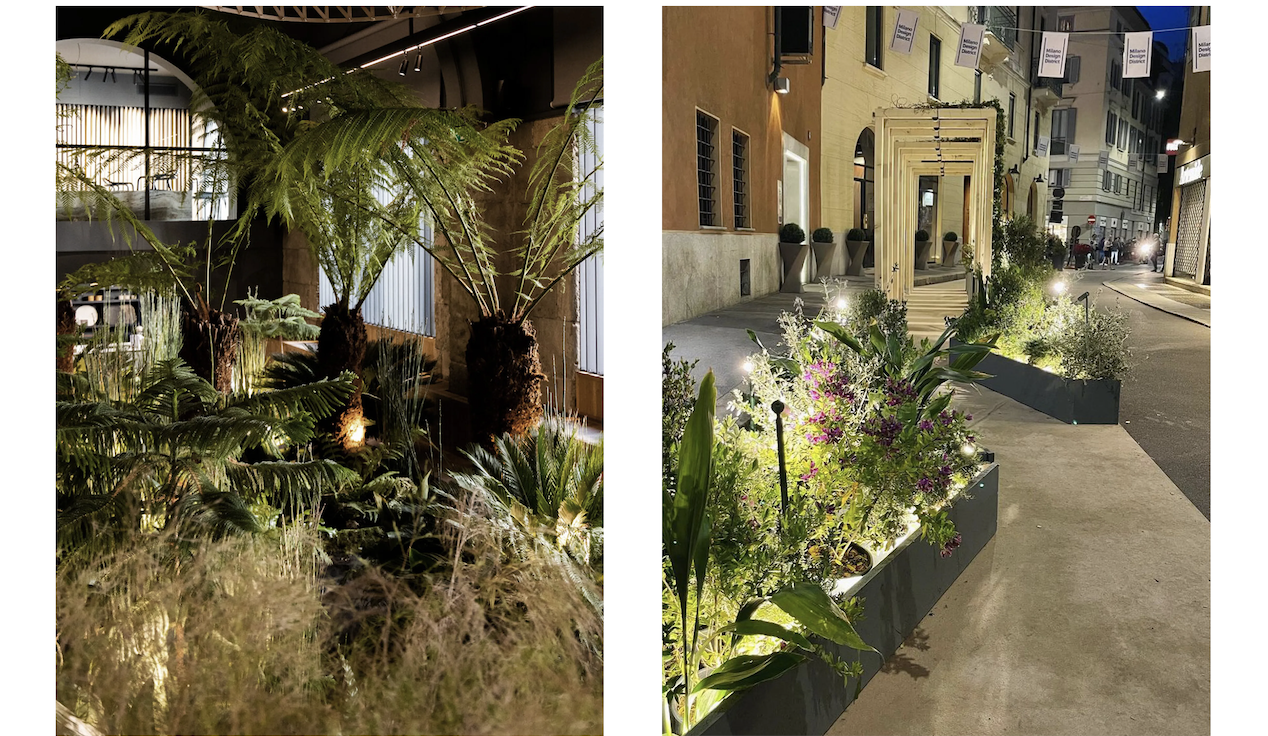 Embracing Technological Innovation
The industry innovations we saw at Milan Design week spanned everything from the natural to the computerized. Many breakthroughs were pioneered by machines. AI and 3D printing software were utilized in collaboration with the physical world to innovate new unique design approaches and solutions. For example, 3D printed stainless steel is lighter and requires much less energy to produce than typical stainless steel. Further exploration and creativity were unleashed by patterned silhouettes created by AI software.

If these trends from Milan Design Week and NeoCon 2023 are indicative of anything, it's that designers are looking ahead toward the future of technology and ecologically sustainable design, while taking inspiration from the shapes, forms, colors, and patterns of the past. At the terminus of future and past, design innovation is progressing by leaps and bounds. We are excited to see what comes next, and even more excited to be a part of the ongoing transformation of innovative design.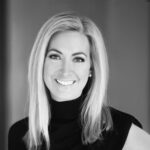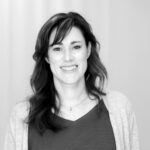 By Rian Macleod and Liza Meek, Materials Library Coordinators
FILTER
SEARCH
This search form (with id 2) does not exist!
An Interview with the Oregon Chapter's 2022-2023 IIDA President, Clare Goddard
August 31, 2023
I sat down with Clare Goddard, now Past President of the IIDA Oregon Chapter to hear about her reflections on the 2022-2023 Board year.
Q: What has been the most rewarding part about being IIDA President?
A: I am going to miss the chapter leader conferences. There's something so powerful about connecting with other IIDA leaders across the region and the US and being able to commiserate or learn from them (or just make new friends). Even though you don't get a weekend, I always come back feeling excited to tackle a new challenge.
For my term as President, I think the most rewarding part was being a catalyst for change in how the board operates. Having the board willing to not continue with the status quo and embrace change was exciting; not only because it lifted a huge weight off my shoulders, but I feel I was able to make my mark on the IIDA Oregon chapter.
I also credit IIDA with keeping me sane and connected when we were all remote – especially during lockdown. Being a part of IIDA and having an outlet outside of work helped to fill my cup and to build my network. I am truly so grateful to be part of this design community.
Q: What would be your best tip for balancing or prioritizing IIDA and work, life, etc.?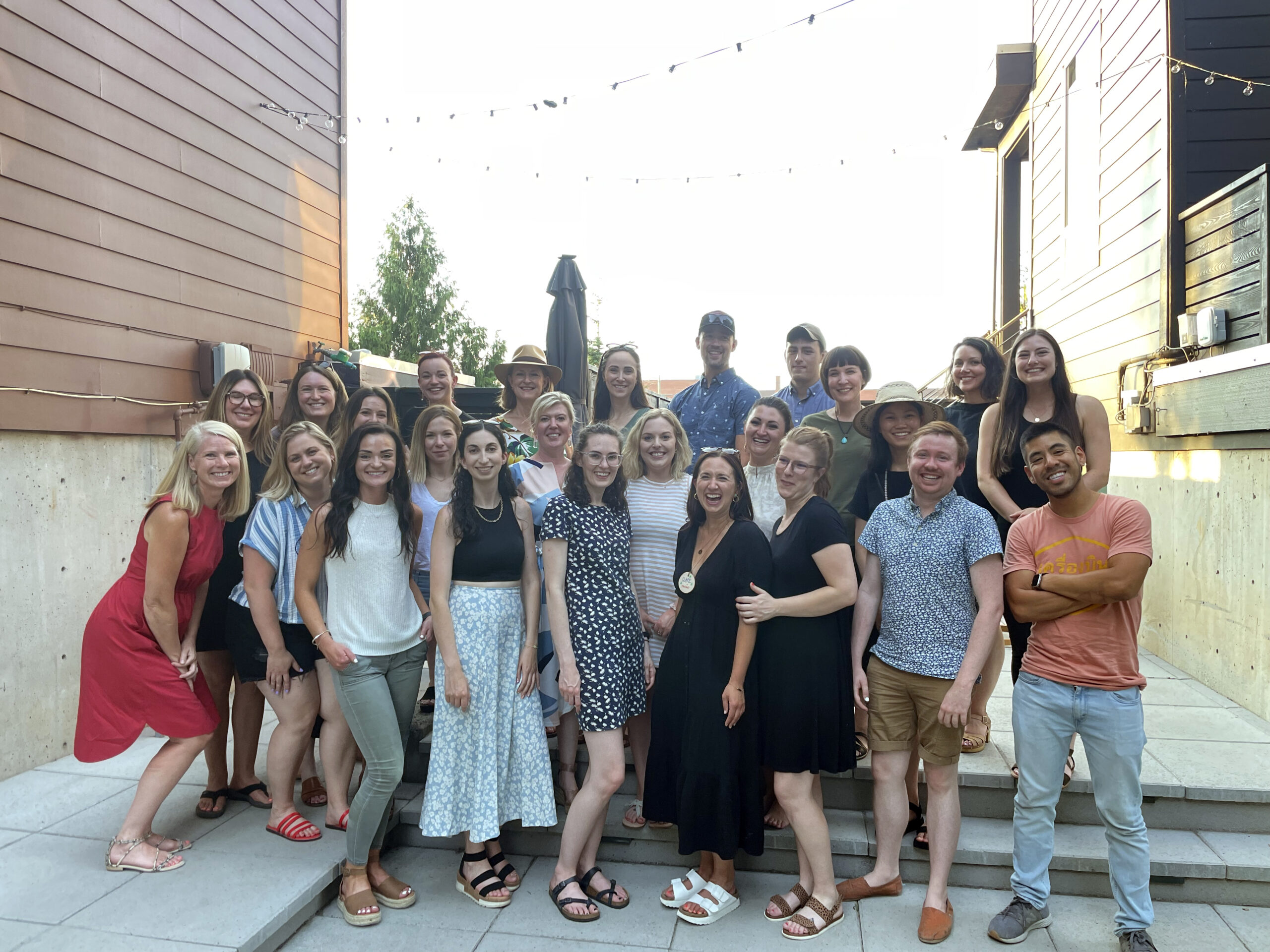 A: I've always had a very clear division between my work and my home life, and those boundaries really helped me in my presidency as well. I had to be aware of my To Do List- I had to get detailed and ask myself what I can accomplish today. What can I realistically accomplish this week? And how am I going to divide that up?
I also set strict hours for myself – capping Ankrom work at 40 (no overtime) and trying to do IIDA work after dinner or on the weekends. I really had to focus on prioritizing and stick to those priorities.
I think there were sometimes when there was not always the balance that I would have liked between work, IIDA and personal life. In the end though, I was able to find that harmony – and harmony to me is such a better word than balance because balance to me is like one side is always winning and there is more effort in just making them equal. Harmony means that you've found some way to make both your personal and your professional life work together and neither one is weighted.
I was also incredibly lucky in my presidency to be able to work 100% remotely from home. That has also allowed me to be more flexible and to be better able to create that harmony. Flexibility is key- being able to make my schedule work for myself.
Q: What has been the most challenging experience during your presidency?
A: It was the first six months of my presidency before I took a step back and asked the question "why". Why did we operate the way we operated?
At that time, I was so overwhelmed and felt like I was letting everyone in my life down because I was stretched so thin and felt like I was not making a difference – that I was just trying to keep my head above water. I was just going from event to event, from meeting to meeting and not really accomplishing anything. And then I just had this moment where I realized, I was the president and could make a change to improve how we operated and the president's role in general. That I could change it, and that I needed to change it. I immediately felt a sense of calm and empowerment. How can we make the Presidency better, how can we make the Directors' positions better? Giving everyone – including me – a sense of agency to give back to our design community in a more thoughtful way.
Q: What have you learned while being the IIDA President, skills or experiences, that transfer to your work or have helped you grow in your role here at Ankrom and then specifically on our Workplace team?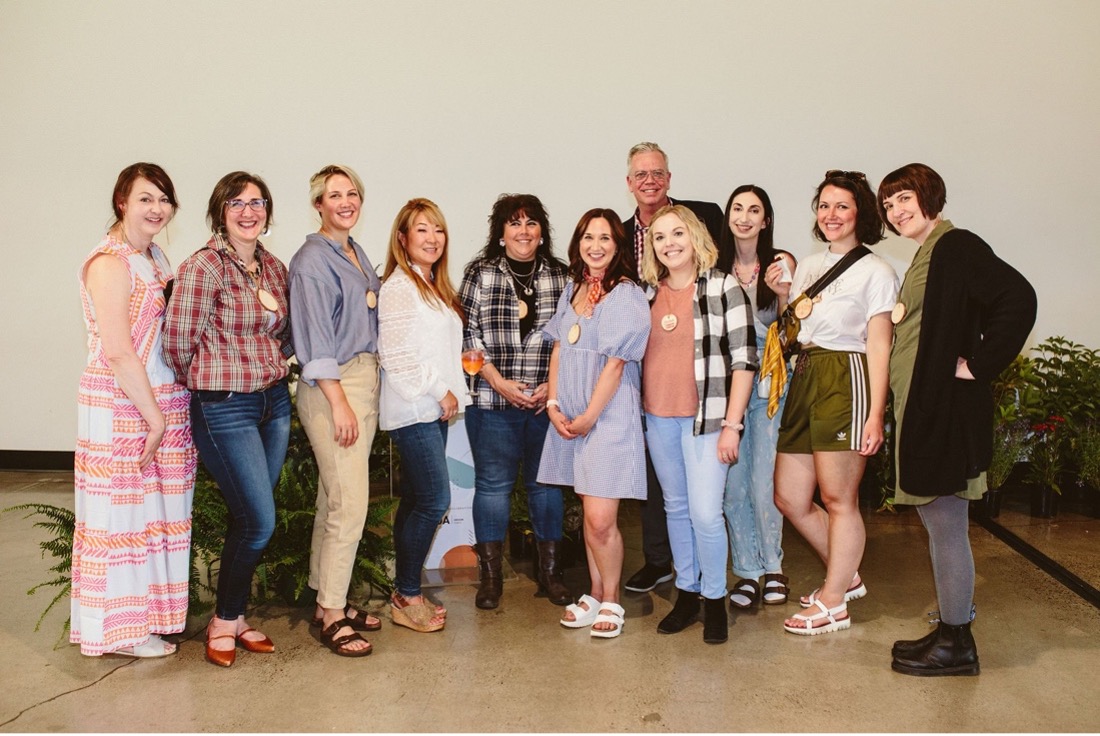 A: The biggest thing being IIDA President has helped me with is delegation. I realized that I could lean more on my team and that I do not have to do it all. I also got to use my business degree – so reusing a skill that had been gathering dust – since running an IIDA chapter is like running a small business. In running that small business and planning multiple events, I was also able to practice my project management skills.
The other skill I got to work on was networking and relationship management. As IIDA President – attending both local and national events – I am the face of interior design for the state of Oregon (as our mission statement says). Therefore, when I am at these events, I need to network and act accordingly to make sure that I'm supporting sponsor relations, board member relations, and in general making sure I am representing the organization to the best of my abilities. And I think that's directly applicable to my role at Ankrom, that when I am at work events or gatherings, I am a representative for Ankrom.
Q: How are you, your partner, and your dog going to unwind after finishing this year?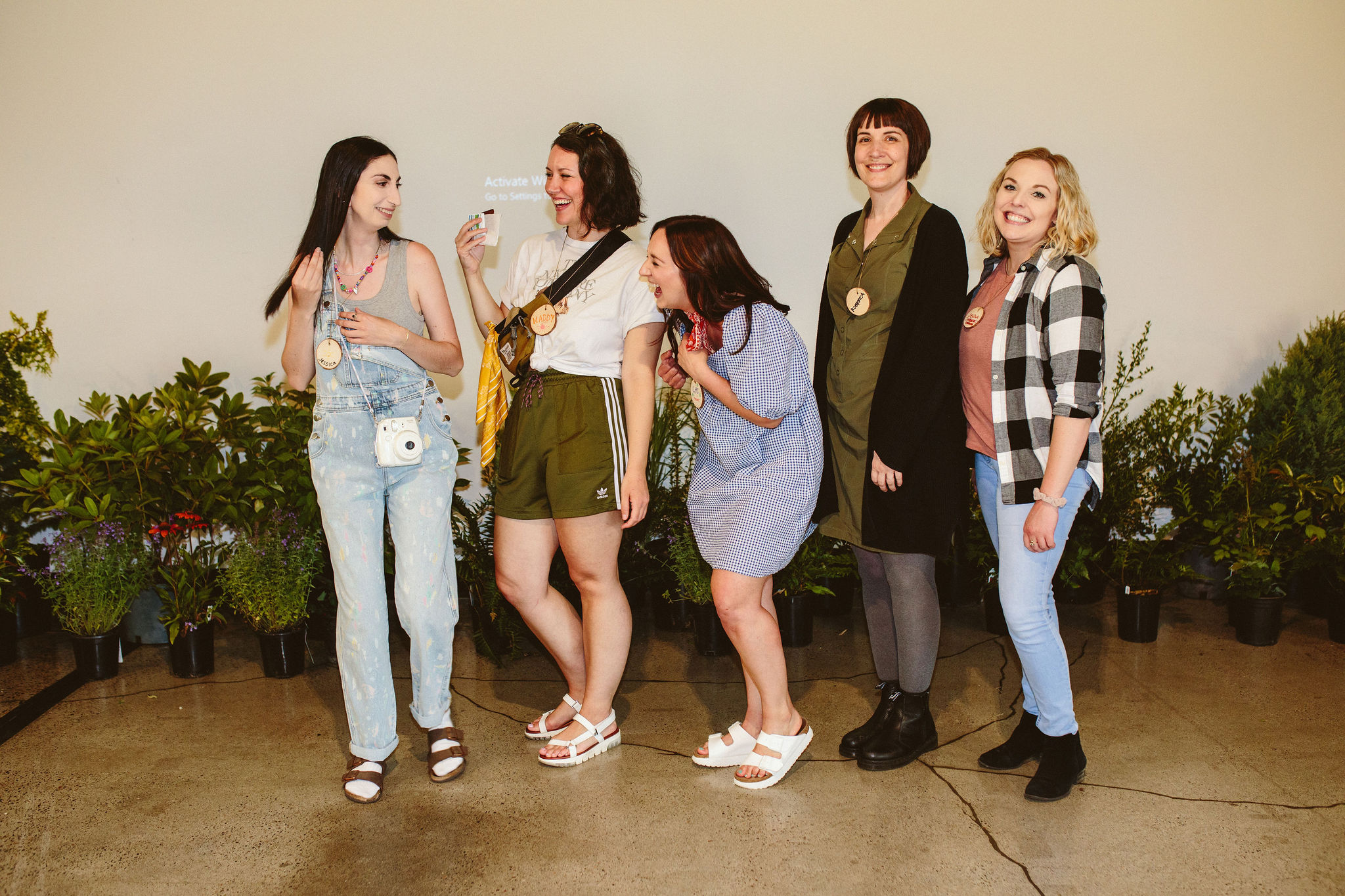 A: We have already taken and planned a few trips to get more quality time together! We took our girl Millie (dog daughter) on her first camping trip a few weeks ago – Millie even SUP'd for the first time. And then in October after the Design Excellence Awards are done, Jacob (partner) and I booked a week trip to Sedona, AZ. We haven't been on a long trip since I became President, so we're going to take a helicopter tour of the Grand Canyon, go hiking, mountain biking, go to a spa, enjoy some wineries, and eat some yummy food.
Also, since I will now have free time, Jacob bought me ceramics lessons at a local pottery studio. I am excited to pretend I am on The Great Pottery Throw Down!
Thank you, Clare, for an amazing year- I've loved watching you be the President with such grace and honesty, both as a colleague and as an IIDA board member!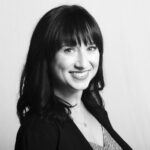 Clare Goddard, Senior Associate Interior Designer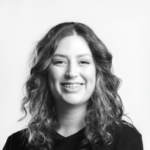 Emily Feicht, Interior Designer
FILTER
SEARCH
This search form (with id 2) does not exist!
An Interactive Timeline of Ankrom Moisan's History
July 24, 2023
Celebrating 40 Years of Exploring Beyond
In celebration of Ankrom Moisan's 40th anniversary this year, we look back and reflect upon the firm's explosive growth, gathering the most significant and noteworthy projects and moments from AM's history and culture. The result of all our hard work of digging, interviewing, and assembling information is an immersive, interactive timeline of milestones.  
Take a walk down memory lane, reminisce, and celebrate 40 incredible years of Ankrom Moisan exploring beyond the expected. For the best experience, use Google Chrome on a desktop computer to view the timeline. If trouble scrolling is experienced, use arrow keys to navigate the milestones.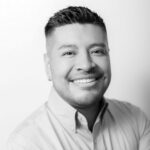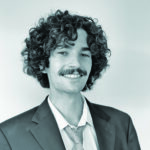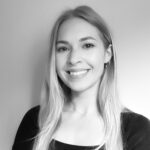 Graphic Design by Filo Canseco.
Research and Copy by Jack Cochran and Mackenzie Gilstrap.
FILTER
SEARCH
This search form (with id 2) does not exist!
Conversations with Michael Stueve
June 30, 2023
Featured Articles about the Future of Workplace
Our very own Michael Stueve, Workplace Principal and UI/UX Strategist, is always thinking innovatively about the future of workplace and is also eager to share his values that shape his experienced perspective behind workplace design. Not only has he recently developed "The Office as an Ecosystem" strategies, but he has been featured in these articles: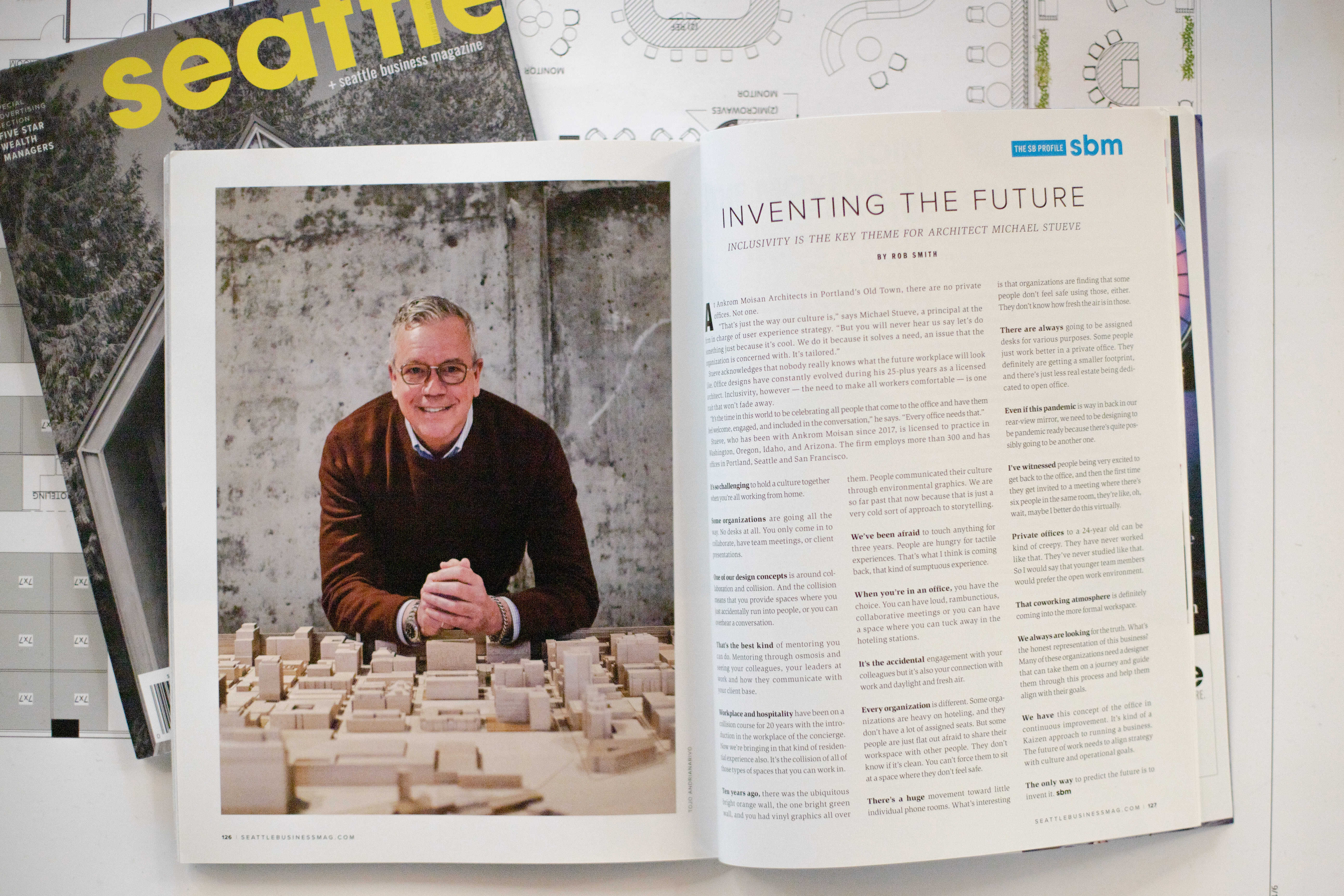 Seattle Magazine: Inventing the Future (available in print only)
FILTER
SEARCH
This search form (with id 2) does not exist!
Creating Environments to Suit Your Energy
May 5, 2023
Fitness Amenity Spaces for the Workplace
Happy National Fitness Day! Kim Bielak is credited for starting the day in 2017 which is "designated for the first Saturday of May to be a celebration of strength and empowerment for fitness" (Source). Here at Ankrom we design our fitness centers and bike rooms for the end user to feel that same strength and empowerment for fitness. In celebration of National Fitness Day, we want to share Ankrom's past designed workplace fitness and bike amenity spaces.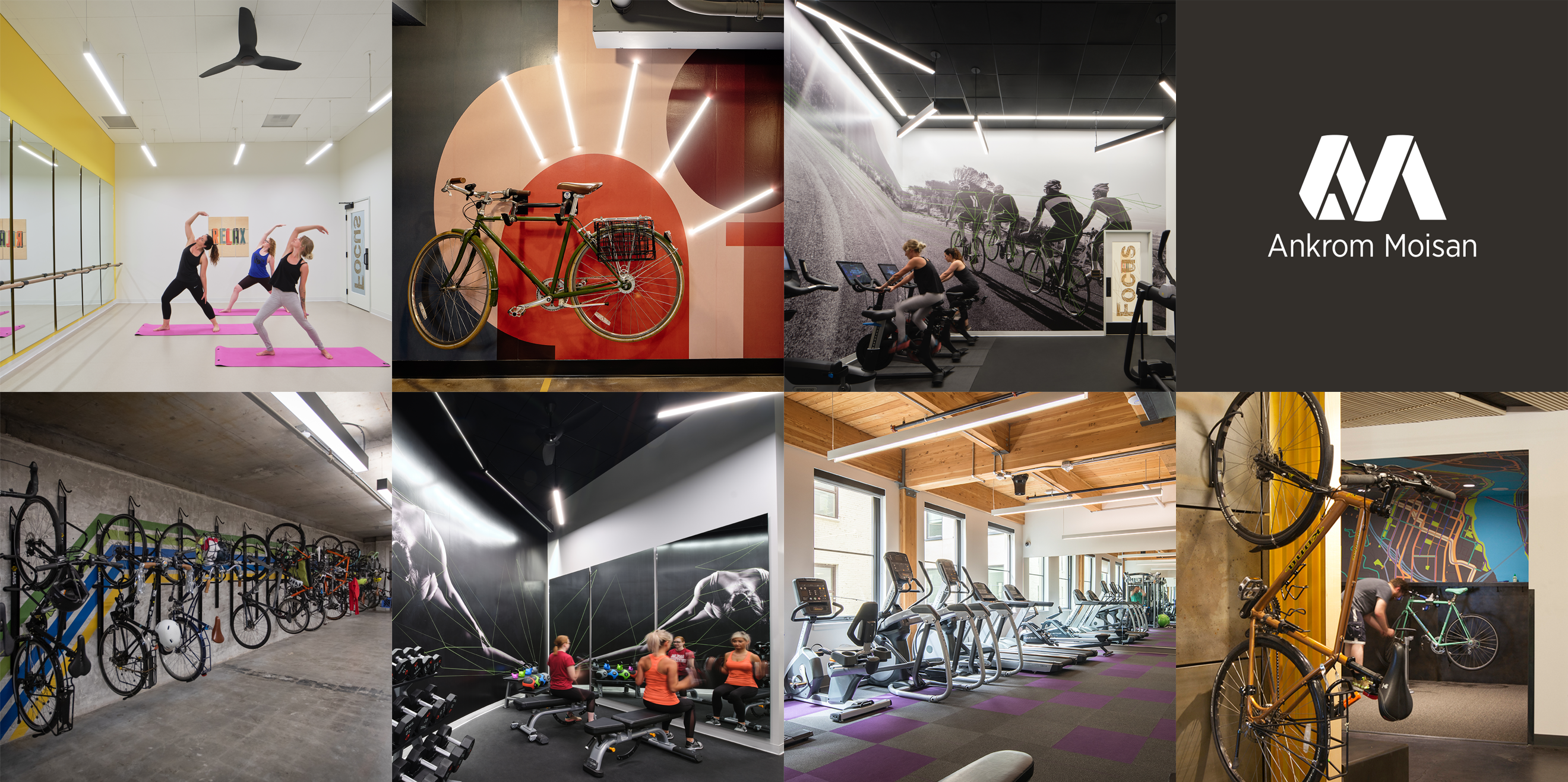 A word from one of our Fitness Resident designers, Clare Goddard.
Q. What is unique about Ankrom's approach to fitness and bike spaces?
A. How we approach fitness differently is focusing on making it an experience and a destination. Whether that includes coordination of equipment, wall graphics, lighting, we focus on it being an experience of what clients are wanting to have, not just utilitarian, and not a place of dread for the end users.
Bike spaces used to be treated as more of a back of house space with little design to them. Instead, we have been looking at them as a space where we can have fun and even make a bold statement. Having fun with bikes taps into Portland bike culture, why not elevate the space more?
Q. How do you design a space that is inclusive for all abilities and fitness levels?
A. The first thing that it comes down to is universal design: doorknobs, benches, ADA lockers and ADA compliance, etc. Equally, providing a variety of fitness equipment, yoga rooms, treadmills, interactive mirrors, stretching or weight training areas – let the user choose their workout type for a variety of abilities. Variety is key.
A well-designed fitness center should feel welcoming and inviting because so often fitness centers do not feel inclusive, or they are uncomfortable. Everyone should be able to move their body with joy within the space.
For example, in a project I was a part of we took an existing basement space, added brand new lighting, bright colors, added various benches, hooks, upscale lockers and even additional parking for e-bikes and recumbent bikes.
Q. How do you balance aesthetic between open gym v. class environment?
A. Using materials that feel like they go together or are complimentary between spaces. Using lighting that is around the perimeter of mirrors and highlighting what is more important in each space. For example, flooring changes could be LVT in the classroom and anti-microbial carpet tile, rubber or cork flooring in the gym area.
Q. What is your favorite part about designing fitness spaces?
A. My favorite part is that I'm an athletic person, and I enjoy working out. I get to put myself in that mode to imagine how myself or others would use the space. "Getting into the concept" and making it unique from other fitness centers.
Q. Where do you start with fitness planning and programming?
A. The best way to start with a fitness center is to get surveys from building tenants to hear what they want, so that you have information on what the tenants want to use. Understanding the competition and comparing what other buildings are offering also helps to make a fitness center stand out in the crowd. Compare what other buildings in the area are offering.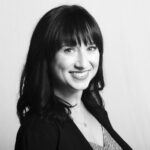 Contributor: Clare Goddard, Senior Associate Interior Designer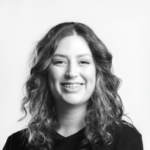 Emily Feicht, Interior Designer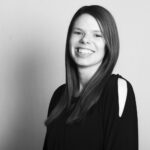 Rebecca Brock, Associate Interior Designer
FILTER
SEARCH
This search form (with id 2) does not exist!
The Office as Ecosystem: Strategy 5
April 11, 2023
Culture-First Design for an Engaged Employee Ecosystem
We're all feeling the effects of the boom-bust economic cycle, and it makes it hard to know where to focus the attention when it comes to building a thriving workplace. How much can and should we invest in an office environment when the people who inhabit it are more transient than ever?
Here at Ankrom Moisan, we've been inspired by clients and corporate leaders that are doubling down on their workplaces during these unprecedented times. They've sought to build spaces that not only reflect their values, but also allow their employees to experience them and live them out in their daily work. This kind of long-term, culture-centric approach to the workplace can be more powerful than any training tool or company retreat, with longer-lasting returns, as the message gets reinforced every day.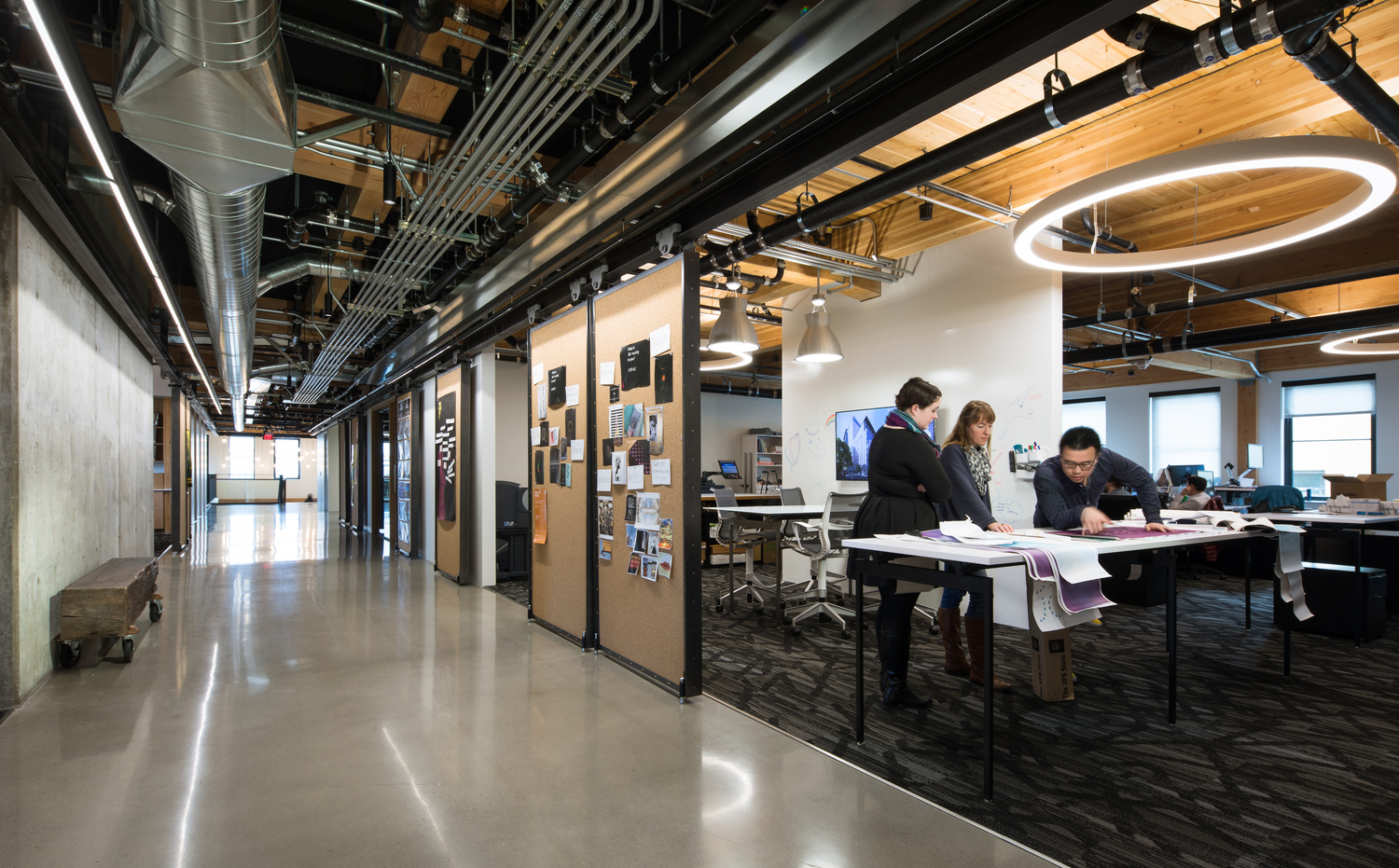 Ankrom Moisan, Portland, Oregon
What do we mean by culture-first design? It's a translation of company values and brand personality into design imperatives. For instance, a company that prioritizes continual learning might integrate an auditorium-style space for seminars, speakers, and certification classes. Display walls might be added near each department to allow groups to highlight key aspects of their work, accomplishments, or projects-in-progress, so others can better understand what they do. A casual meeting area might do double-duty as a mini library, curated with the help and suggestions of employees. The possibilities are endless, but when focused on what your company uniquely values, they also become an exciting, impactful reinforcement of what really matters.
Feeling inspired and want to apply ecosystem thinking to your workplace? Read our full strategic roadmap here, or reach out to our team anytime. We are here to help you and your employees thrive.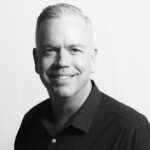 Michael Stueve, Principal, UX Strategy 
Banner photo: Community Transit of Snohomish County, Everett, Washington
📸: Aaren Locke
FILTER
SEARCH
This search form (with id 2) does not exist!
The Office as Ecosystem: Strategy 4
April 4, 2023
New Ways to Meet
Running a productive meeting today is a virtual minefield. With remote participants, on-site attendees, a variety of videoconferencing resources, and let's face it, more meetings than anyone really has time for, it's both more essential, and more difficult, to get meetings right.
We've leaned hard on technology over the past 3 years, but it's time to give design its rightful role in the conversation. While what's happening on screen matters, the places and spaces we meet can contribute significantly to a better overall experience.
The challenge at hand is to make the experience more equitable for all attendees, whether in-person or remote. We've heard stories of in-person meetings with 50 people all in one room and logged in to Zoom, so that the 5 people who were joining remotely would not be left out. While a noble effort toward creating an equitable experience, there has to be a better way.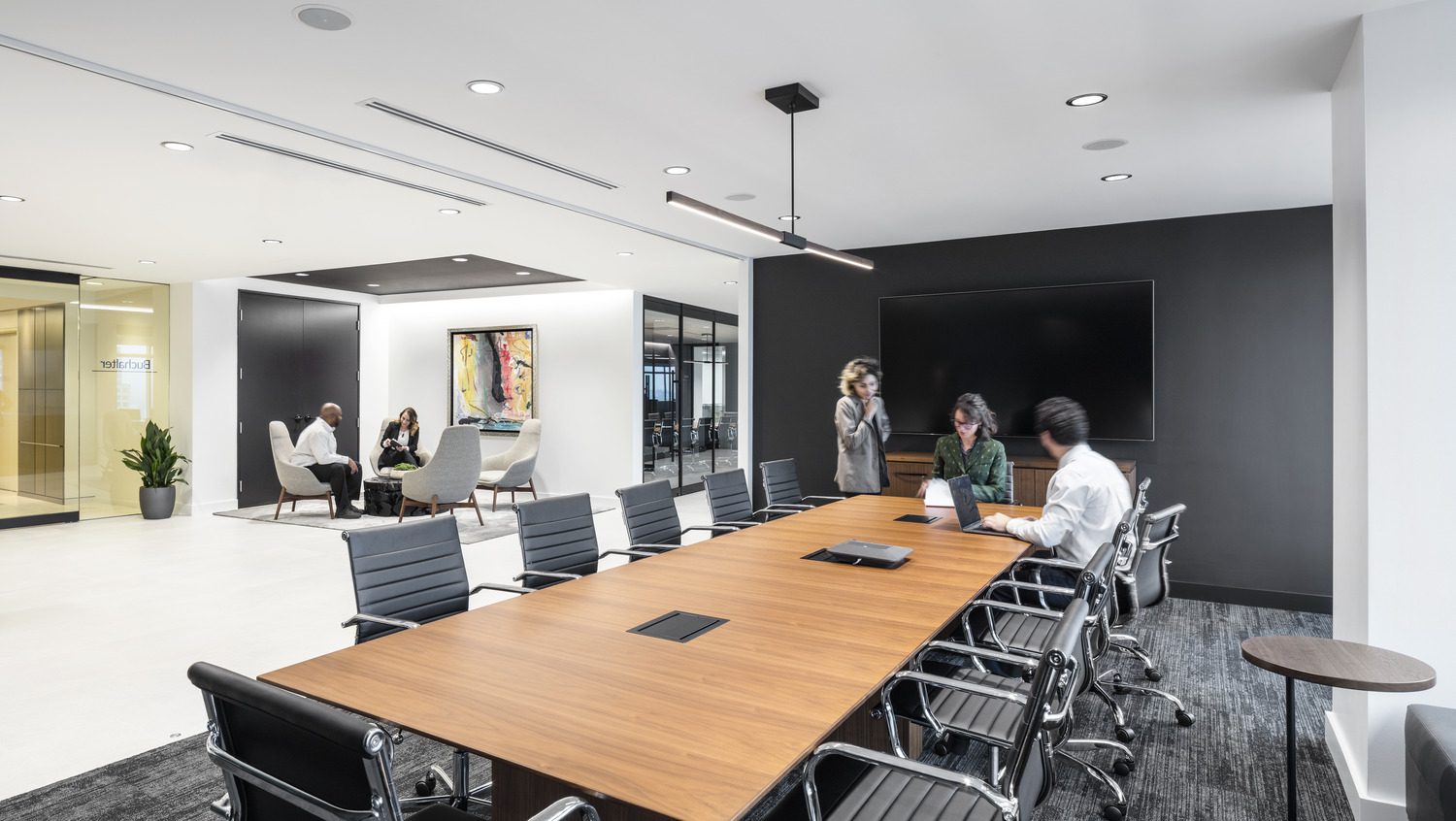 Buchalter, Portland, Oregon
📸: Magda Biernat
The truth is that the implementation of a few design strategies can make a significant difference. For instance, lighting, materials, and color palettes that read well on-camera and feel good in-person can equalize the experience. Room orientation, table layouts, and careful screen placement can bring remote attendees tableside and minimize the tendency to leave people out of the conversation. Thoughtful sound design with an eye (and ear) toward an optimal acoustical experience for those in-person and joining remotely ensures everyone has a chance to be heard.
Eager to solve the problem of mediocre meetings? We explore more meaningful meeting and workplace design strategies in our strategic roadmap, The Office as Ecosystem. Check it out here.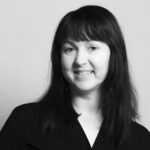 Bethanne Mikkelsen, Managing Principal, Interior Designer
Banner photo: 2201 Westlake, Portland, Oregon
📸: Moris Moreno
FILTER
SEARCH
This search form (with id 2) does not exist!
The Office as Ecosystem: Strategy 3
March 28, 2023
The Not-So-Office Office
The traditional idea of an office was losing appeal well before the pandemic made it obsolete. As wireless technology made it possible for people to untether from their desks, many found they liked working in other environments that, while not designed for work, were conducive to it.
Those environments, such as coffee shops, co-working spaces, hotel lobbies, and living rooms, in many ways represent the antithesis of office design and décor. Feminine, nurturing, and sensorially engaging, the comfort they offer seems at odds with productivity.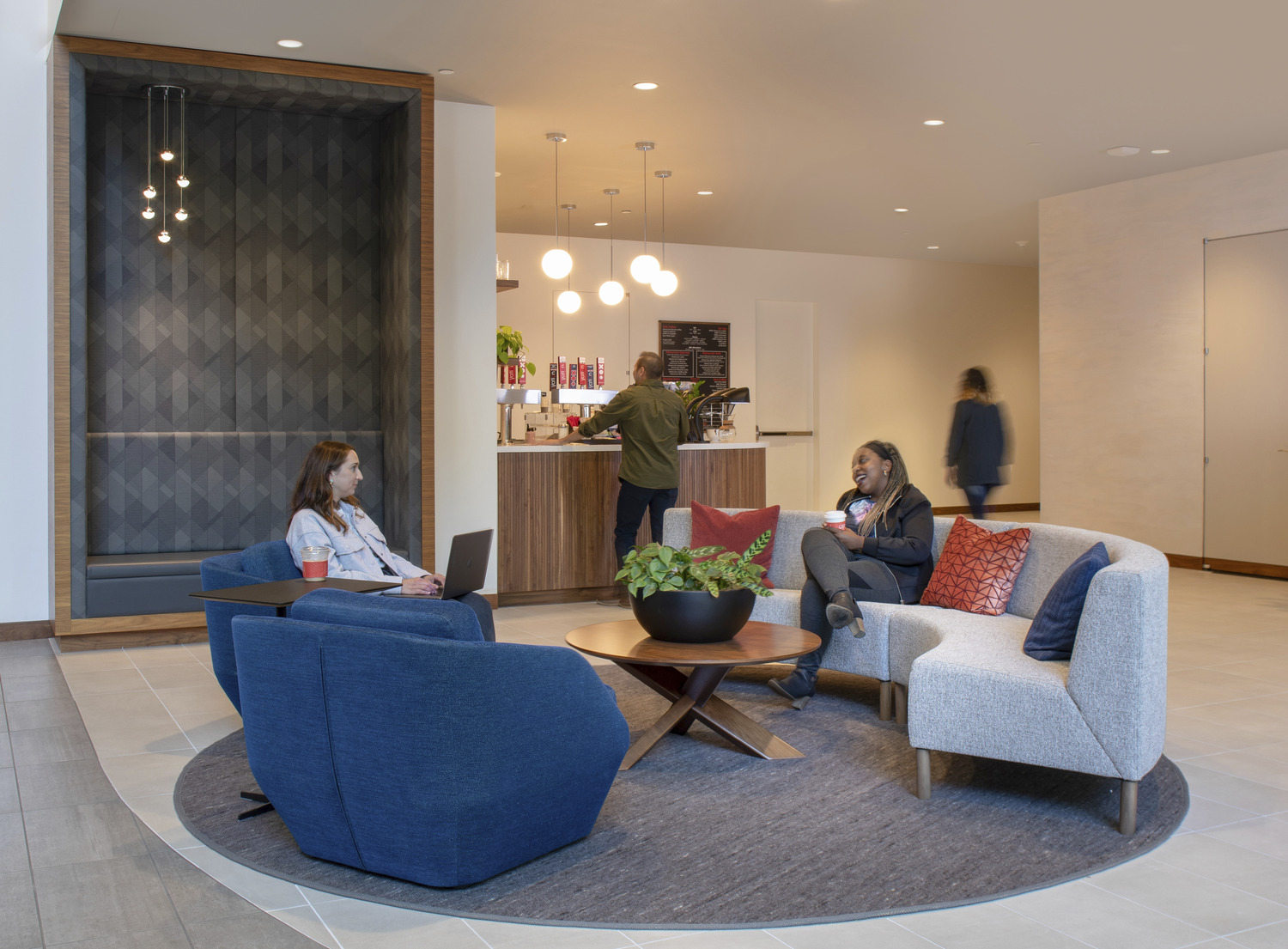 Moda Tower Lobby, Portland, Oregon
📸: Cheryl McIntosh
Progressive workplaces, however, are finding the opposite to be true. Workplace design that's informed and inspired by the principles of residential, food and beverage, hospitality, and retail sectors is helping drive employee satisfaction and the desire to be in the office, without sacrificing the need for work to get done.
Applying this cross-disciplinary approach requires a nimble team willing to seek inspiration from a wide array of sources. It also requires attention not just to what your office enables employees to do, but attention to what and how it makes them feel.
As with each of the strategies explored in our The Office as Ecosystem series, the benefit also extends to the bottom line. When employees feel engaged and inspired, and their needs addressed, they can contribute in more meaningful ways to the business at hand.
Eager to see this strategy in action? Check out the full series, The Office as Ecosystem, here, with inspiring case studies and examples of ecosystem-thinking applied in the real world.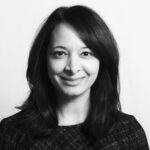 Erica Buss, Senior Associate, Research & Information Services Manager
Banner photo: Community Transit of Snohomish County, Everett, Washington
📸: Aaren Locke
FILTER
SEARCH
This search form (with id 2) does not exist!
The Office as Ecosystem: Strategy 2
March 21, 2023
Building a Commute-Worthy Workplace
Improving an office ecosystem only pays off if employees actually come into the office to experience it. And what gets employees into the office? Studies show the strongest incentive isn't a free lunch, dry cleaning services, or foosball tournaments. It's other employees.
That means a commute-worthy office is, in essence, one that builds community. The table stakes, like good coffee and comfortable surroundings, are essential, but the communal energy that can't be replicated at home is the true galvanizing force to get people there on the regular.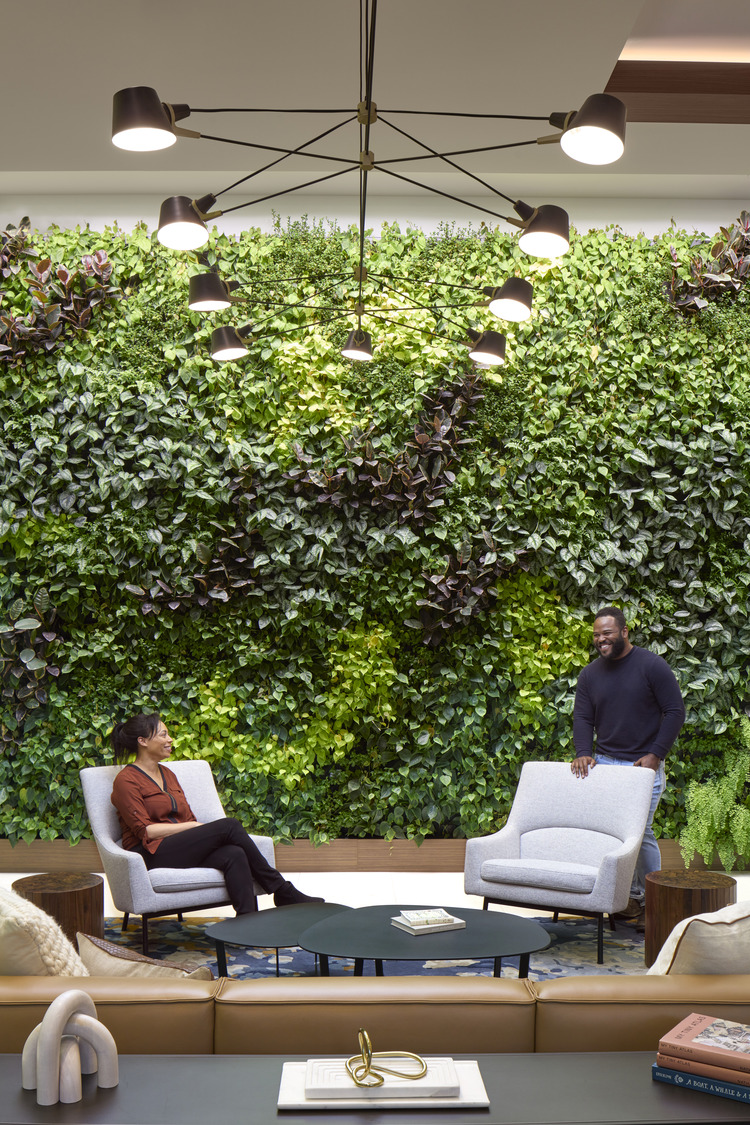 2201 Westlake, Portland, Oregon
📸: Moris Moreno
And it turns out, that communal energy is rarely serendipitous. It's carefully designed into the space. A strategic approach to desk density can create the right level of buzz and activity without sacrificing employees' abilities to concentrate. A variety of thoughtfully designed spaces for spontaneous and planned collaboration can get people talking and building deeper ties. Areas for curated surprises and engaging employee programming reinforce a sense of belonging to a company that is creative and cares for its people, while also creating reasons to get people together.
When your employees can get their work done anywhere, workplace design stops being about desks, chairs, screens and printers, and starts being about the interactions that make work worthwhile.
Want to learn more? Check out our full strategic roadmap, The Office as Ecosystem, here, or watch this space for our next installment, "The Not-So-Office Office," coming next week.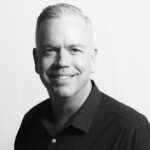 Michael Stueve, Principal, UX Strategy 
Banner photo: Buchalter, Portland, Oregon
📸: Magda Biernat
FILTER
SEARCH
This search form (with id 2) does not exist!
The Office as Ecosystem: Strategy 1
March 14, 2023
The Office Gets Personal (And the Ecosystem Thrives)
The Office as Ecosystem approach has 3 key tenets:
The well-being of one lifts the prospects of all
Fostering connections between people is the primary function of the office
Productivity is a by-product of belonging
When we think about and design for the office as an ecosystem, we're essentially saying that if one area, department, or person is underserved, the workplace as a whole will suffer. Likewise, we acknowledge that moves toward inclusion, equity, and belonging benefit not just the person or people for whom they are taken, but everyone in the greater workplace community.
This kind of people-first thinking and design can manifest in small, easy-to-implement tactics, as well as larger, systemic shifts.
At a systemic level, there's a paradigm shift from the office in service of a business function to an office in service of individuals, each of whom brings different needs as well as gifts to the ecosystem. This requires abandoning both the one-size-fits-all, as well as the set-it-and-forget-it mindsets. Instead, it requires companies to embrace custom solutions, curiosity, and continuous improvement.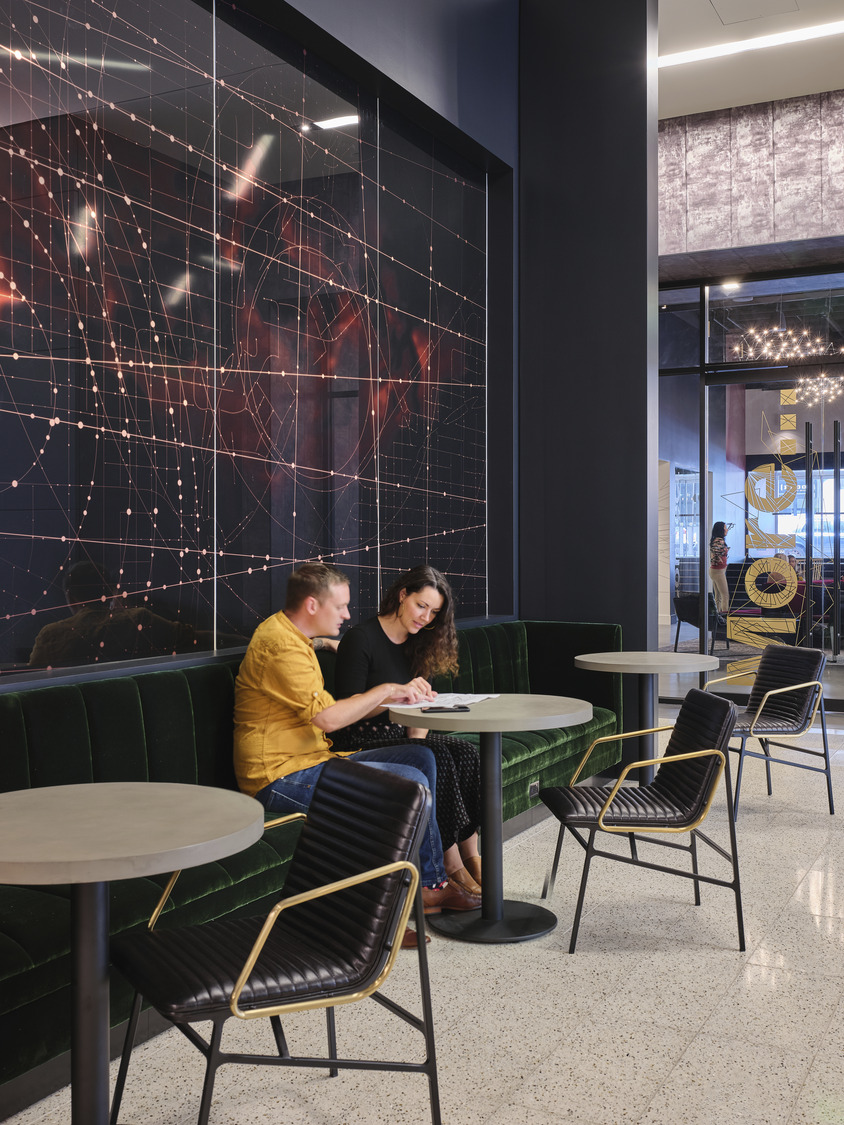 Aspect, Portland, Oregon
📸: Christian Columbres
This can be as simple as inviting a wider array of people with a more diverse set of perspectives to the proverbial table when it comes to office planning and design, asking what they need and building solutions together. Truly ecosystem-focused companies might even go a step further and imagine the needs of future staff and visitors, envisioning a truly welcoming environment for people of all abilities and backgrounds. In this way, companies become attractive to a wider, more diverse, and more engaged talent pool, and avoid the need to react and retrofit with each new hire.
Tactically, there are new, people-first solutions emerging every day that allow workplaces to serve the needs of the individuals within their workforce. Straightforward but ingenious solutions, such as furnishings that support fidgeting or fit a variety of body types not only accommodate differences but celebrate them. Visual cuing systems for d/Deaf persons meet a specific need, but also raise the consciousness of everyone in the office about the myriad ways people receive and process information. Imagine the impact when that understanding gets translated to customer, client, or shareholder interactions. When people-centered design becomes the "norm," everyone in the workplace community – and often well beyond it – benefits.
Want to learn more? Check out our full strategic roadmap here, or watch this space for our next installment, "The Commute-Worthy Workplace," coming next week.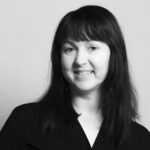 Bethanne Mikkelsen, Managing Principal, Interior Designer
Banner photo: Fox Tower Green Room, Portland, Oregon
📸: Shelsi Lindquist
FILTER
SEARCH
This search form (with id 2) does not exist!
The Office as Ecosystem
March 7, 2023
5 Ways to Design for the Workforce You Have Now and the Workforce You Want in the Future
Our workplace design team has a unique window into the changing nature of work, and the challenges that companies have keeping up with it. Every client meeting we attend, and every new design request we field, gives us a view of what's really going on in today's offices.
Late last year, we started to see some patterns emerge in the conversations we were having with clients about their workplace needs. And those patterns lined up with some trends and tactics we'd been incorporating into our projects.
It just made sense, then, to turn those patterns into a strategic roadmap our colleagues and clients could use as they are all rethinking what the workplace looks like. It examines the ways we need to shift our thinking about the roles, both functional and emotional, that offices play in workers' lives today, with lots of examples and ideas to get begin the journey of workplace transformation.
We call the overarching approach "The Office as Ecosystem," because it acknowledges that the workplace is an interconnected environment, where the well-being of one lifts the prospects of all.
If you've been grappling, as so many companies have, with a changed workforce and a not-so-relevant workplace, maybe a shift to ecosystem-thinking is in order.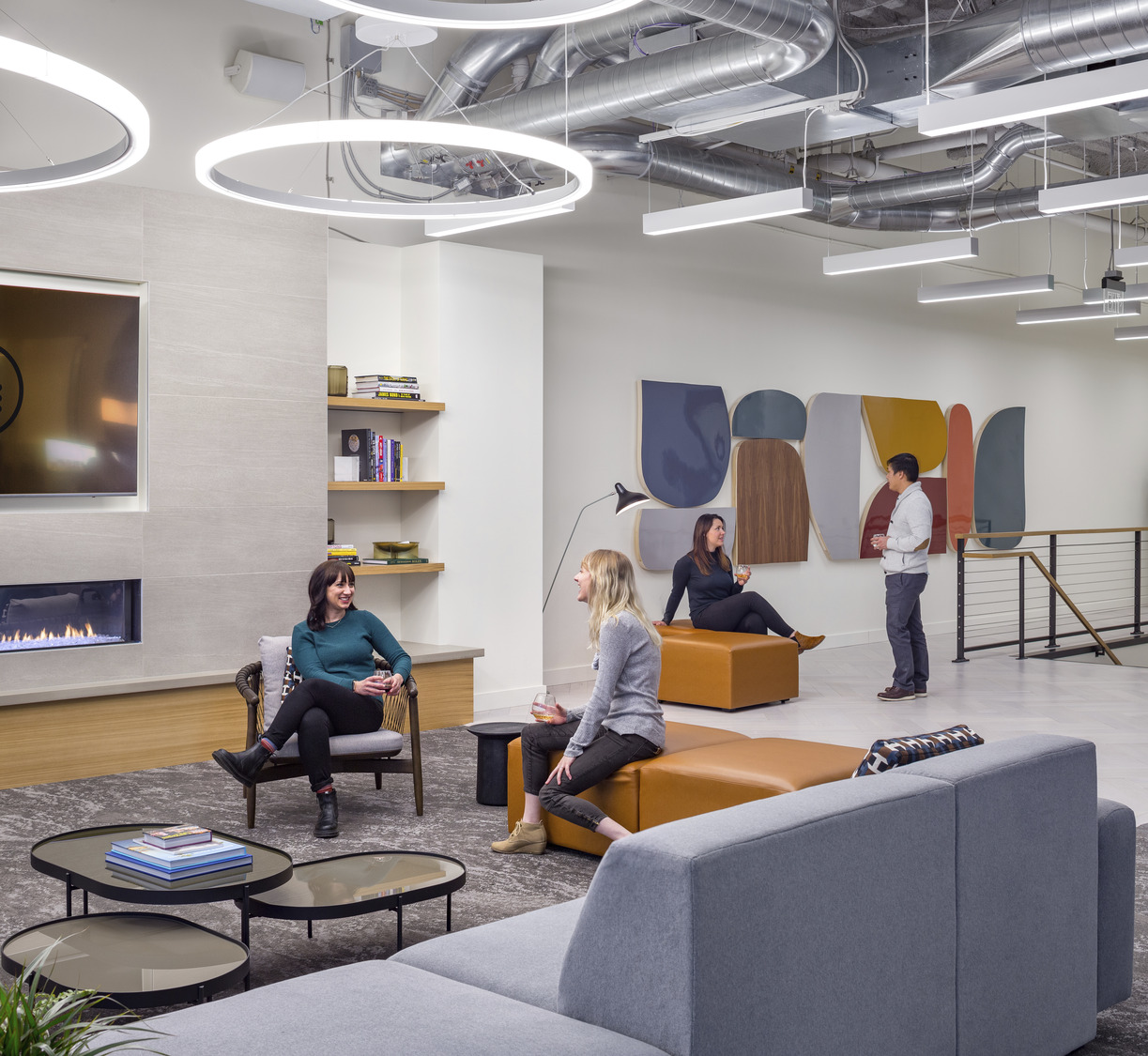 Archivist Capital, Portland, Oregon
📸: Josh Partee
Check out the full strategic roadmap here, or watch this space for each installment, starting next week:
Part 1: The Office Gets Personal
Part 2: The Commute-Worthy Workplace
Part 3: The Not-So-Office Office
Part 4: New Ways to Meet
Part 5: Culture First Employee Engagement
(each Part will be hyperlinked once the blog post launches)
Banner photo: Buchalter, Portland, Oregon
📸: Magda Biernat
FILTER
SEARCH
This search form (with id 2) does not exist!
Living Our Hows Series
March 1, 2023
Lead with our heart. Share openly. Embrace change. Have fun with it. Be yourself. Trust.
These are our Hows, the values by which we work and play. We created our Hows a few years ago through a decade-long process (stay tuned for a future post detailing that process!). We encourage everyone to show up in life and at work authentically, to seek connections and embrace the work we do with enthusiasm and flexibility. We're a hybrid firm, and we work differently.
Our workplace design team has put together a six-part series that touches on our Hows and the way they come to life at AM. Click the links below to read each article in the series.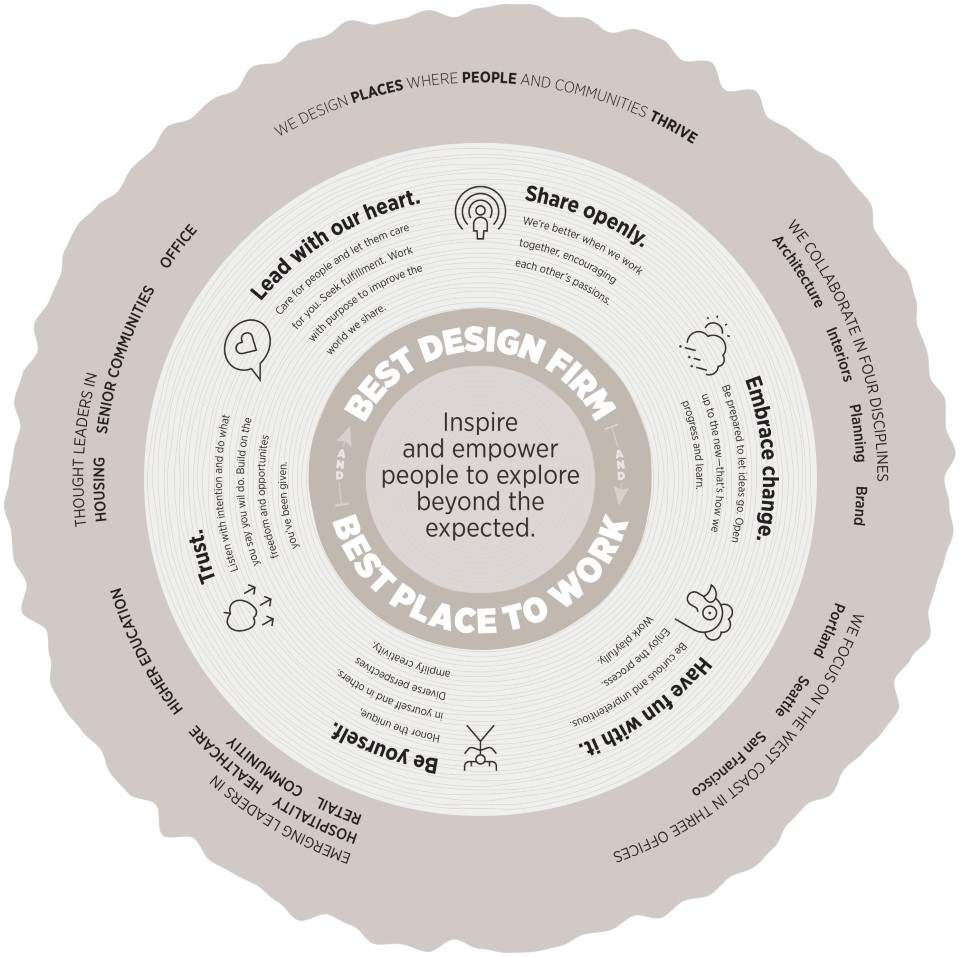 FILTER
SEARCH
This search form (with id 2) does not exist!
Living Our Hows (6 of 6): Lead with Heart
February 23, 2023
A Conversation with Aaren DeHaas, Associate Interior Designer
Ankrom Moisan takes our Hows very seriously. Our Hows are the values by which we work and play. This post explores Lead with Heart and is one of a six-part series that touches on our Hows and the way they come to life at AM. Stay tuned for future blog posts revealing more about AM's Hows. 
At Ankrom Moisan, our mission is to create places where people and communities thrive. Our goal is to provide a place of safety and comfort that is purposeful and sensitive, both to our client's visions and to users' needs. Through our integrated design approach, our team works to identify project challenges and propose solutions. Although these conversations can be hard, our clients appreciate this transparent and collaborative method of problem solving. We work closely as a team on every project with our clients to design spaces that address their concerns and closely align with their goals and company culture.
This is our work: Purposeful and sensitive, both to our clients' visions and to users' needs.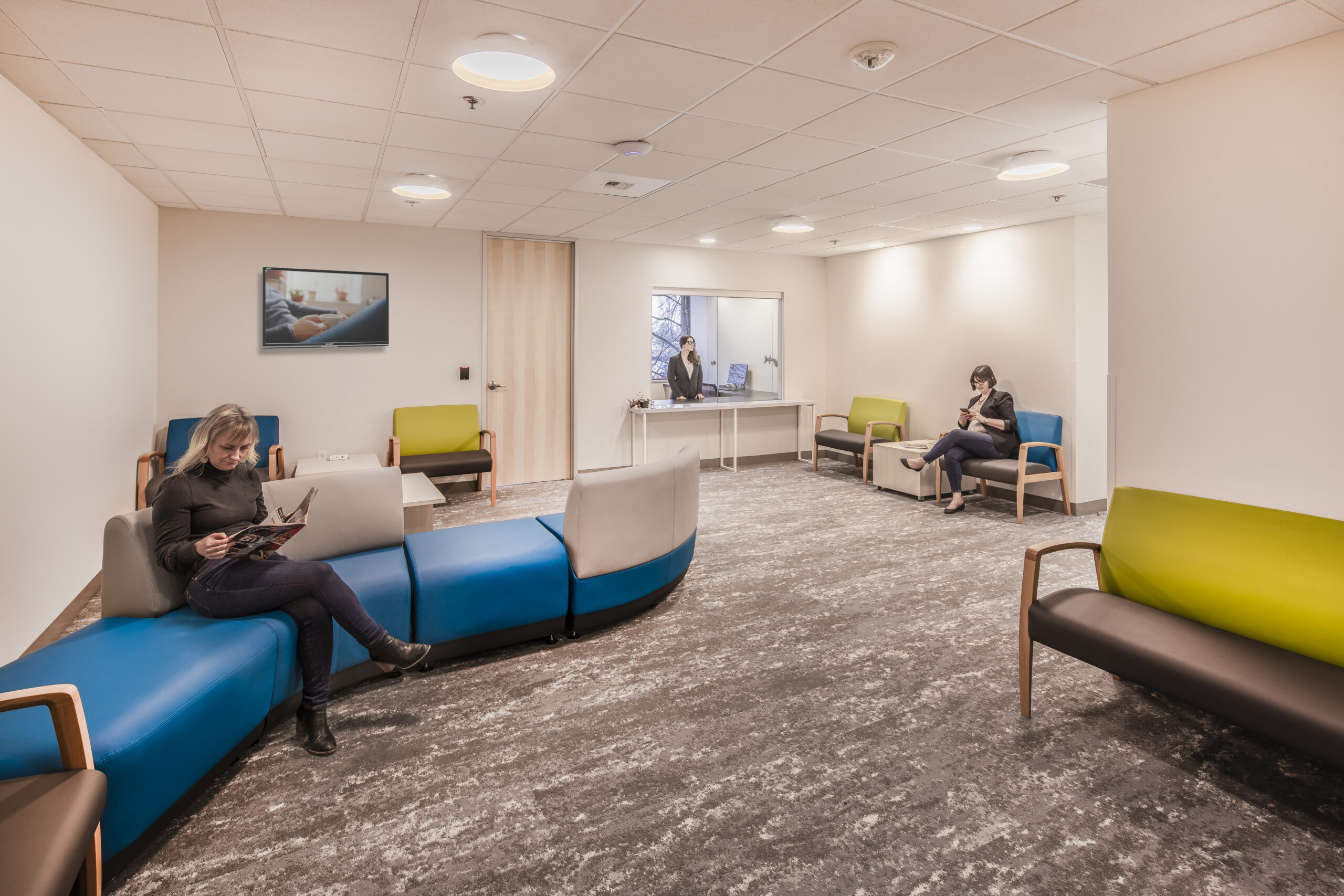 📸: by Andrew Nam
Q. What drives the planning and design for mission-driven work?
A. The driving factors for mission-driven work are similar to other projects in that we consider the specific type of work each of our clients do, their culture and what their company represents. The difference with mission-driven work is that much of what they do directly touches and impacts individuals in the community they serve. Many of these organizations are working to better lives within the community around them and a lot of this work involves helping people through tough times. The nature of their work and the topics discussed can bring up a lot of sensitive issues. Our goal is to find a way to design a space that addresses their clientele's insecurities, privacy concerns and sensitivities. Keeping these items front of mind is key to a successful project.
Q. What makes mission-driven work unique to other projects? Are there any unique planning needs or sensitivities that need to be considered?
A. Several of the organizations we've worked with are in place to help people through challenging moments in their lives, from counseling and support services, to prevention, each come with unique needs. It's essential to meet the psychological needs of both the employees working in the space, and those of the visitors. Ensuring basic safety is an important first step. We aim to bolster feelings of security and support, for example for some organizations it's important that visitors have their own waiting areas, ensuring private, judgement-free zones. Beyond psychological needs there are physical safety requirements for both employees and visitors that need to be addressed and this can be a delicate balance between providing a space that's inviting, but also ensuring physical safety.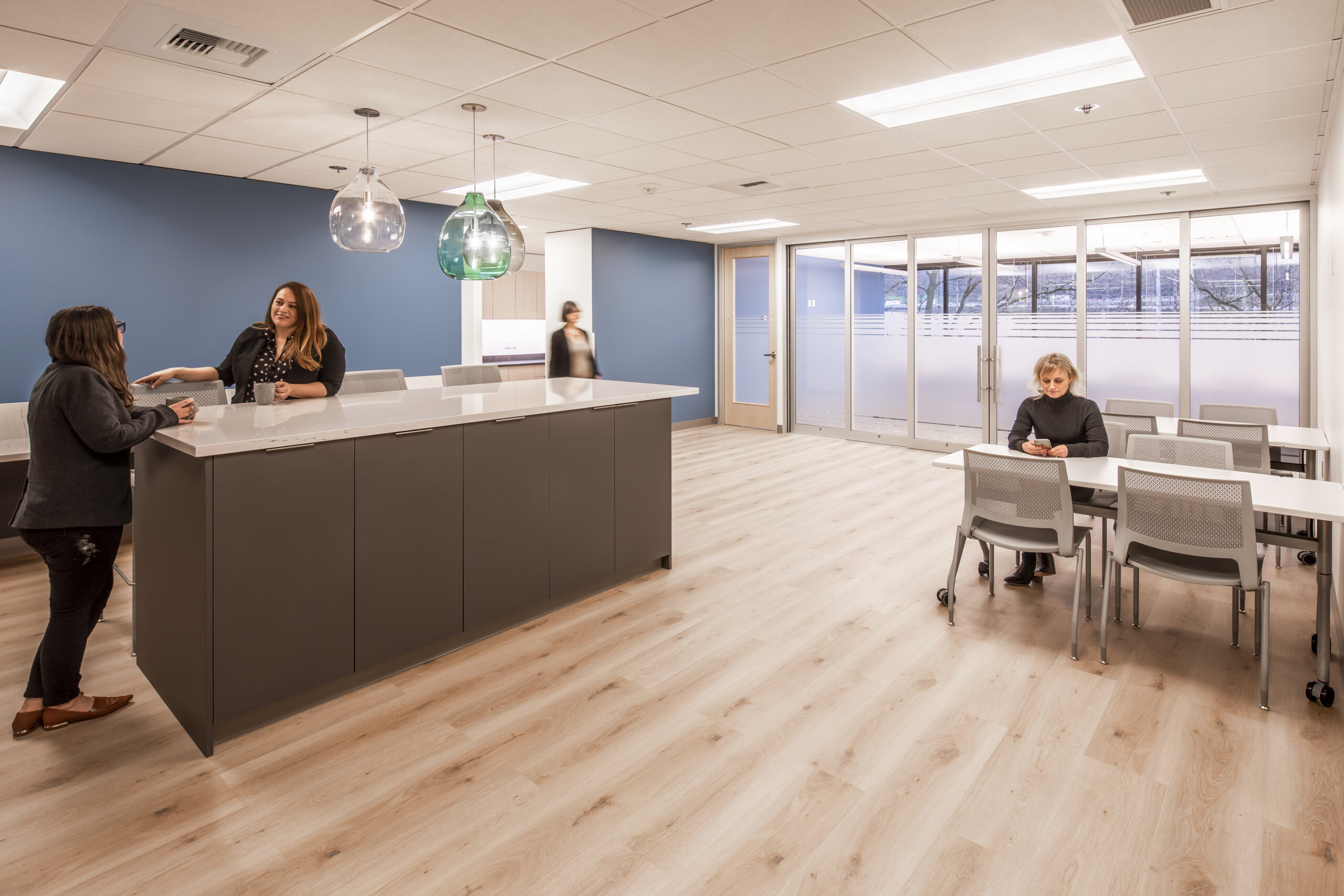 📸: by Andrew Nam
Q. How do you meet the organization's needs and provide a carefully considered design within budget?
A. It's important to understand the organization's goals and any difficulties they face. We always do an extensive programming phase with clients, a deep dive into not only their space needs but a close examination of their function, culture, and how they want to be perceived by their community. Having these conversations up front, along with the conversations around psychological and physical safety, help us to create a well-balanced space. These can be tough conversations to navigate but they're particularly important to create a successful design in the end.
Regarding budget, having this conversation up front helps to inform the options we put forward. It's important to specify appropriate finishes that reflect each organization and represent their outward public appearance. We are also mindful of how long it is until the organization's next anticipated relocation or renovation. Some organizations won't have the opportunity to create a new office for themselves for another 30-50 years, therefore specifying durable, timeless selections is crucial to design fresh, welcoming spaces that stand the test of time. In the end, it's these organizations that are truly leading with their hearts, and we are here to support and uplift them in the best ways that we are able!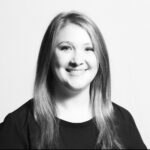 Aaren DeHaas, Associate Interior Designer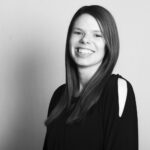 Rebecca Brock, Associate Interior Designer
FILTER
SEARCH
This search form (with id 2) does not exist!
Spotlight: New Hire Emily Feicht
February 9, 2023
An Interview with Emily Feicht, New Workplace Interiors Team Member
Q. Tell us a little bit about yourself.
I grew up here in Oregon and have always had a real passion for the northwest. I love the rain, trees, coffee and all the culture that comes with it. I went to college at University of Oregon and graduated with the first COVID class in 2020, and knew I wanted to stay here and design beautiful spaces in the area. I began my career navigating the world of interior design at a small architecture firm in Salem for close to two years. Now, I am a fully remote part of the workplace team at Ankrom Moisan, I live in Corvallis with my kitty Maddy, and come up to Portland once to twice a month to work in the office.
Q. What has your experience been like at Ankrom Moisan these first few months?
I've had the best time! I love the incredibly supportive environment between peers, coworkers and supervisors. I've never worked with so many other interior designers at one time and feel fortunate to be encouraged to do the work that makes the project successful and the work we are good at! Especially concept design. I also love the reassurance from my team to be involved in IIDA and be integrated with Oregon's interior design community.
Q. Favorite moment at Ankrom so far?
I am a thrilled for the holidays and all the festivities, so I loved getting dressed up and going to the holiday party! It was so fun to see everyone with the black and white theme and having seasonal cocktails and food!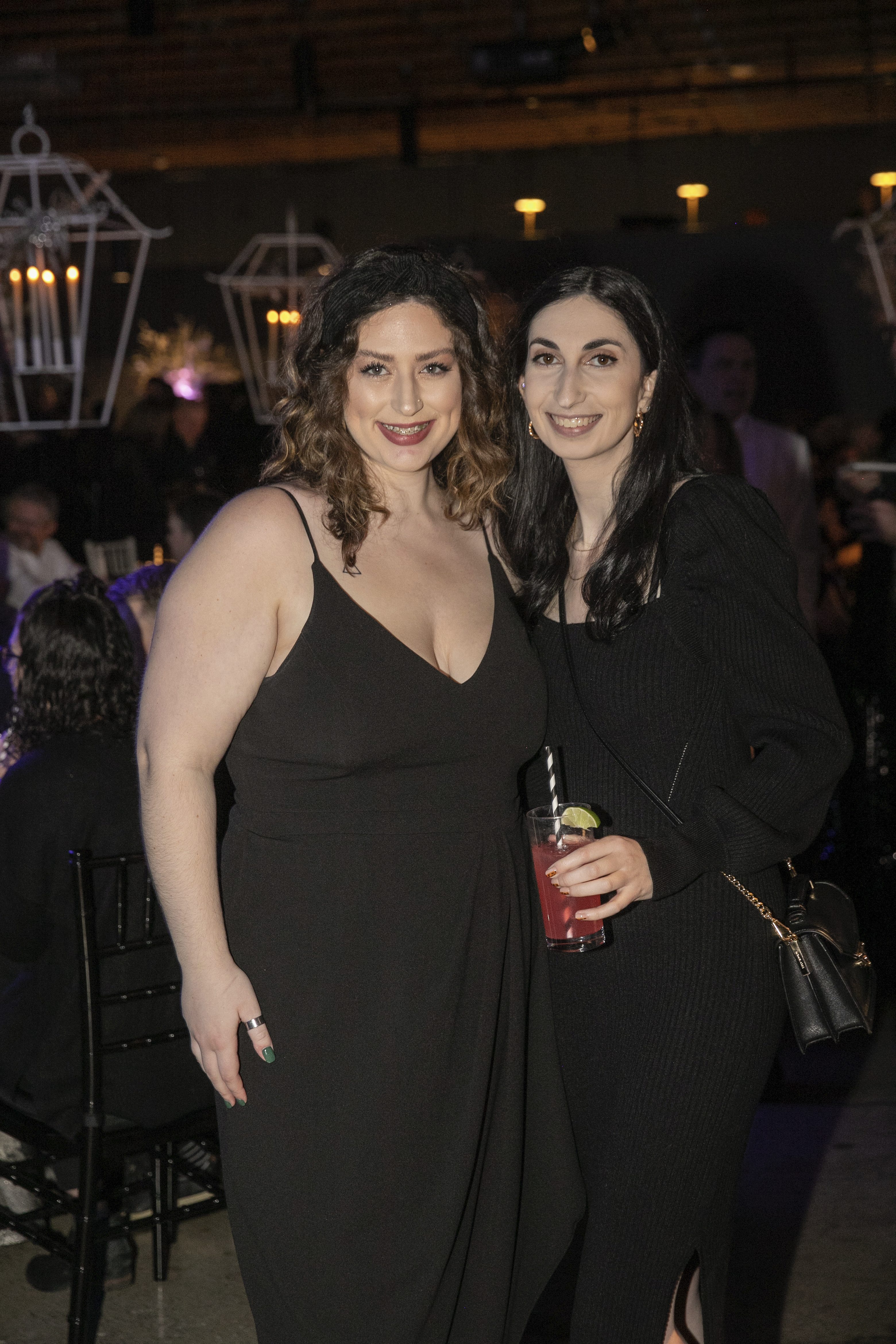 Q. As one of Ankrom's first few fully remote Workplace Interiors Team members, how has it been?
I have felt set up for success since day one – I've been impressed from the beginning with how equipped AM is to support their employees in any environment!
I also felt like the process of integrating myself with my team was seamless (both workplace and the larger AM team). When I get to come visit and work in the office, I may not know everyone, but I've found it comforting that people are so warm and willing to introduce themselves. Say hi, even if we've met before, I love it!
Welcome to the team, Emily, we are lucky to have you!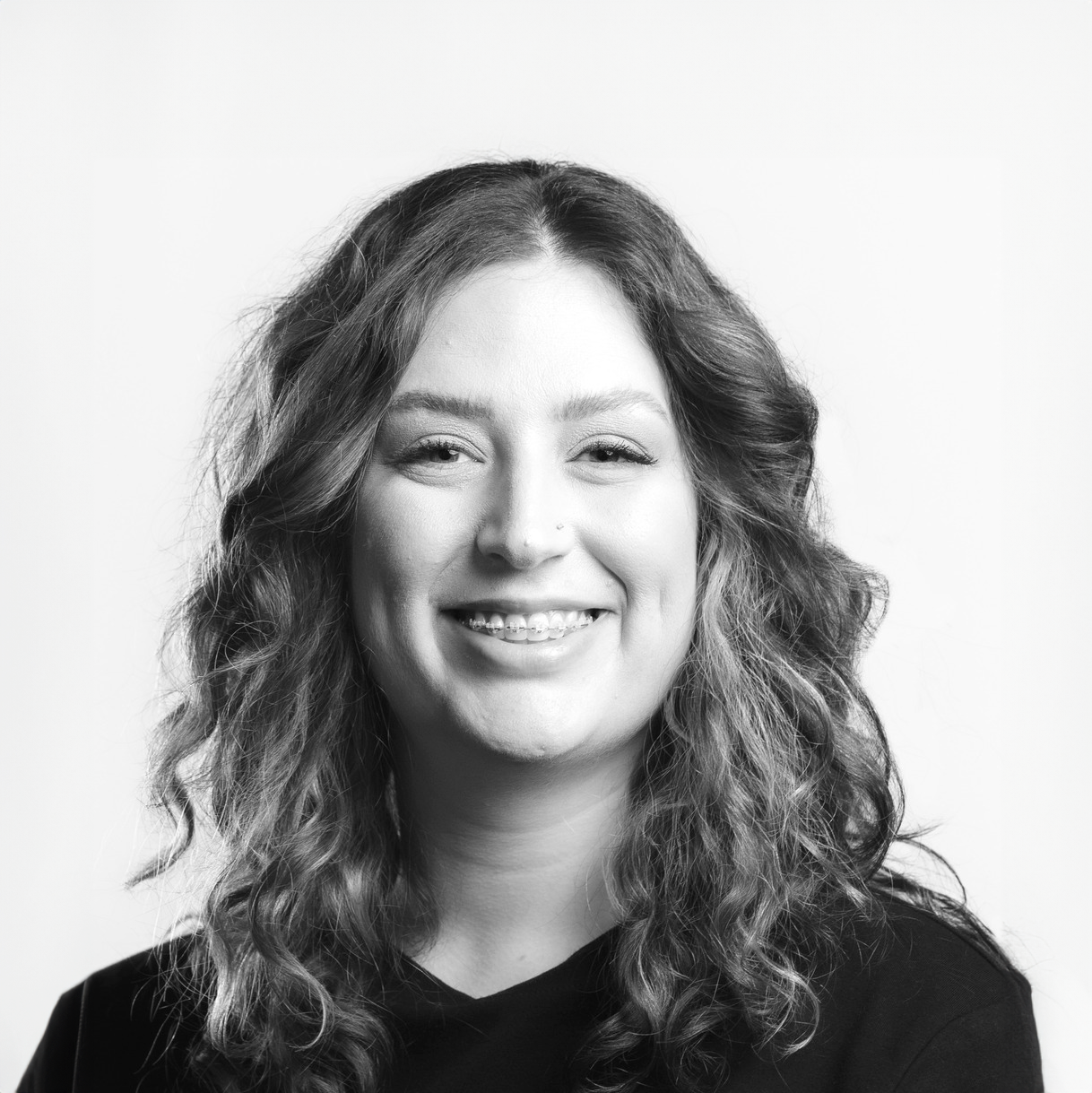 Emily Feicht, Interior Designer
📸: Oregon Coast by Eric Muhr
📸: Holiday portrait by Evrim Icoz
FILTER
SEARCH
This search form (with id 2) does not exist!
Living Our Hows (5 of 6): Share Openly
December 21, 2022
Tips for Successful Mentorships
Ankrom Moisan takes our Hows very seriously. Our Hows are the values by which we work and play. This post explores Share Openly and is one of a six-part series that touches on our Hows and the way they come to life at AM. Stay tuned for future blog posts revealing more about AM's Hows. 
At Ankrom Moisan we highly value and prioritize mentoring relationships to share skills, create career growth and nurture our culture. Over the course of testing and establishing a mentorship program the past two-years, the most successful and beneficial mentorships embody leading and learning between both individuals. When a mentorship relationship is established without dedicated "mentor/mentee" roles, both individuals can remain receptive, which allows for open communication and knowledge sharing resulting in everyone's growth. 
Roberta Pennington, Senior Associate Interior Designer at Ankrom Moisan, has this to say about her experience with mentorship: 
"My mentorship team consists of two people who are not related to my area of practice. With their neutral view, I was able to see my contributions to the team and the firm out of context. Our conversations helped me to better understand what role I want to pursue and, even better, redefine the roles that were available.
Apart from the professional advice, it's reassuring to see my colleagues are human and have similar stressors related to family and health. My mentors/mentees helped me to manage expectations around being healthy and successfully performing my job.
We still meet quarterly despite each of our respective busy schedules. I love this commitment we made. It's attainable and shows we care about the other's well-being."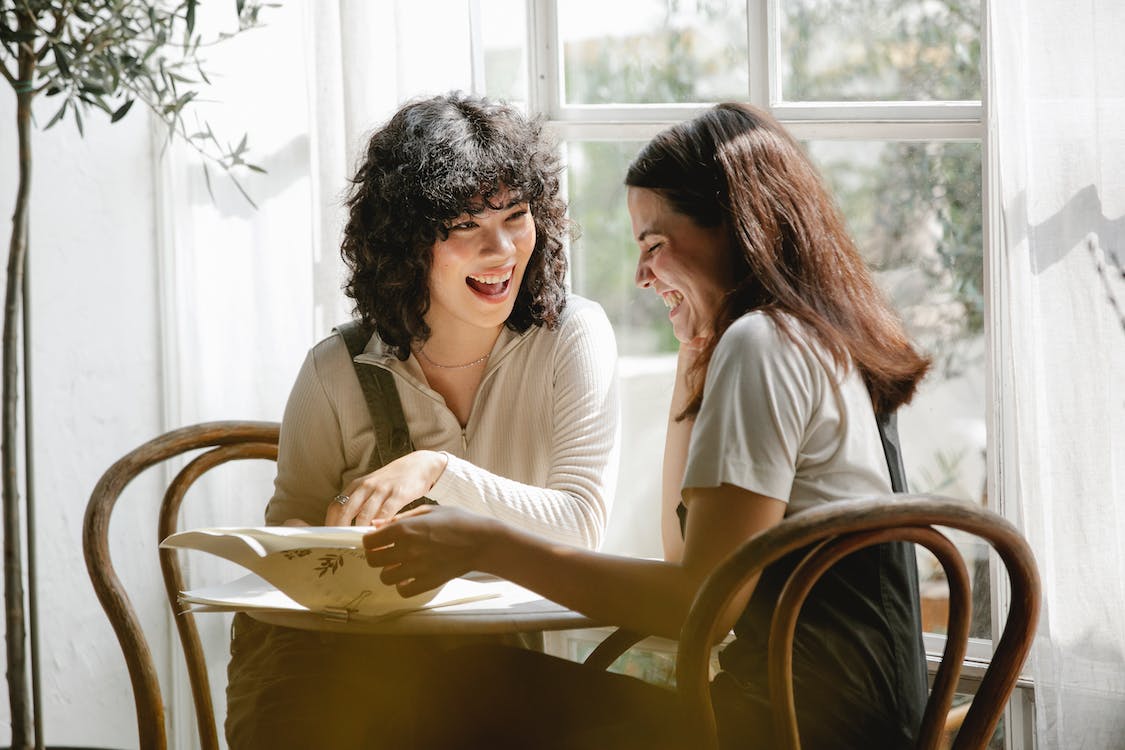 The following tips support this method of mentorship: 
Be Open to Vulnerability:
When genuinely connecting with one another, it can feel truly vulnerable to share openly about the successes and ever so humbling lessons being learned at any given time. We're putting ourselves out there when we invite another to problem solve with us, while knowing that we each bring something to the solution, and that neither person needs to have all the answers to every question. When we meet with a professional outside of our department, or when we invite guest speakers to address goals beyond our scope or abilities, we allow ourselves to be vulnerable, which opens us up to further mutual growth and connection. 
Value the Mutual Commitment:
Showing up is a first step, but a commitment to the mentorship also means being prepared to answer questions and share experiences mutually. Respecting one another's time is also integral to the mentorship. To do so create recurring meetings in advance, honor this reserved time, and communicate clearly when you need to reschedule.  
Establish Goals:
Determine where the mentorship will take place, and for how long. Within the mutually agreed-upon boundaries, share your interests, strengths, and weaknesses with each other. Conversations that encompass these vulnerable topics can foster an environment in which you can better establish goals and review them together. Thereby offering opportunities to both shore each other up and hold one another accountable. Create a road map of topics you will discuss, along with activities to share as learning experiences.  
Good Questions:
Sharing openly leaves room to take initiative to lead the conversation and actively listen. Have meaningful questions prepared so you can uncover the insight you are looking to gather. Don't be afraid to dig deep and listen with intent! Unexpected jewels can be uncovered when the right questions are asked.  
Express Gratitude:
Take the time to discuss what you have learned from each other, and express gratitude for the time invested in you. When the opportunity arises, speak positively of each other to others. When gratitude is expressed the positive effects ripple outward. And don't forget to celebrate achievements together!  
Using this method of mentorship at Ankrom Moisan has made the workplace a welcoming environment. Every member of the team has talents and skills to be shared and can create a stronger connection. Growth is achieved at a rapid rate with mutual respect and understanding! 
by Kaci Mespelt, Interior Designer, and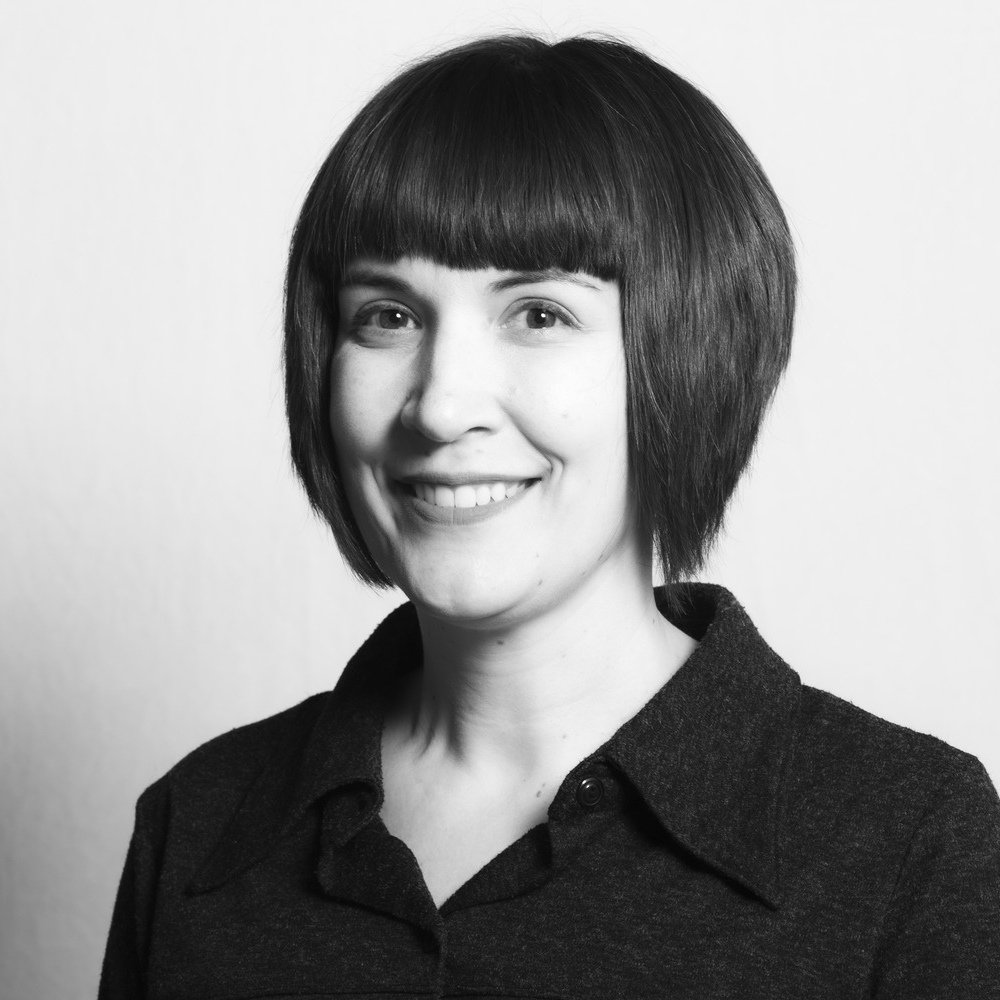 Roberta Pennington, Senior Associate Interior Designer
📸: Cheryl Mcintosh, featured image
FILTER
SEARCH
This search form (with id 2) does not exist!
Living Our Hows (4 of 6): Client Trust
December 14, 2022
Expertise and Reliability Strengthen Client Relationships
Ankrom Moisan takes our Hows very seriously. Our Hows are the values by which we work and play. This post explores Trust and is one of a six-part series that touches on our Hows and the way they come to life at AM. Stay tuned for future blog posts revealing more about AM's Hows.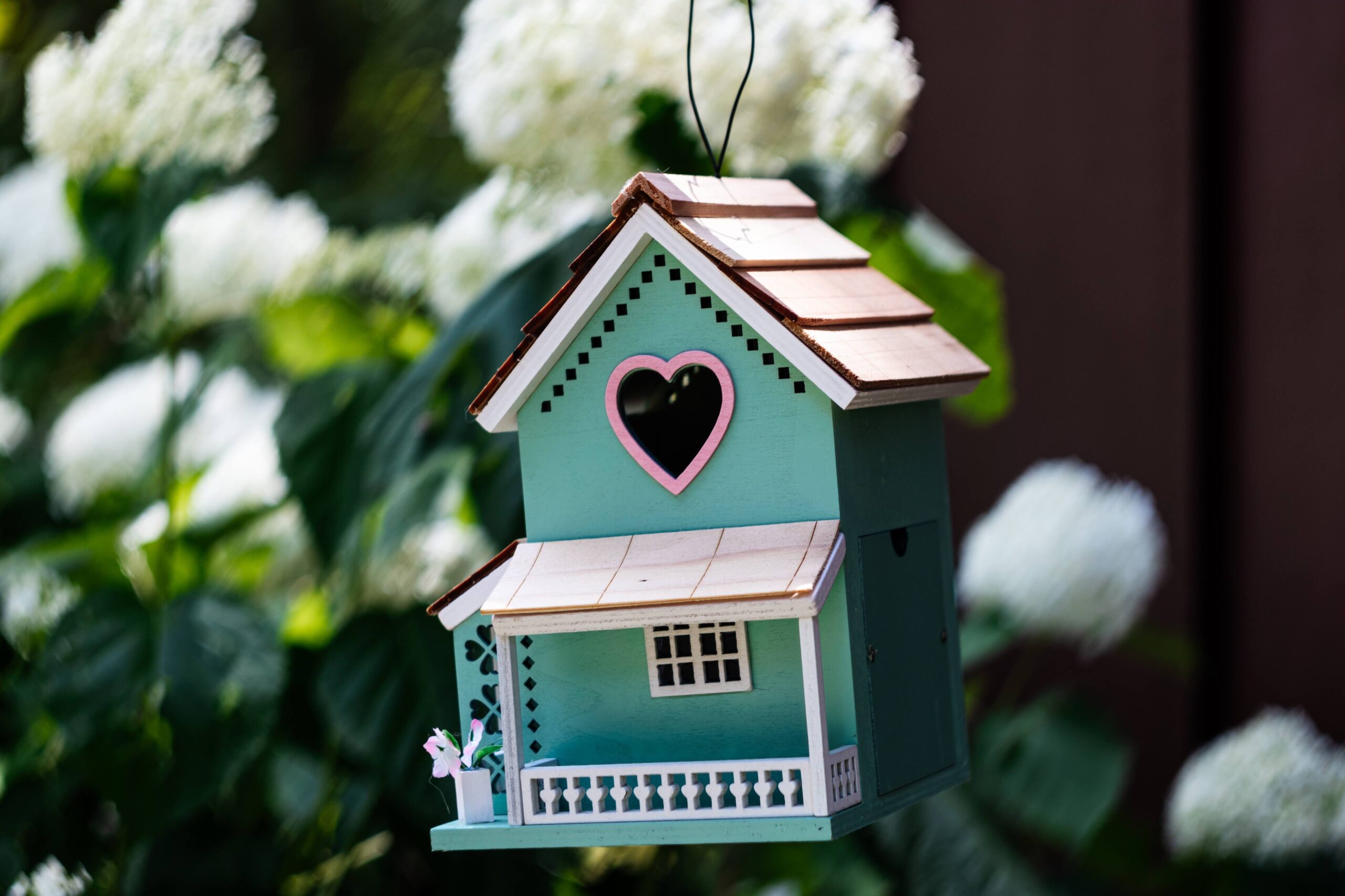 At AM, we are proud that most of our clients are return customers. Or, they have been referred to us by a happy customer. Clients come to us after the market has changed or their businesses have evolved – and, right now, whose hasn't? It's humbling when someone reaches out to us for help – and, to honor this, we ground our relationships in TRUST.
Client relationships based in trust allow both parties to be a bit vulnerable. They allow us to dig deeper when strategizing to get to the heart of the matter. These in-depth and intimate conversations uncover the key drivers of a project and are used to craft spaces that truly resonate. Client trust gives us the freedom to go beyond our "first good idea" and offer more avenues to consider.
Clients who believe they are being led by a dependable team, feel at ease with the process of a project. At AM, it is our teams' responsibility to create this sense of ease by sharing our experience, mentoring each other, and staying curious by researching contemporary trends within our industries. Our expertise resides in several market sectors – from workplace to housing to hospitality – and this cross-discipline perspective allows us to see synergies between markets.  Design strategies for one project type are informed by the insights of another – creating the multi-dimensional experience that so many are seeking in today's market.
Central to creating trust with anyone is consistency. At AM, we strive to create a customer experience that is enjoyable for everyone; we do our best to be approachable and available to our clients, to be enthusiastic and reliable, honest, and genuine. It is a part of our DNA to work from this perspective and it allows clients to create their own journeys – trusting that we are here as guides during the process.
by Laura Serecin
FILTER
SEARCH
This search form (with id 2) does not exist!
Living Our Hows (3 of 6): Be Yourself
November 17, 2022
This Girl is on Fire
Ankrom Moisan takes our Hows very seriously. Our Hows are the values by which we work and play. This post explores Be Yourself and is one of a six-part series that touches on our Hows and the way they come to life at AM. Stay tuned for future blog posts revealing more about AM's Hows.
Celebrating Roberta Pennington and her Influences on Interior Design
Ankrom Moisan takes our Hows very seriously. Our Hows are the values by which we work and play. This post explores Be Yourself and is one of a six-part series that touches on our Hows and the way they come to life at AM. Stay tuned for future blog posts revealing more about AM's Hows.
In the Fall of 2021, we proudly announced on social media that Roberta Pennington, NCIDQ was awarded the Legacy Award for the 2021 IIDA Oregon Design Excellence Awards.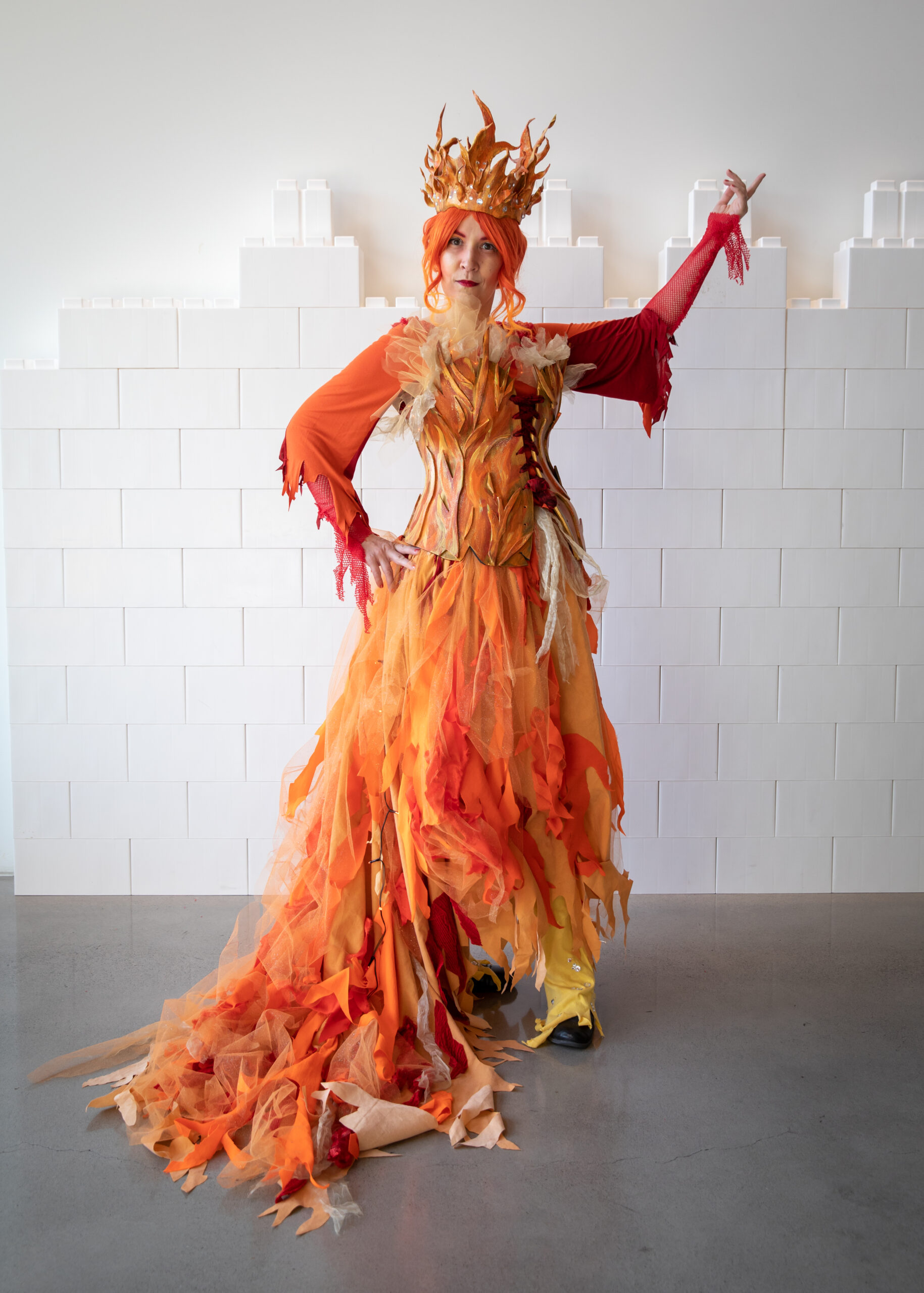 Since arriving in Portland over 20 years ago, Roberta has been a leading advocate for the interior design profession, having served many terms on both IDC Oregon and IIDA Oregon Chapter Boards as a voice for interior design advocacy all over the United States. Her colleagues credit her with possessing vast knowledge and contagious enthusiasm, bringing excitement, and understanding to legislative efforts. Roberta puts a fun spin on everyday advocacy, hosting a podcast that dissects movies and TV shows featuring interior designers, and discussing how they do or do not represent the reality of the profession.
Over the years, Roberta has touched many lives through mentorship and community involvement. She helped develop a mentorship program within Ankrom Moisan, which was successfully adopted across all three offices. She is credited with having a management style that fosters immense and rapid growth in junior designers and making everyone she works with feel valued. She openly shares her personal and professional experiences with others, helping our design community to know we're in this together. Her personal stories bring levity to a seemingly serious, deadline and deals driven industry.
The testimony of those who nominated Roberta for this award in excellence is compelling. From many sources it has been made clear that Roberta is constantly stepping up and helping when needed. That she is dependable and responsible, and always stays true to herself, maintaining a rare authenticity. She embodies everything a leader should be.
With a theatrical background, Roberta brings big ideas to the table and loves to dream of the impossible and work to make it a reality. She also wants everyone to be heard and never shuts anyone down. No idea is a bad idea to her; she welcomes all with enthusiasm and helps to understand why it would or wouldn't work for a project. Her experience in set design and theatre, her sharp wit and legendary sense of humor, and her myriad of extracurricular interests keep her busy. These inform her design directions, and she brings a truly unique perspective to every project she works on. Roberta is an active advocate for interior design. She can whip out her elevator speech to explain to anyone what commercial interior designers do day-to-day and overall. She's a great role model for how to communicate the importance of the role in the industry.
Roberta hails from Youngstown, OH and is proud of her upbringing. When a childhood friend announced that he was hoping to open a community theatre in her hometown, she dove into action. She assisted him with selecting a site and campaigned to the Executive Leadership Committee at Ankrom for use of our VIZ Team Services so that this project could have top tier 3D renderings for their community outreach and funding programs. This project is currently underway.
Roberta is the Geek in the details of interior design. She loves BOMA, egress calculations, technical details, and code compliance. She is exceptionally educated and experienced in these areas. These interior design skillsets provide great contrast to the universal myth that interior designers' only skill is to "pick out" finishes. Roberta takes every chance she can to challenge the many misconceptions of the interior design industry, through conversation, podcasts, educational campaigns, advocacy and leadership. She slays misconceptions with her quit wit, expertise and signature charm. Through seeing commercial interior design as having an impact on the humans that interact with the spaces that we create, she is forever a spokesperson for design, its importance and the impact it has on our community.
Roberta has clearly impacted the industry by inspiring those around her and has already made an indelible difference to the profession of Interior Design, as well as to the people she encounters in her advocacy and playful approach to life.
View her IIDA Oregon Chapter video feature and be sure to check out her podcast @starchitectspodcast.
content provided by IIDA Oregon Chapter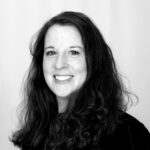 edited by Kerstyn Smith Olson, Content Coordinator
FILTER
SEARCH
This search form (with id 2) does not exist!
Living Our Hows (2 of 6): Have Fun with It
October 12, 2022
Working Playfully
Ankrom Moisan takes our Hows very seriously. Our Hows are the values by which we work and play. This post explores Have Fun with It and is one of a six-part series that touches on our Hows and the way they come to life at AM. Stay tuned for future blog posts revealing more about AM's Hows.
Roberta Pennington, Senior Associate Interior Designer at Ankrom Moisan, also currently holds the title of Vice President of Advocacy of the IIDA Oregon Chapter, as well as the illustrious honor of Judges Choice at Rose City Comic Con Cosplay Contest. Roberta has been involved in IIDA for quite a while; a dozen years ago she was President of the Oregon Chapter, and in the intervening years she has forged many connections and continues to advocate for better legislation for the Interior Designer profession. She is passionate about the spirit of collaboration, solving problems, and doing it with flair.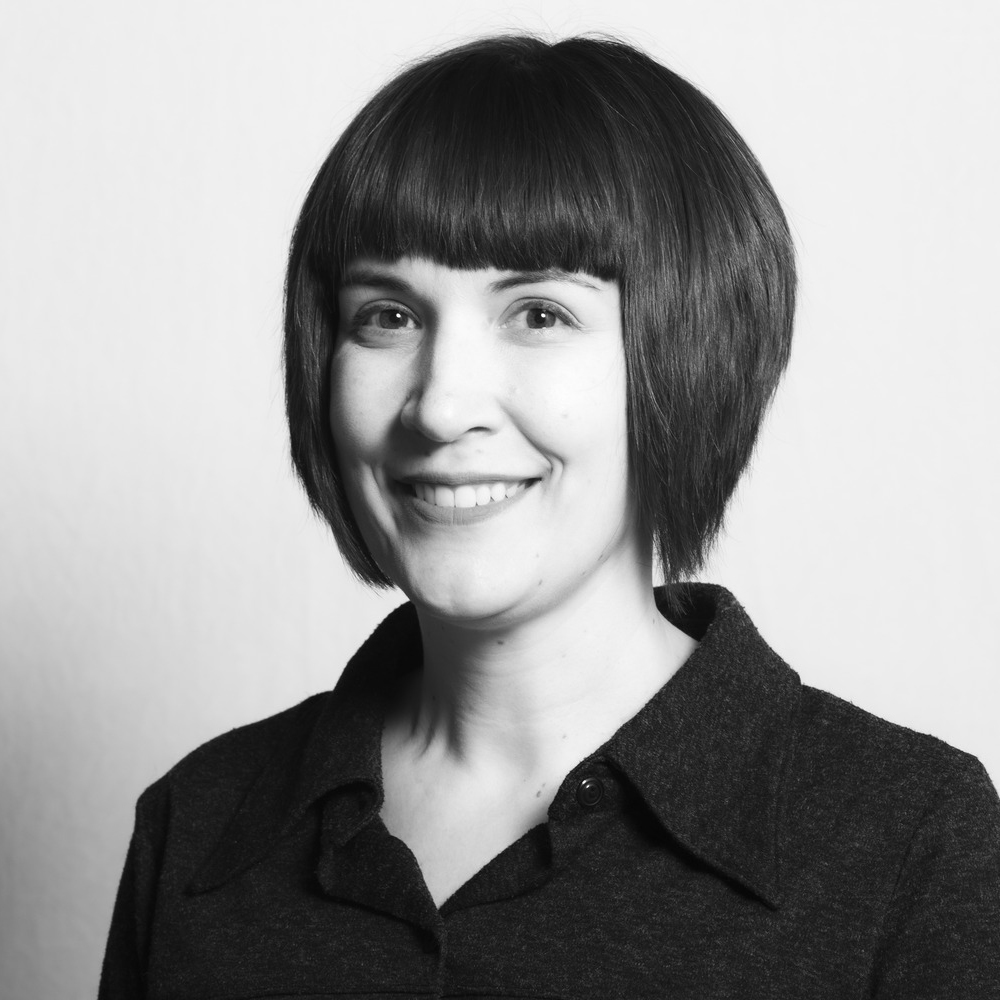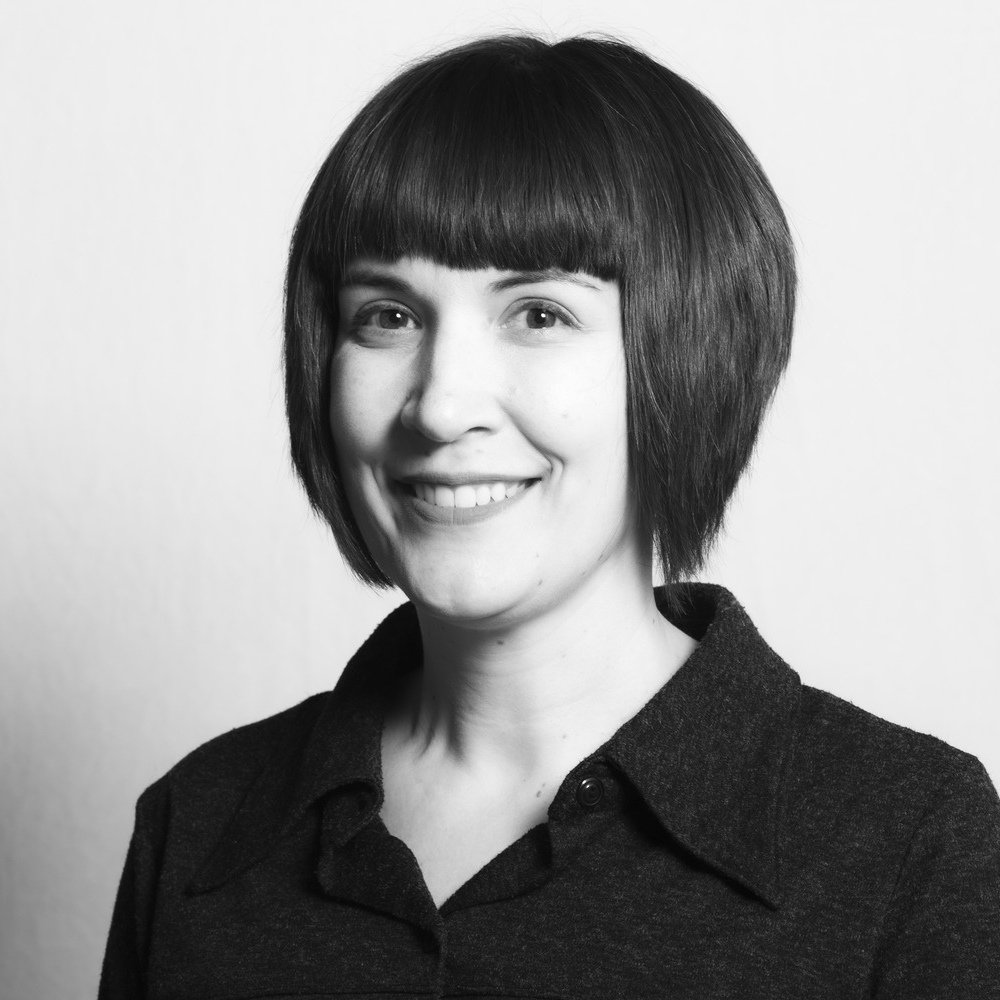 Roberta Pennington, NCIDQ, Senior Associate
Roberta used to do theatre set design where she earned a scrappy, can-do, go-get-em attitude that has translated quite well to her career with interior design. She prides herself on her spry professional reflexes, and ability to maintain a friendly, approachable, and collaborative attitude, especially when drumming up interest and activism for her chosen vocation. While the ofttimes heavy subjects of laws, law-making and legislation can be overwhelming and at times dry, Roberta has found that the advocacy that she's so passionate about brings folks together, and that the Oregon Chapter is a unique bunch. Sandwiched between two large chapters of WA/ID/MO/AK/BC and Northern and Southern CA, the Oregon Chapter is unapologetically themselves, different from the rest. Similar to AM the Oregon Chapter promotes fun and people connection in their pursuits.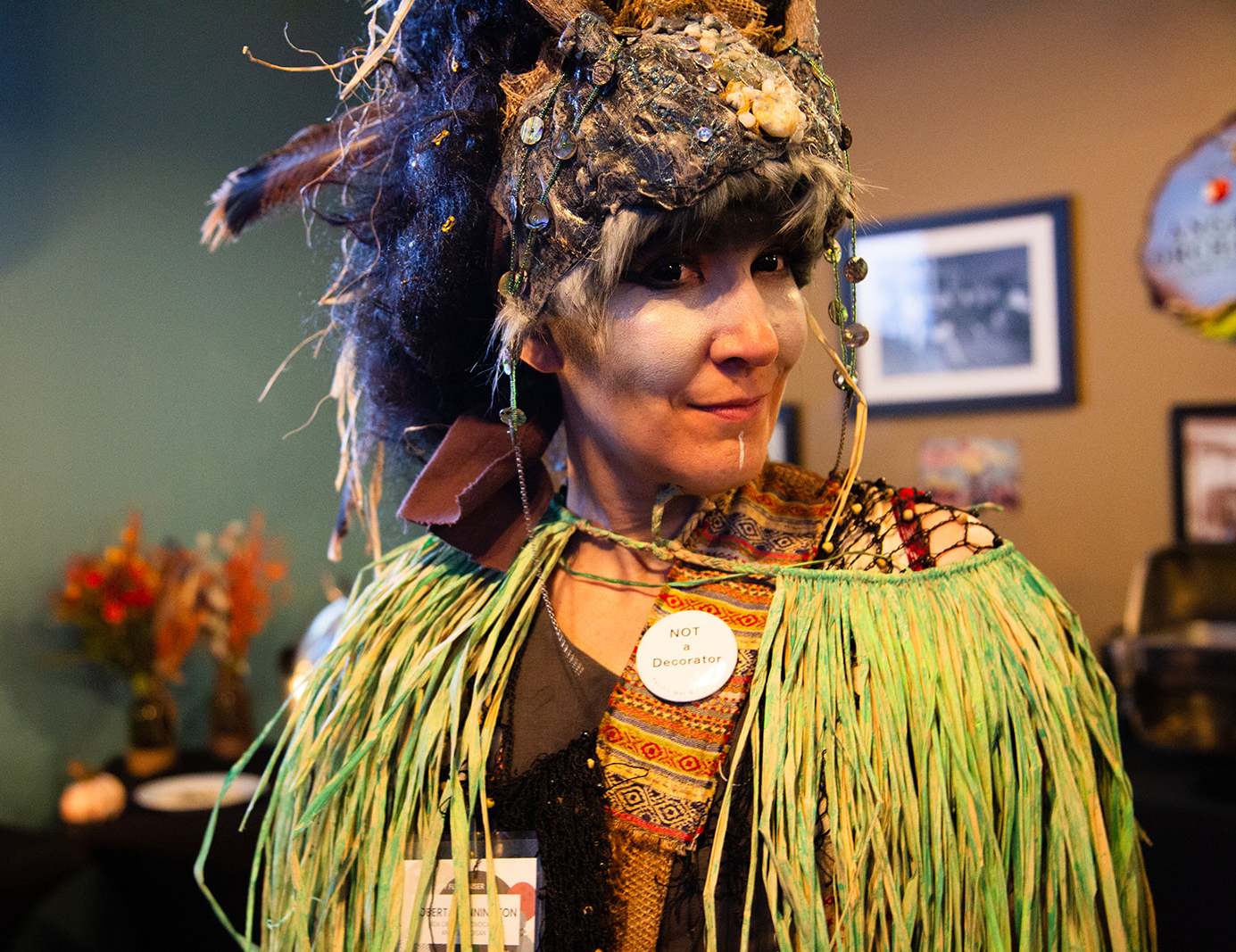 Roberta Pennington in her skogsra costume
Case in point, recently Roberta was at the helm of the IIDA advocacy fundraiser, Once Upon a Time… We Bowled! at a local bowling alley in Southeast Portland. IIDA members got together to raise funds for the advocacy of interior design regulation and legislation. Members donned their favorite fairytale and fantasy-themed costumes (think Ren Faire, and Comic Con), enjoyed good food, great company and bowled frames together. There was a large raffle, community, and much camaraderie with colleagues. Roberta enjoyed the connections she was making and renewing and mingling while dressed in her skogsra costume. There was a large picture frame photo op, where participants showed off their best costumes and their advocacy support with signs with slogans like "We Support Interior Design Advocacy Because…" with an invitation to fill in the blank. There was a legislator lookup station where stamped postcards to state representatives were provided, since local politics are of the upmost importance when trying to affect change. This event proved to be a quirky blast; hugely successful in community outreach and advocacy, fun had by all.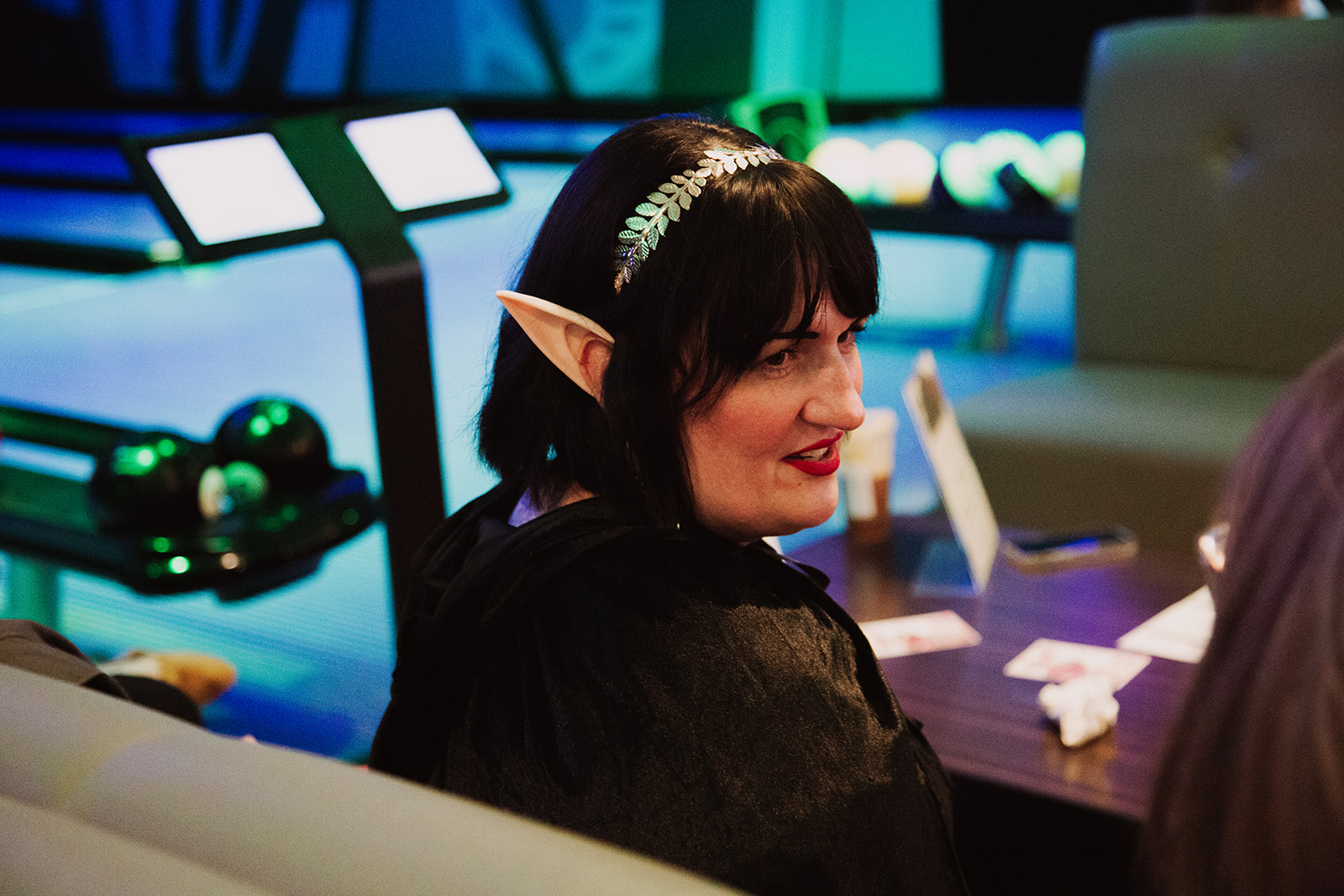 A designer sporting elf ears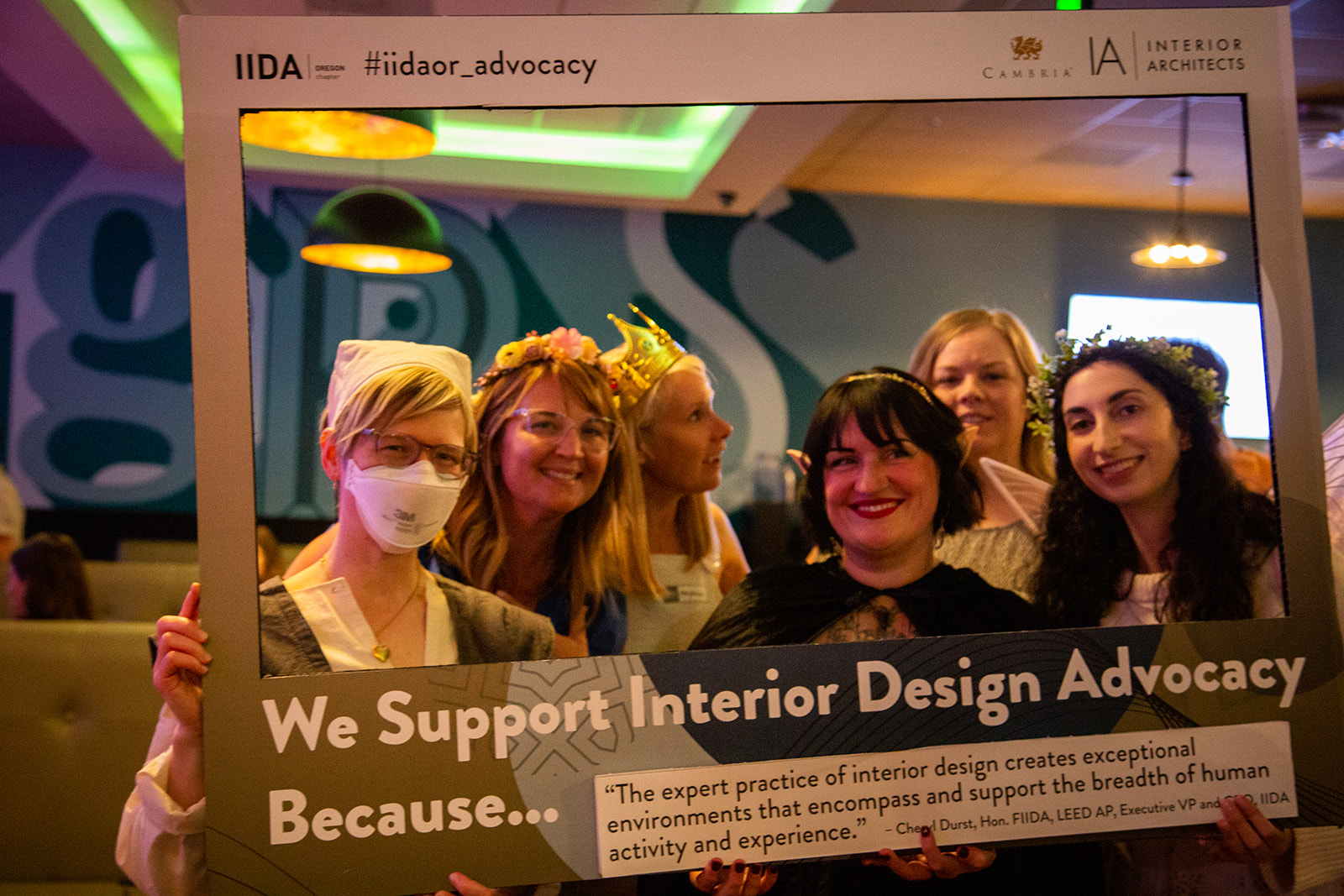 Interior design advocates unite!
All this to say, Roberta embodies the value of Have Fun with It in many facets of her life. You too may create opportunities to dress as a fairytale creature in your professional life.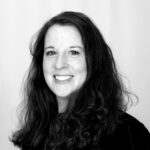 by Kerstyn Smith Olson, Content Coordinator
FILTER
SEARCH
This search form (with id 2) does not exist!
Living Our Hows (1 of 6): Embracing Change
October 5, 2022
Hybrid Meeting Spaces
Ankrom Moisan takes our Hows very seriously. Our Hows are the values by which we work and play. This post explores Embracing Change and is one of a six-part series that touches on our Hows and the way they come to life at AM. Stay tuned for future blog posts revealing more about AM's Hows.
With hybrid workplaces becoming a universal work experience, the technology and resources available to support this new way of working have been catching up. Manufacturers are increasingly offering furniture and technology solutions designed to support inclusivity, equity, and enhanced acoustics in a hybrid work environment.
Through user-centered design solutions and seamless integration, hybrid meetings can be inclusive, equitable, and productive. Meetings, events, and brainstorming sessions allow both remote and in-person participants to feel like they are in the same room and equally a part of the conversation. With more and more meetings taking place virtually, the need for a quiet space is crucial. Furniture pieces with total acoustic separation from the rest of the office provide a separate and quiet space.
Ankrom has begun to update our office space to better suit hybrid working. We wanted to make updates within our office that combined the furniture and resources we already had with new technology and furniture pieces that we are now seeing in the market. As we began our research prior to making changes, we asked ourselves some of these questions:
How can we upgrade the acoustics to improve sound quality?
How can we create a space that evenly distributes light to the user?
Is there a way to add an element of privacy to an already existing room?
With these questions in mind, we began to develop ideas for three new space typologies: hybrid meeting spaces, individual Zoom rooms and Zoom pods.
Access to hybrid meeting spaces equipped for virtual meetings is essential. Working closely with our IT team, we created conference rooms that can easily accommodate virtual meetings with new technology such as newly installed smart cameras and larger monitors that are compatible with iPads and laptops to easily control these meetings.
Next, we honed in on individual Zoom rooms, which originated as our "phone rooms" with nothing more than bench seating and a side table. We modified these spaces to include a desk and monitor to provide access to virtual meetings along with upgraded acoustic properties.
Lastly, we have begun to place small "pods" throughout the office to create a space for an employee to sit down and take a quick call.
Through trial and error, we have created a great system for each room that is used for virtual meetings including external mics, higher quality cameras, ring lights, and new acoustic panels on the walls, all with comfort and accessibility as our top priority. Today, we must adapt to hybrid workplaces and embrace change.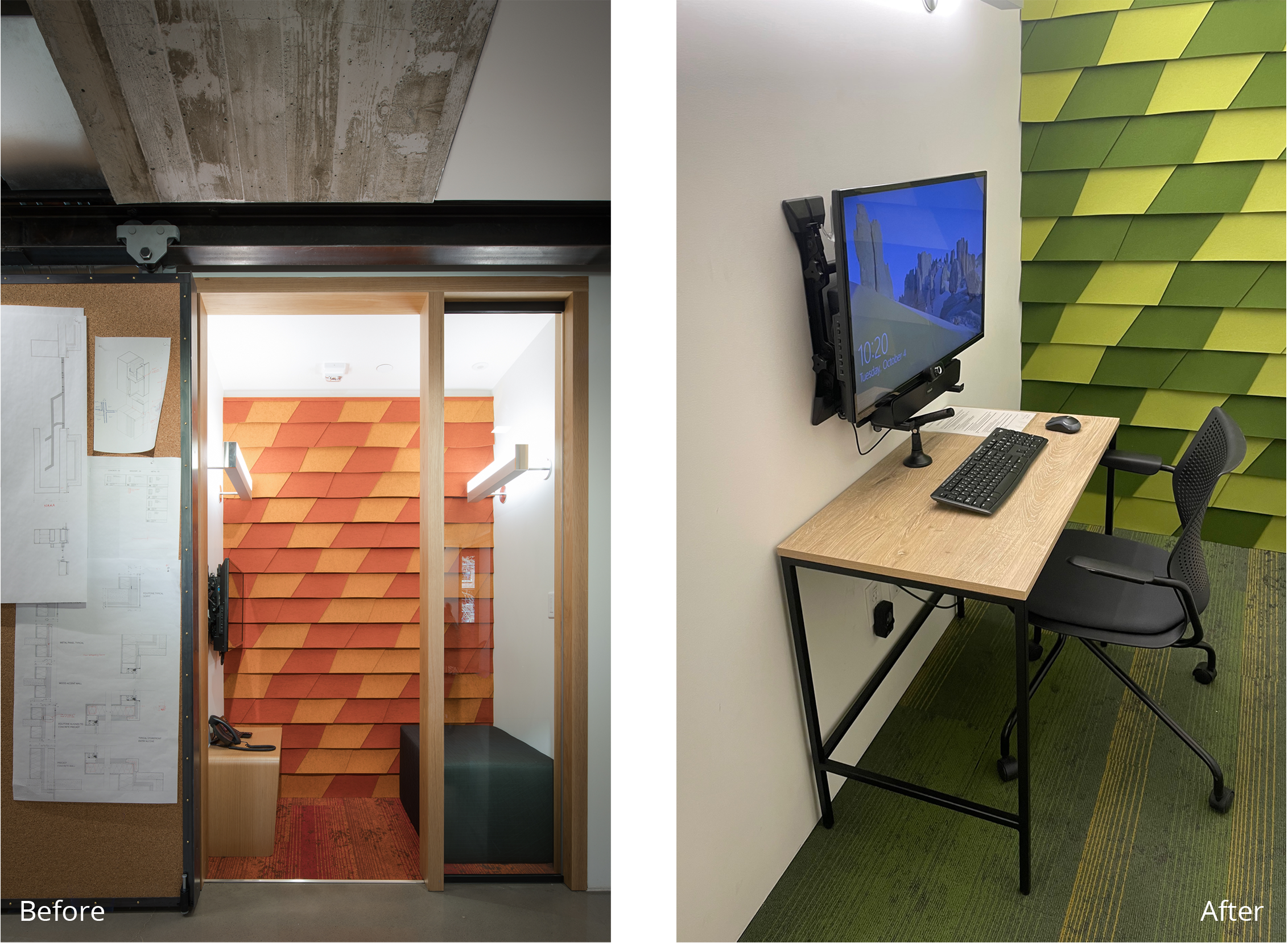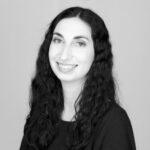 by Jessica Kirshner, Interior Designer
FILTER
SEARCH
This search form (with id 2) does not exist!
Mass Timber: Harder Mechanical
September 1, 2022
Timelessly Modern
A fifth-generation Portland family business, Harder Mechanical needed a new, modern headquarters to last them for another 80 years. Because reinvention tends to be part of their business—they gain expertise in the newest processes, be it mill work or high-tech manufacturing, and periodically transform themselves along the way—they were looking explicitly for an innovative showcase office.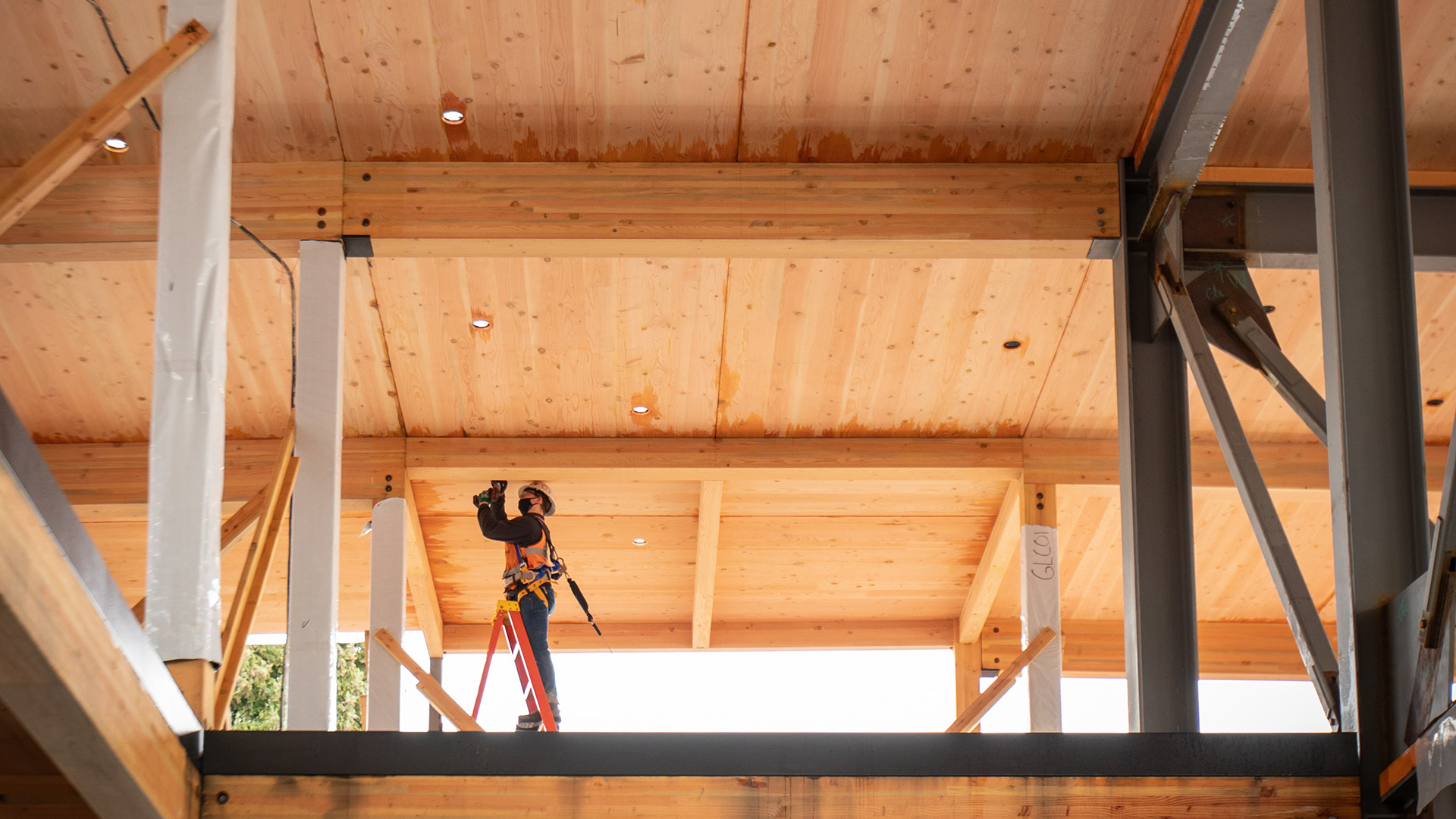 Harder Mechanical building needed to stay rooted in the past while being built for the future. Because the owner is a mechanical and plumbing subcontractor and will self-perform their own scope, the Harder team became an integral part of the design process.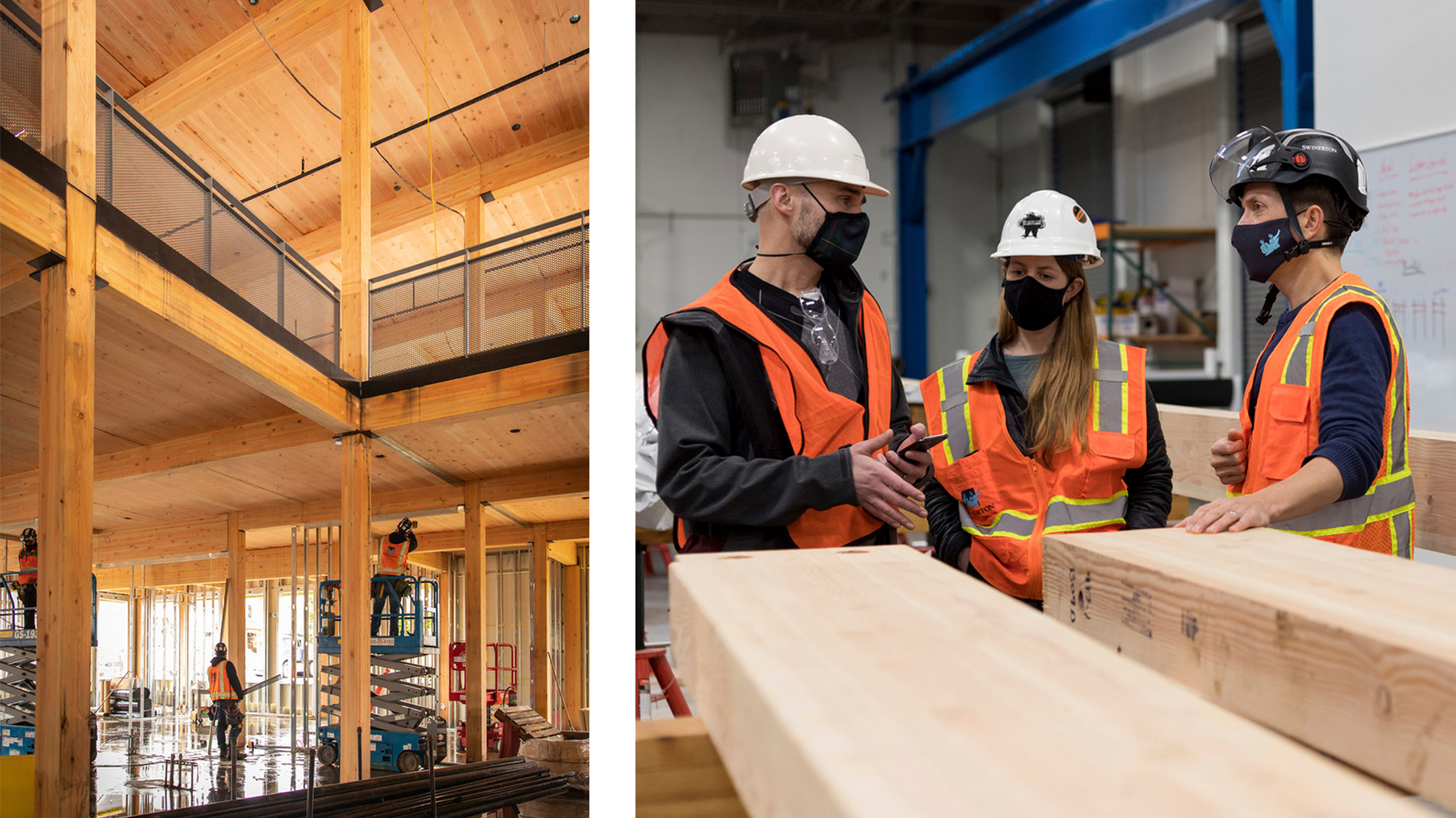 After learning who they are, how they view their work, and what they needed in a collaborative working session, our design encompasses a beautiful, durable brick building using renewable cross-laminated timber (CLT).
Their desire for an innovative approach—to not only the design but also the design process—led to an adapted integrated project delivery method. This allowed for close collaboration with Harder, the General Contractor, Swinerton, and their trade partners to achieve efficiencies and innovative construction methods that meet both design and construction goals.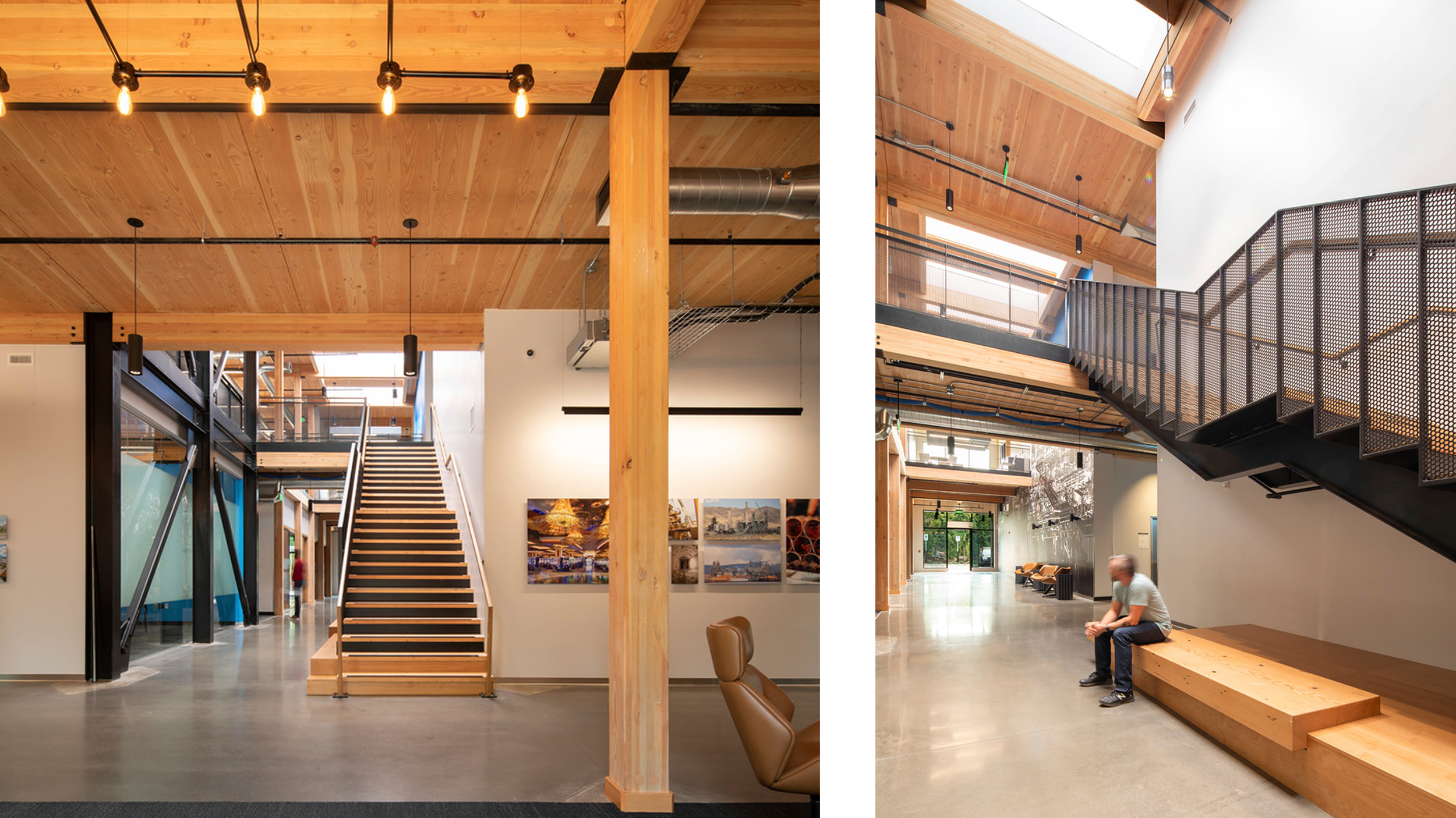 The wish to showcase Harder's own work and innovation led to exposed ceilings and exposed structure and mechanical systems. It is here where the Cross-Laminated Timber (CLT) structural system became a central design element. Utilizing Swinerton's expertise in this area, the CLT simultaneously provides environmental benefits both to the occupants and in broader terms, along with time and cost saving installation.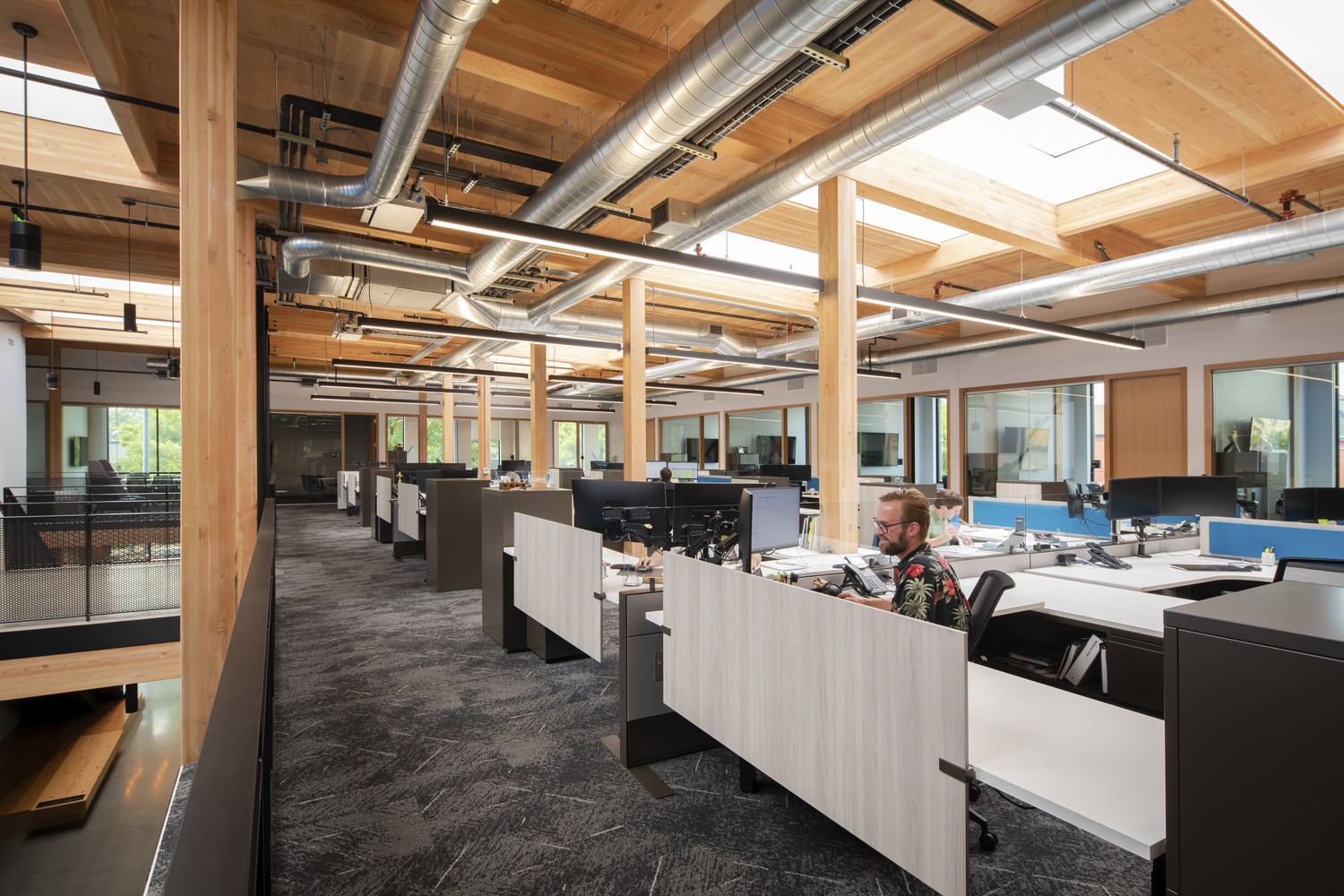 Externally, the company's rich history combined with the historic neighborhood led to the selection of both a durable and beautiful dark brick facade reminiscent of the surrounding context. This traditional material paired with a contemporary aesthetic allows the building to become part of MLK's future whilst respecting its past. The building will last for decades, aligning with and improving the Elliott neighborhood in a way that's both timeless and exceedingly modern.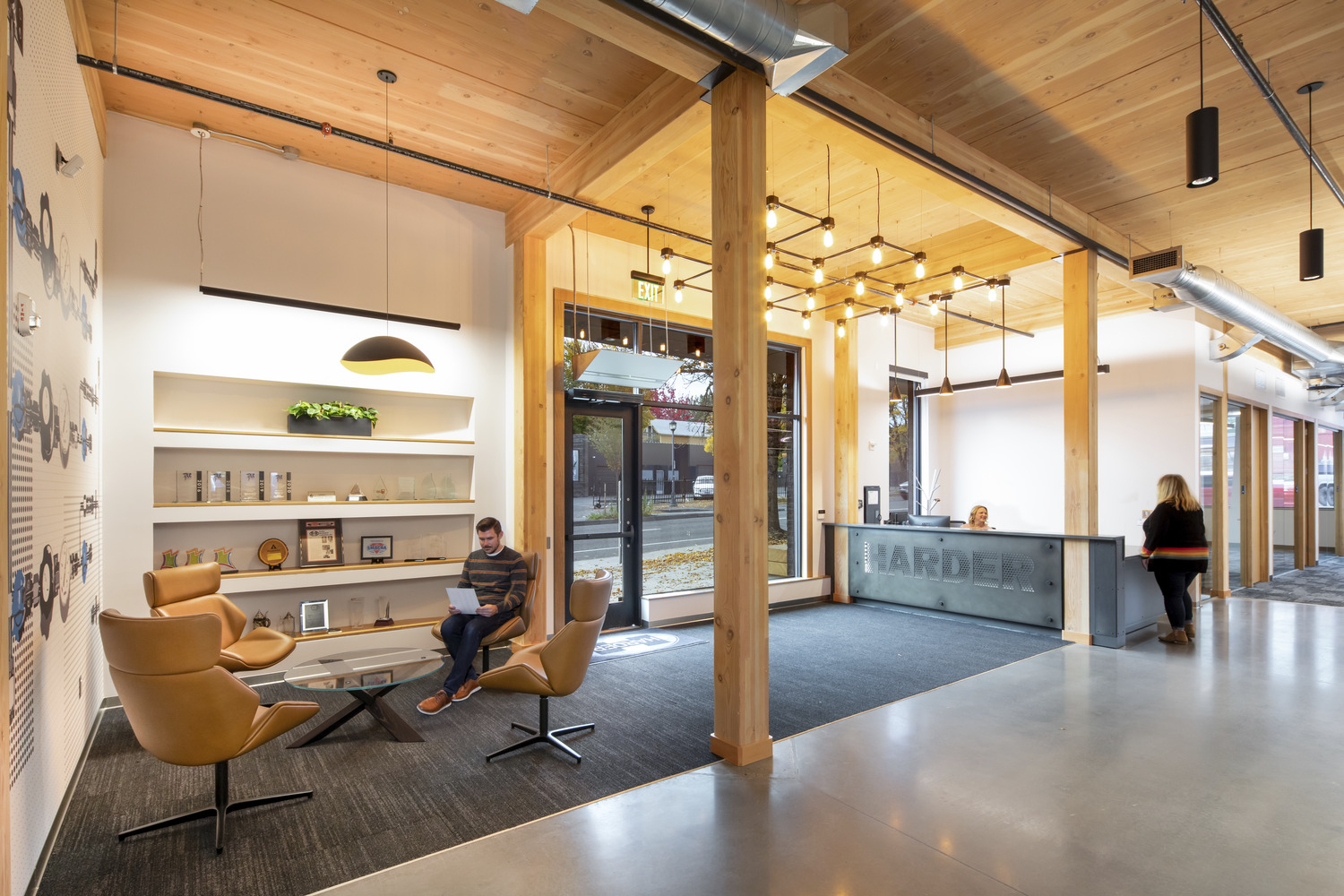 FILTER
SEARCH
This search form (with id 2) does not exist!
Mass Timber: Moda Tower Lobby
August 19, 2022
Activating Public Art and Springtime Through Renovation
For our first mass-timber curtain wall in Portland's Moda Tower, our goal was to design a canvas that activates the new public art at its heart. Effectively renovating a lobby for public art means more than just designing a white gallery box. The renovated lobby space requires a design that both elevates the artwork and functions for practicalities like circulation, lighting and climate, and code.
Before, Moda Tower's lobby was like many others: small, dark, and relatively constricted. After decommissioning the long-standing previous artwork, we enlarged the lobby and its windows, and replaced the dark, dated floor with bright, crisp materials. The new 30 ft mass timber curtain wall is punctuated by wood-accented and fresh white walls. Warmth and light now invite visitors entering the lobby.
More than just a neutral background, the renovated Moda Tower lobby and our mass timber curtain wall are integral parts of the featured artwork, "Canopy" by Portland-based artist Joe Thurston. Coordinating with our client Unico Properties and Thurston, our team created a lobby redesign that captures the artist's idea of a springlike forest canopy – the feeling of trees reaching toward each other against the sky.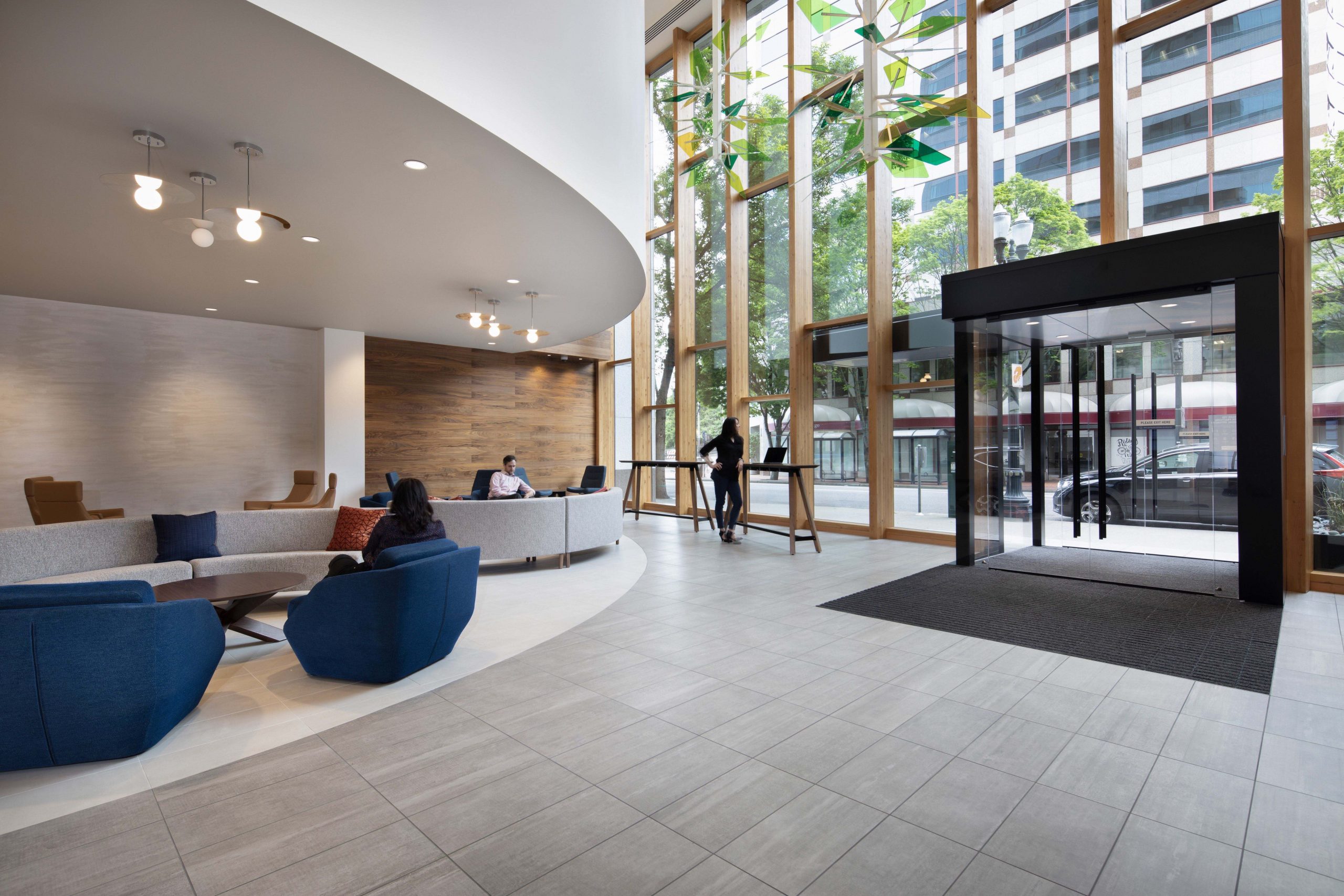 We want visitors to look up as they enter. The glass leaves of Thurston's tree-inspired artwork hang from the lobby's ceiling 30 feet up, spotlighted by our expansive, not-quite-neutral gallery space. Outside, passersby are treated to a bright, vibrant extension of Portland's forests. Using mass timber and other wood accents brings a unique natural beauty and warmth that flows through the space. Within the lobby, people should pause, even momentarily, to look up and find something unexpected.
FILTER
SEARCH
This search form (with id 2) does not exist!
Spotlight: Intern Jules Stafford
August 9, 2022
An interview with Jules Stafford, Summer Intern at Ankrom Moisan
Q: Tell us what you learned through your summer internship at Ankrom Moisan.
A: This summer, I've gotten the chance to work on so many different projects, participate in client meetings, go on site visits, and get to know some wonderful people. I've learned so much this summer, but one of the biggest things I've learned is how to be the best designer I can be. I've learned to step out of my comfort zone and be open to new experiences and lessons. I hope that as I step into my career I will continue to learn; pulling from all of the lessons and experiences I've had here at Ankrom Moisan!
Q: What was the biggest surprise you experienced?
A: How welcoming and kind everyone I met has been! I was definitely intimidated to walk into a large Architecture and Interior Design firm as a summer intern, but all of the designers and architects have been so kind. I remember walking in on my first day and it was as if everyone had known me for years. Everyone is ready to jump whenever I have any questions, ask me for my opinion, and trust me with decisions. They have become great mentors and have treated me so extremely well. It's been such an amazing surprise.
Q: What story do you think you will tell all of your classmates?
A: At George Fox University, we have a tight knit group of Interior Design majors. My cohort is small, but we're growing, so I want to give reassurance to my peers.  As students, it can be overwhelming to walk into a firm and need to learn so many new things, so fast. Suddenly you're aware of just how much you don't know. So, a story I would tell my peers is how I've learned, despite my fears, that I am capable of so much. We are learning exactly what we need to learn. All the projects and homework is so helpful and valuable. I'm excited to go into my last year with everything I've learned and work on new projects.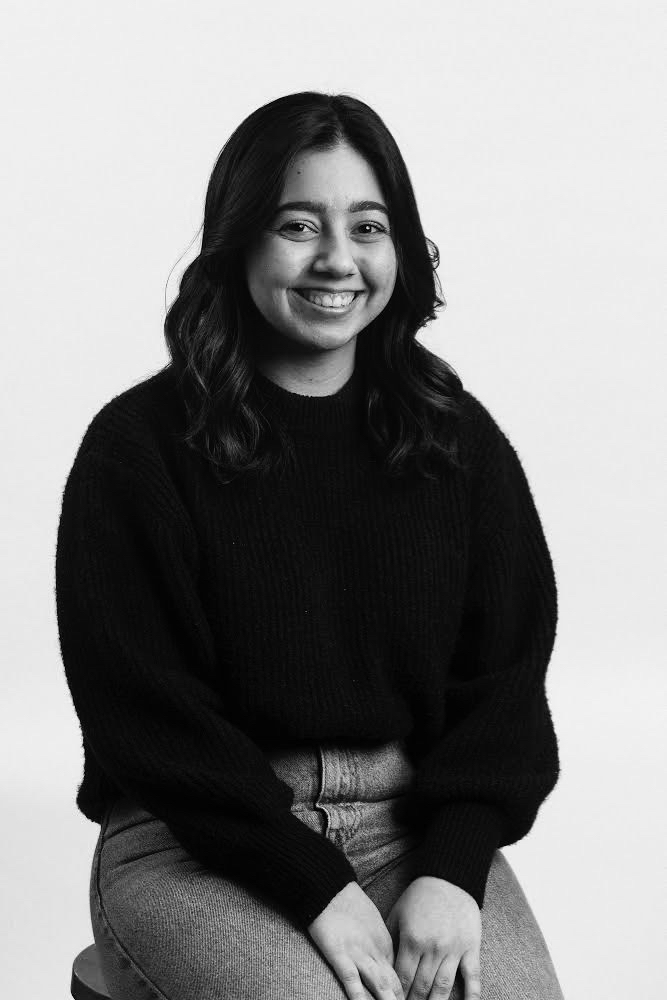 FILTER
SEARCH
This search form (with id 2) does not exist!
Mass Timber in the Office
July 29, 2022
Biophilic Incentive for Showing Up to Work in Person
Intro
It is a challenge right now for employers everywhere to get people into the office. It has us rethinking ways to encourage people to want to physically show up to work. We are envisioning what the office of the future could be, and are considering how to simplify, how to incorporate holistic wellness, encourage connection, and sustainability. Mass timber, used in office building design, meets many of these needs by offering occupants a healthy, efficient, inviting, and sustainable workplace environment. It is not surprising that more businesses are seeking out the benefits of biophilic design and timber-built architecture to pursue and retain their best employees. Locally and sustainably sourced, prefabricated mass timber is not only considered a sustainable building material but can also streamline the construction timeline and decrease the construction budget.
Connection
Researchers suggest that mass timber provides both physical and psychological biophilic benefits that go beyond the warm, natural, and comforting aesthetic appeal of wood. Mass timber reconnects people with nature by bringing the outside into the workplace. The biophilic benefits of timber speak to a person's four out of five senses; one can see the variations of colors and grain within the wood, as well as experience touch, smell or even sounds of the timber.  Wood, as an environmental design choice has been known to reduce sympathetic nervous activity and blood pressure. These sensory cues naturally remind people of their connection with the outside environment and nature. This is important as people who relate to nature often find themselves in an improved mood, feeling more productive, calmer, and experiencing a higher degree of concentration. Mass timber workplaces have been described by occupants as relaxing and soothing environments which in turn naturally ease stress. Employers have reported that they have seen improvement in their bottom line, along with increased morale, fewer sick days, and less employee turnover since moving into a mass timber interior environment. These experiences contribute to an overall healthier workplace.
Wellness
Wood naturally provides benefits that impact our human health. Mass timber has shown to have low VOCs, and that wood can regulate indoor air quality and relative humidity to comfortable ranges for most people. When conditions are dry, wood can release moisture into the air. Similarly, when the air contains humidity, moisture can be absorbed into the mass timber, maintaining a healthier and more balanced environment. Wood is naturally antimicrobial, as bacteria is less easily transferred from wood than from plastic.
Sustainable
Material matters when it comes to a sustainable built environment. When appropriately and efficiently sourced, wood is a renewable and sustainable material that reduces carbon emissions in the environment. Those seeking mass timber buildings have successfully found that they can substitute wood in place of other construction materials typically used, such as brick, concrete, and steel.
Simplify
Designing with mass timber inheritably simplifies the interior finishes as the wood unquestionably becomes the predominate feature. The ceiling, structural beams, and columns remain exposed without requiring finish applications. The long-spanning structural system of mass timber not only brings nature inside, but additionally, offers ample natural light and easily accommodates both an exposed ceiling design as well as an open office floor plan.
Mass timber simplifies and decreases construction cost and schedule. Because mass timber is lighter in weight than steel and concrete structural counterparts, often smaller and less expensive foundations and other structural components are required. By constructing with prefabricated timber, which increases efficiency, the labor needed on-site decreases and saves on overall costs.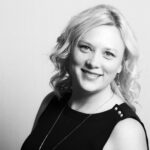 by Kim Gonzales, Senior Associate / Interior Designer
FILTER
SEARCH
This search form (with id 2) does not exist!
Celebrating Earth Day
April 22, 2022
Materials That Make an Impact
Our Workplace Design Team is highlighting our integration of salvaged products and materials to celebrate Earth Day! We intentionally source and specify materials made with recycled content and naturally renewable resources in our projects. Beyond these materials there's an abundant opportunity for reusing products that have already been manufactured, this keeps new items out of the landfill and is less energy-intensive than reforming old into new.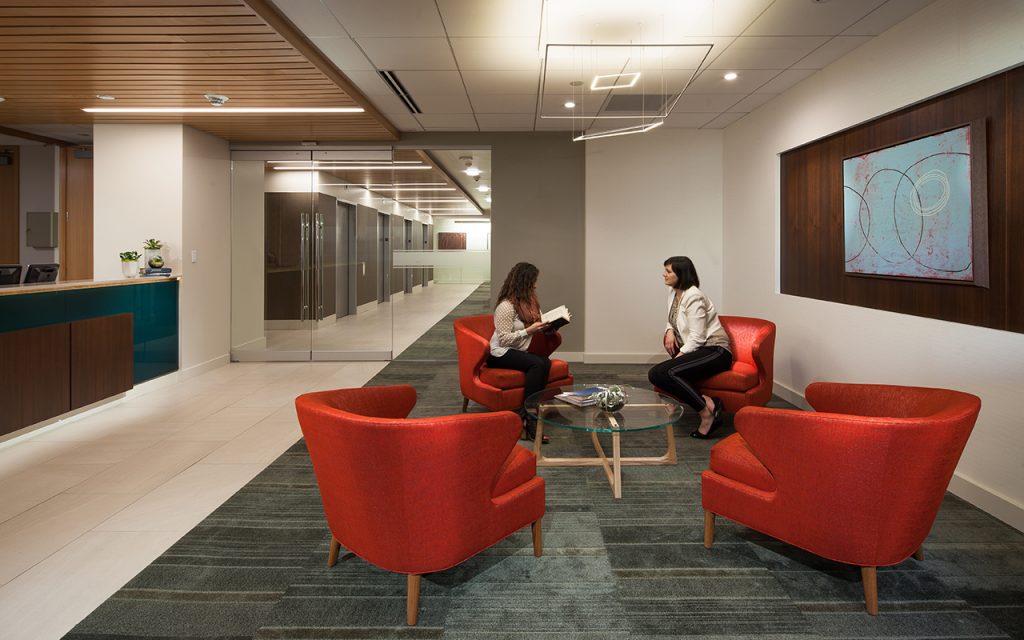 Salvaged goods are not always an obvious choice. A client, in financial services, was consolidating their office space in Seattle, which meant they had a lot of surplus furniture in great condition. The design team took inventory of the existing furniture and strategically incorporated over 140 pieces of furniture throughout multiple floors of the office space. This included conference chairs, task chairs, lounge furniture, and break room furniture. All of the unused furniture was donated to Green Standards to be resold or recycled. This project achieved its LEED certification in 2019!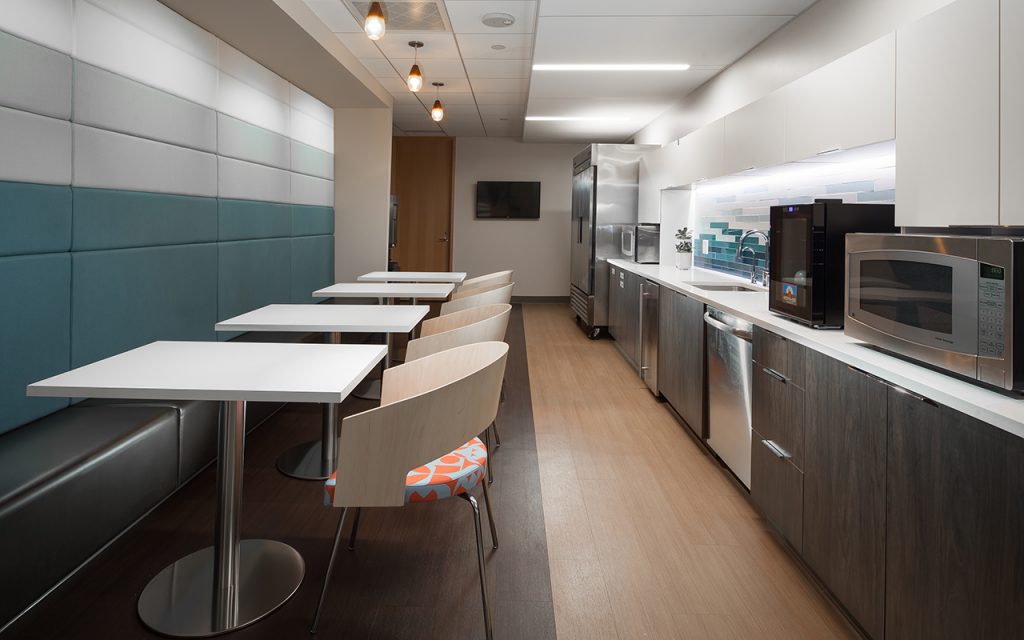 Incorporating salvaged or unconventional materials in tenant improvement projects with fast schedules and tight budgets is the challenge we are looking for! For a project with Los Angeles Sanitation, we brought the concept of recycling into the design. Our designer researched recycled materials and discovered an artist who uses metal cans to create artwork. To exhibit this artwork, the designer, in collaboration with a casework fabricator, created a decorative panel to be installed into the face of the reception desk. A quote from the artist was included in the bid documents to make pricing by the contractor a breeze. Thoughtful planning and smart design allowed us to seamlessly incorporate a design element that reflected the client's values. This was a success for all.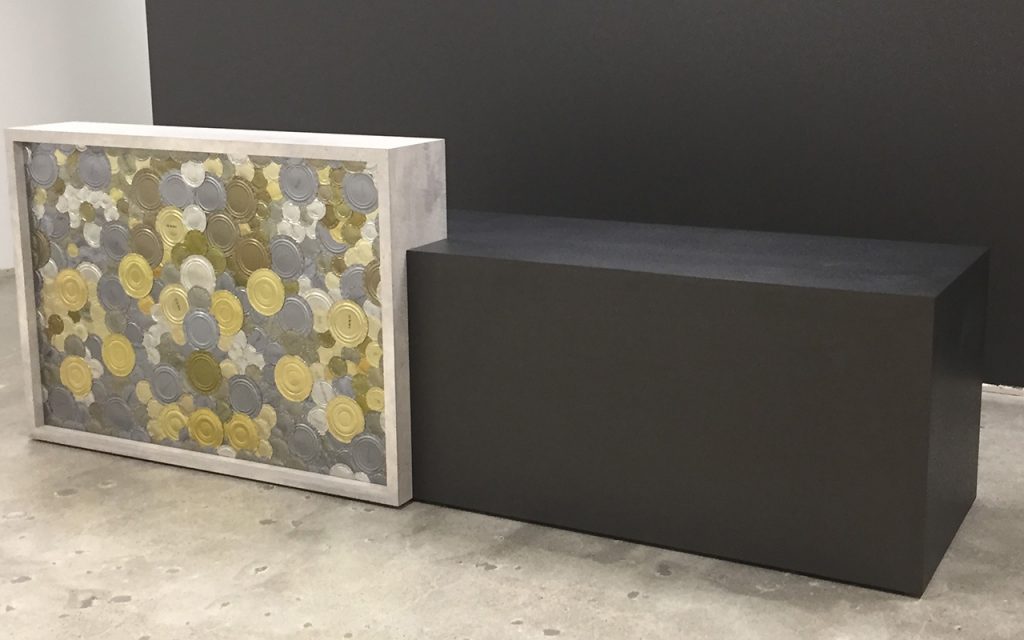 At 38 Davis, our firm's office in Portland, we concepted our design to reflect our values. Sustainability and environmental stewardship are at our core. This is demonstrated by incorporating salvaged wood, from Pioneer Millworks. The salvaged wood material was applied in multiple locations – from ceiling clouds and wall cladding in the conference rooms to rolling benches and booth seating backs in our entry area. The selected wood contrasts the mass-timber construction, while maintaining the warmth and texture only wood can bring. The final project achieved LEED v4 Gold.
FILTER
SEARCH
This search form (with id 2) does not exist!
Interior Design Camp
March 30, 2022
Inspiring Young Designers
One of the most rewarding aspects of my career in interior design is sharing it with young people. Many years ago, when my, now, college-age daughter was in elementary school, she expressed an interest in interior design. I said "Great – let's find a summer camp so you can explore more!"  Well guess what? There were ZERO interior design camps in the Portland area. This was quite a surprise considering what a creative city Portland is. Fortunately, I had a 4-week sabbatical coming up – and an idea was born.  If there weren't any interior design camps in Portland, I'd create my own! After all, my daughter can't be the only young person interested in interior design.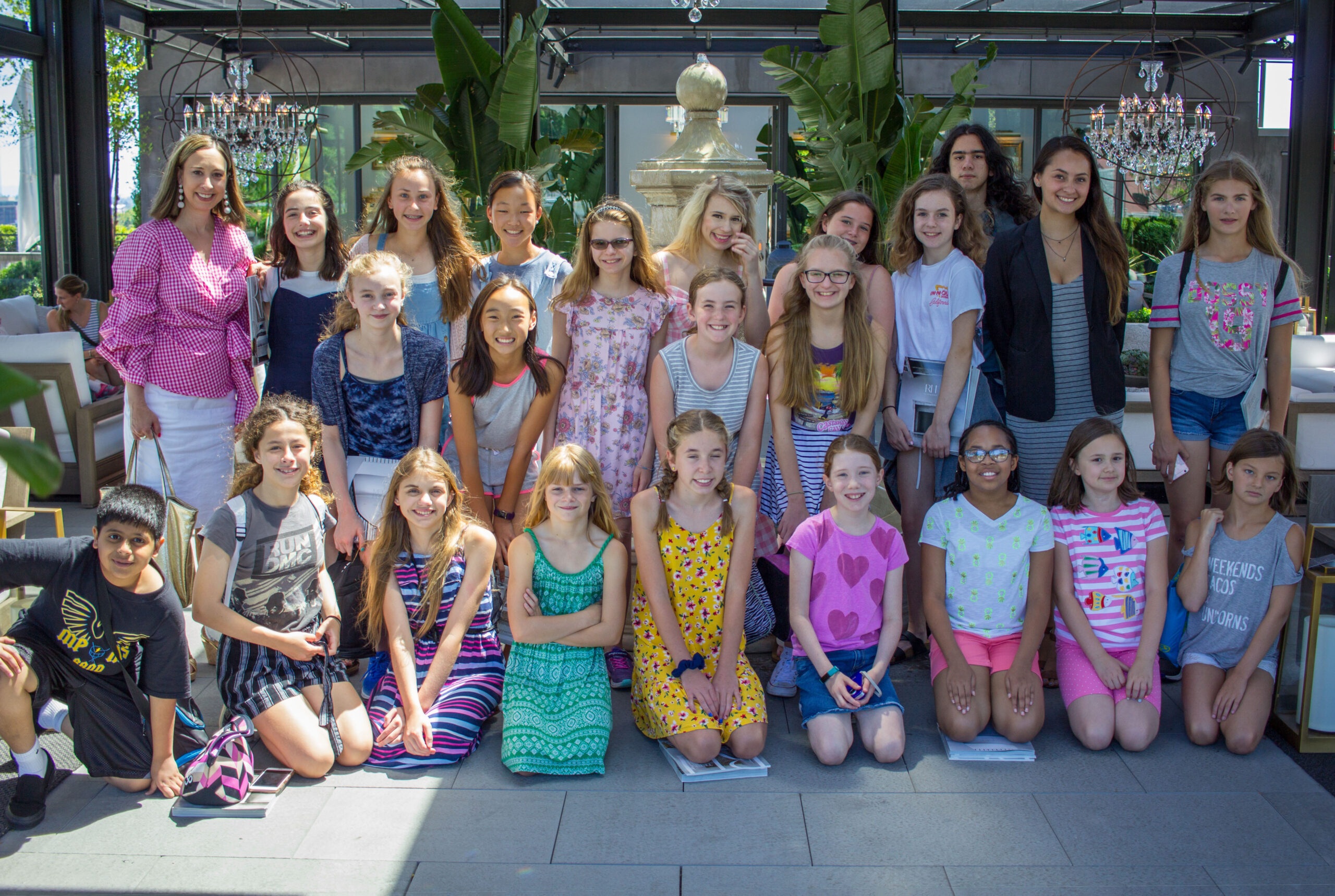 My sabbatical began and I got busy. Interior Design Camp flyers were sent out to the community and local schools. To my surprise and delight, I got a strong response. Camp was booked solid! Kids were excited! They had been looking for a camp like this!  Our tiny home was quickly transformed into a design camp. Worktables went up in the family room and our kitchen was transformed into a sample library.  For two wonderful weeks that summer our house became what I call a "beautiful mess."  It was crowded, there was very little workspace, but the kids were excited, talented, and caught up in the joy of creating their beautiful projects. I realized I happened across something special.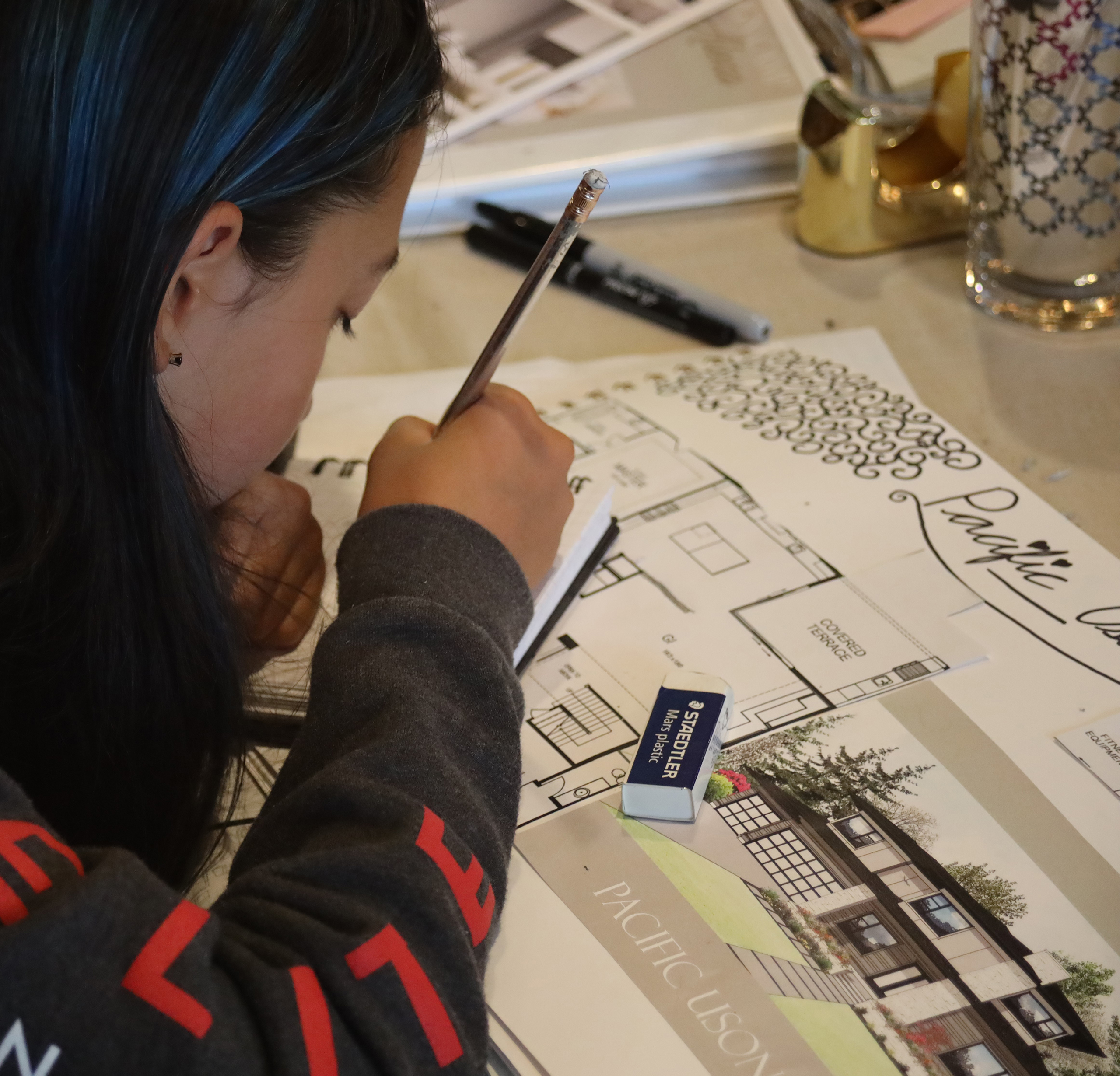 Over the years Interior Design Camp continued to grow. As word spread, more and more kids started signing up.  Kids started coming from as far away as San Francisco, Seattle, Eugene, and Bend to attend.  I very quickly moved camp to a larger space – my parents' home. The week-long summer camp continued – offering kids an overview of interior design. They explored everything from concept development and space planning to finish selection and furniture. I also started adding 1-2 day camps throughout the year with different themes. From Designer Dollhouse to Wedding Design to Fixer-Upper – you name it, there was a camp for it.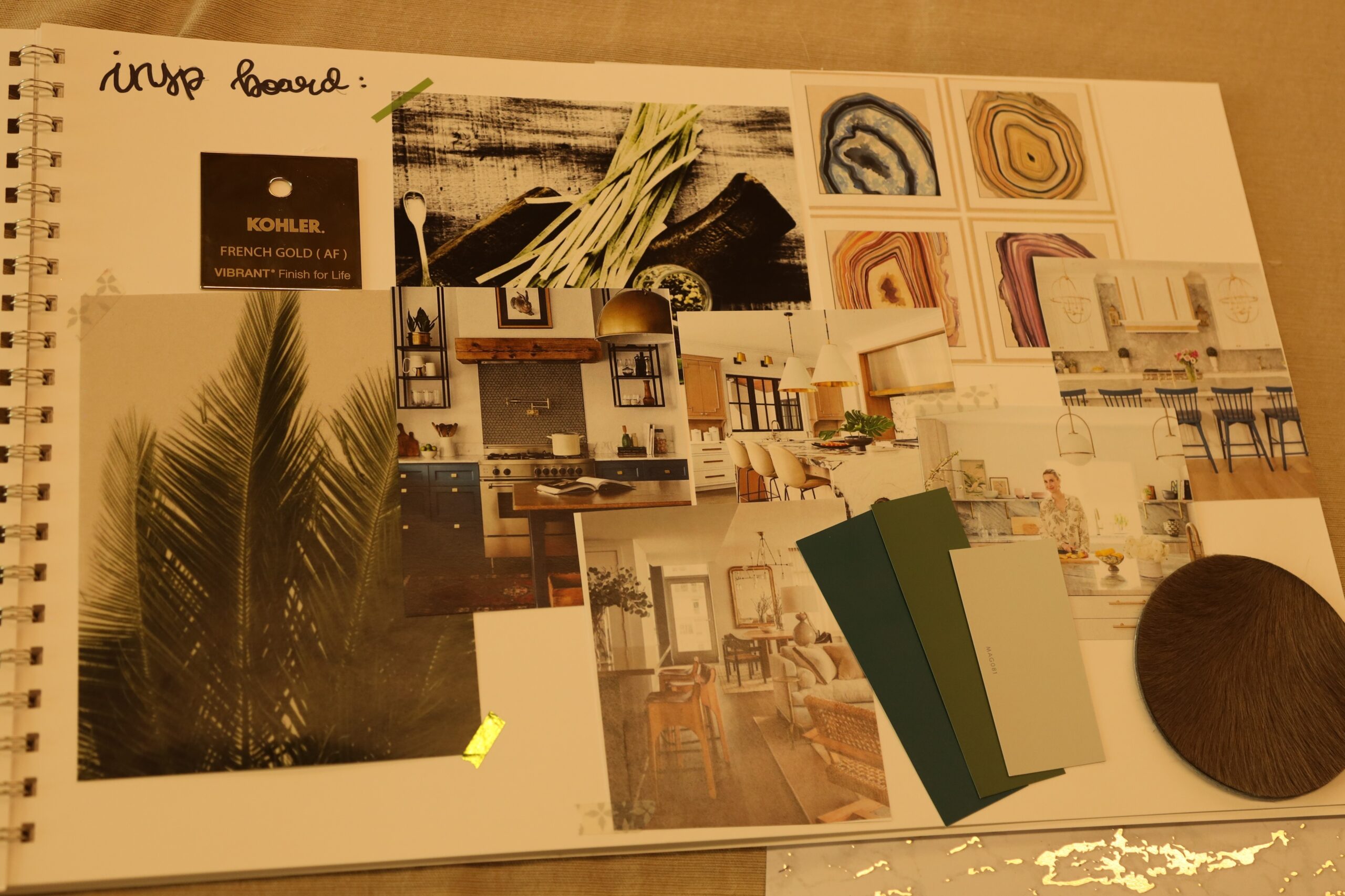 From its inception, the support the Portland design industry has given this camp is incredible. From showroom tours to providing samples to giving presentations, the industry has always been welcoming and supportive of these young creatives. I think it is as rewarding for them as it is for me! Some field trip highlights over the years have been touring the RH showroom, meeting with the display designer at Anthropologie Portland, visiting the slab showroom at Architectural Surfaces, and exploring the plumbing fixtures at Kohler's Signature Store. (the Bluetooth toilets were the highlight of camp that year!) We also visit Ankrom Moisan each year, where the young people get to explore the amazing workplace and interiors library as well as hear presentations from Ankrom's talented interior designers.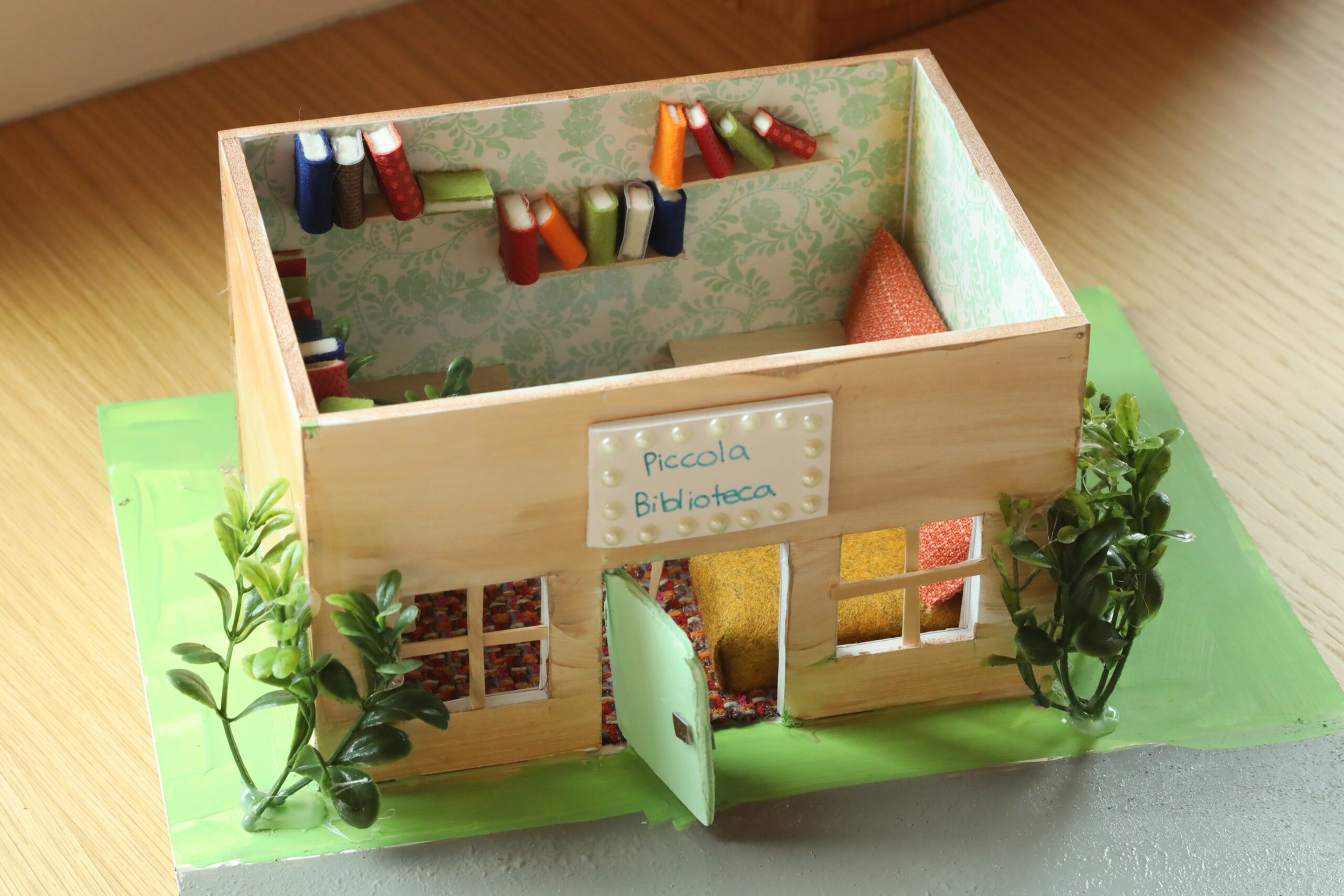 The Camp was growing and flourishing. Then, in 2020, the world shut down. Young people transitioned to online learning and summer camps closed. But as we all learned to adapt and work in a new way, I realized that design camp could adapt as well. So once again I got busy. I sent out flyers asking if anyone wanted to attend a Virtual Design Camp. The response was overwhelming. Kids were stuck inside, they were bored and they wanted to be creative and continue to explore interior design.  Interior Design Camp transformed into an online camp. Students received a "Design Kit" in the mail prior to the start of camp containing all their project materials for the week as well as a mini sample library of their own. The first day of camp we all jumped on Zoom and I was thrilled with what I saw. Each student had taken their design kits and set up their own design studio at home. They were excited to be there and ready to create! We learned about design and completed and shared our projects throughout the week. By the end of the week the kids were putting together digital design presentations and presenting them to the group over Zoom. My SUV was transformed into a "Mobile Sample Library" and could be seen zipping around town between our Zoom meetings. It was like curbside delivery – but for samples. Although Virtual Design Camp was not the same as being together in person, it gave us the opportunity to explore design and create beautiful projects even though the world was shut down around us.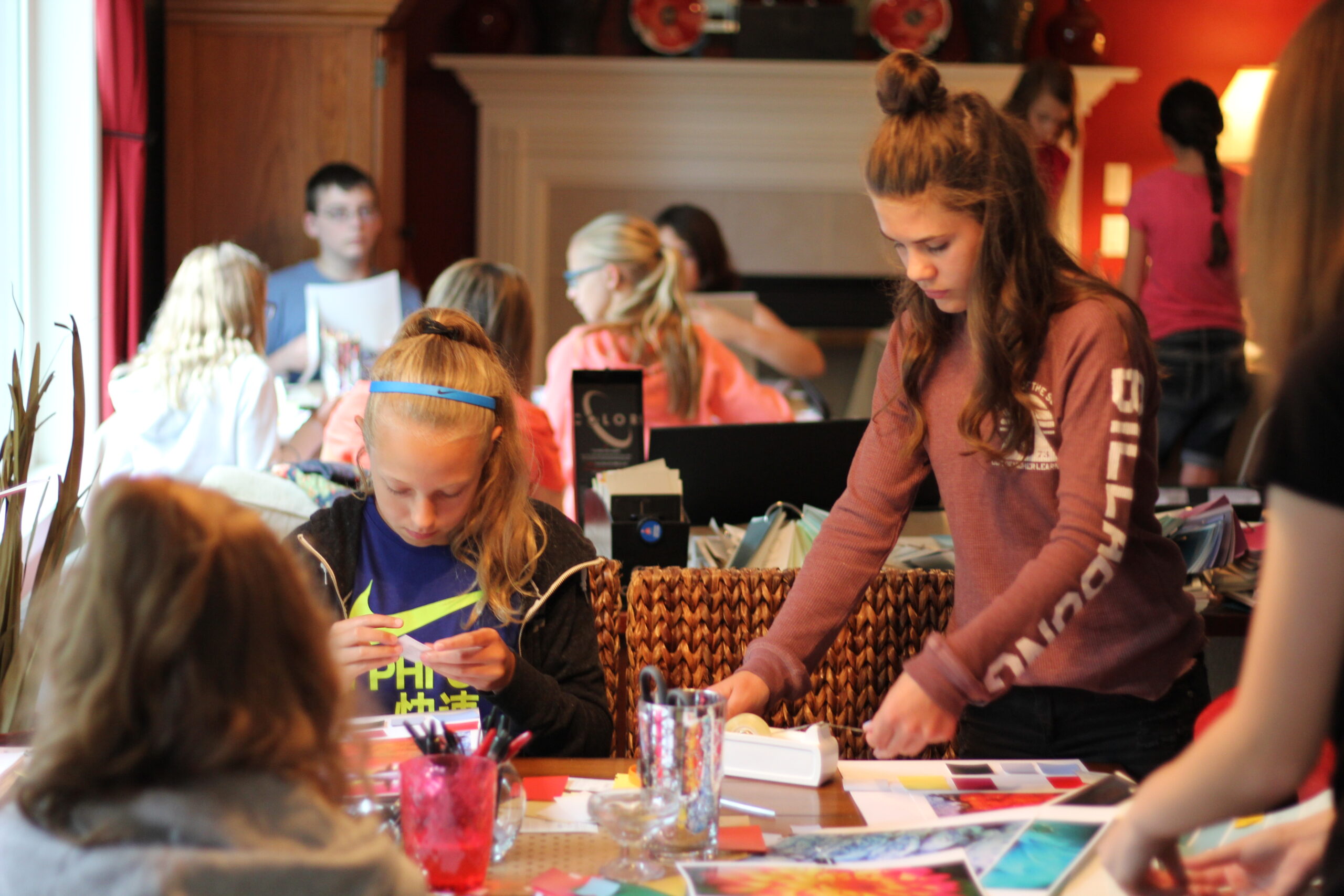 This past year we saw another exciting evolution of Interior Design Camp. Ankrom Moisan generously opened its doors and invited us to hold camp in their Portland office. This gave young people the unique opportunity to learn about interior design within a professional design office.  Spending a week in such a beautiful, dynamic environment added a whole new layer to the design camp experience. From exploring the design library to having access to digital design tools and utilizing expansive layout spaces for projects, Ankrom Moisan provided an incredible experience for these young creatives.
Creating the Interior Design Camp is one of the most rewarding things I have done. Every year it continues to grow and evolve, but most importantly it continues to inspire young people to explore design and create beautiful projects.
For more information about Interior Design Camp, including how to register for Summer 2022, please contact Beth Rear at bethr@ankrommoisan.com or (503)-516-5219.
by Beth Rear, Interior Designer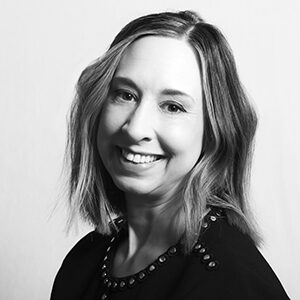 📸  Casey Braunger
FILTER
SEARCH
This search form (with id 2) does not exist!
Sustainability & Ankrom Moisan Interiors
March 1, 2022
An interview with Erica Buss, Ankrom Moisan's Research & Information Services Manager
Q: What efforts are Ankrom Moisan making to provide better information and resources when it comes to sustainability?
A: Ankrom Moisan was an early signatory to the AIA Materials Pledge, which encourages architects and designers to shift the way we evaluate the products and finishes we specify; taking into consideration the materials to improve the health of ourselves and our planet.
Erica curates and maintains a list of resources for our interior designers and architects to easily reference as they are evaluating and looking for the most appropriate product or material for their project. She also coordinates and organizes our vendor presentations and educational sessions; selecting topics around sustainability and healthy materials. The library prioritizes and highlights products to support human health, social equity, climate health, and a circular economy."
Members of our sustainability reform group are also active members of the Portland Materials Transparency Collaborative (PMTC) and the Healthy Materials Collaborative (HMC). Both provide education, tools, and resources collected by our local A+D Communities. Additionally, this group works toward reformatting our specification template to make healthier and more sustainable choices the default. As part of that exercise, the team has created internal resources for prioritizing and selecting sustainable materials, such as resilient flooring.
Our firm sponsored eight interior designers to complete the Parsons Healthier Materials and Sustainable Buildings Certificate Program. This is a four-course program that allowed the designers to take a deep dive into sustainable material selections and bring enthusiasm and knowledge back to the firm, to their projects and clients. The designers who participated in this course were Jamie Kreger, Clare Goddard, Maddy Gorman, Ruth Bernal, Seaian Wood, Laura Serecin, Kaci Mespelt, Sydney Ellison. Ankrom hopes to have more interior designers complete this course in the future.
Q: Other firms have opted to remove all Redlist products from their library – Is this something that Ankrom Moisan is considering? Why or why not?
A: This is something that Ankrom is exploring as a firm-wide initiative, though we haven't made the leap yet. The library is a resource to serve the designers and their projects. Steps in this direction that have been implemented were with PVC. We removed vinyl fabrics from the library and created a dedicated section for PVC-fee wallcovering. We also highlighted flooring products that are PVC free and/or provide full disclosure of material content to make it easier for our design staff to specify healthier flooring choices.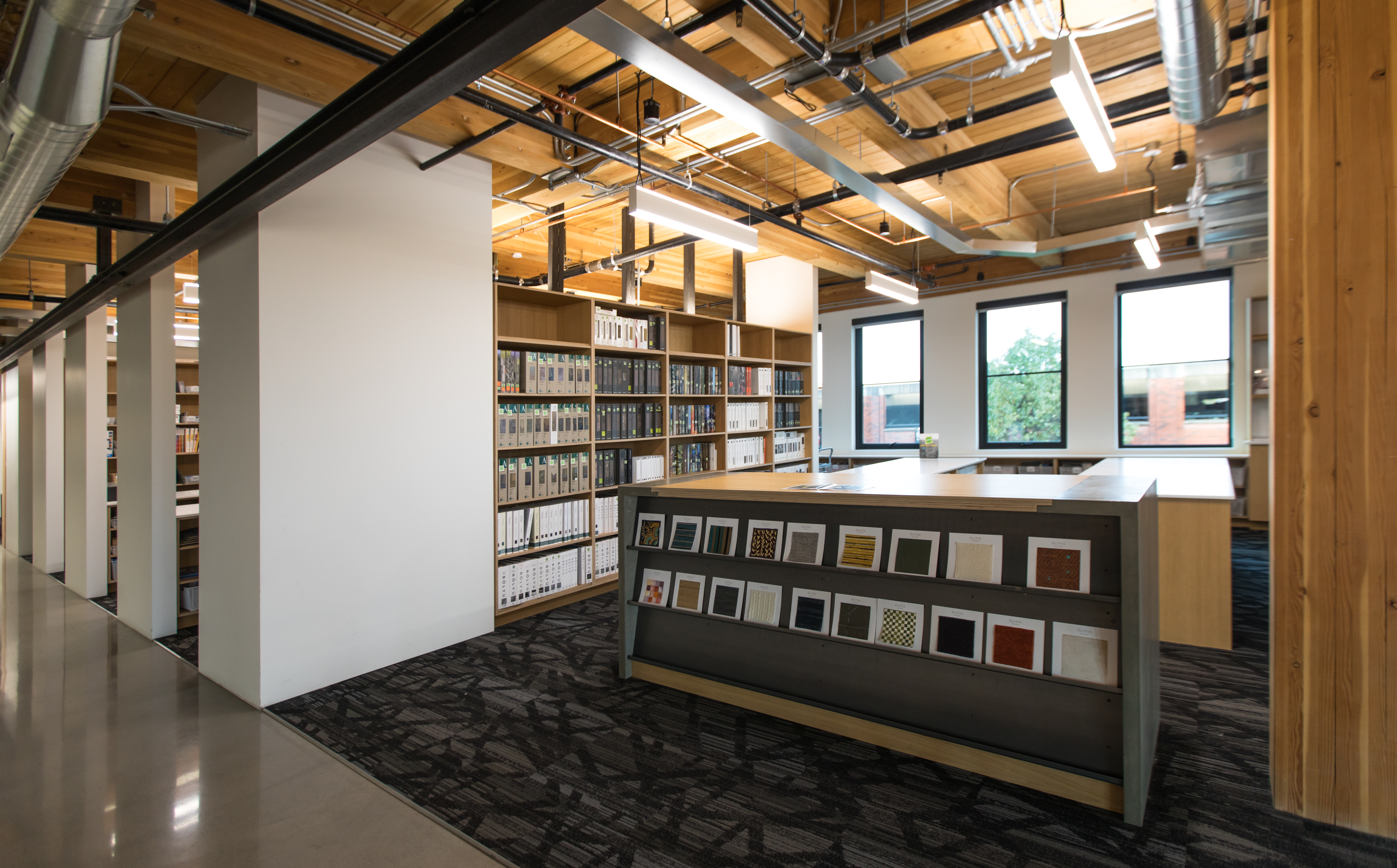 Q: How can we as designers do more to incorporate salvaged materials or encourage material reuse rather than replacing them with new ones?
A: Ankrom Moisan has relationships with a handful of salvaged wood brands in the region, as well as a salvaged metal fabricator.
As an interior design group, we collectively understand the importance of building relationships with local salvage companies to incorporate more reused materials into projects rather than buying new ones. We have an ongoing discussion to share experiences or ideas on how we can work with existing conditions and materials creatively to effectively reuse them in projects.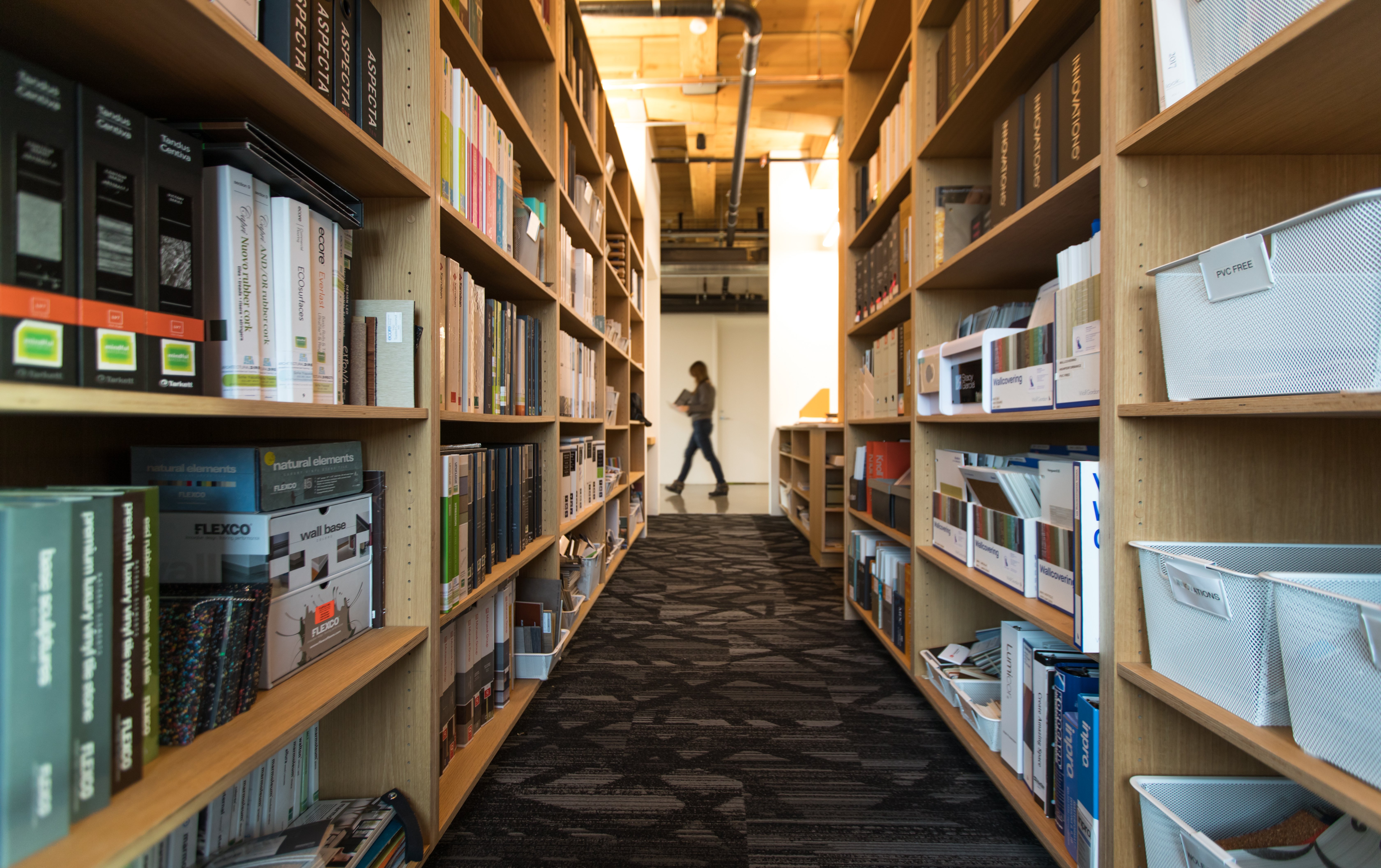 Q: What tools and resources are available to designers to help us educate our clients about the importance of using sustainable products and implementing sustainable practices?
A: Our greatest resource is the designer's ability to strategically engage with the client and draw out what their values are around sustainability, equity, human health, and then being able to link those values back to your material selection strategy. Does the client have an Environmental, Social and corporate Governance (ESG) framework or vision that you can point to and say, "this is how healthier material selection can support your sustainability goals?" And then prioritize, together with the client, what aspects of sustainability you are going to focus on in your material selection, whether that's human health, carbon emissions, social equity, DEI, etc. In the end, you work with the client to establish a goal around material selection and then use your material expertise and influence as a designer to execute on that goal. You also need the construction team on board, so they are on the same page when product substitutions are suggested.
Q: Where do you see the future of sustainability in Interior Design and Architecture? Do you see any changes on the horizon when it comes to how our industry approaches sustainability?
A: The conversation around climate change and sustainability is becoming more mainstream both within and outside the industry. Erica attributes this to the influence of Gen Z, who highly values sustainability, high-quality products that last longer, social equity, racial justice, and environmental responsibility. "They live these values in their consumer spending choices, where they chose to work, how they travel, etc. They have a positive influence on brands and manufacturers, pushing for change. They get it, they are listening, and the brands who want to remain relevant and stay in the game are trying to change and make products that match these values with processes and materials that are carbon positive, safe for humans, the environment, and society."
We are seeing more and more businesses adopt Environmental, Social, and corporate Governance (ESG) mentioned in the previous question. This is a rating system developed by the United Nations that scores a company's social and environmental factors. This is used to make informed choices around investments and future growth. As more and more companies adopt this the design industry will need to respond to help our clients make choices that align with their values and priorities.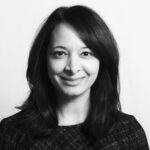 Erica Buss, Senior Associate, Research & Information Services Manager
FILTER
SEARCH
This search form (with id 2) does not exist!
Designing for Inclusivity
January 20, 2022
Propelling Culture Forward
Designing for inclusivity is something that is always on interior designers' radar.  ADA regulations instituted in 1990 blossomed into the concept of universal design: the creation of environments that, despite differences in age, size, and ability level, are safe for all users, can meet their needs, and support their health and well-being. However, the pandemic experience, the current political and social climate and the new need for virtual connectivity have challenged interior designers to push beyond implementing basic strategies to create inclusive environments.
What are some of the characteristics of inclusive environments?  How can interior designers and their clients pivot to prioritize inclusivity?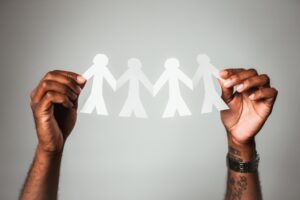 Inclusive environments recognize that not all people experience space in the same manner.  People want to feel supported and represented by the spaces they inhabit.  The visual narratives that space creates for one person may trigger very different feelings within another.  How do the colors, textures and light level affect one's experience of a space?  A conversational design process that discusses how elements within an environment land for the user helps to create relevant (and desired) environmental experiences.
Inclusive environments recognize that different people need different things in order to perform their best.  And, that these things may change over the course of a day or may depend upon one's mental state or the tasks at hand. Spaces that offer the user choices are key to managing these nuances.  Some points to consider are: what posture might one want to have while in this space or performing their task(s)?  Will they want activity to surround them or will they prefer more solitude?  Do they want to see activity nearby or should visual distractions be minimized?  What level of acoustic privacy is desired?  These questions illustrate that not "one size fits all" and that inclusivity is prepared to provide options for users.
Inclusive environments enable everyone to participate equally, confidently and independently.  People can move through and use the space intuitively – or, the information needed is provided and is easy to understand and implement.  Wall graphics, signage, artwork, the integration of technology are considered.  Also, not all accessibility concerns are centered around a permanent condition – our needs may change over the course of a lifetime or in different situations: we might experience limited mobility if using crutches, navigating a stroller or carrying bulky luggage.  Empathy for the user helps interior designers consider as many variables as possible.  This allows for intellectual and emotional access to a space and invites users to feel relevant and engaged.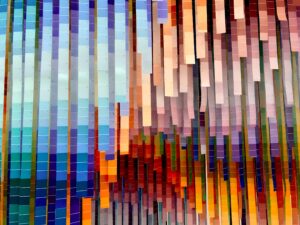 Designing for inclusivity is important because it propels our culture forward. Inclusive environments and the experiences users have within them tell them their opinion and perspective matters.  It allows them to be present and to bring their skills and knowledge into the conversation and hopefully, enriches everyone.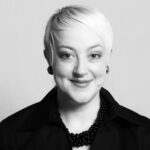 By Laura Serecin, Interior Designer
FILTER
SEARCH
This search form (with id 2) does not exist!
Mass Timber: 38 Davis
December 19, 2021
Integrating Work and Home Through Mass Timber.
At 38 Davis, work and home is integrated through mass timber. Located in the heart of Portland's Old Town Chinatown District, this building was the first ground-up construction to occur in the district in over a decade. One of the world's first Leadership in Energy and Environmental Design (LEED) v4 certified developments, the building was designed with software guided fans and operable windows rather then relying solely on an HVAC supported air conditioning and heat recovery system. A testament to our commitment to sustainability, the 124,000 sq. ft. headquarters also features a greywater reclamation system and green roof that treats water and removes contaminants on site.
The six-story, mixed-use timber-framed building, which is home to our Portland headquarters, combines office, residential, and retail spaces. Expressing raw craft with care, the mass timber used in 38 Davis is more than warm and honest-it's structurally sound and sustainable, lowering the building's overall carbon footprint.
Utilizing a historic method of a traditional 3×4 tongue-in-groove floor panel system, the building features locally sourced Douglas fir timber beams and exposed columns, which can be seen from the inside as the beams come together in an energetic display of raw materials and craftsmanship that mirrors the work we do. This post-and-beam system allowed our team to create larger interior spaces, high ceilings, and large window openings, achieving our vision of a background "warehouse" space overlaid with a tech-forward workplace that is all parts beautiful and utilitarian, yet historic and comfortable.
As you enter the building, you flow through the ground floor communal thru lobby connecting entries along SW Davis and the semi-private mid-block courtyard with a custom backlit metal art was designed to represent the flow of the Willamette River as it moves through downtown Portland. In the lobby, reclaimed wood wraps the threshold to shared elevators guiding visitors from retail on the ground floor to office space on the second through fourth floors, and workforce housing on floors five and six.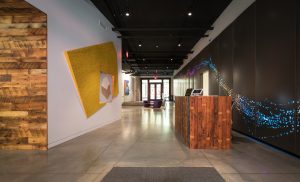 We believe that diversity and sustainability are of paramount importance to the vitality of our lives, neighborhoods, and cities. Designing from an owner's position, we seized the opportunity to create a vibrant, mixed-use development where we can live, work, and learn alongside local community members. The communal lobby, elevator, rooftop, bike storage, locker room and gym area create dynamic interactions between our staff, building residents, and University of Oregon students. A unique, inter-use greywater reclamation system filters runoff shower water from the upper residential floors and uses it to flush the toilet's of the offices below, saving an estimated 202,800 gallons of water annually.
FILTER
SEARCH
This search form (with id 2) does not exist!
Project Materials Spotlight
October 12, 2021
The Green Room Lounge at the Fox Tower
A trend our workplace team has been observing lately: landlords are considering their tenants more like customers and creating spaces as a lifestyle brand to attract and retain tenants in their buildings. In response to this trend, TMT Development contracted with our team to turn an irregularly shaped, difficult-to-lease suite on the 25th floor of the Fox Tower into a communal space where employees can meet, socialize or relax throughout the day/ after work.
We presented three design concepts to TMT, and they ultimately chose the "Staycation" scheme, which would bring a vibrant, fun environment to a generally overcast and earth-toned city view. Pulling inspiration from colors and textures from travels around the country and the world, I wanted the lounge to feel like you just stumbled into a lively, hidden gem of an outdoor bar in a historic area of town; a secret only the locals know about.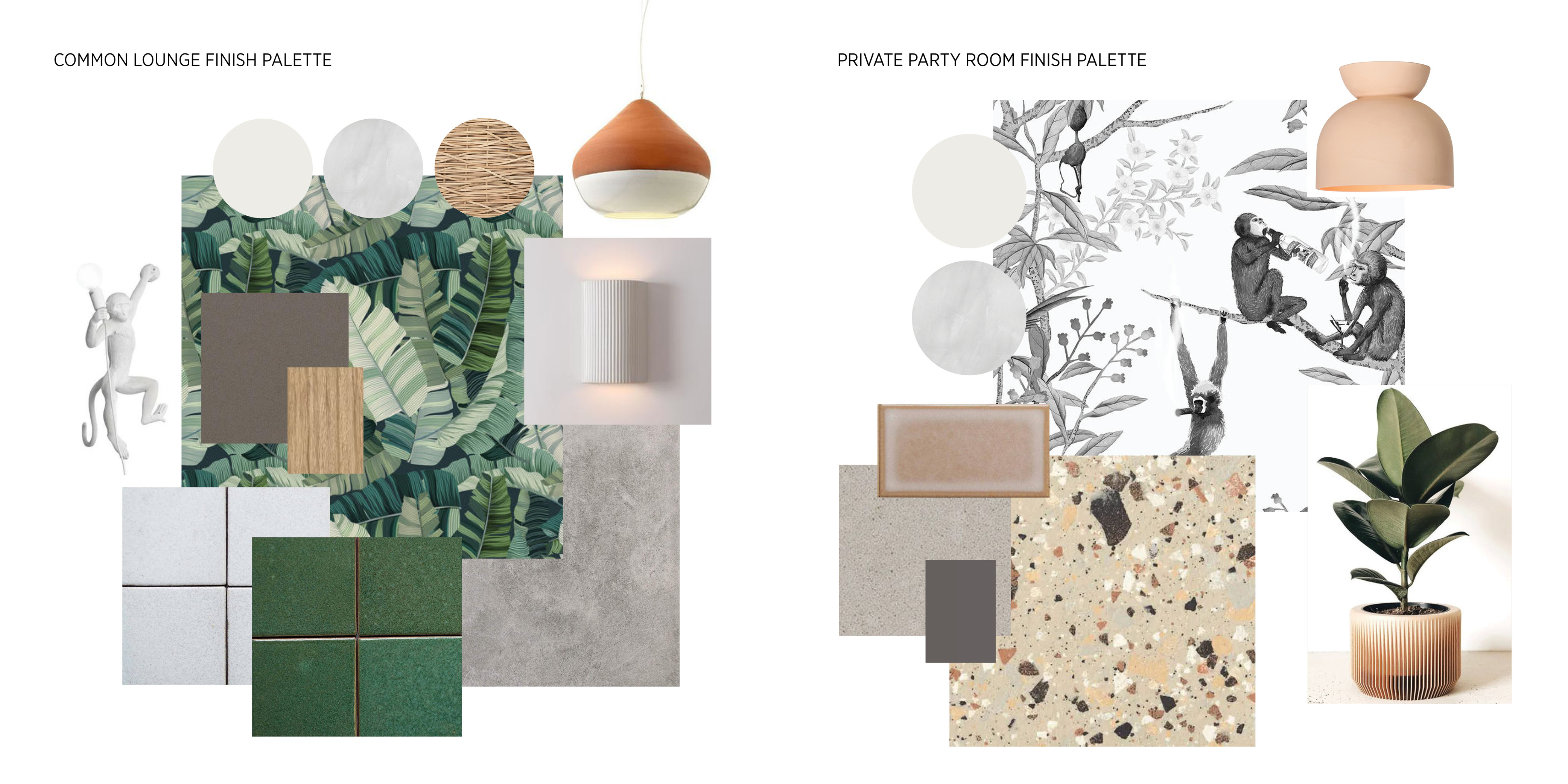 Materials are everything. They create mood, texture, ambiance, curiosity, and comfort. To achieve the "Staycation" look and feel, I specified Portola limewash paint to create a washed, rough texture on the walls, giving the effect of aged concrete walls. The terracotta light fixtures bring warmth through the natural clay material, while the sconces and surface mounted, handmade ceramic fixtures by local lighting company Cedar & Moss, add a touch of artistry and craft. In one of the early schematic mood boards, we included an image of a monkey light fixture; the client fell in love. We sourced the same fixture to add whimsy, humor and an element of discovery to the bar area. It hangs above the shuffleboard, camouflaged into the leafy wallpaper, a reward for those who pay close attention to their surroundings.
The mischievous monkey thread continues into the Private Party Room. From afar, the Astek wallpaper used in this room, meant for private gatherings and celebrations, looks sophisticated and simple. As you step closer, you realize your party is crashed by a bunch of wildly playful monkeys, again rewarding those who pay close attention to details! In contrast to the lush greens in the main lounge space, this room leans into warm tones with beautiful terrazzo floor tiles, and large bright planters.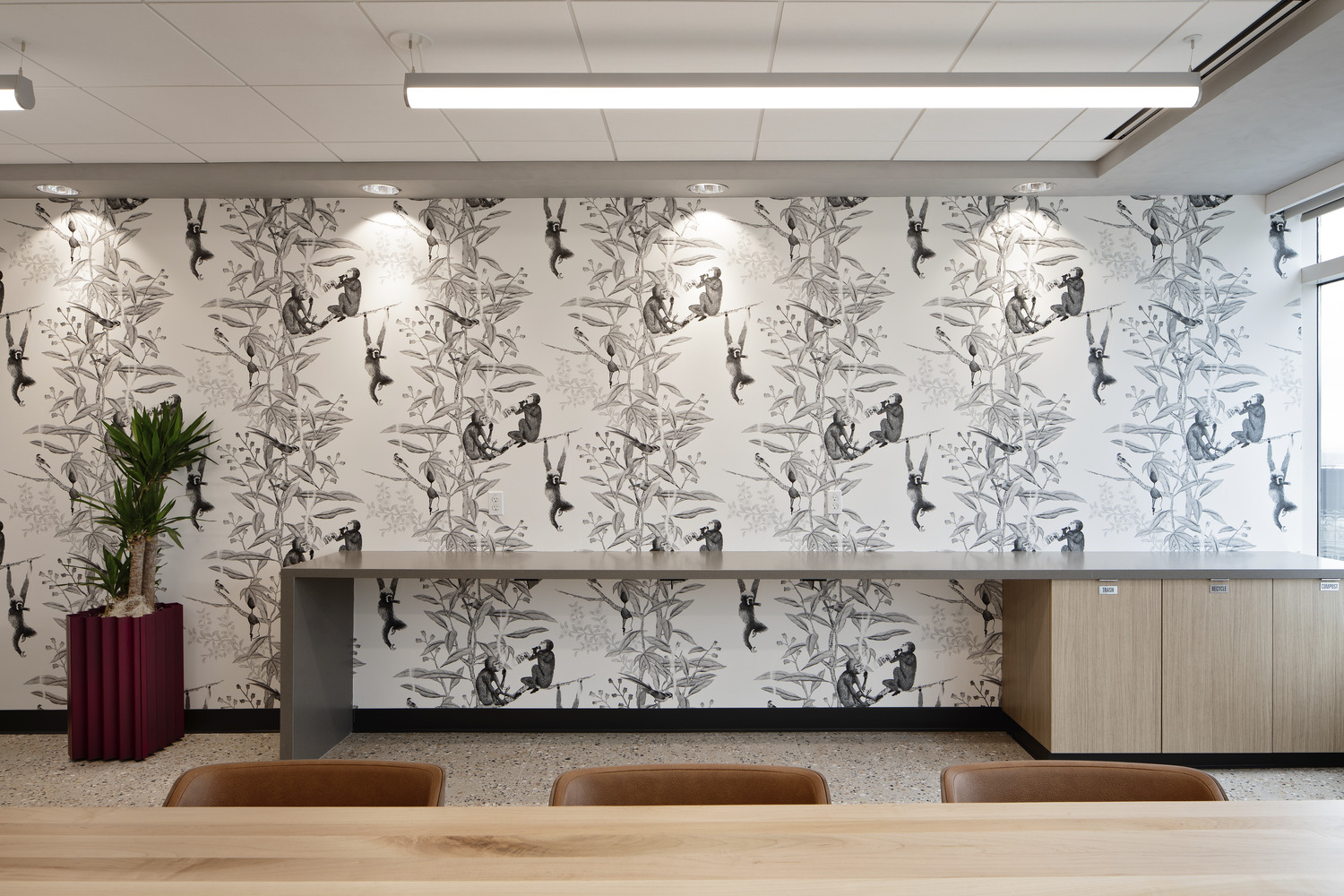 Located on the 25th floor, this suite has beautiful, vast views of downtown Portland and the forested hills beyond. The irregular shape of the suite lent itself to opportunities for a variety of seating types, including both social and more private areas. I knew I wanted the lounge to feel open yet "zoned" for different activities, so my original intent was to use modern breezeblocks to create a partially open partition to bring the natural light further into the main bar area and delineate between the main bar and the dining area. Because of cost constraints and limited installers that were willing to install the breezeblocks, we came up with an alternate, less expensive solution: a rope wall. Using simple brass rope attachments, manila rope, and an opening framed with walnut wood, this wall visually connects the two spaces and adds more textural material and character to the lounge.
The furniture and fixture selection was critical to the design concept: rope, leather, wood, and color were materials and elements I looked for. Bent-wood chairs hang from rope, swinging gently in front of the nearly full-height windows. Dark walnut chairs pleasantly contrast against white oak tables. Woven leather lounge chairs, solid wooden log side tables, and green powder-coated chair legs are placed throughout. And lastly, a bright yellow Smeg refrigerator in the main bar attracts your wandering eye, a piece of functional art. The result of these elements working together is a lounge that lifts your spirits as soon as you step foot inside. ✨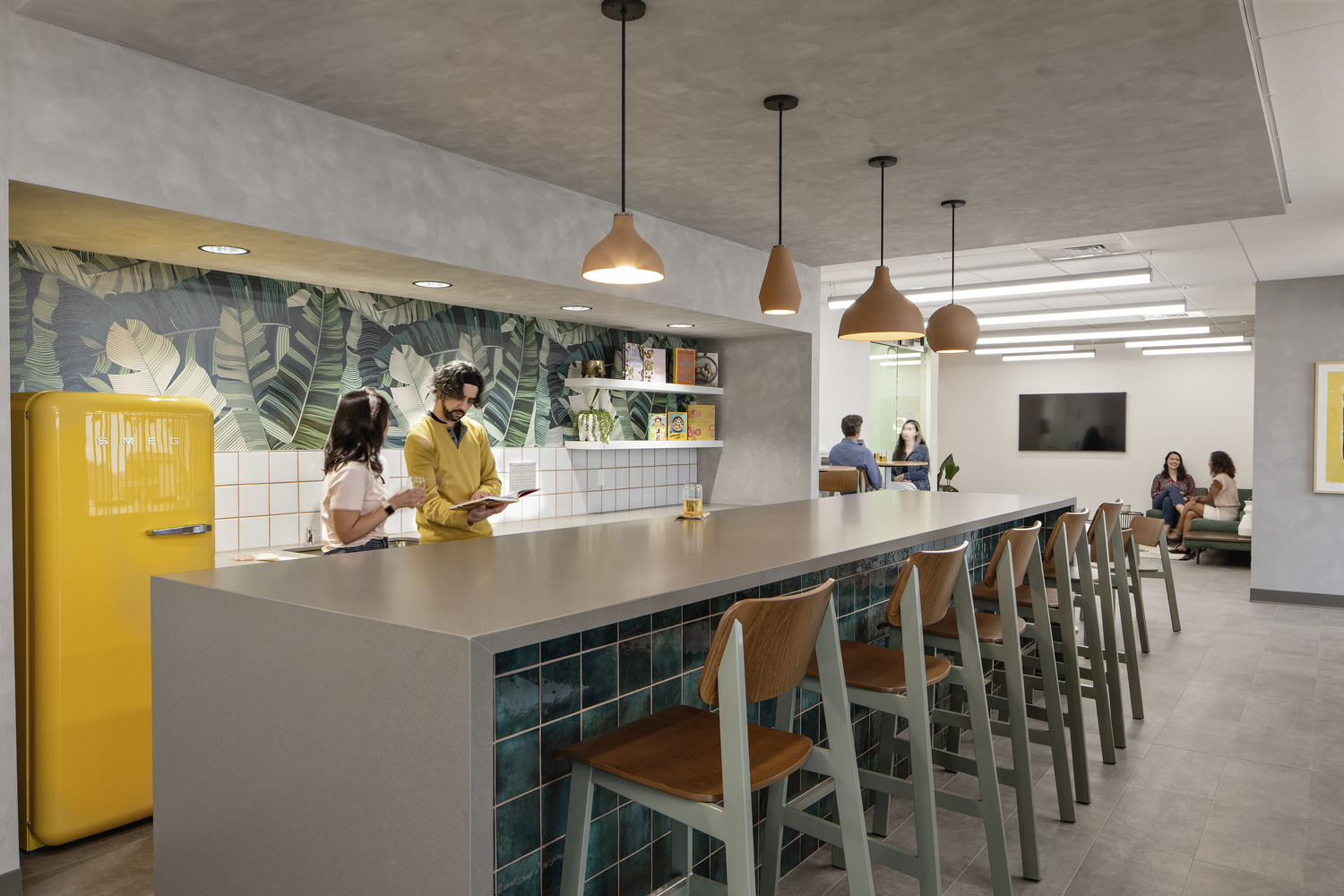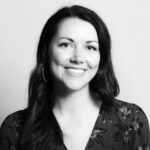 Maddy Gorman is a certified Interior Designer specializing in Workplace design, based in our Portland office since 2015. In her free time, she enjoys elements of discovery whether that is in nature, finding new delicious food combinations, uncovering patterns and stories through Tarot, exploring inward while lying still in a float tank, or traveling the world.
FILTER
SEARCH
This search form (with id 2) does not exist!
Office Design that Supports Employees Holistically
October 7, 2021
Workplaces Moving Forward
With more employers offering the ability to work from home—and most employees preferring to continue doing so, at least part time—a new challenge has arisen to develop workplace solutions for companies that are not able to offer remote options. Creating safe, welcoming, and enriching office environments are essential for businesses to foster a positive culture especially when their services necessitate in-person operations. How do designers and companies collaborate to address post-pandemic employee priorities and offer workplaces that are equitable, uplifting, and inviting to anyone who might want or need to be in the physical office space?
Human centered design strategies that focus on the employees' perspectives and experiences are essential cornerstones to providing supportive solutions. We begin with conducting surveys or interviews to uncover a company's unique work culture, concerns, and desires. These discoveries influence the entire design process and fundamentally shape our final solutions, rather than relying solely on our benchmarking and our expertise alone. For a recent client we discovered that if employees had to work in the office, they wanted spaces and tools to help them perform their job functions well and nurture themselves holistically.
With this insight as our guiding light, we developed four design prompts to help interior designers and business leaders evaluate and create space from the end-user's perspective.
1. I am Valued:
Implement office features that help employees work effectively, thereby letting them know their efforts and commitment to being in the office is recognized and valued.
– Presentation stage with stadium seating open to everyone at any time.
– Integrated noise mitigation (acoustical wall panels, furniture screens, or ceiling baffles, as well as a white noise system)
– New, user-friendly technology (audio-visual equipment and high-speed wi-fi)
– Fully accessible floor plan
2. I am Well:
Recognize that health is currently a primary concern, especially for employees who must work in shared spaces. Provide designated areas where employees can decompress and designs that encourage movement in a safe and healthy manner.
– Wellness and Fitness Center (yoga or multipurpose exercise room)
– Connections to nature (outside views and plantings)
– Gaming area with active games like ping pong and foosball
– Advanced HVAC and lighting (increased fresh air and natural light, and enhanced controls so they can customize their work environment)
– Increased Bike Storage and shower amenities
– Daylit and cheerful break areas/kitchen/kitchenettes with specialty items such as espresso and fitness beverages.
– Multiple options of outdoor space with different orientations providing choices influenced by weather, activity, and time of day.
3. I am Learning:
Support employees in their lifelong education and growth by encouraging career development, learning, skill sharing, and team building opportunities.
– Focus rooms
– Library space for quiet studying
– Environmental graphics and design details related to the history and identity of the surrounding area
– Large gathering spaces for events and trainings
– Roof deck cooking classes
4. I am Caring:
Foster opportunities for employees to connect with their communities in the office and beyond to encourage a rewarding culture of caring.
– "The Great Hall" for local vendors to periodically sell their wares
– Community Leadership council room
– Outdoor entertaining area for neighborhood events
– Indoor entertaining area for movies and World Cup
– Local and natural materials to promote sustainability
With hybrid in office and work from home employment models becoming the norm, the stakes are higher for companies who are limited in their options for offering remote work. People want their employers to show them, through the very design of the physical office environment, that they are valued, their wellness matters, and they have opportunities to learn and offer care.  Business success hinges upon creating a rewarding environment that reflects the principles important to employees and provides a conduit to enact positive change.
FILTER
SEARCH
This search form (with id 2) does not exist!
Lifestyle Experiences at Work
September 29, 2021
Workplaces Moving Forward
Natural light. Fresh air. Lush greenery. Hospitality-inspired amenities. Companies want to give employees a lifestyle package that makes people excited to come to work. To support their client's heightened expectations, building owners and property managers must change their overall strategies and transition from seeing occupants as tenants to supporting them as customers.
Our designers collaborate with landlords to ensure their properties offer shared amenities—or, rather, services and experiences—that enhance the missions, lifestyles, and brands of their target clients. Human centered design, practiced with inclusivity and equity, is essential for creating common spaces, ensuring that they support diverse lifestyles and professional needs. We have developed three key guidelines for landlords to consider when creating a lifestyle-oriented workplace amenities strategy:
1. Identify the demographic and psychographics of the tenants they want to attract. Building amenities do not add value if they are not in touch with the professionals using the space.
2. Prioritize common spaces or amenities that the tenants share. Especially as many businesses are downsizing their physical office footprints, it is the combination of services and experiences available to all occupants outside of their suites that gives a building competitive edge.
3. Create spaces that address different lifestyle needs. Each business is unique. The landlord's mission is to help enable both the individual and collective lifestyle goals of their tenants.
The challenge is that lifestyle expectations are ever evolving. We have seen repeatedly how office amenities transform from rare, exclusive offerings to eventually becoming table stakes. The current popularity of bicycle parking is a prime example. Curating unique, targeted amenity programs that make an impact immediately and long-term are key. Simple, underutilized spaces can be transformed to specialized lifestyle experiences that make a property stand out from competitors, by implementing unexpected, innovative amenities that are future forward.
Some strategies and tactics that we have recently designed for our landlord clients include:
– Repurposing underutilized or challenging-to-lease spaces;
– Creating Indoor/Outdoor connections – maximizing views, increasing connection points with the exterior, and, highlighting year-round meeting space on decks and patios;
– Relocating amenities to more visible locations;
– Reinventing bicycle parking and locker rooms to increase capacity and provide an elevated experience;
– Transition security stations transition to concierge desks;
– Expand Fitness and Wellness Centers to foster a holistic, healthy lifestyle message;
– Integrate innovative biophilia installations.
In a fluctuating, competitive market heightened by the pandemic, interior designers bring expert knowledge of places, people, and tactical concerns within commercial real estate. We support our clients in strategically elevating communal amenities, responding to tenant lifestyle needs now—and anticipate what is next.
FILTER
SEARCH
This search form (with id 2) does not exist!
Technology-Rich Workplaces
September 22, 2021
Workplaces Moving Forward
Before the pandemic, relaxing with coworkers in the office breakroom or preparing meals in the communal kitchen were typical, stress-free, even enjoyable aspects of the workday. Now, as employees are returning to offices after months of remote work and social distancing, sentiments around common spaces are more cautious and varying from person to person.
Practicing human centered design going forward means recognizing and respecting employees who have different levels of health concerns. Workplaces should give options for experiencing a space so even some of the most cautious individuals will feel safe.
While technology enabled businesses' transition to remote work in 2020, now technology is helping us make the office feel more comfortable, clean, and caring. become more important components in our projects moving forward. Recently, we implemented several enhanced features into a client's new corporate headquarters to reduce touchpoints and improve hygiene long-term.
Automatic doors reduce practically everyone's points of contact from the moment they enter the building to their exit, along with increasing accessibility. Installing advanced HVAC systems improves fresh air flow. Our interiors and architecture worked with the client to ensure the special equipment was seamlessly integrated into their open, airy office design—high functionality without feeling intrusive or disruptive.
Touchless technology improves comfort and cleanliness in shared bathrooms. We used Bradley's WashBar, an all-in-one automatic faucet/soap dispenser/hand dryer. It eliminates three potential touchpoints, reduces waste, and adds a sleek aesthetic element. We also installed traditional motion-sensor paper towels dispensers. Offering both methods maintains touchlessness while honoring employees preference for either option. After hours, a UV light will disinfect the bathroom as an added precaution for both employees and facilities staff. Touchless fixtures extend to their breakrooms, locker rooms, and wellness/mother's room, creating a consistently cleaner, contact free user experience in communal areas.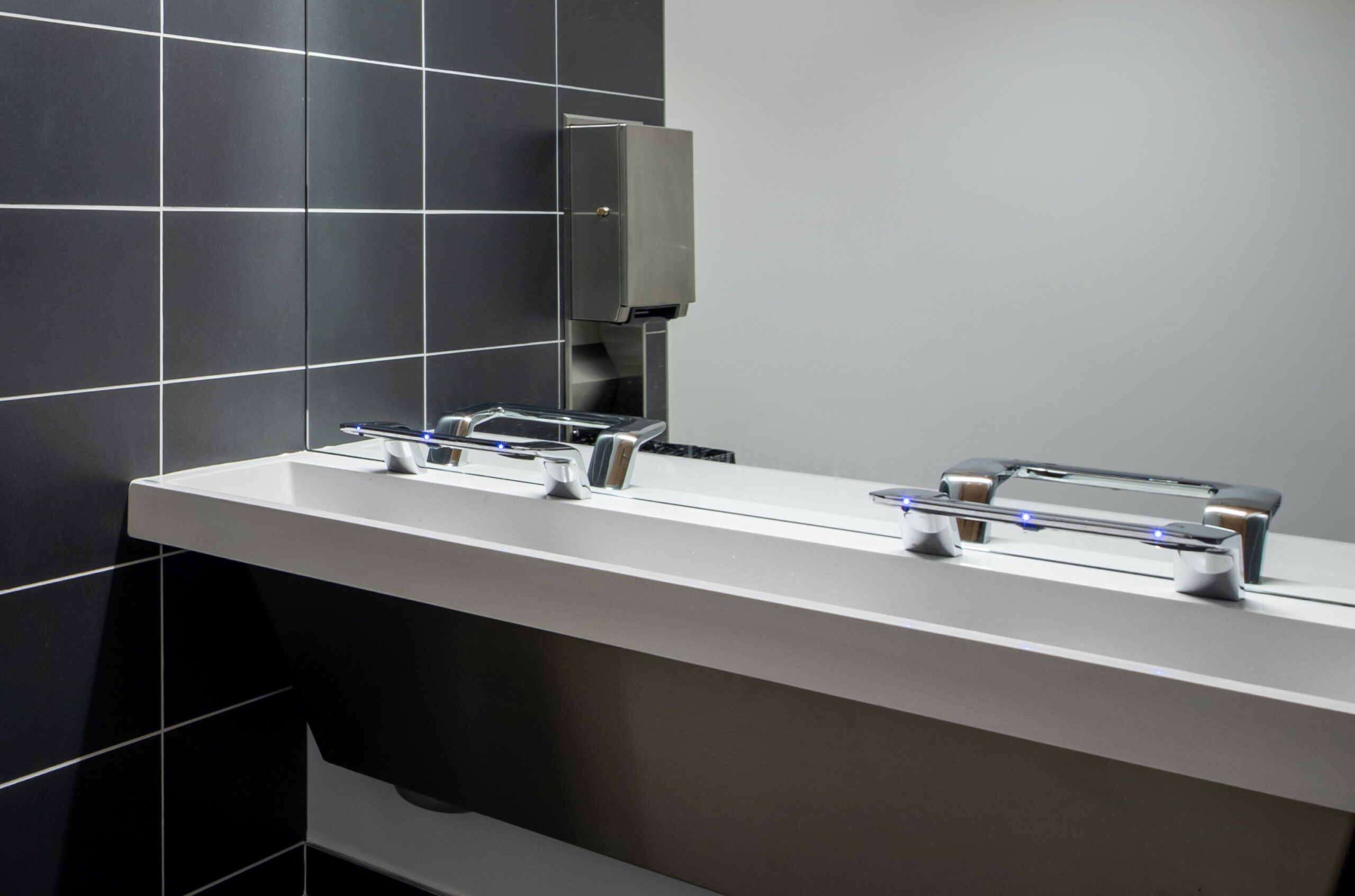 Solutions do not have to be high-end or technology-reliant—it can be as simple as how trash and recycling bins are stored. Instead of cabinets or drawers opened by hand, a touchless solution is hiding the receptacles under counters with holes that waste is simply dropped into. Of course, this method is far from new, but it is more applicable than ever for our minimal contact approach.
Touch means something different now to everyone. Through contact-free technology and thoughtful design details, we can find a solution that works for any workplace.
FILTER
SEARCH
This search form (with id 2) does not exist!
Project Materials Spotlight
August 25, 2021
Studio Building Bike Room Amenity
In early 2020, TMT Development contacted Ankrom Moisan Interiors to design several small tenant improvement projects in the Studio Building and the Fox Tower in downtown Portland. The Studio Building at 919 SW Taylor is one of the oldest buildings in the downtown center, built in the 1920s as a musical conservatory. Now housing modern office space, TMT desired to add a bike room amenity to the existing basement, to provide tenants with ample bike storage, two shower rooms, and a bike repair area.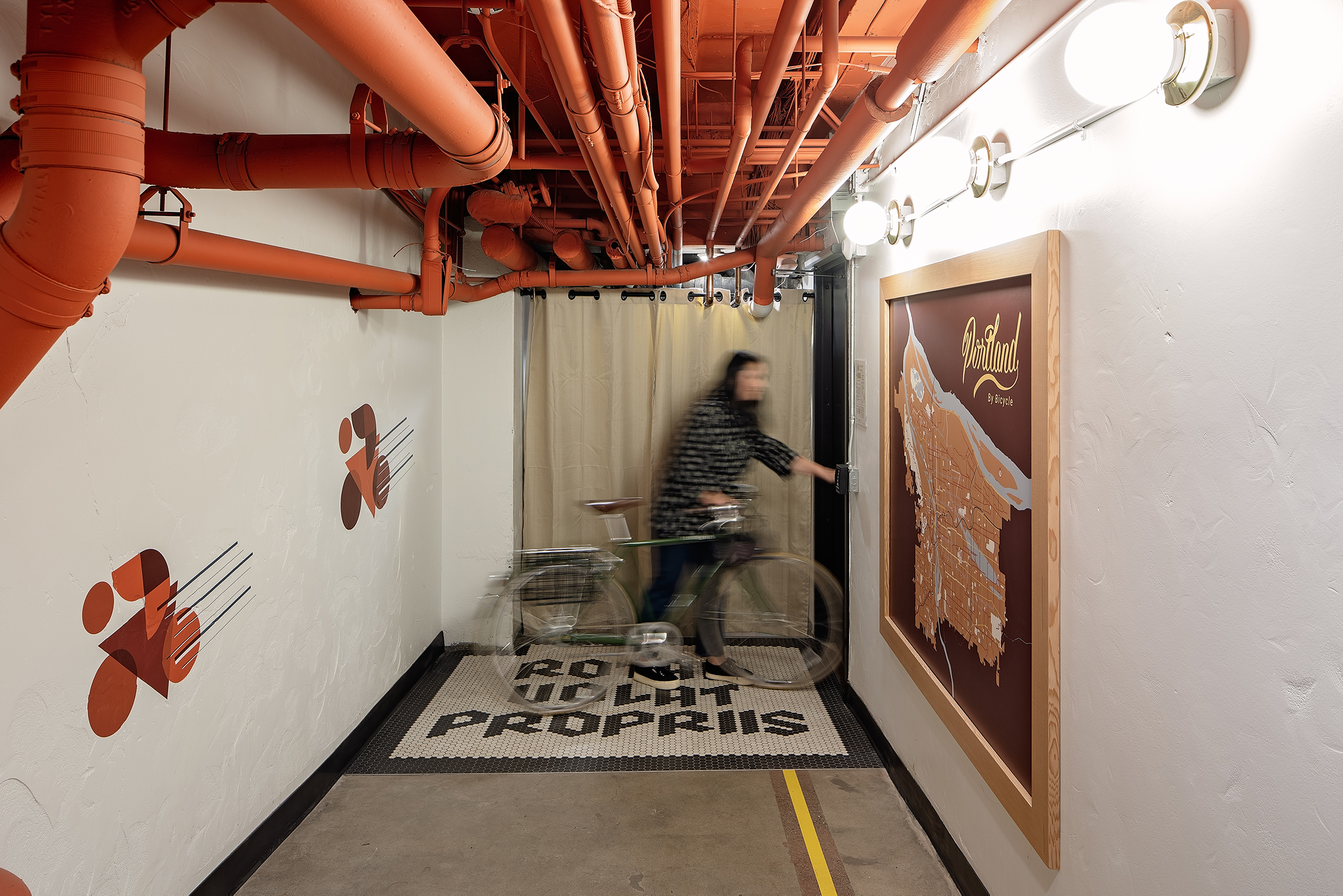 Roberta Pennington, the project manager, looped me (Maddy) into this project as the designer, and we went far beyond TMT's expectations. Inspired by the historical music background of the building, we presented two musically inspired design options: Jazzy & Classical. Ultimately, TMT decided to move forward with the vibrant and energetic Jazzy scheme to bring more life into the existing spooky basement. "Jazzy" pulls inspiration from vintage jazz posters, historic palettes, and art motifs of the 1920s and 1960s jazz eras. 
Working within the existing dark, concrete basement, we strove to brighten and enliven the space while creatively guiding employees from the elevators to the bike room down a long hallway. Being a budget-conscious project, we used simple and inexpensive design moves to add major impact and character to the space and keep up with the fast-paced timeline.
First, old, unused pipes and conduit were removed from the existing ceilings of the hallways and storage room (which would eventually become the bike storage space). The remaining pipes and structure were then painted with vibrant colors to not only create a beautiful, cohesive aesthetic, but help group what would otherwise be chaotic and overwhelming utilities into a visual whole – the Gestalt effect. Dozens of exposed pipes became a sculptural, colorful ceiling. 
The existing concrete floor remained, but was cleaned and repaired as necessary. Keeping an existing painted red stripe on the floor (which led to fire suppression equipment down the hall), we incorporated this into the design as a wayfinding feature by adding a simple yellow stripe on top to connect the spaces (confirming that altering the stripe wasn't against code). We also added a special custom tile inset signifying the entry to the bike room. Working with the AM Brand team, the design is a play on Oregon's motto "She Flies with her Own Wings," becoming Rotae Volat Propriis, or "She Flies with her own Wheels." While Daltile can manufacture custom mosaic tile layouts onto their mesh backings, this added significant time and cost to the project, which we did not have. Instead, we simplified the tile design and reduced it down to two colors, and ordered whole sheets of black tiles and whole sheets of white tiles. The tile installers only had to swap individual tiles to create the lettering. By having the majority of the layout already adhered to the mesh backing; this saved time and cost in the end for the custom design & install. In the shower rooms, we used a waterproof uncoupling membrane underneath the new tile floor, allowing the tiles to move separately from the building structure and help prevent cracking and damage. The irregular cement tile floor design was inspired by the night sky often seen in jazz posters.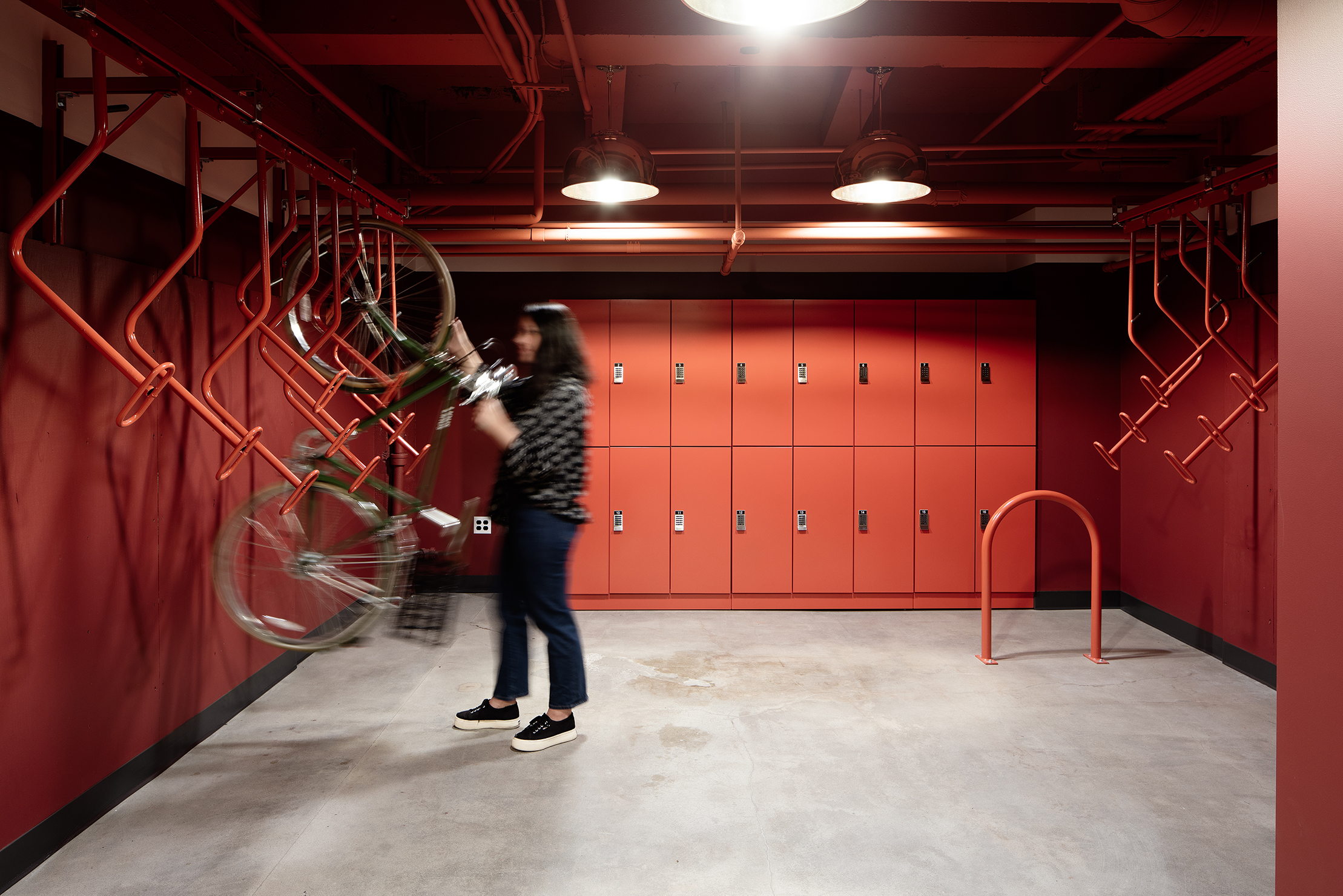 The walls in the elevator lobby, hallway and bike room were treated simply and inexpensively with fresh paint. Near the elevators, we created a bike repair wall, featuring decorative wallpaper inspired by simplified Art Deco shapes. We tested the durability of multiple wallpaper materials by scratching samples with our house keys, to ensure the wallpaper would hold up to expected bumps and scratches in the future. We added simple linear light fixtures following a curved arch shape on the wallpaper, visually suggesting sound and expression of excitement. In the hallway, our Brand team riffed off the wallpaper shapes to design custom wall decals to abstractly resemble racing bicyclists. These also act as a wayfinding feature to the bike room. At the bike room entry, a custom-designed Portland biking map is framed and mounted to the wall. The walls and plywood are painted a vibrant red-orange, electrifying the experience. The bike racks and lockers are painted a different shade of red-orange in contrast, resulting in an unexpected explosion of color. Inside the shower rooms, the walls are lined with recycled clay tile from Fireclay Tile, making each of the tiny shower rooms fully waterproof and beautiful. Custom half-moon mirrors add another Art Deco element to the scheme.
Overall, the design and finish decisions resulted in a project that was within budget, on time, and made a huge impact on the user experience.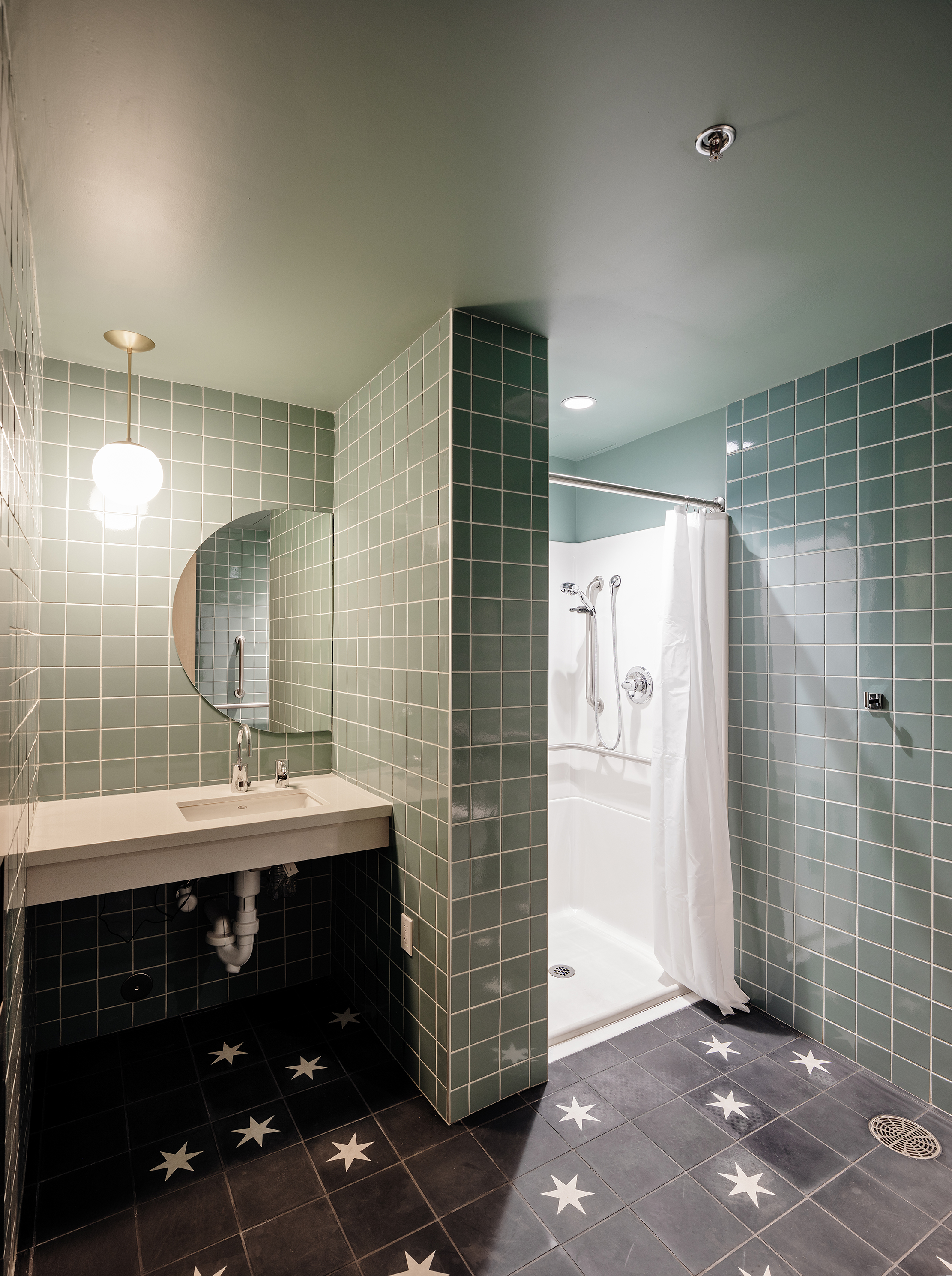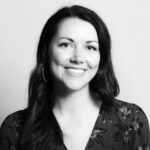 Maddy Gorman is a certified Interior Designer specializing in Workplace design, based in our Portland office since 2015. In her free time, she enjoys elements of discovery whether that is in nature, finding new delicious food combinations, uncovering patterns and stories through Tarot, exploring inward while lying still in a float tank, or traveling the world.
FILTER
SEARCH
This search form (with id 2) does not exist!
Simplifying the Specification Process
August 11, 2021
Discovering Proper Uses of Commercial Finishes and Materials
Within my design passion comes a desire to learn about how spaces and their materiality affect people mentally, psychologically, physiologically, and emotionally. One of the initiatives toward my career goals is researching and distilling technical material knowledge so it is easily accessible to all designers.
I enjoy dissecting the details about products and learning how to properly use materials in my work. I believe having a thorough understanding and awareness of the technical side of specifying finishes and materials is incredibly important to being a great designer. In the spring of 2020, I completed a course called the Healthy Materials Lab through the Parsons School of Design, which opened my eyes to the importance of the specification process as a designer. We have the huge responsibility to design spaces that are healthy for both the occupants and the environment, while also balancing efficiency, budget, and beauty.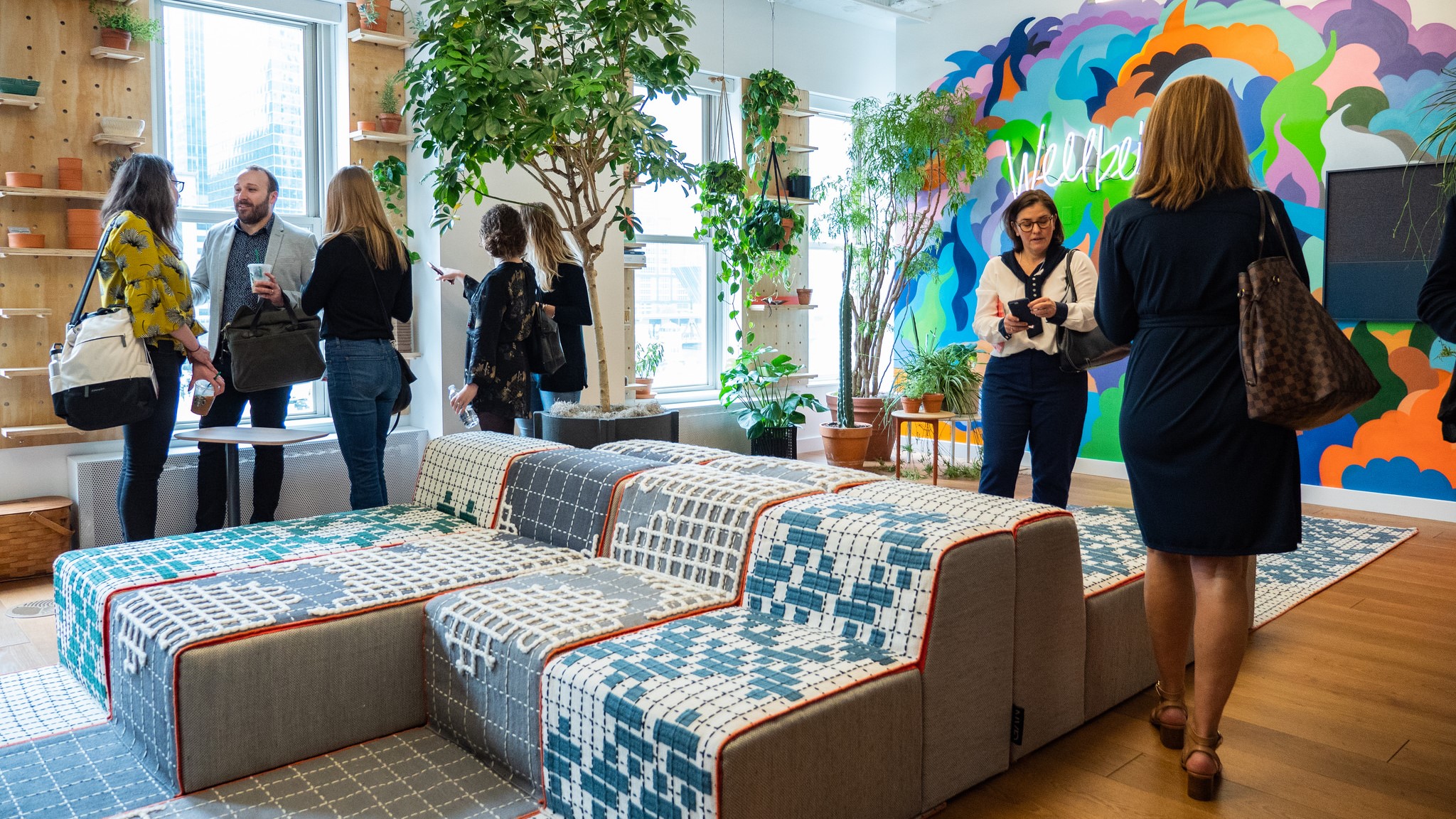 When I first started in the interior design industry in 2015, I felt overwhelmed by the amount of information interior designers are expected to learn and acquire over time, and I didn't want to wait for that to come through my experience on the job. I desired a central resource for information, a "go-to" for all the questions I had about various finishes, to design my projects right the first time. After all, interior designers are jacks-of-all-materials, and with new and innovative products being introduced all the time, it can be difficult to keep up with the knowledge, even with the help of our wonderful product reps.
I attempted my version of data collection through lunch-and-learns and personal research, scribbled across multiple notebooks, and documented in digital files, but never succeeded in one place. The peer culture of my design studios in architecture school was extremely positive and supportive, which unfortunately isn't always the case, never leaving a fellow studio-mate behind to get ahead yourself. I wanted to carry that same outlook into my career by sharing knowledge to help us all improve.
In entering the industry, the structure of learning about commercial products consisted of lunch-and-learns, NeoCon, on-the-job experience, and research on your own time. In a time where crowdsourcing information is the norm, the processes of ordering material samples and learning about products were challenging and out of date. I often asked myself: "Hasn't this question been asked before?" and "Why isn't this information easier to find?"
When Ankrom Moisan moved into our new Portland office in Old Town, our designers had access to a new, state-of-the-art material library run by our dedicated librarian and researcher, Erica Buss. While this was an immense improvement from our situation in the previous office, there was still the missing piece of how to use these materials successfully. When should I use resilient flooring over carpet? What is the difference between these three textile options? How will this countertop perform over this other material? There was crowdsourcing between designers through our office messaging apps, but sometimes you just need a thorough overview of all the important factors in specifying.
In January 2021, I was approached by Nicole Schmidt, the CEO of Source, to write blog articles detailing the important aspects to successfully specify various commercial finishes and materials. It felt like this gig was made for me. What I appreciate about the vision of this resource is the articles are meant to be informative, succinct, and easy to read for any level of design experience. I incorporate multiple perspectives by interviewing different manufacturer representatives for each product type, so there is a holistic and comprehensive overview. I ask reps to clarify common misconceptions and mistakes made by designers and recommended solutions, for any sustainable alternatives or aspects to consider, regarding the longevity of a product (and thus keeping it out of the landfill for longer).  I include any lesser-known "tricks of the trade," such as the Coffee Spill Test coined by fellow AM interior designer Roberta Pennington to test coffee spill visibility on carpet samples. Source has other resources available to designers, such as material cost estimates to assist designers with their project budget constraints, and a central material library with dedicated researchers.
Keep your eye out for my next post, where I dive into a few recent projects and the stories behind the finish palettes.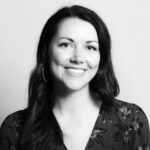 Maddy Gorman is a certified Interior Designer specializing in Workplace design, based in our Portland office since 2015. In her free time, she enjoys elements of discovery whether that is in nature, finding new delicious food combinations, uncovering patterns and stories through Tarot, exploring inward while lying still in a float tank, or traveling the world.
FILTER
SEARCH
This search form (with id 2) does not exist!
Discovering a Love for Design
August 5, 2021
An Intersection for Life
This is a familiar story for many interior designers. I wanted to be an interior designer since I was in grade school; the signs were there from the beginning. I remember sitting at my dining table, butcher paper sprawled hastily across and sketching cross-sections of the earth. I drew mom and dad above rabbits and groundhogs below. Or, of course, all of my dream homes: the one that sat up in the tree canopies where the light casts shadows of wavering leaves on my bare walls, the one on a lake built around a central outdoor firepit where we laugh and play games together, and the one without permanent external walls, open to the fresh air at all hours of the day.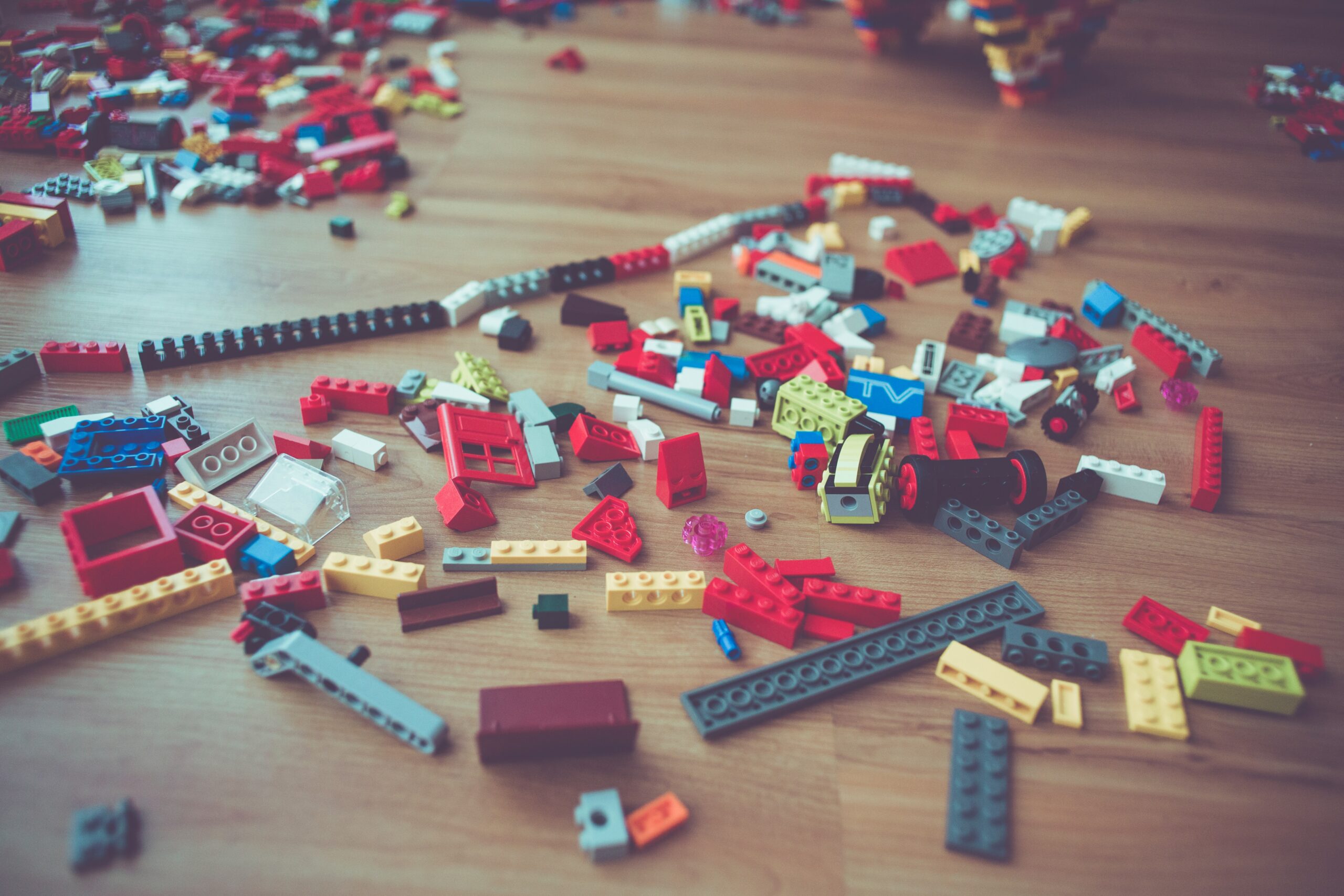 Playing with Legos and woodblocks alongside my brothers, I always took a different approach from their spaceships and tanks meant to destroy, and built homes instead, developing thorough storylines of the families that lived there. And, like many other peers from my generation, playing The Sims for hours on end had a large influence on me. Interior Design is an intersection of things I love: people, emotion, art, science, storytelling, psychology, behavior, and the senses.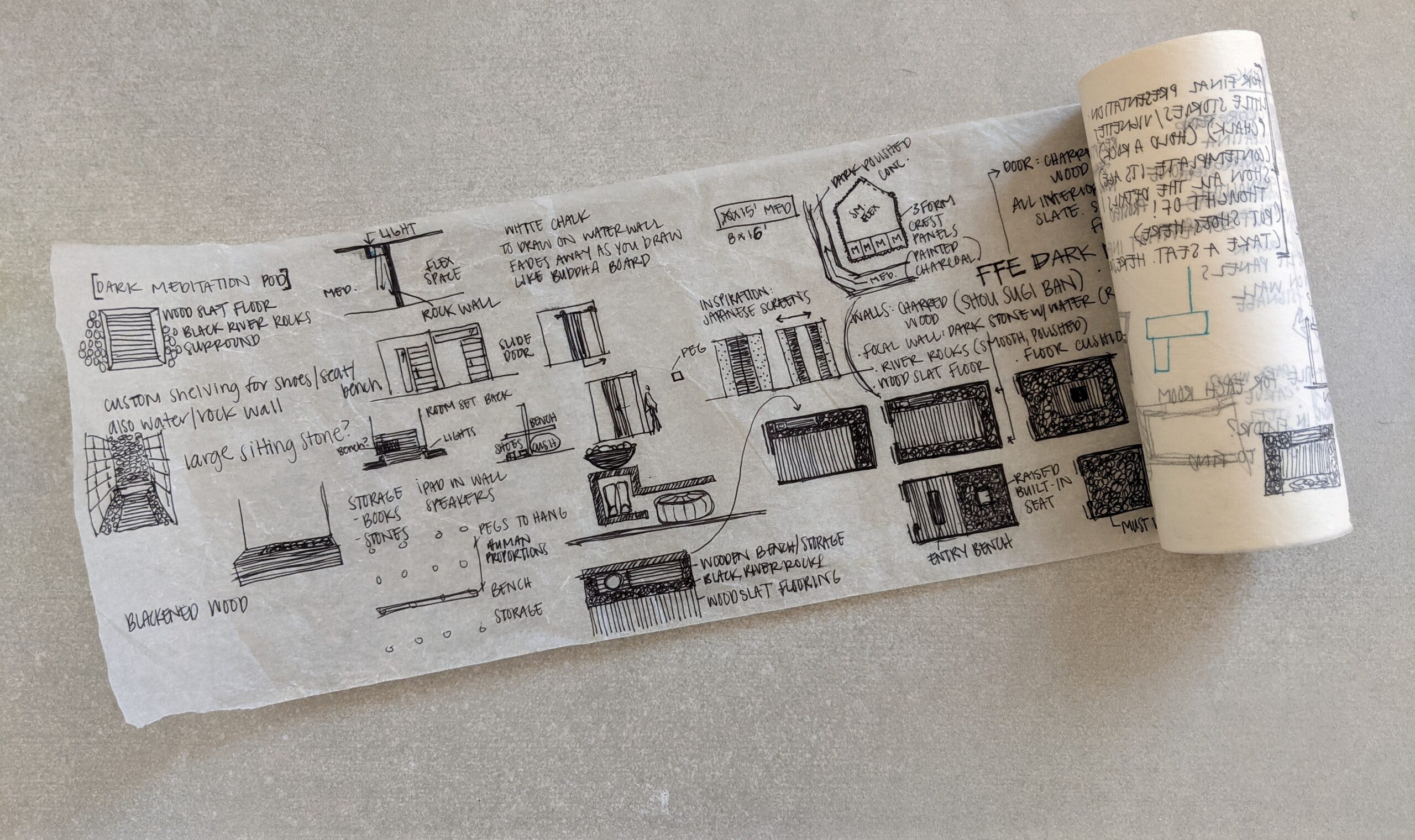 I discovered the career of commercial interior design through my high school art teacher, who encouraged me to apply for the accredited Interior Architecture program at the University of Oregon. Through the program, I fell in love with the idea of creating and designing spaces that many people can enjoy in their everyday interactions with the world.
I continue to follow the breadcrumbs of my personal design passion: design for healing. I read Healing Spaces by Dr. Esther Sternberg and was hooked on the idea that well-designed environments can heal. This does not mean healthcare, but in every space we inhabit daily. Our workplace, our homes, the experience of grocery shopping, or the classrooms we have to sit in every day as children have an immense subconscious effect on our wellbeing. I want to promote a sense of safety and positivity for as many people as I can.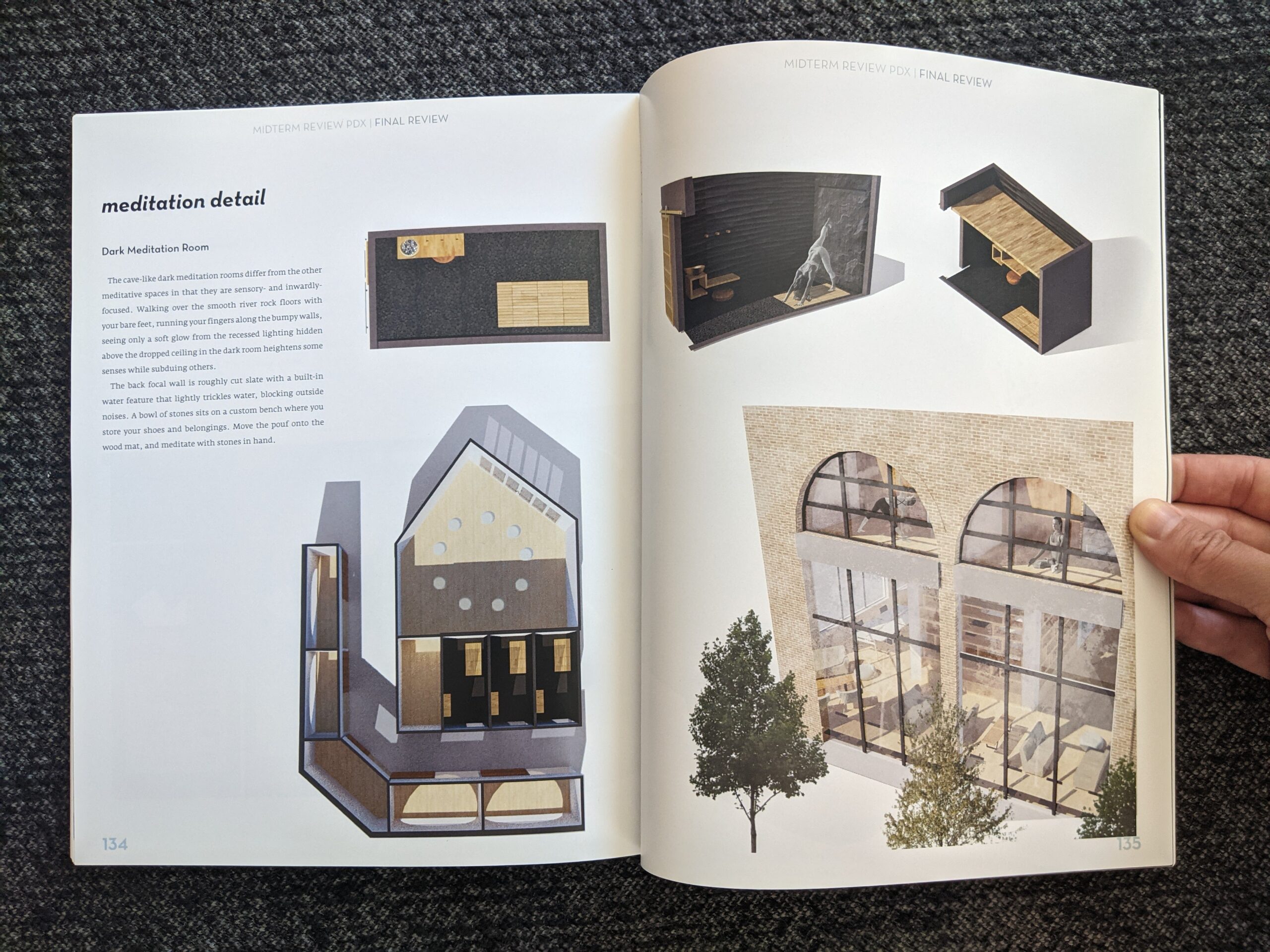 For my final comprehensive project in college, I designed a community space called the Ethical Culture Center of Oregon (or ECCO), a non-theistic sacred space and educational center based on ethics and humanist values, where everyone is welcome to explore what sacredness in their life means to them, while also learning what it means to others. I created a large contrasted communal room for listening and learning, with individual darkrooms for meditation and reflection. This marked the beginning of my journey in the search for knowledge to heal & connect.
In the next blog post, I'll share how I am assimilating information to build a foundation for my knowledge and present that information to the industry.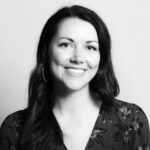 Maddy Gorman is a certified Interior Designer specializing in Workplace design, based in our Portland office since 2015. In her free time, she enjoys elements of discovery whether that is in nature, finding new delicious food combinations, uncovering patterns and stories through Tarot, exploring inward while lying still in a float tank, or traveling the world.

FILTER
SEARCH
This search form (with id 2) does not exist!
Human Centered Design
July 2, 2021
An Empathy-Driven Approach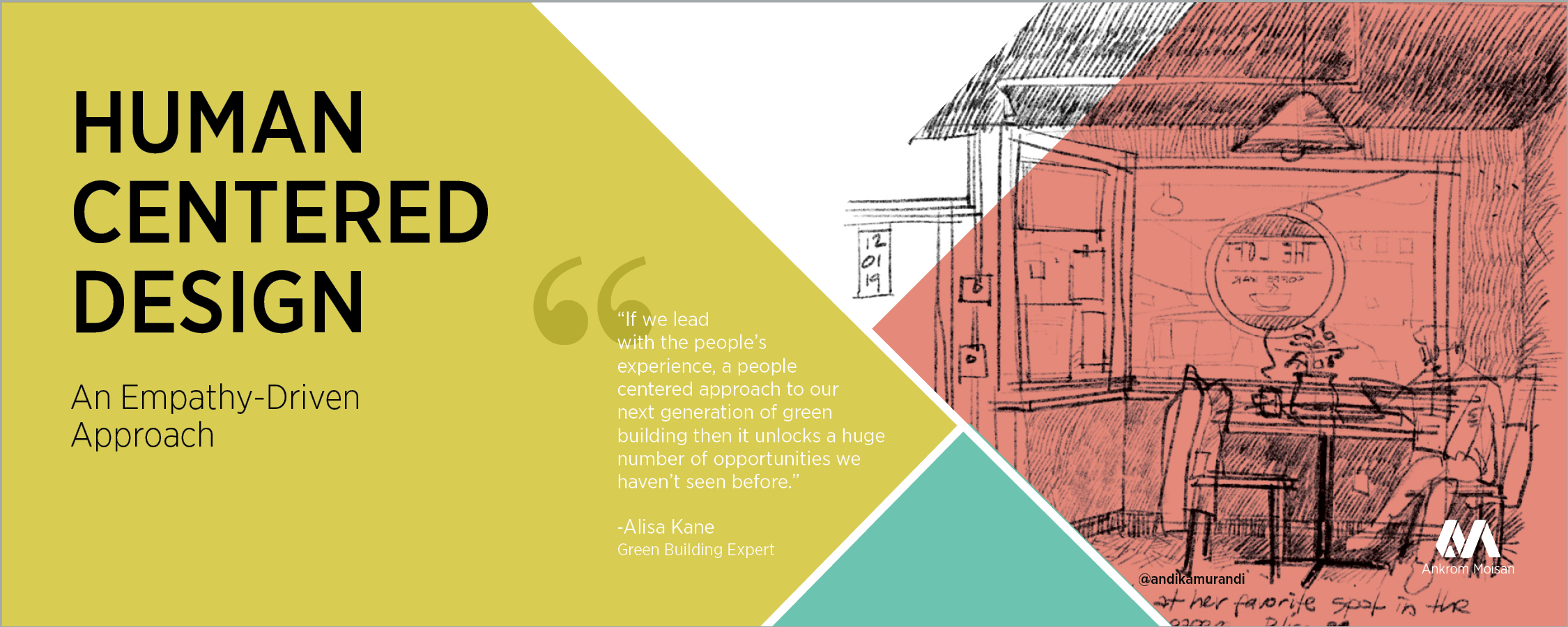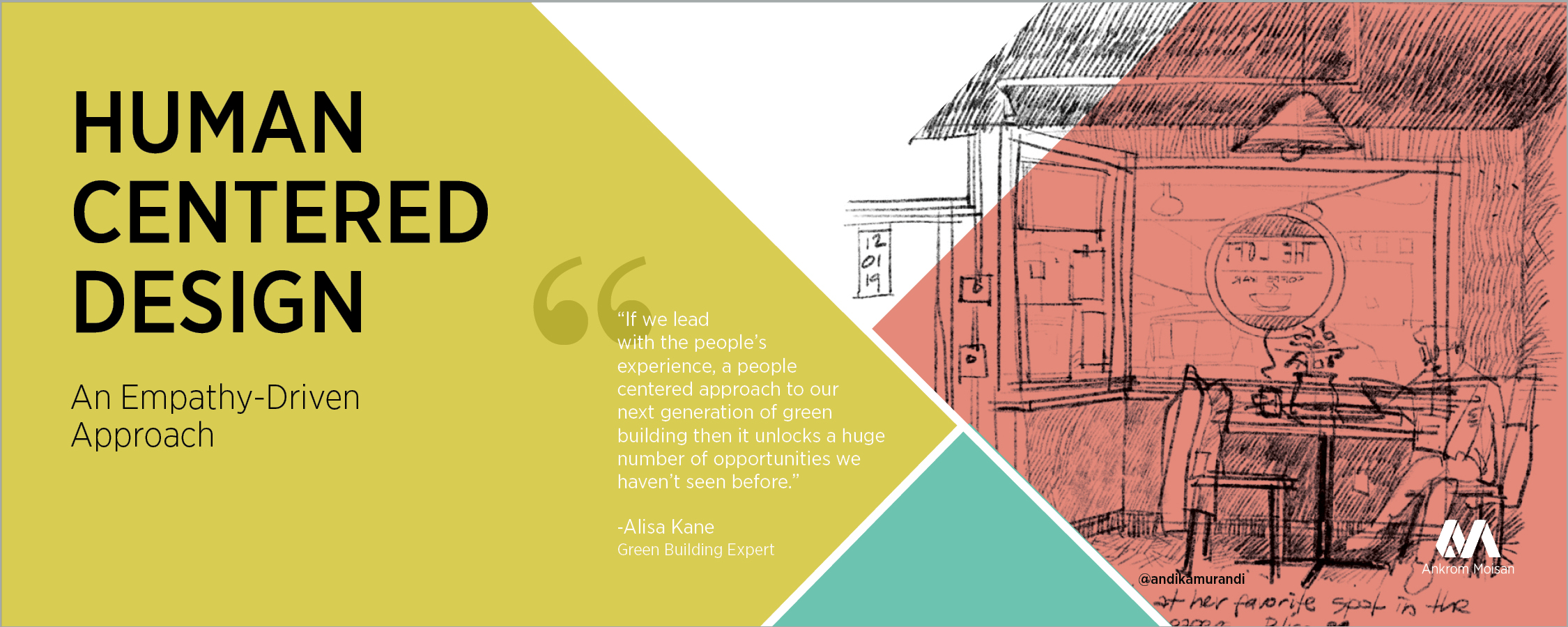 As designers, we are redefining what sustainability means by placing the human experience at the center of design solutions. In order to fully address the diversity of the human experience, equity and inclusion must be the foundation of sustainable design to create holistic communities and transformative workplaces. A truly sustainable workplace is built to anticipate and meet human needs, fostering a collegial and welcoming environment for all, where people can focus and think as easily as they can collaborate, learn, and grow. At its core, sustainable design is empathic, equitable, and human-centered.
What does this mean from a design perspective? Small design decisions say a lot, from minor adjustments to accommodate all body types and abilities, to the inclusion of private spaces for health and wellness activities. We view spaces through the eyes of all people who will inhabit and interact with them, incorporating the best practices of universal design.
We are committed to educating and challenging ourselves to actively design for social equity. As part of this commitment, we have signed the Call-to-Action Pledge with NOMA NW to advocate for equity and diversity within our profession. We have also partnered with The Diversity Movement  to help us build & strengthen our diversity, equity, and inclusion (DEI) strategy and insure it is woven into the fabric of our work. Truly sustainable design cannot be achieved unless it begins with a human centered approach that prioritizes equitable opportunities for all. 
FILTER
SEARCH
This search form (with id 2) does not exist!
Symbiotic Communities
June 30, 2021
Workplaces as Part of the Larger Ecosystem
Before the pandemic, it was common for businesses and office workers to have an insulated experience within the community in which they worked. There was a binary relationship between work and home. Your real community was where you lived. Your work community barely registered beyond the front door of your office. When offices emptied out last March, leaving central business districts empty and local retail and restaurants on life support, the limitations and, frankly, harm, of this or compartmentalization was suddenly brought to light.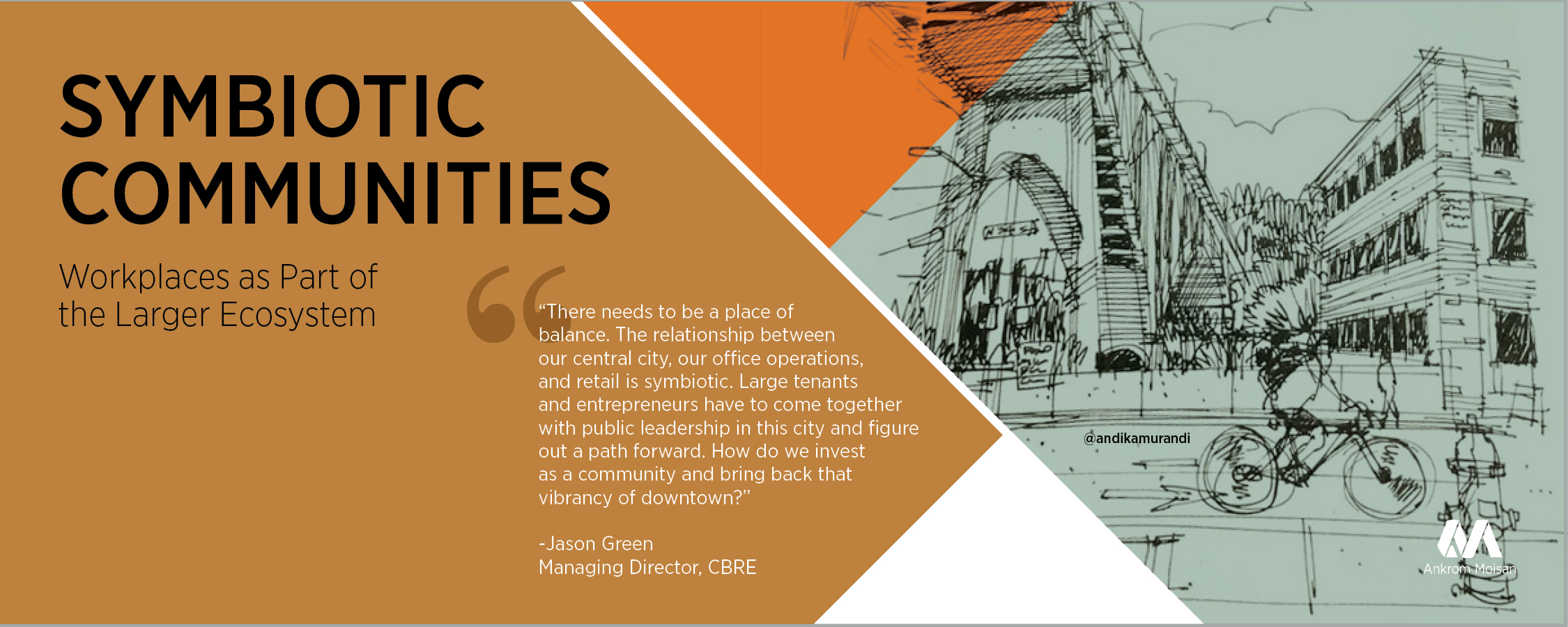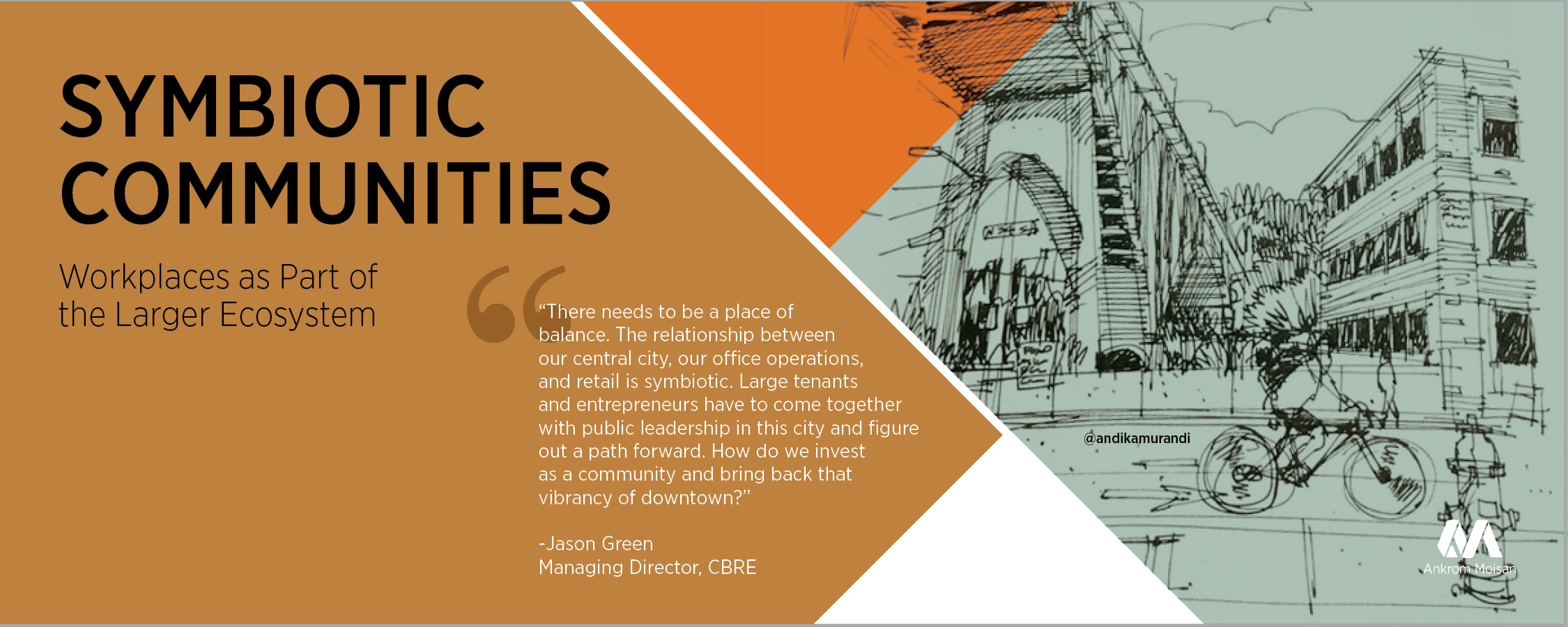 Resilient communities are predicated on a collaborative relationship between businesses, workers, retail, and civic groups. Now, as workers slowly trickle back to the office, we must use this opportunity to re-imagine a more collaborative relationship between workers, businesses, and government within the blocks, cities, and districts in which they call home. Workplaces and their surrounding communities need to be agile, resilient, and inclusive in order to thrive in the future. To get there, employers and community leaders must recognize the interdependence of workplaces and their communities. As workplace designers, we strengthen communities when our design solutions are informed by the symbiotic relationship between workplaces, retail, services, and housing.    
So, what are we doing today to address this? We are actively engaged with our workplace clients to elevate the discussion around their, as well as our own, engagement with the surrounding community. Public-private partnerships, together with design solutions that promote inclusivity, can enhance the quality of life, improve safety, and create equitable opportunities that are critical in building resilient communities.
FILTER
SEARCH
This search form (with id 2) does not exist!
Civic Pride
June 28, 2021
Connecting to the Community Outside Your Building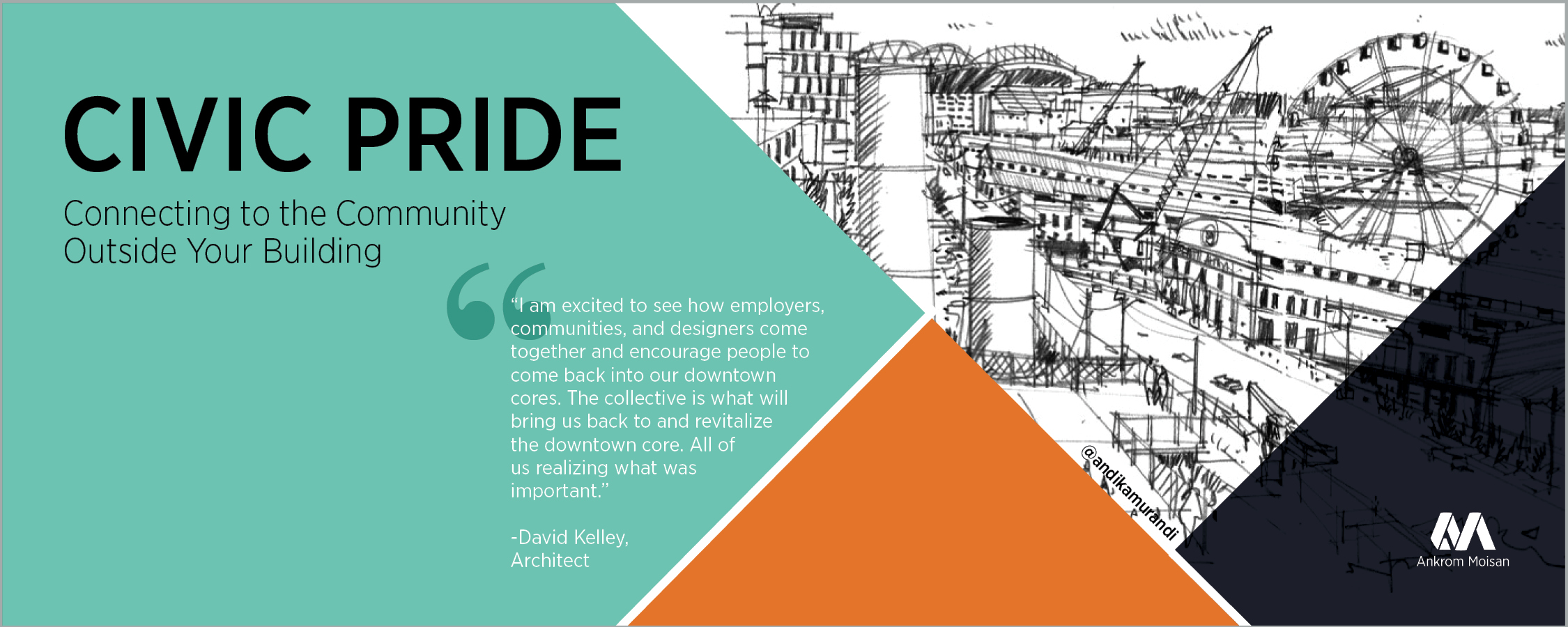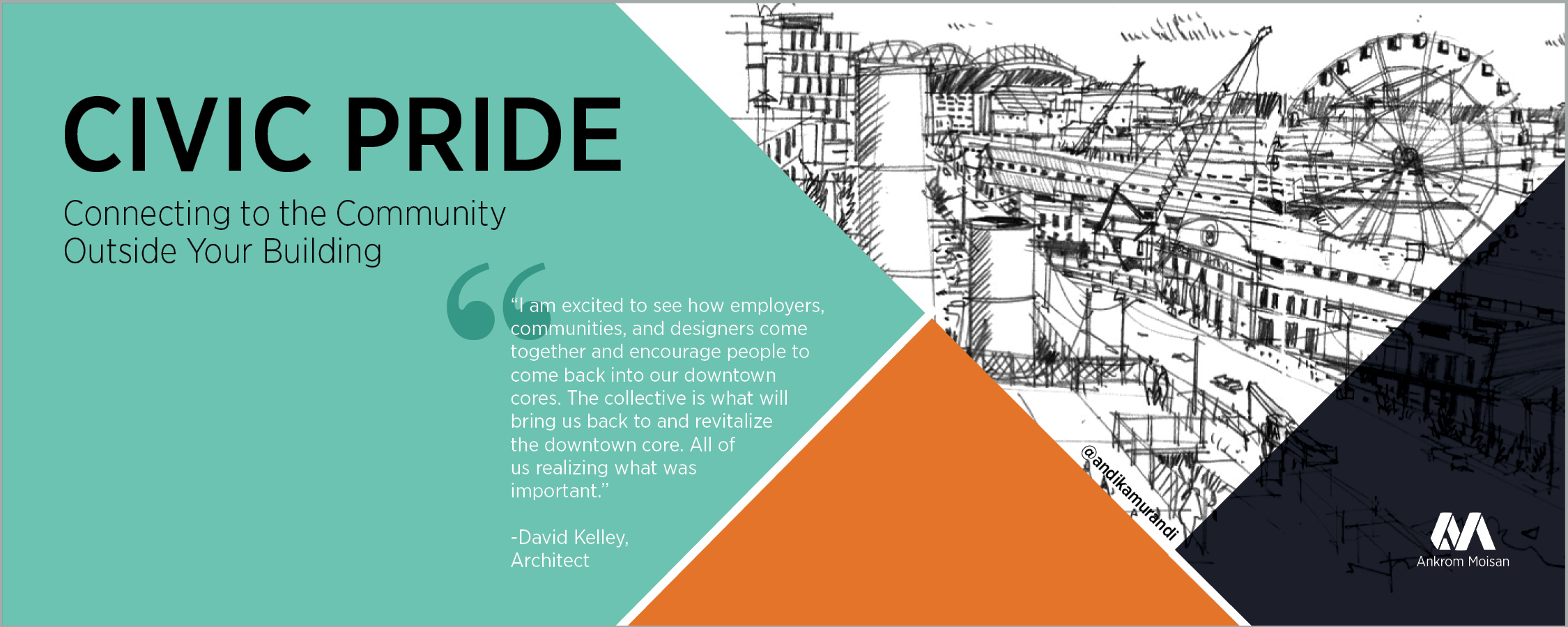 What is the responsibility of an organization or building owner toward the larger community in which they inhabit? Studies show that the long-term implications of the work-from-home trend could have an unintended adverse impact on downtown business districts, commercial real estate, and local businesses. The situation demands new and innovative thinking to ensure our cities remain vibrant.
We believe that in order to rebuild and restore connection and engagement between workplaces and the surrounding community, employers and community leaders need to form partnerships rooted in shared values and civic pride. Workplaces can play a critical role in the vibrancy of our communities and must rise to the challenge of being a strategic partner with local jurisdictions and community organizations.
What is the role of design in all of this? The answer lies in connectivity. Our design solutions encourage connection between the building and the surrounding neighborhood. For example, active and engaging ground floors that provide space for community programming, wellness services, or experiential retail environments serve as vibrant and vital assets that benefit the broader community. By engaging multiple and diverse stakeholders, including the local community as co-creators in their design solutions, designers and their clients play a major role in the revitalization of urban centers.
To learn more about how you can get involved and flex your civic pride, check out the advocacy work of the Downtown Portland Clean and Safe, the Seattle Downtown Business Association, and the Downtown Los Angeles Business Improvement Districts.
FILTER
SEARCH
This search form (with id 2) does not exist!
What's Next for the Workplace?
June 25, 2021
Reviving Businesses Post-Pandemic
What will it take to revive central business districts across the US? What role will your workplace play in this recovery?  What makes a community resilient, balanced, and livable and what role do workplaces play in this equation? What would it look like if your office was more integrated into the community?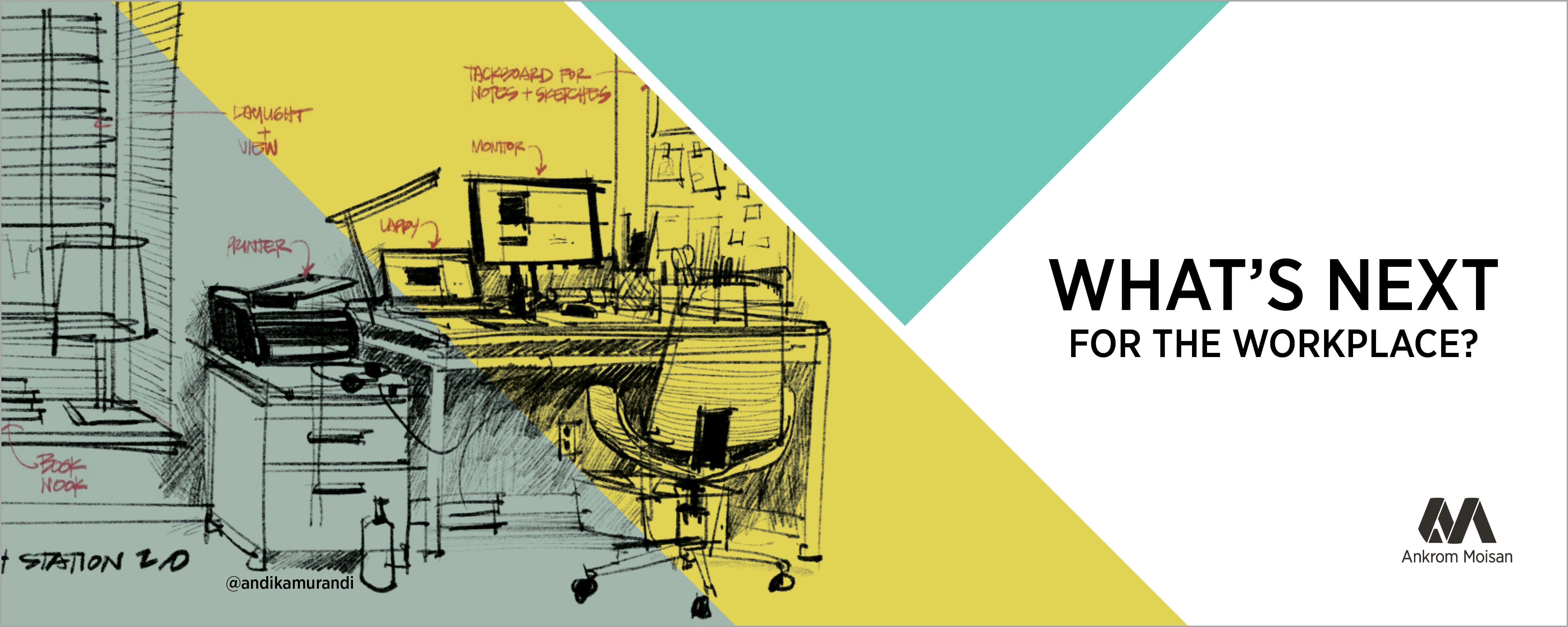 As the pandemic loosens its grip and businesses prepare to return to the office, we believe there is an opportunity for workplaces to imagine a better future and play a larger role in reviving and restoring our communities. We surveyed industry partners, urban planners, end users, and market experts to get their take on the trends and opportunities they see for a revitalized urban core.
Based on our research, the notions of civic pride, symbiotic communities, and human centered design are fundamental to re-imaging the relationship between workplaces and their surrounding communities. Over the next few days, we will explore each of these principles and unpack what they mean for workplace design.
FILTER
SEARCH
This search form (with id 2) does not exist!
Re-Connect
October 27, 2020
Embracing a Changing Workplace
What is the purpose of the office now? And in the future? To answer these questions, we surveyed nearly 400 people from various industries and across different generations. We analyzed the data and the many thoughtful write-in responses and discovered four distinct themes.
Download re-connect now.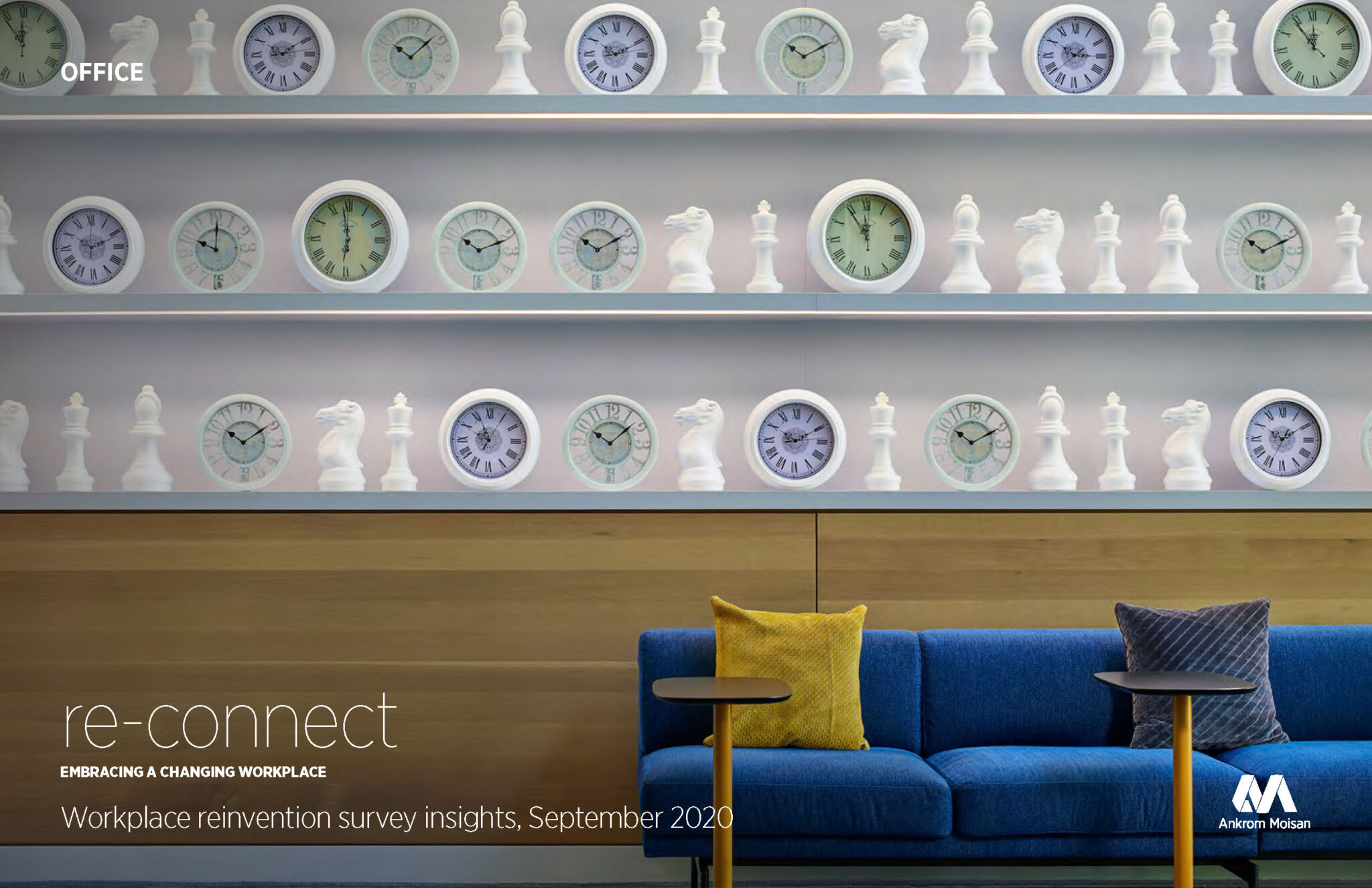 FILTER
SEARCH
This search form (with id 2) does not exist!
The New Suburban Office
October 8, 2020
Wellness with a Competitive Edge
Natural ventilation and access to fresh air are priorities for post-pandemic office spaces. With people's growing interest in shorter commutes, suburban office parks are becoming more popular.
Our latest non-urban office design reimagines a typical campus, including amenities with metropolitan flair that blur the lines between indoor and outdoor lounge spaces. This facility updates an indoor cantina break area with a lounge and gaming table, opening to an exterior space via a dramatic, overhead pivoting glass door.
Outside are a tiered seating area called "The Skybox," private seating nooks, lounge seating around a fire pit, and a barbecue area. We preserved a mature spruce tree, protecting its roots by a raised boardwalk. Coordinating palettes and eclectic furniture and accessory choices unify the indoor and outdoor spaces. These new amenities address tenants' post-pandemic concerns and give the owner a unique selling point for the building.
FILTER
SEARCH
This search form (with id 2) does not exist!
Evolution of Office Amenities Q&A
October 8, 2020
A Special Report from Colliers International
COVID-19's influence on the future of office space is one of the real estate industry's million-dollar questions today. With many employees planning to work from home into 2021, is the traditional office environment outdated?
This question cuts to the heart of what we do, so we found a lot of insight (and encouragement) from this Colliers International report.
After interviewing experts in office leasing, tenant representation, workplace strategy, and more, Colliers International believes that offices continue to play an important role in how we conceptualize work. Read their report to learn about:
The effects of the work-from-home experiment
What changes can help make a return to the office more viable
How amenities can evolve to attract workers back to the office
Click HERE to view the Colliers International report.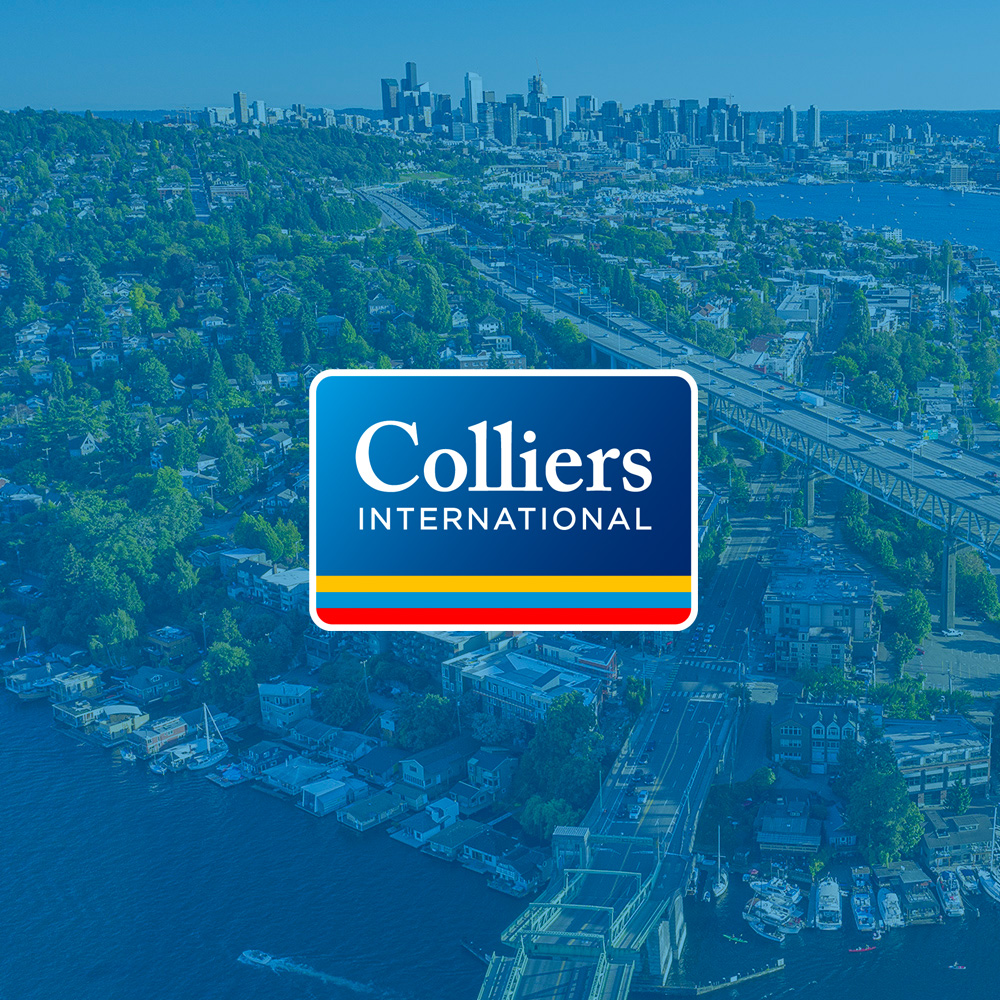 FILTER
SEARCH
This search form (with id 2) does not exist!
Re-New
September 21, 2020
Post-Pandemic Design Solutions
Our wellness solutions are realistic and evidence-based. By investigating how the coronavirus affects workplace design, setting clear outcomes, analyzing conditions, and matching our recommendations to your situation, we design workplace wellness strategies that align with your company's culture—and that can succeed.
Download re-new now.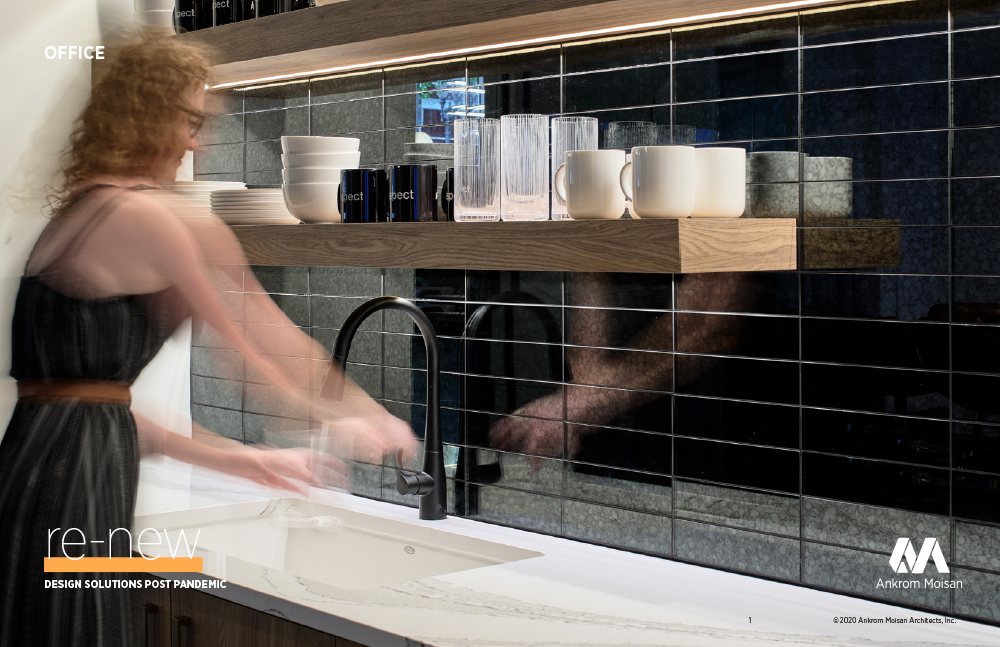 FILTER
SEARCH
This search form (with id 2) does not exist!
Re-Entry
September 21, 2020
Adapting Together
Ankrom Moisan has spent decades designing healthy, empowering workplaces. Working quickly and cost-effectively, we design and implement strategies that help people feel safe about reentering the workplace during uncertain times—and help our clients safely transition to their new workplace reality.
Download re-entry now.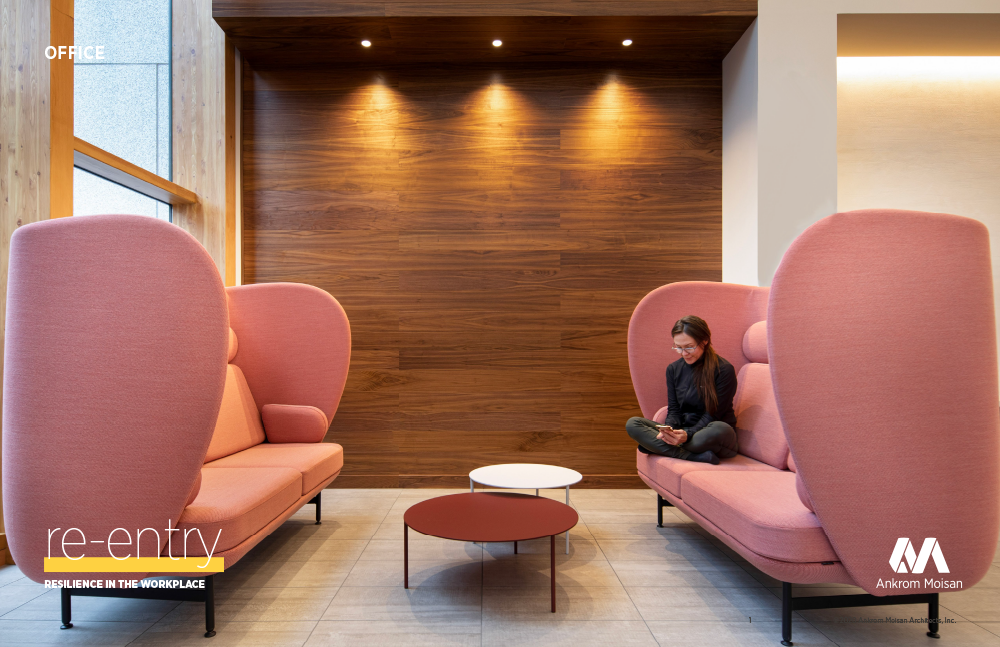 FILTER
SEARCH
This search form (with id 2) does not exist!
Re-Imagine
September 21, 2020
Adapting Today
Our own reentry strategy for 38 Davis, Ankrom Moisan's Portland headquarters, puts our design insights into practice. Discover how we redesigned for entering our workplace, using restrooms and gym amenities, and managing the building.
Download re-imagine now.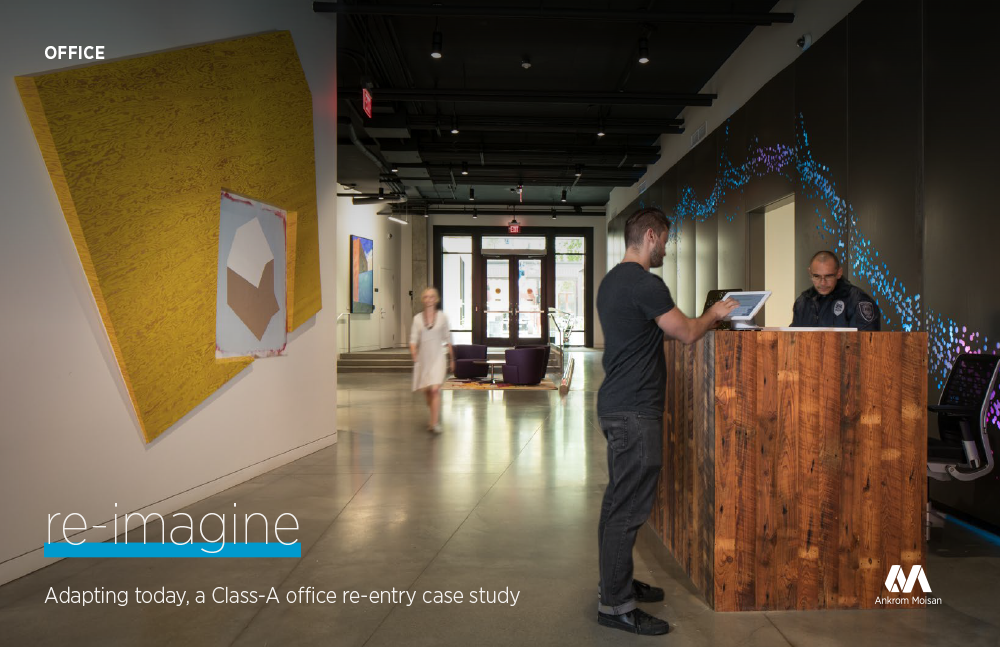 FILTER
SEARCH
This search form (with id 2) does not exist!
Re-Set
September 21, 2020
Resiliency in the Workplace
We surveyed 300+ people about returning to the office, and their responses were loud and clear. A holistic, employee-centered approach is essential to any reentry strategy. Following our survey findings, we've developed three design insights that can ensure a healthy future for the workplace: Invest in wellbeing. Redefine connection. Fortify trust.
Download re-set now.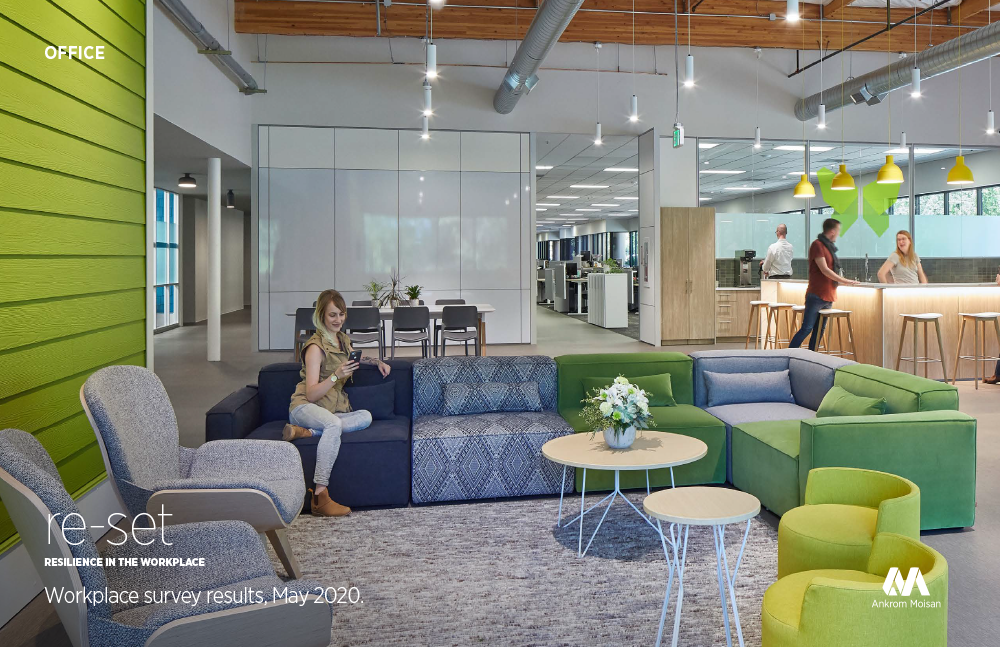 FILTER
SEARCH
This search form (with id 2) does not exist!