May 5, 2023
Research to Help You Breathe Easy
The Do GOOD / Be WELL scholarship encourages Ankrom Moisan employees to research an open-ended topic of their choosing and share the practical results of their findings with the firm, industry, and community at large. The scholarship, started in 2017, is sponsored in memory of former AM employee Carolyn Forsyth, an inspirational leader and unyielding force for change. Intended to honor her legacy of sustainability, equity, innovation, advocacy, education, and leadership, the DGBW scholarship elevates and empowers new and inspiring ideas within Ankrom Moisan and the broader field of architecture, pushing us all, as the name implies, to do good and be well. 
As the recipient of the 2022 Do GOOD / Be WELL scholarship, Cara Godwin encouraged Ankrom Moisan employees to not only learn about air quality but to measure their own. Cara implemented a program that provided home air kits, consisting of a HEPA filter and an air sensor, to be checked out and taken home.  
By using air sensors that provided a real-time air quality score, participants were able to better understand how opening windows, cooking, and running exhaust fans impact indoor air quality. The program also encouraged people to be Citizen Scientists by gathering data in their own respective environments and automatically sharing it to the Purple Air network map in real time, increasing the pool of scientific knowledge that design decisions can be made from.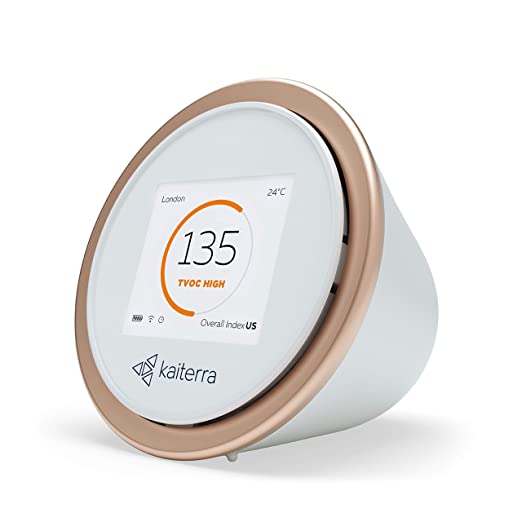 Kaiterra Egg air sensor utilized in Cara's research study. 
The (Overlooked) Importance of Air Quality 
Designers of the built environment are deeply familiar with energy scores and water scores, but air quality has been less defined and is often left unconsidered—Cara hopes to change that.  
Cara has lived in the Methow Valley for twelve years now, an area which often deals with wildfire smoke. Cara and her husband had indoor air quality at the front of their minds when they built their home in 2011. Their son has had respiratory issues since birth and asthma since just before his second birthday, which led the pair to learn more about indoor and outdoor air quality. "We are a 'Clean Air Methow Ambassador,' we have been interviewed on a podcast, interviewed by a health reporter, and often my son's photo and story are used in discussions about air quality," Cara stated. "This scholarship seemed like a natural way to share this information with coworkers and hopefully have a positive impact on future building designs."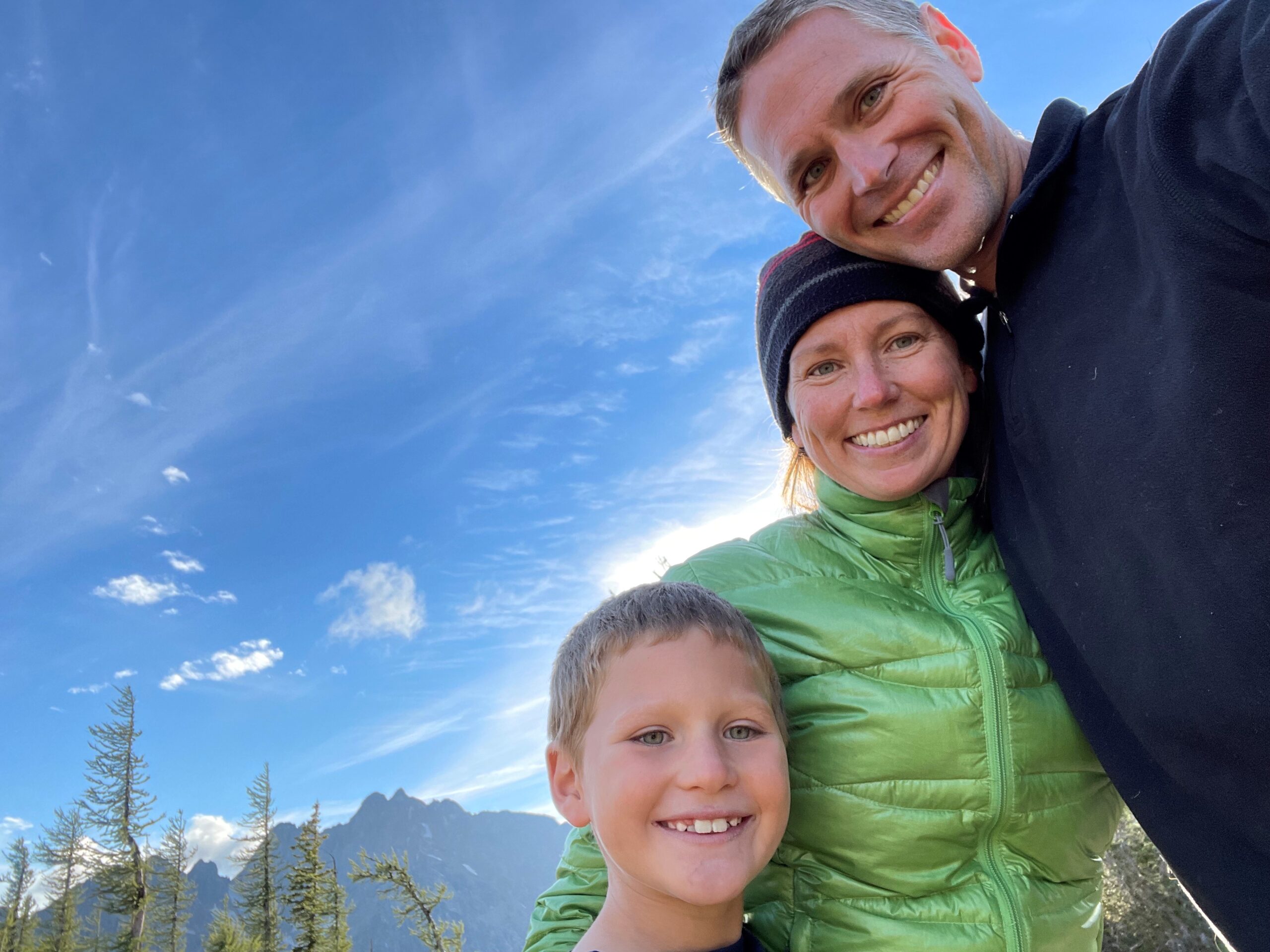 The Godwins: Cara, her husband, and her son. 
Even if you have not personally noticed issues with air quality, you are likely being affected by air pollutants. More and more research talks about PM2.5 – fine inhalable particles with diameters that are 2.5 micrometers or smaller – and their long-term effect on our lungs. PM2.5 sources include chemical exhaust from industries and automobiles, wildfire smoke, pollen, dust, and hundreds of other chemicals. EPA and other clean air groups are focusing on education for people to understand air scores and sources. This study helps expand those efforts. 
The Findings from the Air Sensors 
The most common response from kit recipients was about cooking. It is uncommon for range hoods to be used every time a cooktop is utilized, though that is the recommendation. After receiving their results, many participants noted they will use the hood more often. One participant noted that their charcoal recirculating exhaust fan was not adequate on its own and required a window to be open for proper ventilation.  
Another finding was that pets do not seem to have a negative impact on air quality. Running the HEPA filter had noticeable positive impacts for participants with seasonal allergies and asthma. 
In a survey filled out after using test kits at home for a few weeks, participants were asked what they might do differently in future designs after receiving their own personal air quality scores. Several responded by advocating for electric cooking over gas. A few mentioned advocating for operable windows and making operable windows open further. There is a desire to avoid using charcoal recirculating fans for kitchen exhaust. Others mentioned trying to design for air changes above code minimum and running the whole house exhaust longer.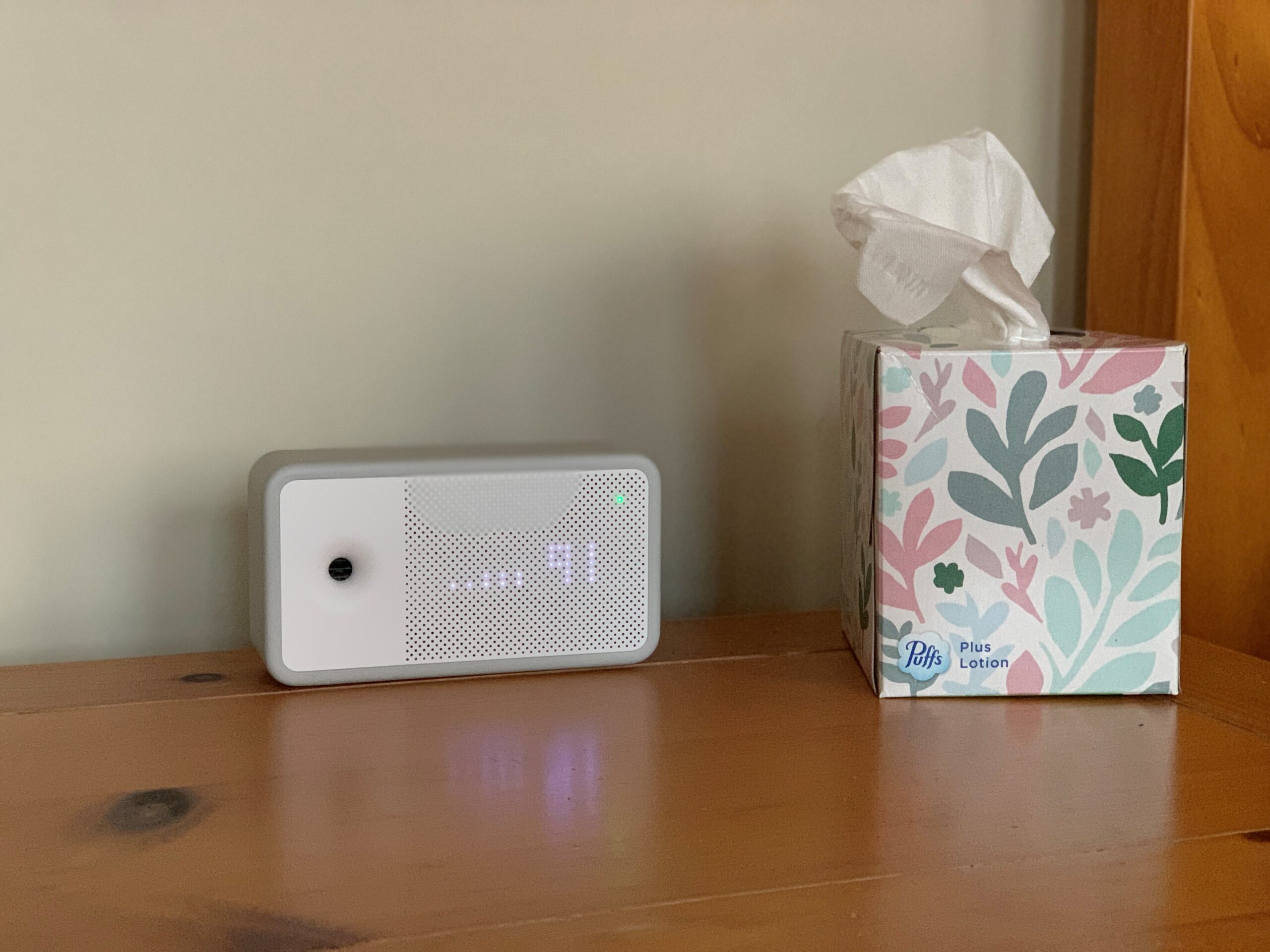 Awair air monitor in use. 
Swapping Cooktops to Improve Air Quality 
During this time, Cara was looking into replacing her propane cooktop with an electric induction range and took the opportunity to tie her search in with her research proposal, using the information gathered from the use of the HEPA filter and air sensor to guide her purchase decision, and sharing the results with the firm. This choice was supported by Cara's experiences with indoor air quality monitors, as they have demonstrated that cooking has the greatest impact on air quality in a home. Cara swapped out her propane cooktop for a gas one, as well as her exhaust hood in hopes that a quieter exhaust hood would be used more. Finding the right induction range was the tricky part. The options seem limited, and costs vary greatly.  
Her research found that the difference in cost is dependent on the size of the magnet, and that the size of the magnet, or burner, should match the size of the pan being used. This is because a pan too large for a burner will not heat up efficiently, and food will not be evenly cooked. The main obstacle in sourcing a new cooktop was related to finding black appliances, which have even fewer options. In the end, Cara switched to black stainless steel. For the exhaust hood, quieter options require an 8" exhaust duct. Cara's pre-existing duct was only 6", meaning it was not feasible to replace the exhaust duct in the roof assembly, so the new hood is only slightly better in terms of noise level. 
For the actual experience with induction cooking, Cara states that "it has been a real pleasure to cook with. The cooking is more even, and water does boil as fast as everyone says. There is also peace of mind with all the recent news of harmful chemicals coming from gas cooktops."  The original concern with the propane cooktop had to do with CO2 levels rising during seasonal times of wildfire smoke when fresh air is closed off, but the benefits of an induction range have expanded to all year round. Cara recommends induction over gas to anyone building new construction, and in her case, with someone with respiratory issues in the house, switching is a great option.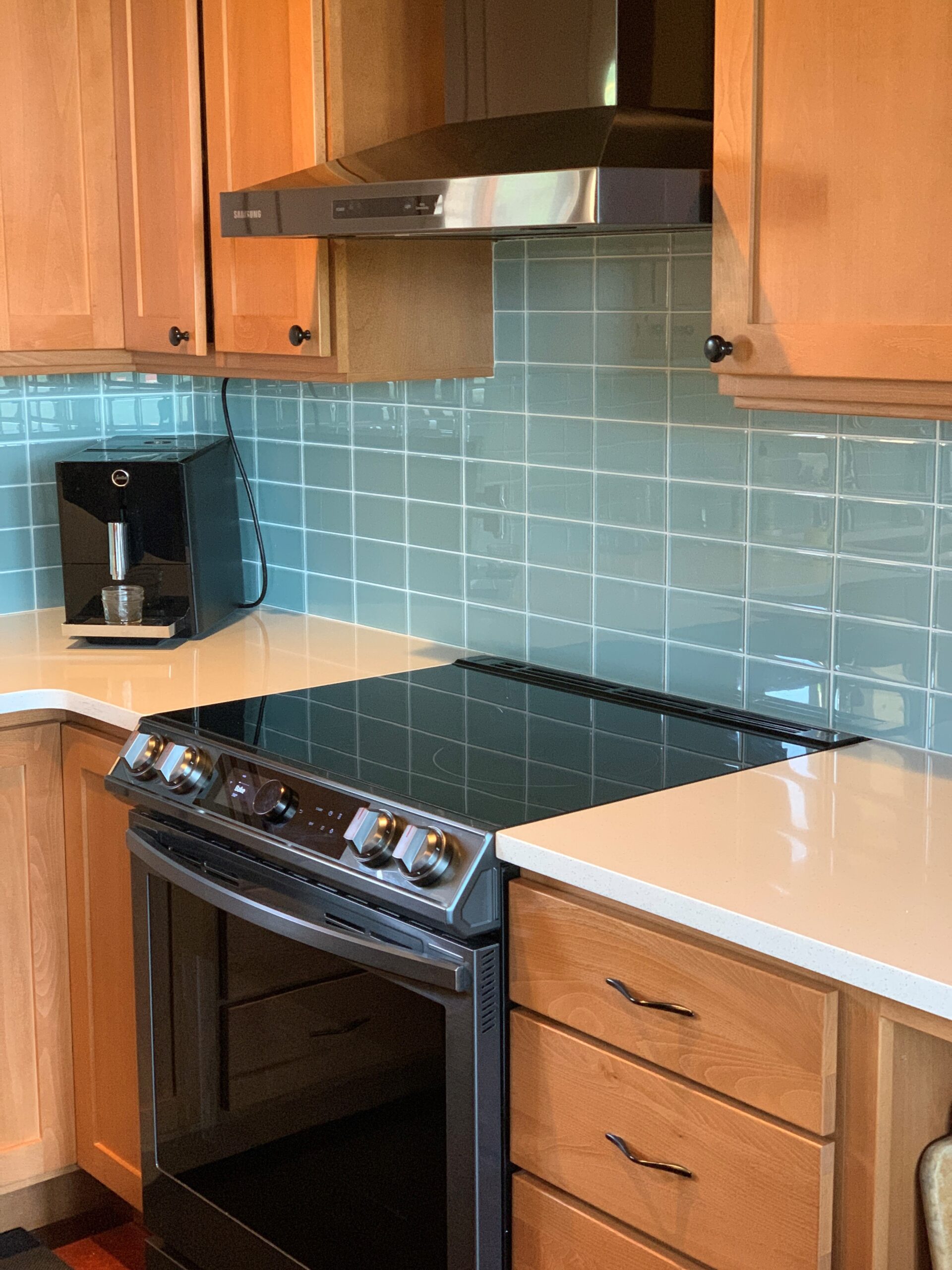 Cara's new black stainless steel induction range with hood. 
Applying the Research to our Designs 
If you have not experienced it yourself, you probably know someone who has had to alter their plans or take medication due to allergies to pets, perfume, or wildfire smoke. At Ankrom Moisan, we talk about designing for all users and that should include designing for respiratory sensitivities.  
This study will hopefully help influence future building designs to take user sensitivities into account, and therefore create buildings that are a haven from pollutants and irritants during times of poor outdoor air quality. And in times of good outdoor air quality, our spaces should reduce known contributors to poor indoor air quality.  
One example of how we can design more inclusively is to consider air quality and pet allergies. Many residential communities today allow dogs but that can exclude people with allergies from living there—unless the air quality improves and the building, as well as furnishing, is designed to minimize pet dander. Our designers, armed with the findings from Cara's research, can also advocate for features that will benefit everyone such as electric induction ranges, quieter exhaust hoods and operable kitchen windows 
Though indoor and outdoor air quality is a consideration that is often forgotten, Cara's DGBW research program illustrates the importance of bringing all aspects of wellness into a building's design, and redefines how we explore beyond, changing what designing for inclusiveness can mean.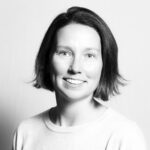 By Cara Godwin, Practice Manager
FILTER
SEARCH
This search form (with id 2) does not exist!