November 22, 2022
Emerging Professional of the Year
Last month Interior Designer Jenna Mogstad was named the 2022 Emerging Professional by IIDA's Oregon Chapter. after being nominated by several of her AM coworkers.
Jenna, who has been with AM for 6 years, has excelled as a designer for many reasons. But perhaps her greatest strength is her passion. As her manager and mentor, Cindy Schaumberg, describes it, Jenna "puts her heart into each project."

Jenna is fascinated by the psychology of interior design and she approaches her work with a sense of advocacy—taking great care to ensure that the end user will be positively impacted by her projects.
Driven by a desire to help people heal, she gravitates towards trauma-informed design and often applies her skills to affordable housing projects. Jenna enjoys this work because she recognizes that it has a significant impact on people's lives. Her designs have the power to help the residents of affordable housing communities to feel a sense of safety and stability.
Jenna is particularly proud of her current project Meridian Gardens, an 85-unit supportive housing community designed to serve individuals who are experiencing or at risk of homelessness and are receiving substance use disorder treatment.
Jenna's passion for design is apparent to everyone working alongside her, as the nominations will attest. They describe someone who "embodies curiosity, empathy, and the ability to innovate" with a "drive to improve herself and the field of interior design."
Jenna is well-deserving of the title "Emerging Professional of the Year" and we're incredibly proud to have her on our team.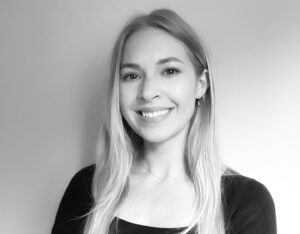 by Mackenzie Gilstrap, Sr. Marketing Coordinator