October 6, 2022
with Minimal Impacts to Buildings
Background
At Ankrom Moisan, we work hard to ensure an equal experience for all users of the spaces we design. We explore how to push beyond the expected with accessibility features on projects like Wynne Watts Commons, and we welcome updated codes and standards to address the needs of our community. As the 2021 Building Code takes effect in each jurisdiction, the embedded 2017 A117.1 Standard for Accessible and Usable Buildings and Facilities also takes effect.  The new 2017 A117.1 provides significant updates to accessibility clearances based on a study of wheelchair users.  The A117.1 is developed by the International Code Council (same authors as the International Building Code). Their challenge is to find the best design criteria for a wide range of abilities, from wheelchair users to standing persons with back problems to persons with low vision or hearing challenges.  Ankrom Moisan has participated in their process as an "interested party" in one issue, kitchen outlets, and can attest to the countless hours that go into just one requirement.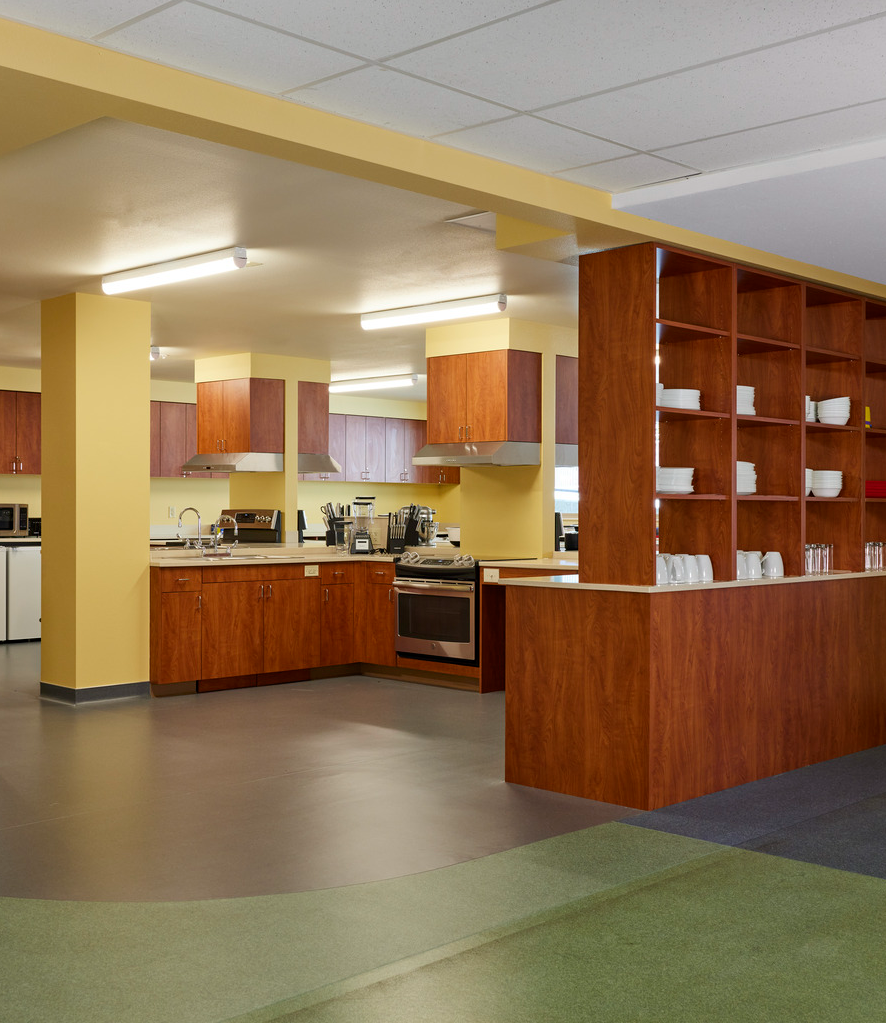 At the Ronald McDonald House expansion we wanted to make all families staying for short or long stays be able to use all the amenities, including the common kitchens.
Changes
Overall impacts to projects by this change are modest, resulting in a few rooms being enlarged by a few inches. While the changes are minimal to buildings, they provide much higher levels of accessibility for impacted users.  The most impactful updates are changes to the following requirements:
In most cases, clear floor spaces grow from 30-inch by 48-inch to 30-inch by 52-inch.
The turning circle that was a 60-inch "wedding cake" with knee and toe clearance all around is now a 67-inch cylinder with minimal knee and toe clearance.
When looking at a typical privately funded apartment building, the changes are minimal as long as they are understood at the start of the project.  There are no changes to Type B units (except new exceptions for kitchens outlets were added), and for the Type A units, the kitchen, bathroom, and walk-in closet may grow a few inches. The trash chute access room will see the biggest change, growing up to 7" in both directions. The new code allows for rounding down for Accessible and Type A unit calculations and parking spaces. All these changes are minor when incorporated into the initial design of the building but could be very tricky late in the design process.
There are still some unknowns; If there are Accessible units in a project, they will now require windows to be fully accessible. While the height and clear floor space requirements are easy to meet, we are still searching for a window style and manufacturer that can meet the requirements that windows are operable without tight grasping and less than 5 pounds of pressure to open and lock/unlock.
Our work isn't done; kitchen outlets were simplified in the corners where a range and refrigerator protrude past the counter with this code cycle, but we must wait for the next A117.1 cycle for kitchen outlets to no longer dictate kitchen design. Ankrom Moisan has been active, submitting code proposals to the State of Oregon, the City of Seattle, and to A117.1 to make kitchen outlets accessible with reasonable requirements.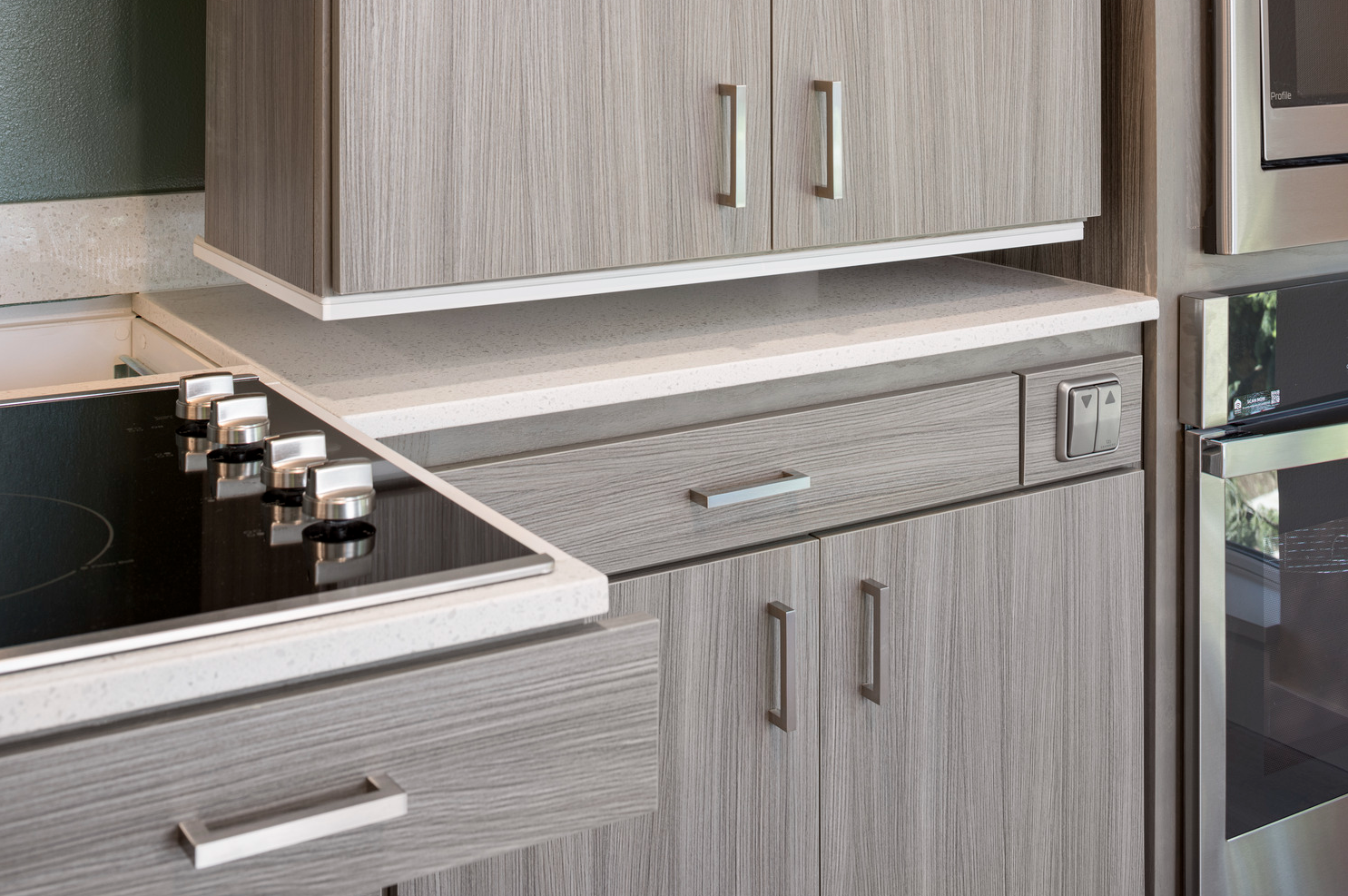 At the Wynne Watts Commons the team provided universal design residential units that included cooktops that pull out and upper cabinets lower with the controls shown in the cabinet front.
Added complexity with new code change
From a designer's perspective, the requirements of accessibility have grown exceptionally complex.  For example, under the new A117.1, there are now different size clearances for new and existing as well as Type A and Type B units, and the definition of "existing" in the A117.1 does not match the definition in the building code.  This adds to the already confusing accessibility requirements that require us to reference multiple documents for any given item (building code with unique amendments by jurisdiction, Americans with Disabilities Act, Fair Housing Act, etc.). Coupled with different interpretations from different experts and code officials it is no wonder why accessibility requirements feel a bit daunting to us and our clients.  As an example, California does not adopt the A117.1 but rather chooses to write its own Chapter 11 of the building code with its own unique scoping and technical criteria. And that is just accessibility, our Architects are juggling fire life safety, energy code, constructability, and our client's budget all while creating great places where communities thrive.
As a firm, we had a challenge to overcome; the new accessibility requirements do not apply to all our projects at the same time. Depending on where they are in the permitting process and the jurisdiction they are in, every project must determine when, and if, they are required to flip to the new code. While most of our projects will be using the new code by the end of 2023, many will still be under the old code for years to come. We had to develop Revit resources for our project teams that could work for both codes at the same time. Our Accessibility experts partnered with our BIM team to develop a system meeting these goals and requirements:
It had to be as simple and easy to use as possible for our project teams.
It had to be blatantly obvious, by a quick glance within Revit, what codes were being shown on any given project.
It had to provide all the options now allowed by the standards and guide teams to pick the applicable option.
Our solution to this challenge was rolled out to our project teams in September 2022 and provided over 500 updated Revit families.
We have found so many nuances in the accessibility codes that it can be hard to make generic statements.  We would love to talk to you about your specific project or topic.  Please reach out to Cara Godwin at carag@ankrommoisan.com to learn about accessibility for your project.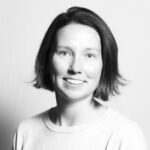 by Cara Godwin, Senior Associate